I LOVE DIRT ROADS FOR ALL THE USUAL REASONS: the chance they offer to go into and through pristine wilderness, over mountains and through canyons, across rims and ridges where we are immersed in landscapes of silence and beauty. I love dirt roads for the stories they tell, too. And they always have a story. These roads—and the foot, horse, and wagon trails they follow—always tell tales of people and place.
New Mexico has 25,000 miles of unpaved roads. Dirt, sand, clay, stone, and caliche constitute up to 75 percent of our roads.
I had my first trip on a bumpy New Mexico road in the 1960s, when I came with my family to Ghost Ranch. Driving across the high desert north of Abiquiú, the family station wagon left the asphalt two-laner for a dirt road marked by a sign with a line drawing of a cow skull. (The iconic skull logo was drawn by Georgia O'Keeffe and given to the ranch owner in the 1930s.) The narrow road wound away into foothills and onto red and yellow badlands that ended under sky-scraping vermilion cliffs. To my child's heart and mind, that route led out of the land of the ordinary and into the country of the extraordinary.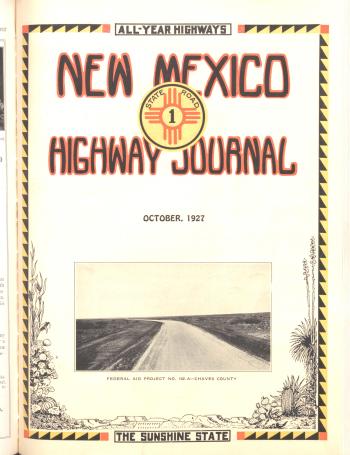 ON THE COVER
October 1927
The Federal Aid Project No. 162-A ran through Chaves County.
Leaning out the car window, I took in this new world one slow, jostling quarter mile at a time. The deeper we moved into that light- and time-carved land, the more I sensed I was coming home to a place where this country's stories, known and unknown, became personal, became my story.
After I graduated from college in the spring of 1976, I moved to Abiquiú. I have lived at the end of a dirt road ever since. All my knowledge of my adopted home country is connected by unimproved dirt roads that reach from here to a distant there. The roads less traveled take me into the long ago, to ancient ruins and secret water sources, to cliff dwellings, caves, and hideouts, to stories carved across rock walls, to cow camps, abandoned homesteads, even entire villages where fruit-bearing orchards stand witness to a once thriving community.
In the fall of 1983, an 86-year-old woman took me on an adventure in the high plains of eastern New Mexico. I was in Springer, interviewing Helen Whitnell Gillespie about her long since deceased mother-in-law, Minnie O'Neal Gillespie. Kansas-born Minnie came to Ratón to work as a Harvey Girl at the Harvey House in the 1880s. She married a ranch hand with whom she raised six sons, one of whom was Helen's husband.
Minnie's story became the earliest primary account included in my book The Harvey Girls. But just as memorable as unearthing details of a 19th-century Harvey Girl was the expedition Helen insisted we take that October day. Over several dirt roads, we drove to the abandoned Dorsey Mansion, where Minnie worked between her year at the Harvey House and her marriage to a cowboy. I was not familiar with the infamous Arkansas senator Stephen W. Dorsey or the supposedly haunted Gothic Victorian mansion he built in 1878. But Helen wanted me to see it. More importantly, she wanted to return to the place where her family story began.
Today, the route to Dorsey Mansion (listed on the National Register of Historic Places but now privately owned) is mostly paved and well marked by signs that offer reassurances to drivers heading into the proverbial middle of nowhere. That "nowhere" is the beginning of the Great Plains, a country that is, to quote O'Keeffe, "more sky than earth," marked by windmills, barbed wire, dry water holes, and the unbroken line of the horizon in all directions.
In 1983, the route was unmarked. After we departed the two-laner east of Springer, we journeyed across roads etched into a map in Helen's head. One section shadowed a portion of the Santa Fe Trail. In a time of no GPS, with no signs or landmarks, our safe passage depended on a Toyota sedan, a full-enough tank of gas, and Helen's memory.
The boarded-up 36-room, two-story, gargoyle-guarded Dorsey Mansion, made of log and stone, was indeed a destination worthy of the adventure to find it. But the real treasure of that day was Helen—and her stories of a long-ago place that came to splendid life while we drove under the wide New Mexico sky.
I began to understand, on that journey across the grasslands of northeastern New Mexico, how taking the roads less traveled can lead to remarkable places and people. I hope that our dirt roads and our stories will continue to intertwine and persist in this land of enchantment for many years to come.
Read more: In New Mexico, the buildings remind us that de la tierra fuimos formado—from the earth we were formed.
Lesley Poling-Kempes has written several books about the Southwest. She began her writing career in 1976 as an intern at New Mexico Magazine.
OUR BALLOONS LIFT YOUR SPIRIT
"New Mexico offers a wide variety of scenic beauty, whether it's high-desert terrain, beautiful lush forests, wide-open spaces, or the friendly landowners who are willing to share their land for us to land on. That, combined with weather patterns that are very favorable for flying, makes our state one of the best for hot-air ballooning."
—Bill Lee, owner of X-Treme-Lee Fun Balloon Adventures, in Gallup, and member of the Red Rock Balloon Rally Association