A photography buff since his teenage years, Michael Edminster retired to Placitas a couple of years ago from California, because—in addition to all the hiking, biking, and skiing he does—as he puts it, "The light, landscape, and people of New Mexico lend themselves to photography."
There's no better proof of that than this Grand Prize–winning photo, taken near his new home, and those of the other winners in the 16th annual New Mexico Magazine Photo Contest. As you see in the results, the competition was outstanding. In their commentaries, several participants echoed Edminster's sensitivity to our local atmospherics, the skies in particular, and the modus operandi of  seeking and always being prepared to take advantage of extraordinary conditions and opportunities. Pros aren't allowed to enter the contest, but if our participants are amateurs, well, they're certainly inspired amateurs.
In its first 16 years of existence, the photo contest has matured nicely. More than 1,500 images were entered this time, which adds luster to the accomplishment of winning. Given the nature of the state, it's not surprising that the Landscape category garnered the most entries (604), followed by Only in NM (386), Animals (231), Details (216), and Mobile/Instagram (92). Some of our winners are repeaters—welcome back, Kimber Wallwork-Heineman—and sometimes they manage to appear more than once, like Emmitt Booher. There's something to be said for entering multiple images, as many contestants do, and coming back year after year. 
Thanks to our partnership with the Tularosa Basin Gallery of Photography in Carrizozo, winning images can be seen—and purchased—in their professionally printed, high-def glory, for much of the year. They are also considered for inclusion on our popular calendar, which means lots of exposure to an audience that loves to dwell upon images of New Mexico at its glorious best. And that kind of connection is exactly what it's all about. Now, on to the rest of the winners!
---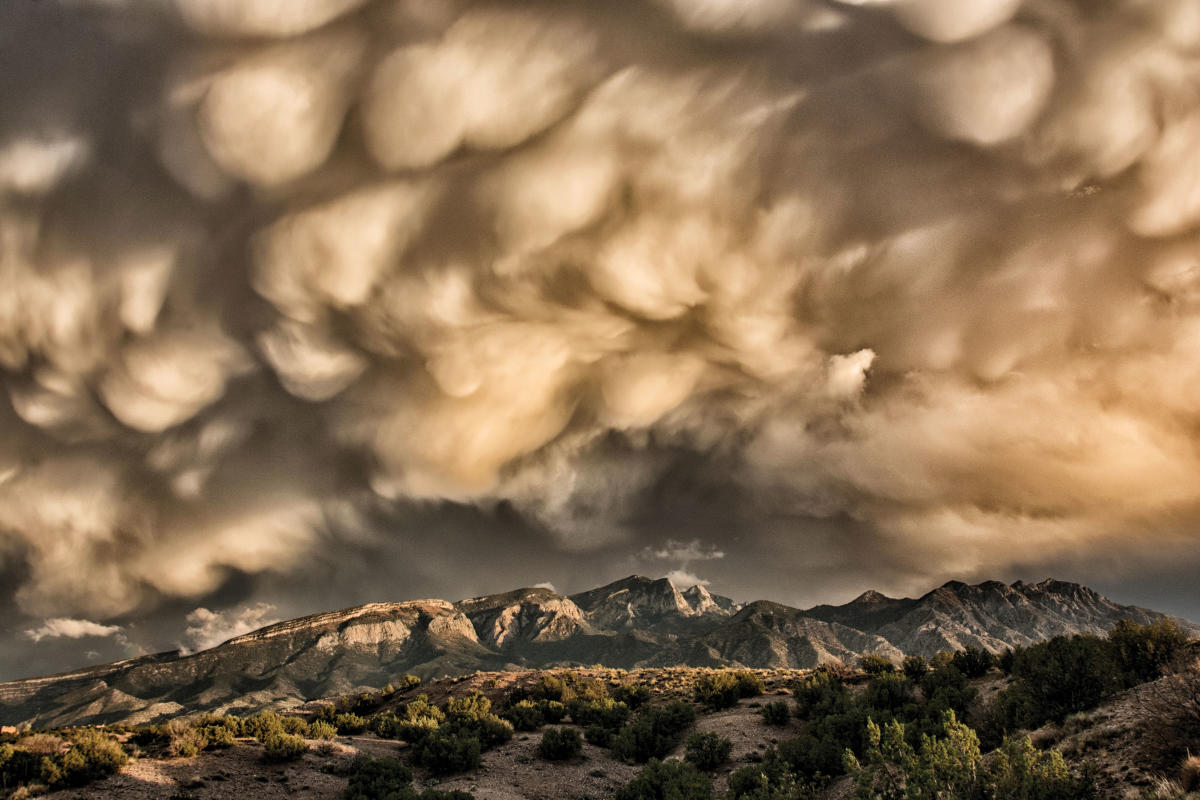 Grand Prize Winner: Fall Storm in the Sandía Mountains by Michael Edminster

My original intent was to photograph a raging thunderstorm that was occurring near Albuquerque. I live in Los Alamos and did not have a good vantage point of the storm from town, so I drove to the Jémez Mountains to a spot near Cochiti Canyon. By the time I arrived, the lightning had stopped. After I'd waited for about 20 minutes the clouds started to clear, and I figured I was out of luck. Looking due south, I knew I could at least get some shots of the Milky Way so it wouldn't be a wasted trip. I changed to a wide-angle lens and started taking pictures. After several shots, a flash suddenly occurred. It was unexpected, but, as with many photos, perseverance paid off. Photography is about capturing light. This photograph depicts all types of light—man-made, natural, and cosmic. —James Stein
LANDSCAPE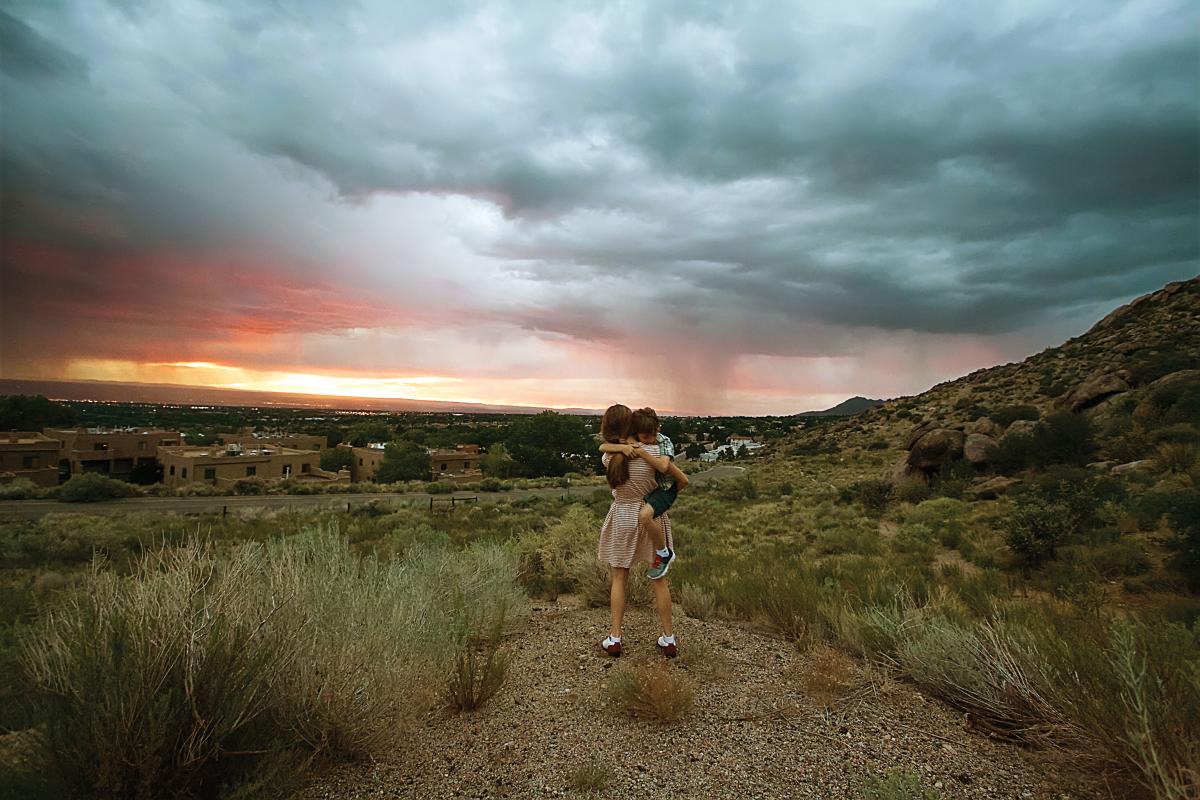 First Place, Landscape: Shelter from the Storm by Trisha Hughes (Above)
Second Place, Landscape: Lights by James Stein
Third Place, Landscape: Moonset, Jémez Mountains by Daniel Gerth
Honorable Mention, Landscape: Trail of the Ancients by Emmitt Booher 
ONLY IN NM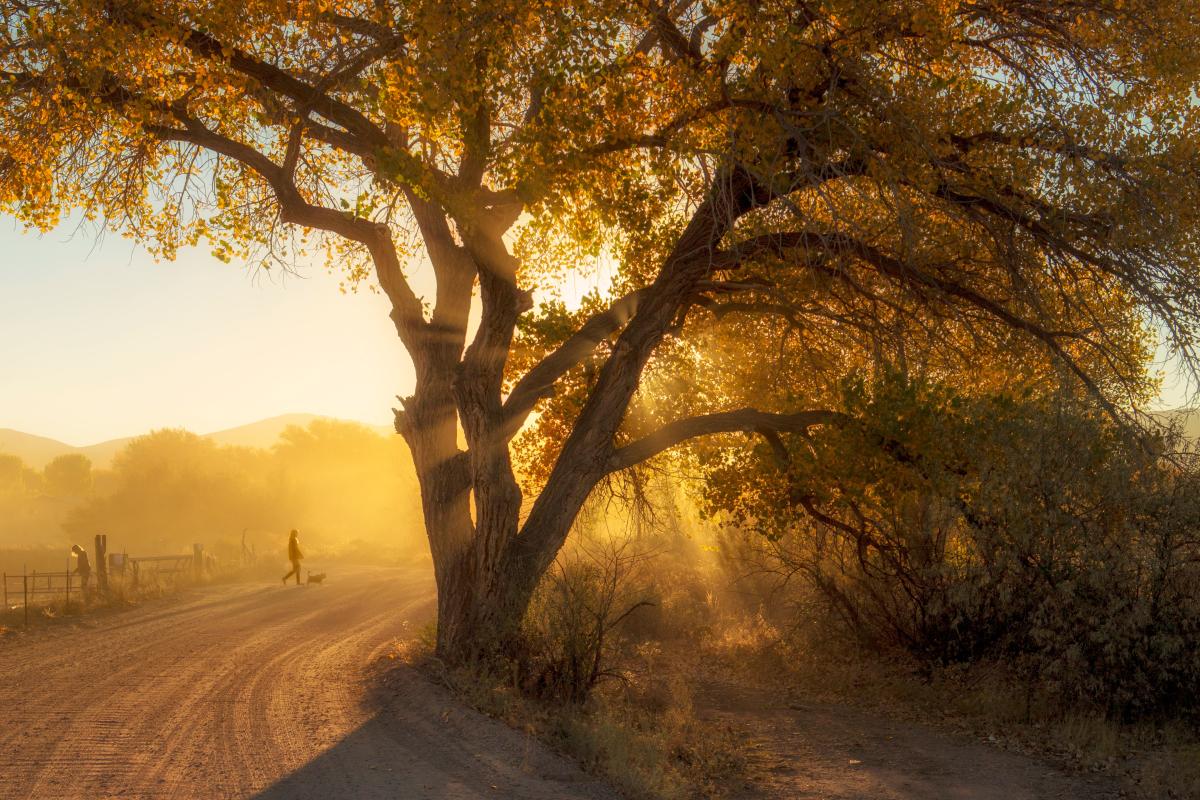 First Place, Only in NM: Fall Cottonwoods in Jacona by Kimber Wallwork-Heineman (Above)
Second Place, Only in NM: Free Hugs by Adron Gardner
Third Place, Only in NM: Taos Country triptych by Joan Concetta Biordi
DETAILS
While hiking the Alkali Flat Trail in White Sands National Monument, enjoying the splendor of the San Andres Mountains and my solitude, I noticed a fellow hiker ahead. I found myself contemplating how wonderful it is living in New Mexico, and how fortunate we are that there are public lands for us to reconnect with ourselves and nature. —Emmitt Booher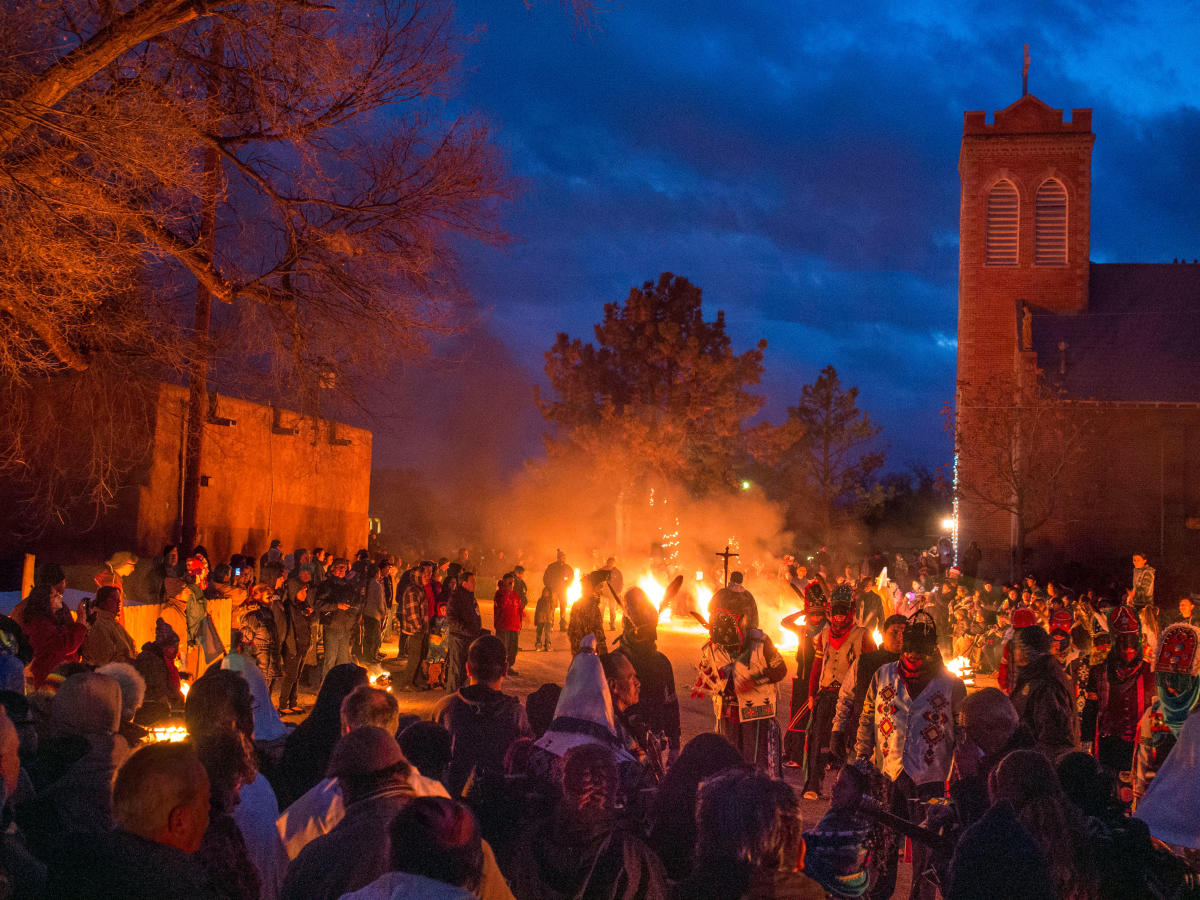 First Place, Details: Ohkay Owingeh Pueblo Los Matachines and Pine by Norman Doggett (Above)
Second Place, Details: Adobe and Cloud by Gordon Middleton
Third Place, Details: Solitude by Emmitt Booher
ANIMALS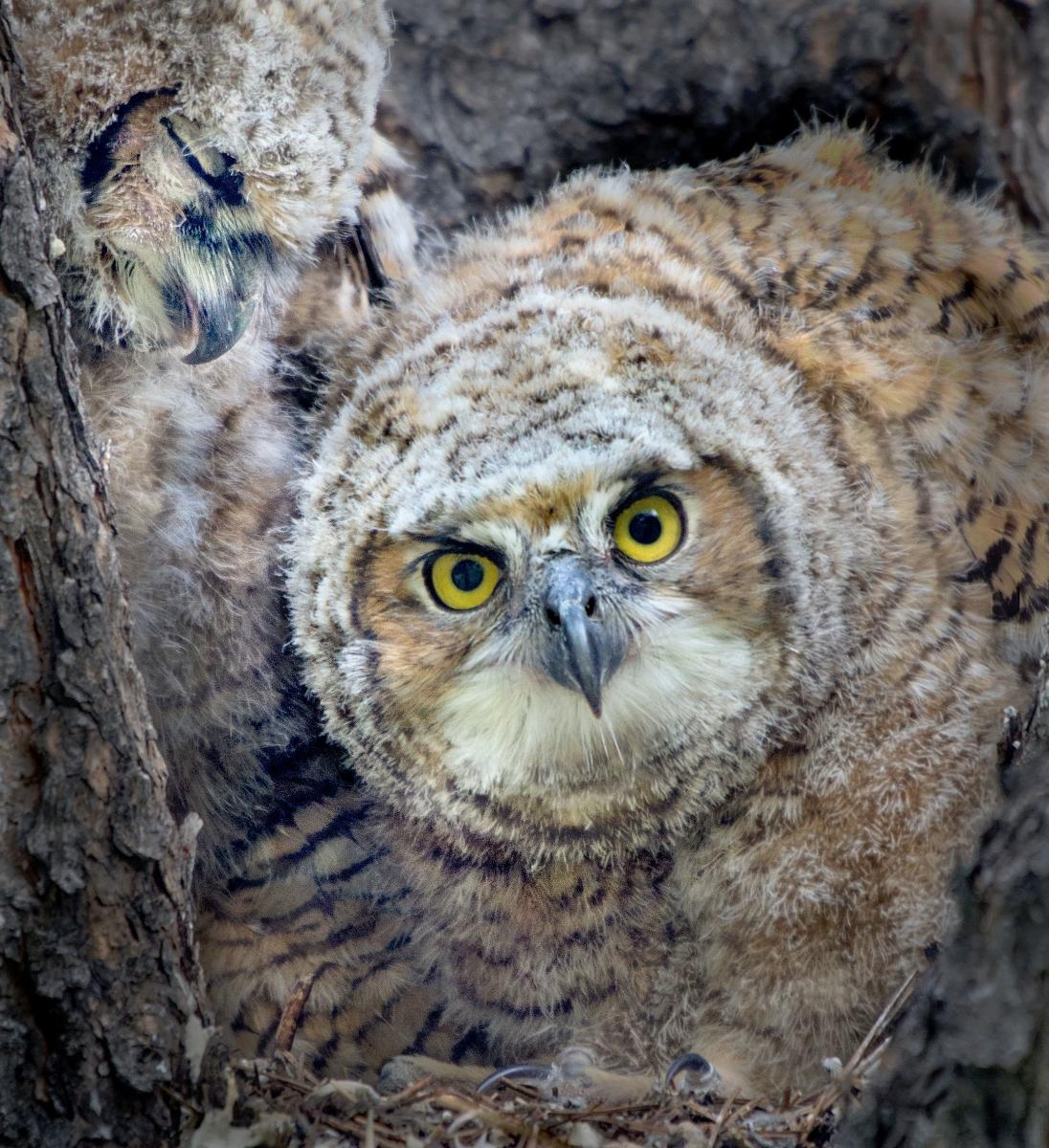 First Place, Animals: Hello World by Dennis Dusenbery (Above)
Second Place, Animals: Cactus Wren by Kelly Haller Third Place, Animals: Bosque Crane Pair by Don Jeane
Honorable Mention, Animals: Horses by Robert Vance
MOBILE
My grandmother, Lucy Pino, was very loved and dedicated as librarian at the Magdalena Public Library. After she passed away I had the opportunity fill her shoes as library/museum director; my only regret has been that she wasn't alive to share my excitement. This photo was taken during the Old Timers' Reunion after the parade. We had just won first place in the parade—my grandma won first place every year, too!—when it suddenly got a little stormy and this magnificent double rainbow appeared. In the photo stand my two kids. I was trying to take the picture of them facing the camera, but they were just so in awe of the sight that I couldn't get their attention. On the left is our library, my and my grandma's shared passion. The library is housed in Magdalena's old train station. I like to think that this rainbow was a sign from my grandma, that she was proud of me.—Jessica Carranza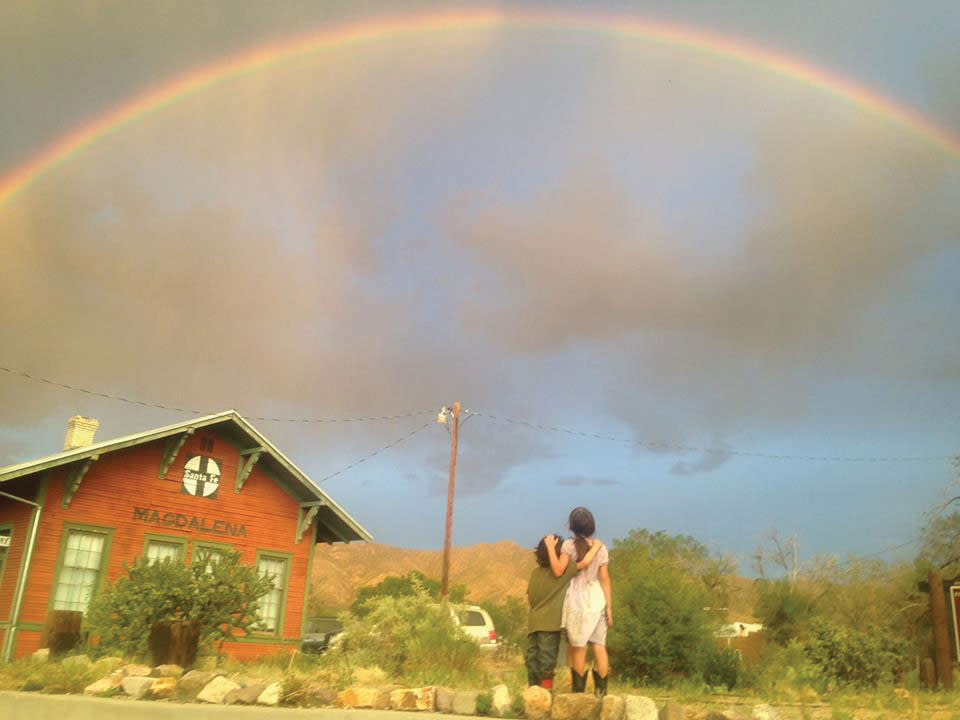 First Place, Mobile: Rainbow Over Magdalena Library by Jessica Carranza (Above)
Second Place, Mobile: Hot Air Balloon Daydream by Deja Ames
Third Place, Mobile: Taos Pueblo Trio by Molly Haley
Honorable Mention, Mobile: Morning Fog by Tim Stevens
---
PRIZES & PERKS
Grand Prize: A workshop with our co-sponsor, Santa Fe Photographic Workshops, and a one-year subscription to New Mexico Magazine.
First, Second, Third Place (each category): A one-year subscription to New Mexico Magazine and a 2017 New Mexico Artist Calendar.
Honorable Mention: A one-year subscription to New Mexico Magazine.
Everyone chosen in this year's photo contest will have their work displayed in the Tularosa Basin Gallery of Photography in Carrizozo. They will host an exhibit of winning photographs, with a special opening weekend on January 28–29. The exhibit will remain open through September. Prints of winning images may be purchased through the gallery; New Mexico Magazine does not participate in the sales or proceeds. Details can be found on photozozo.org.
JUDGES
Reid Callanan: Director, Santa Fe Photographic Workshops
Edie Dillman: Art & Photo Director, New Mexico Magazine
Dave Herndon: Editor in Chief, New Mexico Magazine
Daniel Kosharek: Photo Curator, Palace of the Governors Photo Archives, New Mexico History Museum
Gabriella Marks: Photographer & President, American Society of Media Photographers New Mexico