Above: This year's top books. Photograph by Inga Hendrickson.
ART & ARTISTS
In a Modern Rendering The Color Woodcuts of Gustave Baumann
Gala Chamberlain, Nancy E. Green, and Thomas Leech (Rizzoli Electa)
With a background in commercial art, Gustave Baumann brought a graphic sensibility to his woodblock prints. Today, 42 years after his death in Santa Fe, they hold hallowed space in museums and galleries. This 648-page catalogue raisonné gives generous play to 182 of them. Baumann's print shop has been reassembled in the Palace Press at the New Mexico History Museum, where Director Thomas Leech is the only person authorized by the Baumann estate to make new prints (a few, anyway) from the blocks. Read his essay about the master's process and marvel at how anyone could carve six blocks—one for each color—and get them to line up into one perfect print. From the cover's reproduction of Piñon Grand Canyon to the endpapers mimicking a Baumann design, the book itself reflects the caliber of excellence that marked Baumann's best works.
Eanger Irving Couse: The Life and Times of an American Artist, 1866–1939
Virginia Couse Leavitt (University of Oklahoma)
Eanger Irving Couse accounts for just one of this year's books about the 1915–27 Taos Society of Artists (three more follow). This one holds a family tie: Author and art historian Virginia Couse Leavitt is the artist's granddaughter and still summers in his Taos home, a historic site open to the public. While the society rejected the strictures of European art academies, Couse brought their exquisite brushwork and romanticizing viewpoint to his paintings of Taos Natives. Although highly staged, the works shaped Americans' thinking about indigenous peoples and inspired generations of artists and collectors.
New Beginnings: An American Story of Romantics and Modernists in the West
MaLin Wilson-Powell (University of Oklahoma)
New Beginnings accompanies a sweeping exhibition of the Taos Society of Artists, the Santa Fe Art Colony, and the modernists who succeeded them that travels the nation in 2020–21. Besides the usual players, the book brings upstarts like Raymond Jonson and Andrew Dasburg into the picture. The juxtaposition of old favorites against the emergence of Cubism and cosmic abstractions delights.
Leon Gaspard: The Call of Distance Places
Forrest Fenn and Carleen Milburn (University of Oklahoma)
A footloose Russian, Leon Gaspard found Taos an ill-fitting nest until W. Herbert Dunton, a founder of the Taos Society of Artists, took him under his wing. Contributing essayists analyze his paintings and adventures across Russia, France, China, the Middle East, and New Mexico. The authors discovered nitrate negatives of the artist, his family, and his friends and, as a special treat, reproduce them here, many for the first time.
The Life & Art of Joseph Henry Sharp
Peter Hassrick (University of Oklahoma)
The Buffalo Bill Center of the West worked with the Couse-Sharp Historic Site to compile this book and an online catalog of Sharp's paintings. Known as the "painter of Indians," he was adept with a landscape and autumnal aspen trees. Besides delivering strong bio material, the book gives a detailed analysis of Sharp's various influences, especially the Old Masters.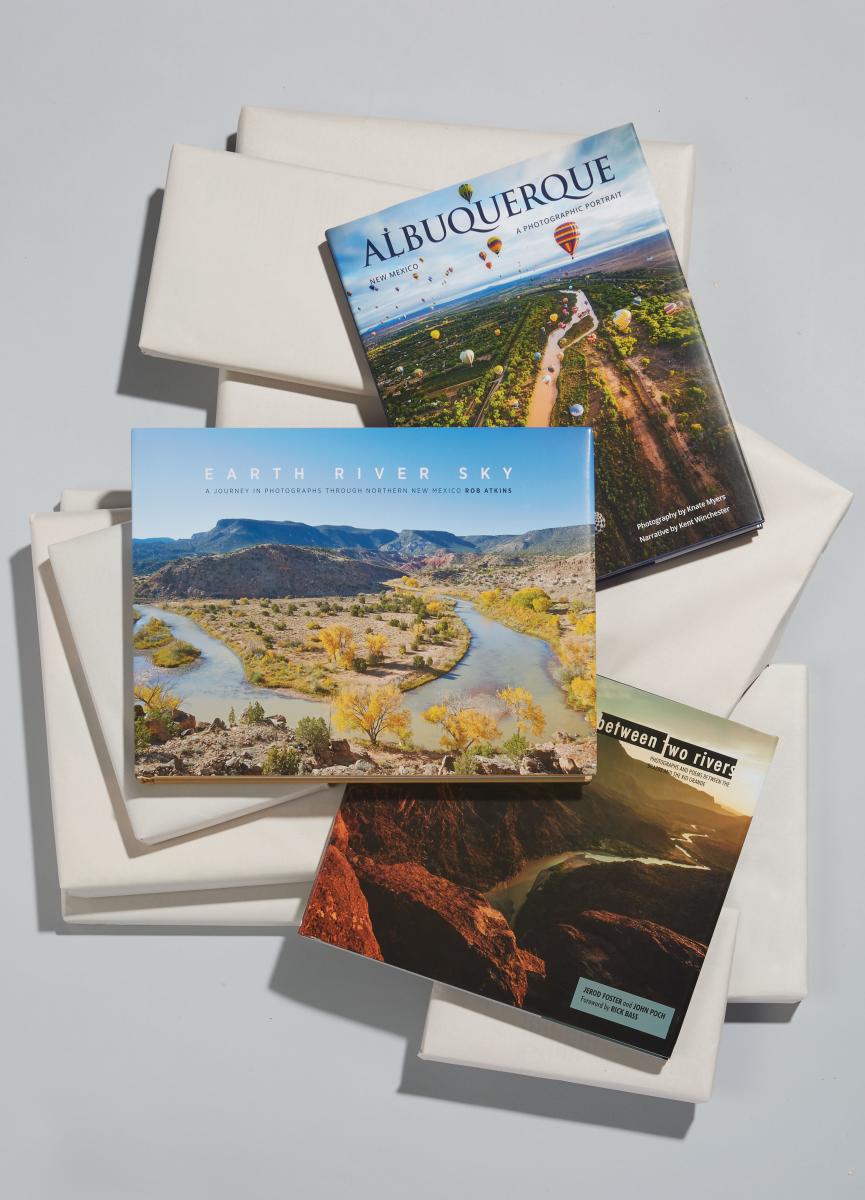 OUTDOORS
Sandia Mountain Hiking Guide
Mike Coltrin (University of New Mexico)
Improvements in GPS technology inspired Mike Coltrin to update his earlier guide. It comes with a forgiving spiral binding, GPS waypoints, and an actual foldout topographic map. Coltrin hits 62 routes, from the unquestionably easy Cienega Nature Trail (0.2 miles!) to the fearsome La Luz (14.6 miles). He even shows how to ace the tricky turns to the Eye of the Sandias.
Hiking New Mexico:A Guide to the State's Greatest Hiking Adventures
Laurence Parent (Falcon Guides)
To update his 2010 guide, Laurence Parent  revisited all 93 trails. Each has a topo map, full-color photos, and tips on mileage, parking fees, dog-friendliness, and water availability. If you tend to stick to your most familiar trails, this book will tempt you to branch out into other parts of the state, where the rewards include ice caves, bigtooth maple groves, and a vast collection of ancient petroglyphs.
Exploring Organ Mountains–Desert Peaks National Monument
Devon Fletcher and David Soules (self-published)
With names like Massacre Peak and Outlaw Rock, the southern desert can be harsh, making this one of the smartest things to stash in your backpack. Each hike includes a topo map and photos, plus a few gentle alternatives, like the lovely ruins of a hunting lodge and tuberculosis sanitarium at Dripping Springs.
MEMOIRS
Headed into the Wind
Jack Loeffler (University of New Mexico)
The author may go down in history as one of the people who spirited writer Edward Abbey's body away to a desert resting place, but he built that friendship during years of foot-soldier advocacy for the environment and tribal peoples. Throughout, he recorded oral histories and soundscapes that fill an archive held by the New Mexico History Museum. Loeffler's heartbeat thumps through the 1960s counterculture, fire lookouts, jazz bars, wild rivers, and endless wonder. "It is part of humankind's endowment to be granted the capacity to perceive the sacred quality of homeland," he writes, "… and to be humbled by the recognition that our species is but the tiniest part of that great mystery."
Mesquite: An Arboreal Love Affair
Gary Paul Nabhan (Chelsea Green)
All varieties of the hardy mesquite enchant Gary Paul Nabhan, so he's hardly surprised to discover himself sprouting roots and leaves. Take a romp with this celebrated nature writer, based in Tucson, as he explores his improbable stage of self-discovery along with so much lore about mesquites that you may be tempted to plant one yourself. And why not? Since ancient times, it's been used as food, medicine, hair dye, shelter, and shade. Nestle in with Nabhan's rollicking prose and you may forget this is a book about science, history, and culture. He even tucks in recipes for mesquite molasses, atole, tamales, enchiladas, and a mesquite-crusted quail with chipotle cream gravy.
PHOTOGRAPHY
Earth River Sky: A Journey in Photographs Through Northern New Mexico
Rob Atkins  (Glitterati)
During visits here, Vancouver-based Rob Atkins poured his heart into views that most everyone will recognize—the buttresses of the Ranchos de Taos church, a weathered turquoise door at Taos Pueblo, the majestic cliffs of Ghost Ranch. Your homesick friends will love it.
Between Two Rivers: Photographs and Poems Between the Brazos and the Río Grande
Jerod Foster and John Poch (Texas Tech)
From the Mexican border to the Texas Hill Country, northern New Mexico, and southern Colorado, the terrain puts on a grand show for Jerod Foster's camera and inspires poet John Poch. From "Acequia":
He bleeds the running ditch to soak the pasture. / The farmer, shovel-armed, digs trenches where / the water doesn't want to cover and masters / the blue to green his gold high desert square. … White, throbbing fists of storm clouds threaten rain. / His dark indignant muscles flex like Cain.
Albuquerque, New Mexico: A Photographic Portrait
Knate Myers and Kent Winchester (Twin Lights)
Set this book in the guest room and by morning your out-of-town friends will know which places they want to visit first. ("Balloon Fiesta," they'll say; the photos are that good.)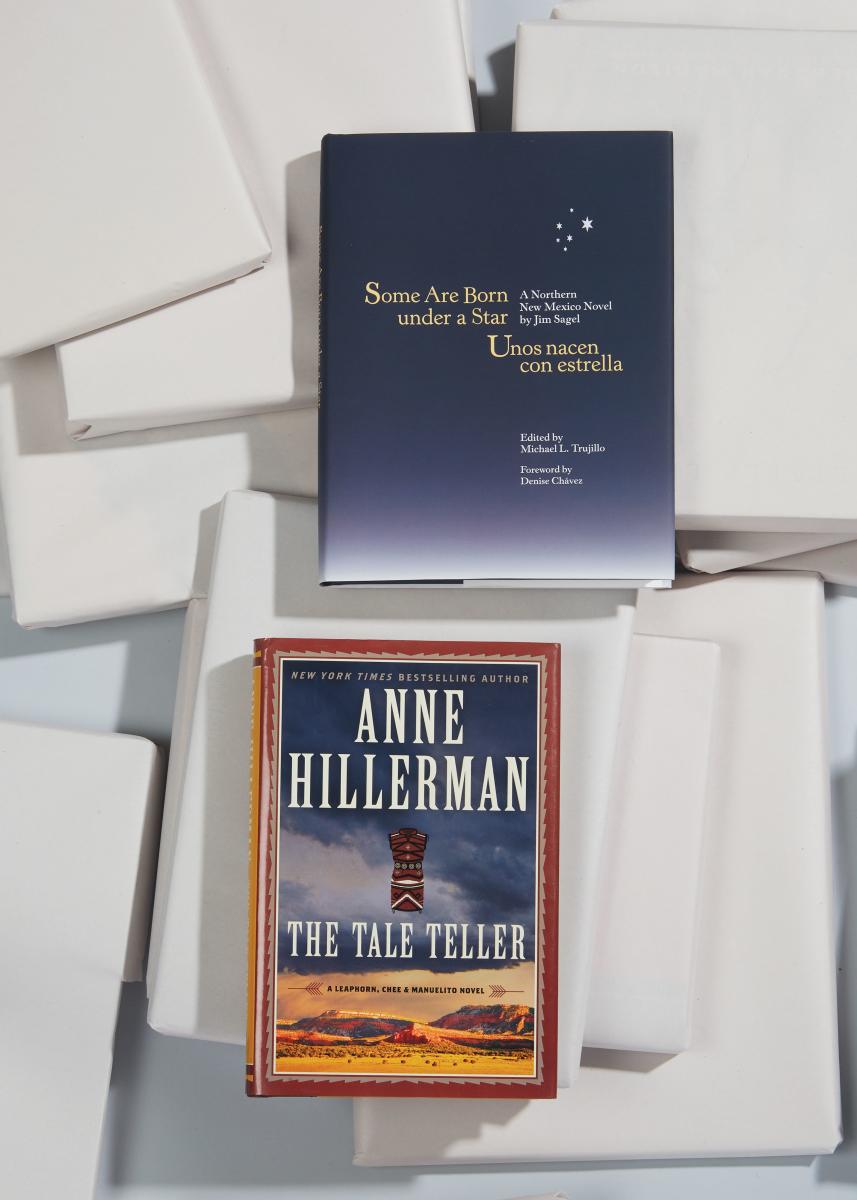 FICTION
Some Are Born Under a Star
Jim Sagel (Museum of New Mexico Press)
Set during Los Pastores, a traditional Christmas play, this book opens by revealing that the woman playing the Virgin Mary has only 23 days to live, then plops us into her fictional town with residents like "the World Champion of Laziness" and el mashishi (the devil). With its Nativity theme and impish mix of comedy with drama, the book begs to be read out loud, with the family, near a fire, on a starry winter's night.
The Tale Teller
Anne Hillerman (Harper)
Officer Bernie Manuelito has become more fleshed out and been given a compelling inner life in this latest installment of the author's continuation of her late father's beloved Leaphorn-Chee mystery series. Her hook: a missing dress that bears a tie to the Navajo tribe's incarceration at Bosque Redondo, in Fort Sumner. Kudos to Hillerman for shedding light on that dark corner of the American story and for doing so within a nimble whodunit.
HISTORY
Escalante's Dream: On the Trail of the Spanish Discovery of the Southwest
David Roberts (Norton)
In 1776, Francisco Atanasio Domínguez and Silvestre Vélez de Escalante took off from the Palace of the Governors, in Santa Fe, for what they considered the terra incognita part of today's American West. The goal was to find a route to California, its Spanish colony, and its seaports, but also to perhaps stumble upon gold and convert Native people. Little of that happened, but during the truncated 1,700-mile journey they saw more land than Lewis and Clark would 25 years later—the Grand Canyon and Great Salt Lake included. David Roberts retraces the route with the acumen of a top-notch travel writer and history lover. D&E, as he comes to shorthand our intrepid explorers, faced snowstorms, illnesses, and starvation so dire they ate their horses. Unlike them, Roberts and his wife never have to cut up their Toyota Rav4. Among the laudable outcomes of the expedition were the first maps of these strange places, one of which today bears a resonant name: the Grand Staircase–Escalante National Monument, in Utah.
New Mexico's Palace of the Governors: Highlights from the Collections
Daniel Kosharek and Alicia Romero (Museum of New Mexico Press)
Humble as it looks from the outside, the Palace of the Governors stands tall as a national treasure—the oldest continually occupied government building in the U.S. First built around 1610 and rebuilt numerous times, it has served as the state's history repository since 1909. For the past year or so, it's been closed while workmen install climate controls and a fire-suppression system; it may reopen in early spring. Thanks to the Albuquerque Museum, an exhibition of clothing, books, maps, bultos, and photographs within its collection became part of a 2019 exhibit, A Past Rediscovered. This companion book highlights 200 treasures that, along with essays by curators, provide a solid introduction to New Mexico history. The historic photos shine especially, from 1901 cyanotypes of Chaco Canyon to contemporary images of lowrider communities.
Las Vegas, New Mexico, 1835–1935
Edwina Portelle Romero (Friends of the Las Vegas City Museum)
The "other" Las Vegas lays claim to a rip-snorting past of Wild West outlaws, railroad entrepreneurs, and builders who crafted still-standing examples of architectural gems in styles that rambled among Spanish Colonial, Victorian, Queen Anne, and Mission Revival. The scrapbook approach of this book presents those tales in tempting nuggets, introducing early settlers, bad guys, old stores, and the town's appeal to early 20th-century filmmakers. Its swarm of photos absolutely charms. To learn more about Las Vegas's post-1935 history, hit the road and see for yourself. Start with the historic and newly reopened Castañeda Hotel.
Historic Churches of New Mexico Today
Frank Graziano (Oxford)
Thank heavens for Frank Graziano. Not only has he compiled this must-have book on historic Catholic churches all over the state, but, via Nuevo Mexico Profundo, he also organizes special events, including walking tours of old villages and concerts inside the churches, to raise money for their preservation. In the book, he details each one's history, offers advice on how to visit it, and profiles the makers and the caretakers, the fallen and the faithful. 

CHECK OUT MORE OF OUR 2019 GIFT GUIDE
[HOME]  [LIFESTYLE]  [JEWELRY]  [KIDS]  [OUTDOORS]  [SELF-CARE]  [DRINKS]  [KITCHEN/FOOD]  [BOOKS]
---