Above: Boston Hill's summit is a handy vantage point for getting the lay of the
land in Silver City.
WHILE EATING BREAKFAST at downtown Silver City's Tre Rosat Cafe, I overheard a couple chatting at a nearby table. "Twenty years ago they were calling this town the next Santa Fe," said a woman who looked to be in her mid-fifties. "It never happened." Her husband nodded in agreement. "Too far from the interstate," he added.
Amen, I thought to myself. 
Don't get me wrong—I love my former home city of Santa Fe. But one thing that makes New Mexico special is the diversity and singularity of its communities. From Albuquerque to Zuni, no town is quite like any other.
Silver City was founded 150 years ago, on the heels of a silver-mining boom. Many who live in this sunny hilltop town of about 10,000 on the fringes of the Gila Wilderness still work in the mining industry, but Silver City and surrounding Grant County also claim a sizable number of artists, entrepreneurs, retirees, educators, students, and outdoorsy individualists who love it here precisely because it's unlike any other place in the Southwest—or the world, for that matter. 
I fell hard for Silver City the first time I visited, about 15 years ago. Entranced by the slowgoing drive through the Black Range along breathtakingly circuitous N.M. 152, I quickly delighted in the remarkable variety of one-of-a-kind restaurants and funky boutiques along downtown's colorful commercial drag, Bullard Street. Adjacent to a minimally inhabited national forest nearly the size of Connecticut, Silver City might just be New Mexico's ultimate destination for getting away from it all without actually having to forgo exceptional dining, distinctive accommodations, and top-notch arts and cultural attractions.
My hope is that predictions about Silver City's imminent transformation into the next this or that prove forever incorrect. Here are 25 attributes of Silver City that make it such a charmed place to live and visit.
1. SCENIC ROUTES
Every road into Silver City is a stunner; two of New Mexico's national scenic byways pass through the region. From the northeast, hop onto the 50-mile southern leg of the Geronimo Trail National Scenic Byway (geronimotrail.com), which begins in Caballo and follows N.M. 152 up through Hillsboro and Kingston before switchbacking through the Black Range over 8,228-foot Emory Pass.
The Trail of the Mountain Spirits National Scenic Byway (tmsbyway.com) runs north along N.M. 15 from Silver City, passing through Pinos Altos, over the Continental Divide, along a ridge that leads across sweeping White Horse Mesa, and to Gila Cliff Dwellings National Monument. It's just a 45-mile drive, but allow 90 minutes. The byway then backtracks to N.M. 35 near Lake Roberts, cutting southeast through the picturesque and secluded Mimbres Valley down to San Lorenzo, where it intersects with the western terminus of the Geronimo Trail byway.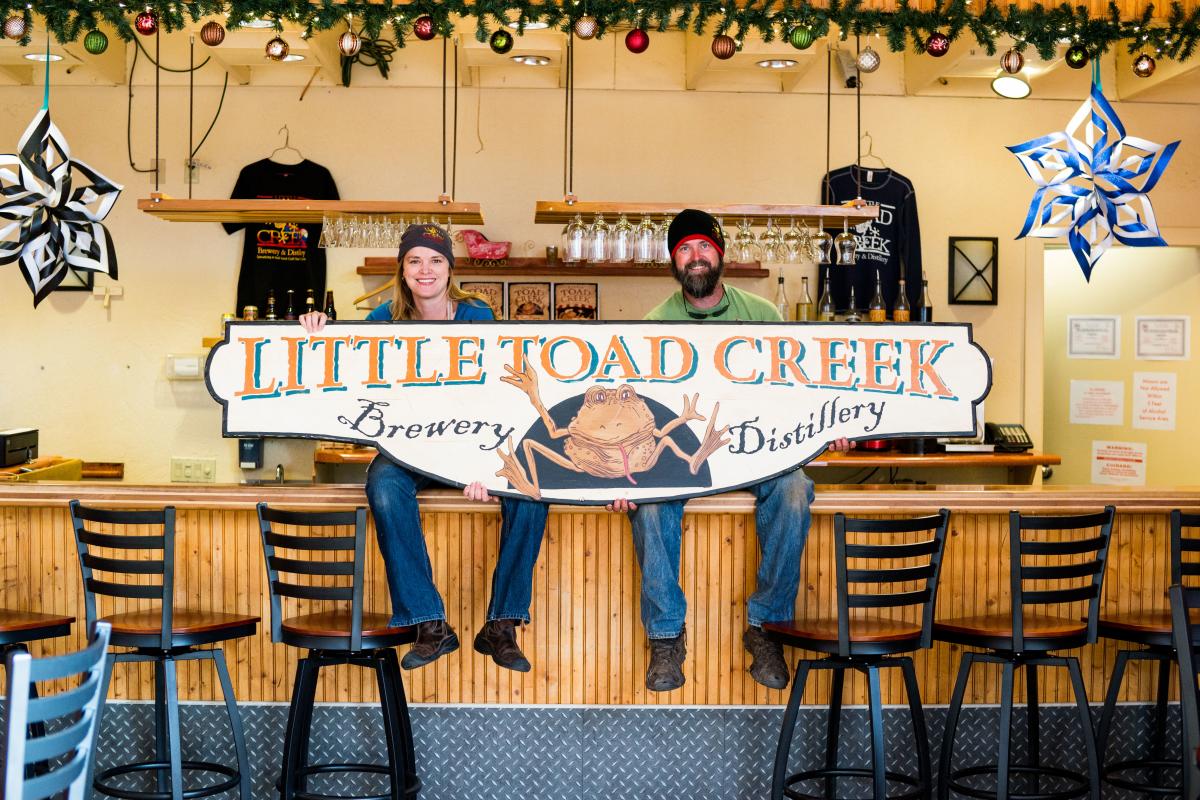 Above: Little Creek Brewery.
2. COOL SPIRITS AND HOT SPRINGS
Situated along the Trail of the Mountain Spirits, the tranquil Little Toad Creek Inn (575-536-9649, littletoadcreek.com) makes an ideal base for visiting the Gila Cliff Dwellings or partaking of the several geothermal hot springs in the area (mynm.us/gilasprings). The inn has simple lodge and "bunkhouse" rooms, and the restaurant serves eclectic fare. You can also sample house-crafted beers and spirits, from hearty stout to spiced rum, produced at the on-site brewery and distillery. In Silver City, you can sample these beverages at the rollicking Little Toad Creek Brewery & Distillery tasting room and tavern. (575) 956-6144; littletoadcreekbrewerydistillery.com
3. HIGH-COUNTRY HIKES
Just outside the city, the massive Gila Wilderness beckons hikers of all abilities with dozens of spectacular excursions, from rambles through coniferous forests to treks high up above the tree line. Nab a full list of popular day hikes at the Gila National Forest ranger office in Silver City (575-388-8201; mynm.us/gilahikes). If you have time for just one good trek, make it the Signal Peak hike (Trail No. 742). Just 14 miles north of Silver City, the five-mile round-trip ramble leads to one of the highest points in the Pinos Altos Range. At the top, you're treated to 360-degree views from the Signal Peak Fire Lookout. Pictured at left: A view from the Boston Hill trail network.
4. COFFEE KLATCHES
Silver City's bohemian vibe is strongest in its homey coffeehouses. In a cozy brick bungalow, the former Three Dogs Coffeehouse reopened with new owners as the Jumping Cactus (503 N. Bullard St.; 575-654-7367; on Facebook). Stop by for Vietnamese iced coffee, honey-almond scones, or a hearty breakfast frittata. A stone's throw from several art galleries, intimate Yankie Creek Coffee House (112 W. Yankie St.; 575-534-9025; on Facebook) serves delicious teas and coffees as well as rich homemade ice cream. And longtime favorite Javalina Coffee House recently moved to 117 West Market Street. Inside this sunny adobe storefront space, you can nosh on pies and bagels and watch everything from poetry slams to local music acts; there's a lovely patio out back. (575) 388-1350; on Facebook
5. CHILD'S PLAY
A family-oriented testament to Silver City's vigorous community spirit, downtown's Penny Park is an extensively equipped one-acre playground that was constructed by volunteers in the late nineties and then completely rebuilt—this time using fire-resistant, splinter-free materials—following a devastating fire in 2011. This shaded wonderland of balance beams, climbing structures, swings, and slides is anchored by a pleasant picnic area. (575) 538-3731; townofsilvercity.org
6. KING COPPER
The region's Mimbres-Mogollon people first started mining copper and turquoise around AD 20. Grant County's mines have produced more copper, gold, silver, lead, and zinc than all the rest of New Mexico combined. Once the largest open-pit mine in the world, Chino (aka Santa Rita) Mine is about 15 miles east of town. Although you can't enter this active copper mine, you can pull into the Santa Rita Overlook viewing area, off N.M. 152, which contains interpretive signs about the region's rich copper deposits.
Silver City's copper heritage is represented in Kim Muller's exquisite copper-and-turquoise hoop earrings and textured bracelets at the Silver City Art Market on Saturdays or at her Etsy shop (etsy.com/shop/burromtnarts), and Mark Bowen's abstract copper, steel, and stone sculptures at downtown's Copper Quail Gallery (211 N. Texas St.; 575-388-2646). The kicky Raven's Nest Boutique is another copper source. 106 W Yankie St.; (575) 534-9323
7. CULTURE MAGNET
The Mimbres Region Arts Council lures talented artists and performers here; their lineup includes an indie/folk series held at the Buckhorn Saloon & Opera House, in Pinos Altos, classical concerts and touring musicals at WNMU's Fine Arts Center Theatre,  and the annual Pickamania! bluegrass festival in mid-September. The Silver City Blues Festival takes place over Memorial Day weekend in Gough Park—it's the 20th anniversary this year; Grammy-winning legend Taj Mahal is the headliner. Catch artist lecture series and rotating exhibits in MRAC's gallery inside the Wells Fargo Bank building at 1201 North Pope Street. (575) 538-2505; mimbresarts.org
8. BEST BREKKIE BETS
Vicki's Eatery is a community favorite for hearty, made-from-scratch chorizo-and-eggs, "country" Benedicts with biscuits and gravy, crisp hash browns, and strong coffee (315 N. Texas St.; 575-388-5430). Fig–arugula–goat cheese quiche and avocado–key lime pie keep regulars coming back to the cozy Green Turtle Noshery, where cheerful chef-owner Terri Todd cooks primarily with organic, local ingredients. 601 N. Bullard St.; (575) 200-6895; on Facebook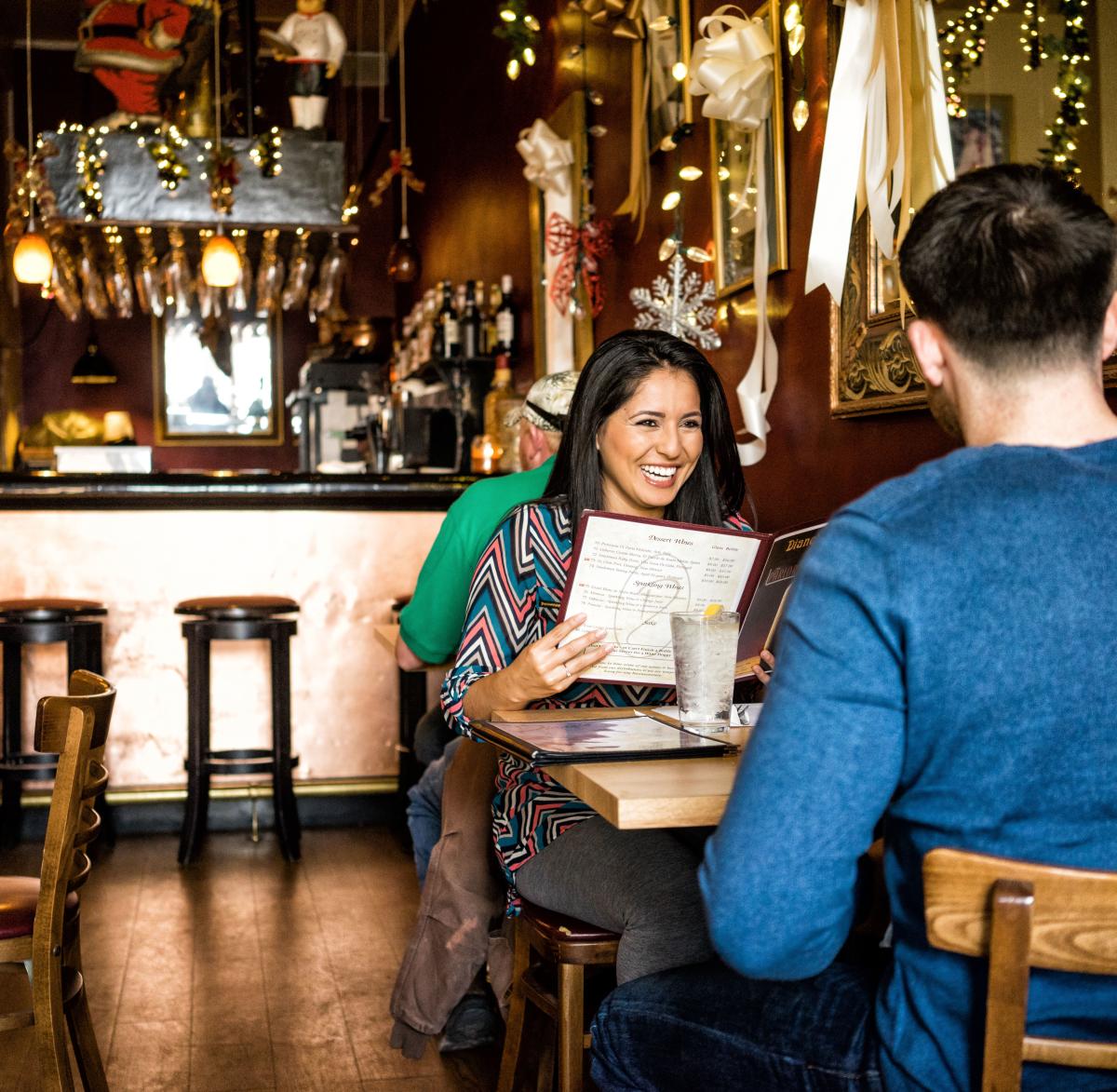 Above: Diners at Diane's Restaurant.
9. DINNER RUSH
Silver City is home to some incredibly accomplished chefs, including Rob Connoley of the Curious Kumquat, a 2014 James Beard Award semifinalist for best chef in the Southwest. Check the dinner menu online before deciding whether to bring children—lunch is a safer option—and call ahead to ensure the restaurant is open as advertised on its website (575-534-0337; curiouskumquat.com).
Just down the street, the staff at Shevek & Co. guides guests through an ambitious slow-food-driven menu that features grilled duck breast with a lively North African cranberry-and-preserved-lemon chutney, and baked scallops à la Galicia (575-534-9168; silver-eats.com).
Open for dinner Friday through Sunday, 1zero6 offers a small, oft-changing dinner menu of innovative Latin American and Asian specialties that might include lemongrass shrimp with saffron rice and a fragrant mango sambal or Yucatán-style salmon pibil folded in banana leaf, served with a camote corn cake (575-313-4418; 1zero6-jake.blogspot.com).
Across the street at Diane's, order "Mama's Meatloaf," slow-baked and smothered in Diane's rich tomato sauce. The weekend champagne brunch is a Silver City tradition, and there's live music most nights in Diane's parlor (575-538-8722; dianesrestaurant.com).
Tre Rosat occupies a light-filled storefront and serves modern American favorites like cured pork belly tacos with tequila-pickled jicama and stick-to-your-ribs bison short ribs. (575) 654-4919; trerosat.com
10. ROCK STAR
Scamper among the fantastic geological formations at City of Rocks State Park, which is traversed by nearly six miles of well-marked trails, including a nature walk through a desert botanical garden. The 1,230-acre property, popular with tent campers and mountain bikers, is also home to a roll-top astronomical observatory. Once or twice a month, visitors are invited to view the night skies through the observatory's telescope. (575) 536-2800; mynm.us/rockspark
11. STREET TREATS
At the top of Bullard Street, the fire-engine-red Streetside Food cart offers a rotating array of international treats, from Japanese-style veggie curries to grilled chicken sausage sandwiches smothered in tomatillo-jalapeño-scallion relish (575-297-9048; on Facebook). Nearby Alotta Gelato serves luscious Italian ice cream in such decadent flavors as coconut-chocolate and dulce de leche (alottagelato.com; 575-534-4995). And Mi Mexico Viejo food stand, at Hudson and Broadway, dispenses value-priced authentic chorizo con huevos, chiles rellenos, and barbacoa, tripa, and lengua tacos. (575) 334-9182
12. BEAR IN MIND
Tucked in the hills just northwest of town, the Bear Mountain Lodge is no ordinary B&B. This luxurious Pueblo Revival mansion from the late 1920s, which underwent a complete restoration in 2010, occupies a 178-acre private reserve with prime opportunities for birdwatching and hiking. Overnight guests can dine at the lodge's Café Oso Azul, which serves a complimentary breakfast as well as lunch and dinner for an extra charge; brunch is available to the general public on weekends by reservation. (575) 538-2538; bearmountainlodge.com
13. FORT BAYARD'S RICH HISTORY
The eerily beautiful Fort Bayard, with its quiet lanes of courtly vacant buildings, is one of the state's most alluring and unusual spots. The 700-acre district, designated a national historic landmark in 2004, dates to the close of the Civil War, when the U.S. military established a garrison to protect the area's settlers from Apache raiders.
Troops here included hundreds of elite Buffalo Soldiers, among the nation's earliest African American enlistees. Although the dozens of historic buildings—from modest white-clapboard bungalows to the three-story Territorial-style former hospital—are no longer in use, visitors can freely explore the grounds and admire the exteriors, and also take a poignant walk through Fort Bayard National Cemetery.
In September, Fort Bayard Days celebrates the property's heritage with old-time kids' games and a concert and ball complete with military band. (575) 956-3294; fortbayard.org
14. MARKETING PLAN
Saturday mornings from May through October, the Silver City Farmers' Market pops up downtown near Big Ditch Park, just off Bullard at 7th Street. March 20–21, the market will host a home-and-garden expo offering a schedule of classes on composting, lacto-fermentation, hoop-house building, and more (575-388-2343; silvercityfarmersmarket.blogspot.com). Just a couple of blocks away, talented local artisans offer handmade ceramics, colorful tapestries, and forged copper and silver jewelry at the Silver City Art Market. 709 N. Bullard St.; silvercityartmarket.com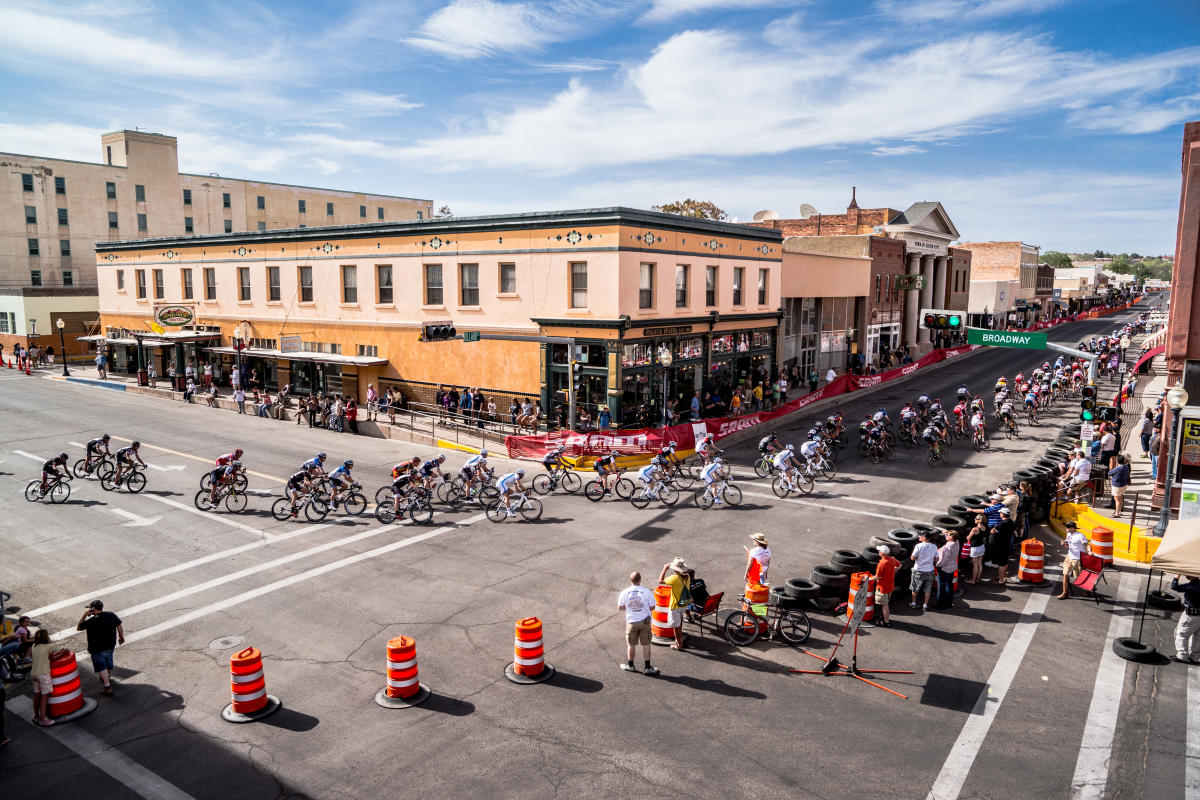 Above: Bikes trek through Silver City's main drag for the Tour of the Gila.
15. BICYCLE HEVEN
One of the top towns in the Southwest for cycling, Silver City hosts such acclaimed competitive bike rallies as spring's Tour of the Gila, which next takes place April 29–May 3 (tourofthegila.com), and the Gila Monster Gran Fondo, held in early October (mynm.us/gilagranfondo). A favorite of mountain bikers, the Signal Peak Fat Tire Fest features noncompetitive rides, plus plenty of great beer and barbecue. signalpeakchallenge.com
You can rent top-of-the-line mountain bikes at Gila Hike & Bike, whose staff can also offer expert guidance on the best bike trails in the area. (575) 388-3222; gilahikeandbike.com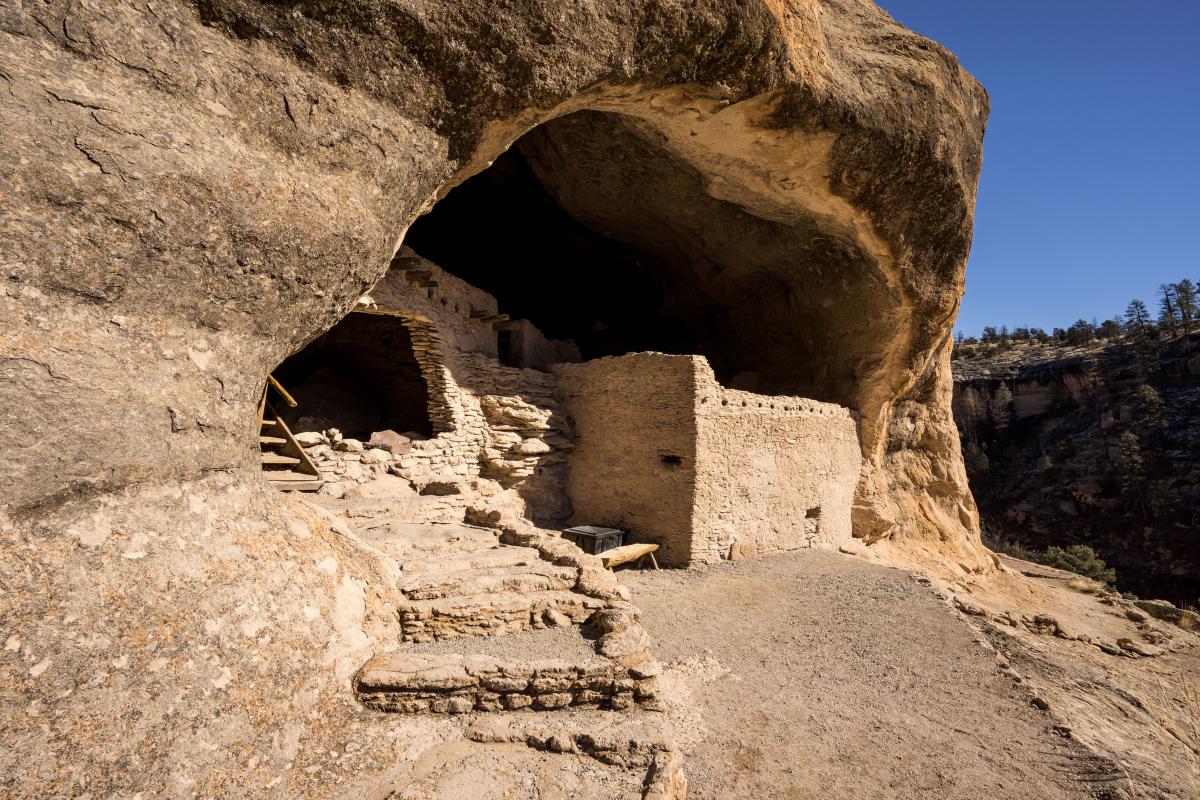 Above: Gila Cliff Dwellings National Monument.
16. ANCIENT DWELLINGS
President Teddy Roosevelt designated the well-preserved cave dwellings 45 miles north of Silver City one of the first of the country's national monuments, in 1907. Thank him for his foresight as you explore the five caves, occupied by Mogollon people in the late 13th century, which form the centerpiece of 533-acre Gila Cliff Dwellings National Monument.
A one-mile loop trail winds through a canyon of fir, piñon, and juniper trees to the caves, which contain some 46 rooms demarcated by ancient stone walls. Enjoy a free midday guided tour of the caves and the several murals within them. Myriad artifacts recovered at the site are displayed in the small but informative visitor center, where you can also watch a 15-minute video about the site. The short Trail to the Past stroll leads to a cliff face covered with centuries-old ocher pictographs depicting people, animals, and abstract patterns. (575) 536-9461; nps.gov/gicl
17. HISTORY HOUSE
The Silver City Museum is set in the 1881 H.B. Ailman House, an Italianate redbrick mansion with a soaring turret and a graceful mansard roof. The permanent collection of nearly 30,000 objects here focuses on the town's growth, including fascinating historic photos of the severe floods that used to plague downtown, prehistoric Mimbres ceramics and baskets, and vintage mining gear and assaying equipment. Through July 4, you can view an exhibit honoring the 50th anniversary of the National Wilderness Preservation System, of which the Gila was an original member. You can also pick up walking-tour brochures of the city's historic neighborhoods. (575) 538-5921; silvercitymuseum.org
18. INHABIT HISTORY
On the same downtown block, you'll find two of the state's most distinctive old hotels. The colorful Palace Hotel dates to 1900 and contains 18 comfortable rooms furnished simply with country quilts, antiques, and four-poster beds, as well as the updated room #62 (575-388-1811; silvercity-palacehotel.com).
Reopened after an ambitious renovation in 2013, the striking art deco Murray Hotel was built in 1938—at five stories, it was then and remains today the tallest building in town. Expect plush beds with leather headboards and high-end bath amenities (575-956-9400; murray-hotel.com). Best of all, rates at both hotels are lower than or comparable to the several chain properties on the outskirts of downtown.
19. A NIGHT AT THE OPERA
You might not expect to find it in the remote Gila hinterlands, but in tiny and rugged nearby Pinos Altos, the carefully restored, 155-year-old Buckhorn Saloon & Opera House entertains guests with folk and Americana concerts and occasional Wild West–style melodrama; its restaurant serves first-rate steaks and burgers (575-538-9911; buckhornsaloonandoperahouse.com). About 200 folks make their home in this former gold-rush town.
Other draws include the Log Cabin Curio Shop & Museum (33 Main St.; 575-388-1882), which occupies a former schoolhouse and is packed to the rafters with Navajo rugs, Pueblo jewelry, and more; and the Pinos Altos Art Gallery, which shows the works of some 50 artists in the historic Hearst Church (575-574-2831; gcag.org). The Bear Creek Motel and Cabins offers 15 split-level, pine-shaded cottages with handsome fireplaces and private decks. (575) 388-4501; bearcreekcabins.com
20.  IT'S A GOLD MINE
Silver City has no shortage of emporia stocked with vintage riches. More than 350 vendors ply their wares at the Silver City Antique Mall (575-388-8989; silvercitytrading.com), while Fire Cloud Traders offers high-quality Native American goods, from Zuni fetishes to handwoven clothing (209 W. Broadway St.; 575-538-5276). In three brightly colored storefronts on Bullard Street, Pink Store North carries the same Mexican hand-carved furniture, ceramics, and metalwork sold at its flagship shop, just over the border from Columbus in Palomas, Mexico. (575) 956-6250; thepinkstorenorth.com
21. YOUNG AND OLD
Established in 1893, Western New Mexico University (WNMU) occupies a commanding bluff on the west side of downtown—and imparts Silver City's college-town vibe. The campus is home to several notable buildings, including Fleming Hall, built in 1917. It's now home to the WNMU Museum. This repository contains the largest collection of Mimbres-Mogollon artifacts anywhere, along with Puebloan, Southwestern, and WPA works. (575) 538-6386; wnmumuseum.org
22. BUILT TO LAST
Back in the 1880s, Silver City's civic leaders took steps to ensure that downtown's stately structures, from intricately trimmed Italianate Victorians to low-slung Territorial adobes, would survive for many generations. Today, downtown contains some of the finest pre-20th-century architecture in the state. The Silver City MainStreet Project (silvercitymainstreet.com) plays a vital role in the continued preservation of downtown, including the renovation of the dramatic 1923 Silco Theater, whose recently restored neon sign and marquee now light up Bullard Street each evening. (The trustees are seeking an operator to turn this venue into a movie theater.)
The town's primary commercial drag is called Bullard rather than Main because the original Main Street was washed out by massive floods several times during the late 1800s and early 1900s. Today Big Ditch Park occupies the former artery, which lies about 55 feet below the current downtown street level—you can access this cottonwood-shaded ravine via a footbridge leading from the Visitor Center parking area. (575) 538-5555; silvercitytourism.org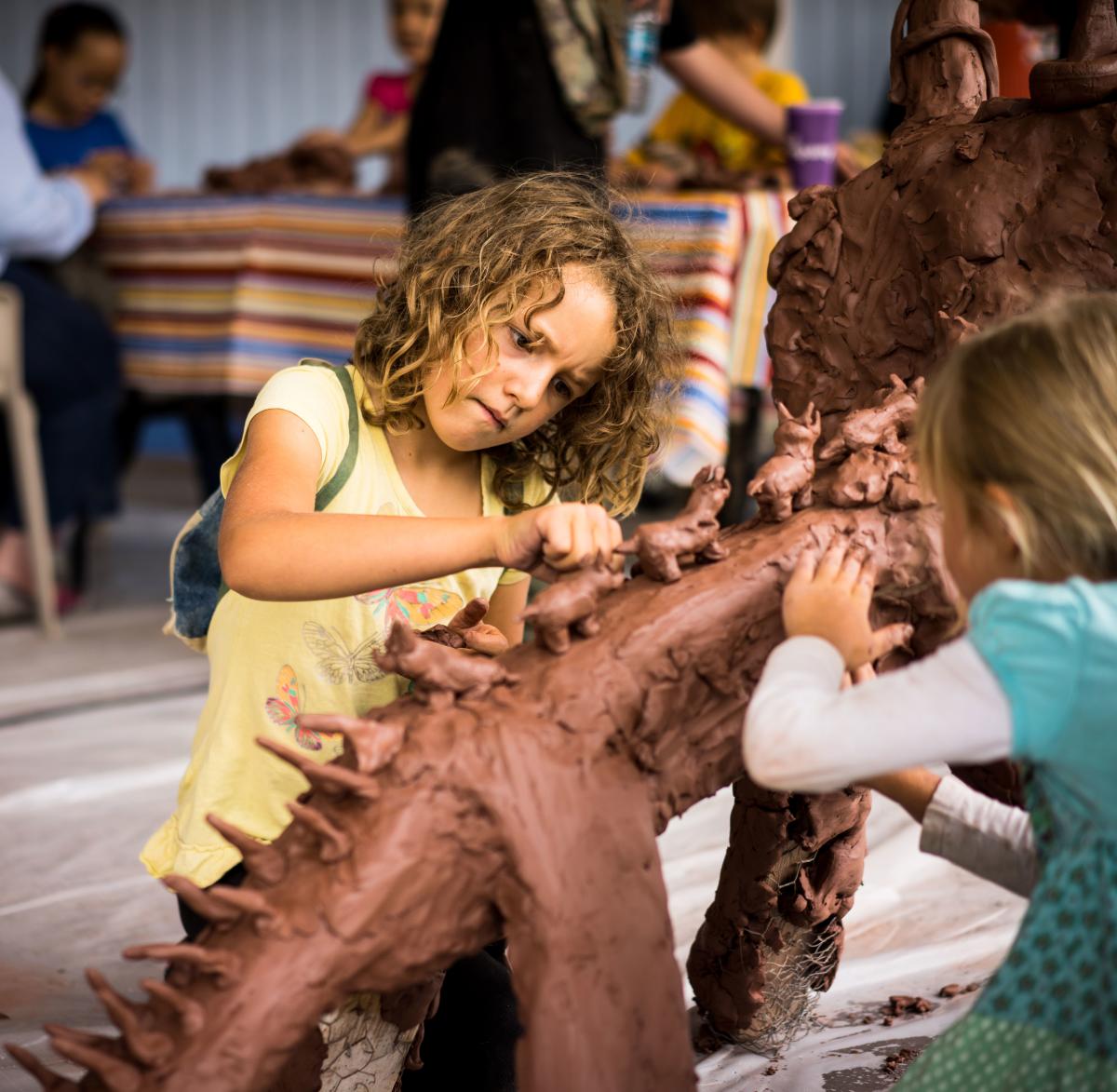 Above: Children play at the Silver City CLAY Festival.
23. CREATIVE CLUSTER
Soak up the local creative spirit along the two gallery-packed blocks of Yankie Street between Bullard and Arizona Streets. Highlights include the vibrant-hued wool tapestries of Donna Foley, who raises sheep to produce her own wool, at Four Directions Weaving (fourdirectionsweaving.com; 575-263-3830), and the contemporary landscape paintings and photography on display at Wynnegate Galleries (wynnegategalleries.com; 214-957-3688).
Stop by Seedboat Gallery (seedboatgallery.com; 575-534-1136), a handsome adobe complex where you can view the works of over 20 acclaimed artists.
Have a look at the intricately carved bone, ivory, and antler sculptures and knives of William and Elizabeth Lloyd at Lloyd Studios (303-378-0926; lloydstudios.com).
Visit the Silver City Art Association (silvercitygalleries.com) website to find more galleries.
Don't miss the mid-July weekend-long Silver City Fiber Arts Festival (fiberartscollective.org) and the early-August Silver City CLAY Festival (clayfestival.com). Now in its fourth year, this prestigious event features workshops, juried exhibitions, and a market showcasing clay sculptures, mosaics, and mixed-media works.
It's a good time to visit downtown's Syzygy Tile factory, where 20 local artisans produce highly durable decorative ceramic tiles and mosaics. (575) 388-5472; syzygytile.com
24. MURAL, MURAL ON THE WALL
More than 50 murals adorn historic buildings throughout downtown as well as nearby Santa Clara and Bayard. Download a tour map from the Mimbres Region Arts Council site, mynm.us/mimbresarts.
25. HARD-TO -BEAT RETREAT
In the secluded village of Gila, 30 miles northwest of Silver City, Casitas de Gila await you down a series of rural dirt roads, in a "stress-free zone," as artist-innkeepers Becky and Michael O'Connor like to describe it. This is a truly relaxing and quiet getaway, where the skies burst with a canopy of twinkling stars in the evenings, and the surrounding 265-acre nature preserve is laced with a dozen hiking trails. Each of the five roomy casitas has a kiva fireplace, full kitchen, and living room, plus access to a charcoal grill—moonlight burgers and s'mores, anyone? (575) 535-4455; casitasdegila.com