505 Spirits highlights local ingredients such as prickly pear from A&J Family Farms. Photograph courtesy of 505 Spirits.
FOR ANNA JONES, ROBERT HOUSTON FELT LIKE the one who got away. The couple dated for a time in their twenties as art school graduates, in Chicago. They worked for the same commercial studio—he was in the woodshop, she drew and sculpted designs. But Jones moved to New York City, and Houston chose to pursue an MFA at the University of New Mexico. 
Still, her feelings for him lingered for years. She even visited a psychic, who saw them as a couple in 16th-century France whose love ended tragically when a past-life Houston drowned in a river as Jones watched helplessly. When he called out of the blue on Valentine's Day some 10 years later, it was too much to ignore. He visited her in Chicago, where she had been working as a chef. They reconnected, married within months, and moved to his new home north of Albuquerque, in Placitas. 
In 2013, Houston was working at Total Wine & More when he noticed the slim offerings from New Mexico—there were no vermouths, hardly any brandies, and few quality chile liqueurs. The couple decided to fill the niche with 505 Spirits, an artisanal distillery. "Our business is the perfect marriage of our skills and experiences," says Jones. "Having both lived so much on the way to being together, we've converged our lives into one family and we're able to weave together our professional, aesthetic, and creative selves, which feels like the clear next step in our story."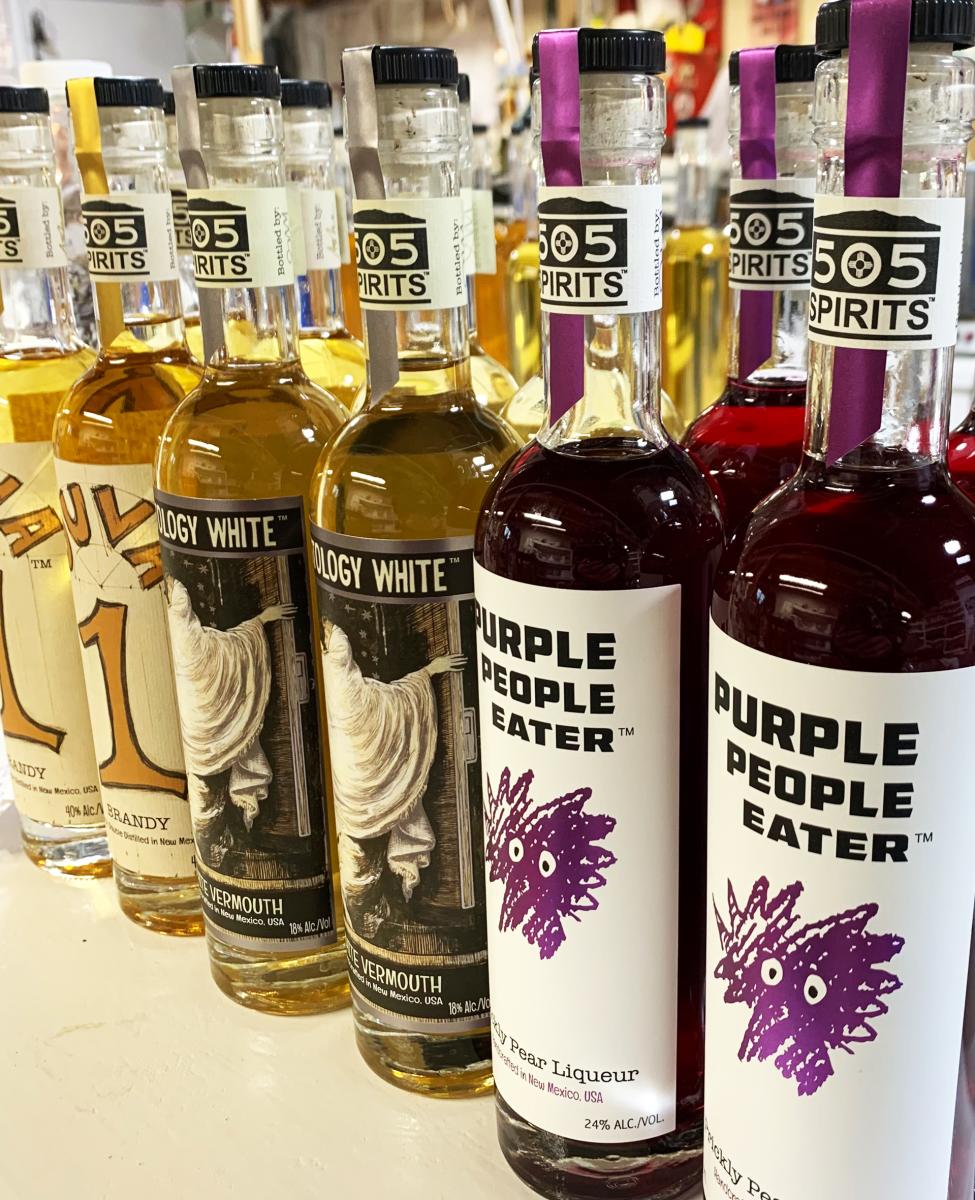 505 Spirits makes eight liqueurs and vermouths. Photograph courtesy of 505 Spirits.
Her culinary training guided the two-year development of eight liqueurs and signature vermouths, which draw inspiration from New Mexico's bounty. "That smell of green chiles when they're roasting is amazing," she says. "So much of America doesn't have a local, rich tradition of seasonal ingredients, but New Mexico does." 
Albuquerque chocolatier Eldora supplies ingredients for the El Bombón 505, a cacao liqueur. The Soothist, a brandy and crème de menthe concoction, is crafted with mint grown on the distillery's Placitas grounds. "Our spirits combine ingredients to make a flavor that isn't what you'd expect," she says. 
The most popular spirit, and arguably the quirkiest, is Purple People Eater, a prickly pear liqueur made with ripened fruits from A&J Family Farms, in Socorro. "It's fantastic with sparkling wine and bourbon," says Jones, of the cocktail they call the Bubble Monster. 
The couple also draws and designs the labels and packaging. While they initially planned to sell directly to bars and restaurants, the pandemic forced them to find distribution to consumers through stores. 
When sipping Purple People Eater, imagine Jones arriving at the Socorro farm in August to collect prickly pear fruits dripping fuchsia-colored juice. See her with piled boxes in the back of her car, windows down, the sweet aroma radiating. This speaks to the genesis of the path she and Houston have taken with their lives and their new business: "It's a labor of love," she says. 
---
Read More: With room to spare, Placitas draws artists, entrepreneurs, wild horses, and a gush of hikers and bikers from all across the state.
Read More: Choose an unfamiliar ingredient on your next farmers' market trip.
Read More: The revised edition of Indigenous recipes delivers new information on diet and fitness.