Elisa Harkins's Honor Beats. Photograph courtesy of 516 ARTS.
WHEN CURATOR ANDREA R. HANLEY (Diné) set out to create the exhibit Feminisms, she hoped to show the breadth and diversity of the movement. "Everyone has their own take on what it is and what it means to them," Hanley says. "I thought it would be important to include a number of artists from various cultures who use the theme of feminism in its most expansive meaning."
A collaboration between the Wheelwright Museum of the American Indian, in Santa Fe, and 516 Arts, in Albuquerque, the exhibit attempts to capture the feminist zeitgeist amid the 2020 election.
Hanley, chief curator of the Wheelwright, has long been enmeshed in multiple aspects of feminism. Her mother, Joy Hanley, was a Native activist and close friend of Gloria Steinem. "As a Navajo woman, the importance of the feminist voice started when I was young," she says. "Navajos are matrilineal, our clanships come through our mothers, and sometimes land is connected in that way. The women in my family were always very strong." 
The works, by 13 emerging and mid-career artists, represent various aspects of feminism such as the politics of the body, equality, equity, resilience, self-determination, land, and power. 
"The artists speak to the language of women," Hanley says. "They take that language and they elevate and amplify it, turning it into art."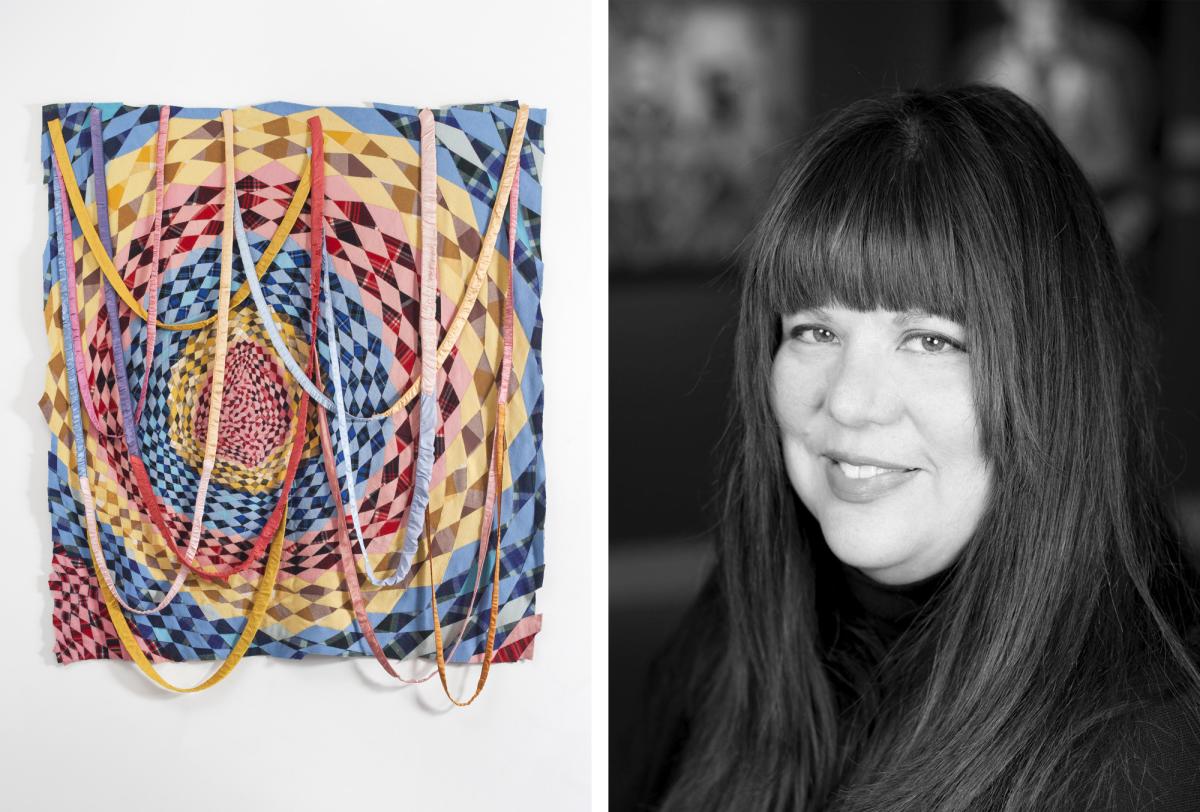 Marie Watt's Untitled (Dreamcatcher) (left), and Andrea R. Hanley, the curator of Feminisms (right). Photo courtesy of 516 ARTS.
The video installation Honor Beats, by Elisa Harkins (Cherokee/Muscogee), shows Ivanie Aubin-Malo, a Maliseet dancer, in white regalia performing on land that used to belong to a Muscogee citizen. 
The video serves as an answer to Harkins's question "How can I, as an Indigenous artist, imprint the land with my body?" It's a reclamation, and it's beautiful.
Memento Mori Clara Peeters (Still Life with Flowers/Tulip), an unsettlingly beautiful painting by Santa Fe–based artist Mara Lonner, blends interlocking black circles with pops of red flowers around an embryonic white figure. Inspired by obscure 17th-century Dutch women artists like Clara Peeters, known later for marking her Dutch Golden Age works with a bold signature, Lonner's piece comments on the persistence it takes for women to emerge from obscurity.    
"This language these artists are speaking echoes and connects with identity, their personal values, sovereignty, and human rights," says Hanley. "Women hold and express power within their communities, tribes, and nations in very different ways. That is really important to recognize and reaffirm."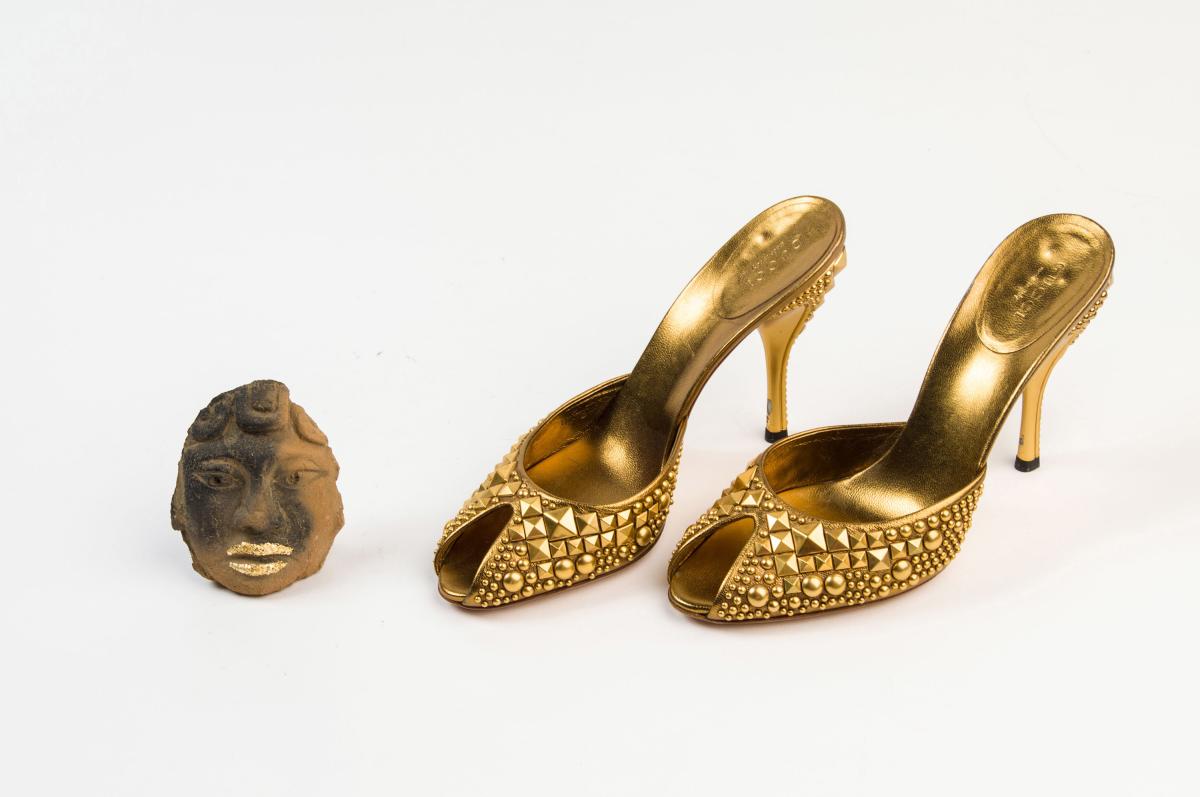 Thais Mather's Plutocracy at 516 Arts Exhibit Feminisms blends Gucci heels and a replica of a pre-Columbian sculpture. Photo courtesy of 516 ARTS.
Well heeled
In Feminisms, Thais Mather's Plutocracy is a parody and an homage to the idea of female beauty—gilded Gucci high heels paired with a replica of a pre-Columbian sculpture of a face with lips tinted gold to match. Mather, who holds a master's in installation art and feminist theory, purchased both the sculpture and the shoes and transformed them into a commentary about beauty—specifically how colonization manipulates our conceptions of it.    
The background: Over the past decade, Mather's work has been about portraying women's history, which is often veiled or hidden behind stories kept by men. "Beauty is really negative in terms of the role it plays in history," she says. "It's something we value, but it's not indicative of who we are. For women especially, it's hard not to think about history in terms of beauty, and I don't want to get caught in that trap." 
The heels: Mather initially purchased the shoes to wear them. "Something about them, I just wanted to own them," she says. "We live our lives so much as Americans through material culture and capitalism, so there was something really striking to me about wanting an emblem of that."    
The sculpture: Mather bought the replica of a traditional Zapotec clay sculpture in Oaxaca, Mexico, where she has traveled annually since she was six months old. "I found it strange, as a white woman, to be buying a replica of this history," she says. "I gold-tinted the lips because the whole thing hit on this experience of colonialism and white privilege."

516 ARTS
Feminisms can be viewed by appointment Wednesday–Saturday, noon–4 p.m., through January 30. 516 Arts, 516 Central Ave., Albuquerque;  505-242-1445.
Click here to see a list of accompanying free public programs to watch online. ​
---
Read More: Joanna Keane Lopez's interactive sculptures use adobe bricks covered in aliz to revive a dying tradition.
Read More: Home to the best in traditional Native American art, Gallup expands its creative reach to build a better community.