STEVE ARNDT LANDED HIS FIRST PIN at the Albuquerque International Balloon Fiesta in 1986, as a volunteer on the US West balloon chase crew. Today, his Albuquerque office features 4,000 unique pins, displayed on framed boards. "I probably buy 30 pins every year," says Arndt, who now serves as a hospitality volunteer for Balloon Fiesta sponsors. The small decorative pins are eagerly sought and avidly traded. Each year, new pins commemorate individual balloons, events, chase crews, officials, sponsors, and the Balloon Fiesta itself. "There are booths where you see thousands of pins and can buy and trade whatever catches your eye," he says. "You try not to wear them because you might lose them." Here are a few of his favorites from his collection.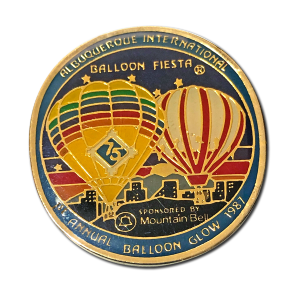 1987
Balloon Glow
Arndt worked for Mountain Bell (a US West company), which sponsored the inaugural Balloon Glow. "I have the history of the pin. I know the origin of it."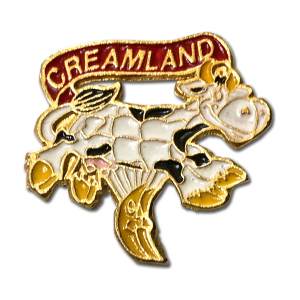 1990
Creamland Cow
It was the second pin created for Airabelle, the beloved special-shape balloon. "That one I got from the crew chief," he says.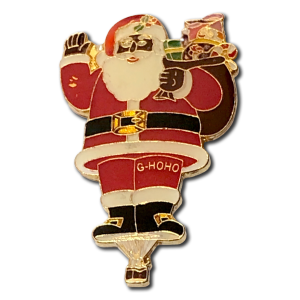 Black Santa Claus
Arndt picked up the pin, representing the balloon piloted by comedian Flip Wilson, in Park City, Utah, in the late 1980s. "I met him," he says. "We talked and had a couple drinks."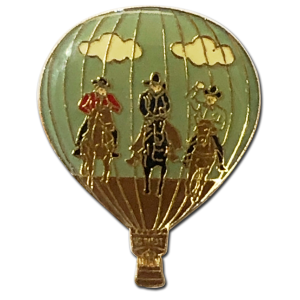 Western Spirit
The balloon, with its rare hand-painted envelop, features 40-foot cowboys riding horses against a mountain backdrop. "The pin looks exactly like the balloon," says Arndt.
COLLECTOR'S GUIDE
Here's how to get started:
➤ Land a gig. "Go out and start crewing," Steve Arndt says. "That is the best way to get pins."
➤ Pick a favorite. With so many pins to choose from, start with a type you like, such as special shapes or official event pins. "There are many different avenues you can look at," he says.
➤ Make friends. "Talk to pin collectors and traders," he says. Pin-trading sessions at the Chase Lounge are a great place to meet other hobbyists.
➤Get involved. Volunteering to work at pin booths offers "a wealth of experience and knowledge," he says.