"AS ACTORS, WE ALL WANT to be part of shows and movies with multidimensional characters that are fully fleshed out," says Zahn McClarnon, who stars as Lieutenant Joe Leaphorn in AMC's new mystery series, Dark Winds, which is based on the novels of the beloved New Mexico writer Tony Hillerman (1925–2008).
"Hillerman did a lot of the heavy lifting for Joe Leaphorn," says McClarnon of delving into the character of the legendary tribal policeman. "He wrote multiple books about those characters, so it's all there."
Filmed across the Southwest in places like Santa Fe and Española, as well as at Tesuque Pueblo, Cochiti Pueblo, and on the Navajo Nation, Dark Winds puts viewers in the tough life of a Navajo cop at a rural outpost near Monument Valley in the early 1970s. "I grew up in the seventies," McClarnon says. "It was exciting to jump back into that period of time."
The show opens on a daring armored-car heist in broad daylight complete with masked men, guns, and a getaway helicopter, before zeroing in on McClarnon, who is quickly drawn into a hotel-room crime scene and a grisly double homicide. Leaphorn moves in on seemingly unrelated crimes with the help of Sergeants Jim Chee and Bernadette Manuelito, respectively played by Kiowa Gordon and Jessica Matten, in a moody genre tale with quick pacing and complex characters.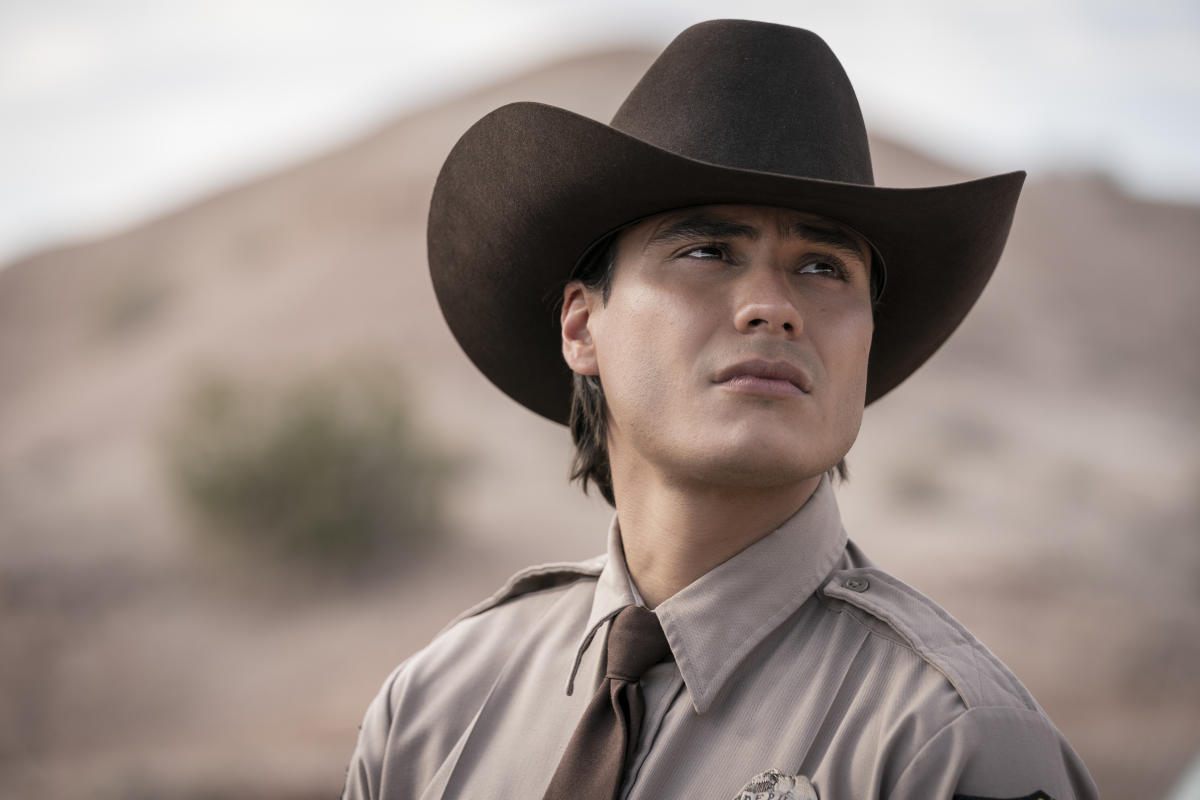 Kiowa Gordon stars as Sergeant Jim Chee on the AMC series "Dark Winds." Courtesy of Michael Moriatis/Stalwart Productions/AMC. 
Chee arrives as a fresh officer with the Navajo Tribal Police, presenting a contrast to the hardened, logical Leaphorn. While Chee may be new to the force, he grew up in the area. "He left a bunch of trauma happening in his life," says Gordon. "He went to college, and now he's back." Chee partners with Manuelito, who shows him the ropes. Aside from beating up bad guys, Matten says some of her favorite scenes are "the moments that Bernadette gets to be vulnerable."
While Leaphorn and Chee first meet in episode one of Dark Winds (premiering June 12), the lawmen have a long history of putting killers away in Hillerman's novels. Leaphorn solved his first murder in Hillerman's 1970 novel The Blessing Way, a Southwestern mystery set on the Navajo Nation. Hillerman later introduced Jim Chee in 1980's People of Darkness, fleshing out the partnership between the Navajo Tribal policemen in further novels over the next few decades (Leaphorn and Chee solve a crime together for the first time in 1986's Skinwalkers).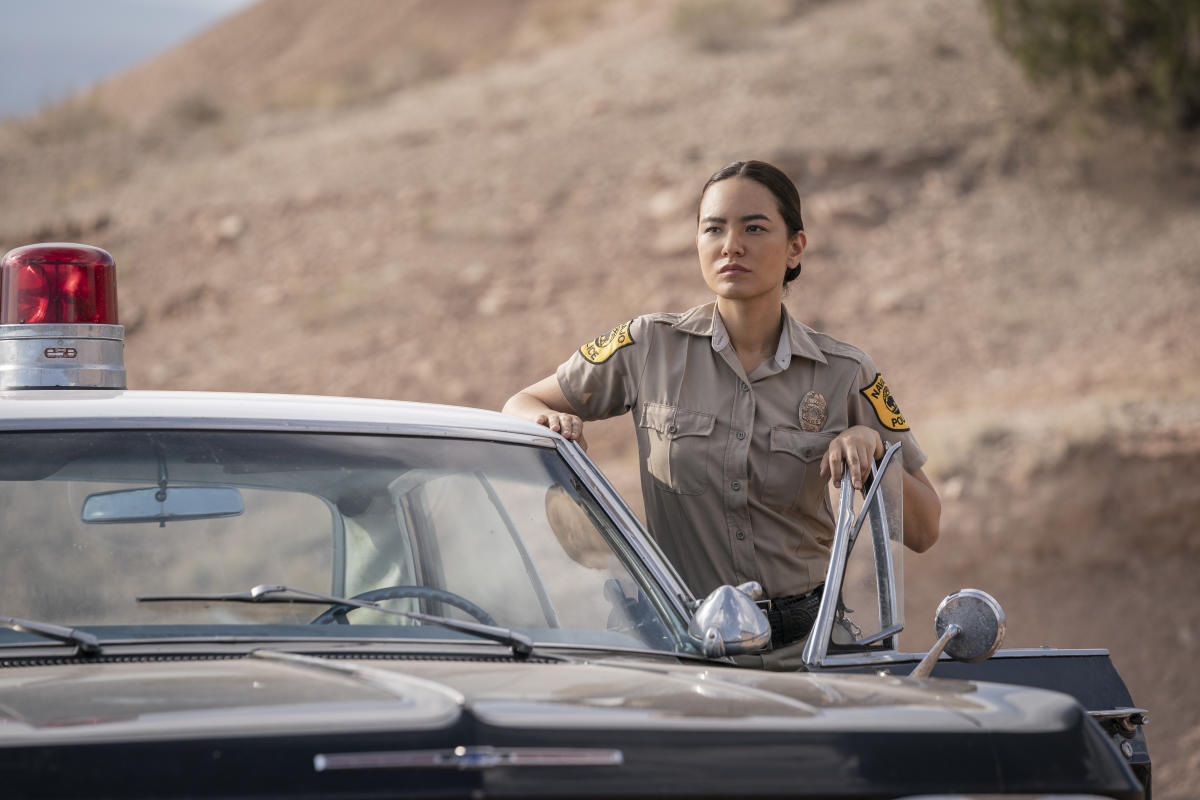 Jessica Matten stars as Sergeant Bernadette Manuelito on AMC's "Dark Winds." Courtesy of Michael Moriatis/Stalwart Productions/AMC. 
Hillerman's Leaphorn and Chee novels are celebrated by critics and mystery fans for smart plots and layered narratives that depict life in Native American communities. In 1991, Hillerman was awarded the Grand Master Award, the highest honor bestowed by the Mystery Writers of America. He published eight more novels in the series before his passing in 2008. Since then, his daughter Anne Hillerman has picked up the characters in her own series of novels. (The latest, The Sacred Bridge, is on the New York Times Best Sellers list.) Anne invented a few new characters and expanded on others, including Manuelito, who quickly became a fan favorite.
The series marks the first large project for Camel Rock Studios, based in Santa Fe. Chris Eyre, director of the beloved film Smoke Signals (1998), serves as the show's executive producer and director.
McClarnon is hopeful for a second season. "A Native writing room, Native directors, the chance to have some more visibility within our community and have another chance to tell our own stories," McClarnon says. "Those are important things to me."
The first two episodes of Dark Winds air Sunday, June 12 on AMC and AMC+.