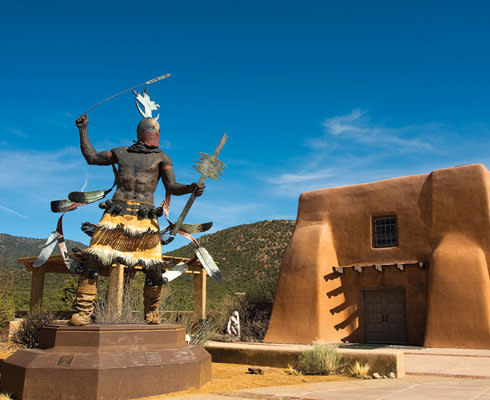 Museum Hill's Apache Mountain Spirit Dancer, by Craig Dan Goseyun, and the Laboratory of Anthropology, designed by John Gaw Meem.
NEED TO KNOW
Museum Hill is on Camino Lejo, just off Old Santa Fe Trail, 2 miles south of the Plaza. Take the Santa Fe Trails "Route M" bus from the Railyard District and Plaza to Museum Hill.
Through May 2, 2016
Museum of Indian Arts & Culture
Turquoise, Water, Sky: The Stone and Its Meaning
. (505) 476-1250;
indianartsandculture.org
May 17–September 13
Museum of International Folk Art
The Red That Colored the World. MOIFA
will also present lectures and workshops featuring master weavers, dyers, and santeros. (505) 476-1200;
internationalfolkart.org
May 8–April 2016
Museum of Spanish Colonial Art
Blue on Blue: Indigo and Cobalt
in New Spain
. There will also be a series of lectures on indigo and cobalt. (505) 982-2226;
spanishcolonial.org
May 30–September 13
Santa Fe Botanical Garden
Monarch—Orange Takes Flight
. (505) 471-9103;
santafebotanicalgarden.org
July 10–12
Santa Fe International Folk Art Market
Held on Museum Hill's Milner Plaza. (505) 992- 7600;
folkartalliance.org
June 6
Wheelwright Museum of the American Indian
Opening of new Center for the Study of Southwestern Jewelry, which will include a silver-intensive permanent jewelry exhibit. (505) 982- 4636;
wheelwright.org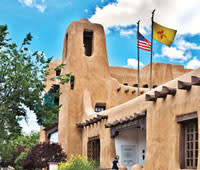 The New Mexico Museum of Art, on the Santa Fe Plaza's northwest corner.
SHADES OF SANTA FE: DOWNTOWN AND BEYOND
Museum Hill's Summer of Color extends throughout the city, with downtown museums and dozens of galleries presenting related exhibits and special events.
Colors of the Southwest
, displaying important paintings, photography, and ceramics by seminal artists of the region— including Gustave Baumann, Louise Crow, and Wheelwright Museum architect William Penhallow Henderson—opened March 6 at
New Mexico Museum of Art
and runs through September 20 (505-476-5072;
nmartmuseum.org
). Around the corner,
Georgia O'Keeffe: Line, Color, Composition
, at the
O'Keeffe Museum
, uses some of her most visually dynamic works to demonstrate the artist's brilliance as a colorist (May 8– September 13). "Color is one of the great things in the world that makes life worth living to me," wrote O'Keeffe in 1937. "And as I have come to think of painting it is my effort to create an equivalent with paint color for the world—life as I see it." (505) 946-1000;
okeeffemuseum.org
Throughout the season, the venerable
New Mexico History Museum and Palace of the Governors
will celebrate the earthy tans, chocolate browns, cinnamon reds, and eggshell whites used in the city's singular adobe buildings with a series of lectures and workshops about the origins and techniques of this time-honored architectural form (505-476- 5200;
nmhistorymuseum.org
). Southwest of town, at
El Rancho de las Golondrinas
living history museum,
El Color Morado/The Color Purple
explores the use of precious purple dyes, which were derived from brazilwood or mashed sea snails or by combining cochineal and indigo. (505) 471-2261;
golondrinas.org
Additionally, some 50 galleries are unveiling Summer of Color exhibits. Highlights include
Chromatic Contrasts
, featuring paintings by Taos Modernists Beatrice Mandelman and Raymond Jonson, at Addison Rowe Gallery (505-982-1533;
addisonrowe.com
) and
Trois Mois de Couleurs
(Three Months of Colors), an invitational at
Gaugy Gallery
showcasing works by more than 20 artists, spotlighting a different color each month—blue in June, red in July, and green in August. (505) 984-2800;
gaugygallery.com
Providing a provocative counterpoint to the many boldly hued shows around Santa Fe,
Absence of Color: White
, a group exhibition at
Tansey Contemporary
(505-995-8513;
tanseycontemporary.com
), considers white "through the intersection of fine craft and contemporary art form," with a series of works in glass, porcelain, textile, and other media, by such contemporary talents as Clea Carlsen, Nuala O'Donovan, and Eunsuh Choi. And taking a playful approach,
Karen Melfi Collection
presents
All That Glitters IS Gold
, featuring gilt hand-crafted contemporary jewelry. An opening reception will feature gold-leaf edibles and a golden-ticket door prize. (505) 982-3032;
karenmelficollection.com
Visit
summerofcolorsantafe.org
for a complete list of galleries and related shows and events.
The lofty, somewhat removed setting of Museum Hill is no accident. Intersected by Camino Lejo, which in Spanish means roughly "far-away road," this sunny bluff a couple of miles south of the Santa Fe Plaza contains one of America's foremost cultural campuses, with museums devoted to Native, Spanish Colonial, and global folk art. The developers of Museum Hill, led by Standard Oil magnate and philanthropist John D. Rockefeller, chose the location in the late 1920s despite protests by Museum of New Mexico director Edgar Lee Hewett, who argued for a downtown location.
"They chose this area out of a strong desire for a dramatic silhouette on a ridge and the sweeping views in all directions," says Dody Fugate, assistant curator of Archaeological Research Collections at the Museum of Indian Arts & Culture.
Indeed, from Museum Hill's Milner Plaza, you're afforded vistas of the landscapes that have shaped New Mexico's world-renowned art scene. To the south you see where the legendary Camino Real carried Spanish expeditions from Mexico past the Sandías. To the southeast, the Old Santa Fe Trail, which brought Anglo settlers from the American interior, curves around the southern end of the Sangre de Cristos at Glorieta Pass. Looking west, you can see across the Río Grande Valley—inhabited by Native communities for centuries—clear to the Jémez Mountains, where at dusk you'll spy the twinkling lights of Los Alamos, a community that didn't even exist at Museum Hill's inception.
Santa Fe is the preeminent arts capital of the Southwest. Hundreds of thousands of art devotees convene here each summer to attend the city's three blockbuster market weekends: the International Folk Art Market in mid-July, the traditional Spanish and Contemporary Hispanic markets in late July, and Santa Fe Indian Market in mid-August. But the entire season affords both casual and ardent art lovers countless opportunities to delve into Santa Fe's embarrassment of cultural riches.
DE COLORES
With the aim of connecting Santa Fe's art hubs through the elemental colors of the Southwest, Museum Hill's six cultural institutions have launched Summer of Color, a coordinated series of events and programs that runs officially from Memorial Day through Labor Day, although a handful of exhibits continue into 2016. Downtown museums and galleries, as well as Canyon Road and Railyard galleries, are also involved.
Each Museum Hill member has chosen to explore a specific color. The Museum of Indian Arts & Culture (MIAC) got the ball rolling last year with its ode to New Mexico's state gem- stone, Turquoise, Water, Sky: The Stone and Its Meaning. The three neighboring museums have mounted related exhibits this spring, with the Museum of International Folk Art (MOIFA) embracing red through a show about cochineal; the Museum of Spanish Colonial Art studying blue with a look at the historic uses of indigo and cobalt; and the Wheelwright Museum of the American Indian celebrating silver in a permanent exhibit inside its brand-new Center for the Study of Southwestern Jewelry.
The hill's newest attraction, the Santa Fe Botanical Garden, is all about orange this summer, showcasing both plants and monarch butterflies. And the International Folk Art Market will focus on "every shade of green—lime, emerald, jade, sea foam, teal, turquoise, and more," says market director of ambience Sylvie Obledo. "It's going to be beautiful."
The Museum Hill Cafe is even presenting a Summer of Color menu, with market-fresh dishes featuring a rainbow of ingredients—including fresh heirloom tomatoes with local goat cheese and sweet-pea-and-mint soup.
ROCKEFELLER'S VISION
John D. Rockefeller became fascinated with Native Southwestern culture during a 1927 visit to Colorado's Mesa Verde. He originally proposed developing a school and laboratory dedicated to Native studies at the national park, but Mesa Verde superintendent Jesse Nusbaum, concerned about southwestern Colorado's remote and challenging terrain, persuaded the industrialist to fund the Laboratory of Anthropology in Santa Fe instead. In 1929, a pair of wealthy Santa Fe art collectors, sisters Martha and Elizabeth White, sold a prime 50-acre ridgetop plot to the lab for only $10.
"They'd planned quite a large complex, but most of it never happened," says Fugate, attributing the downscaling to the stock market crash later that year. Nevertheless, in 1930, iconic New Mexico architect John Gaw Meem designed the lab, which still stands handsomely at the northeast corner of Milner Plaza. Meem's notes to contractors underscored his firm belief that Pueblo Revival style should embrace idiosyncrasy: "Interiors should be neither plumb nor square. You must avoid any semblance of artificiality or regularity in your hand hewing. You must also avoid getting the carving accurately and neatly done inasmuch as the charm of old carvings lies in the fact that it was done by craftsmen who were not too particular of being accurate."
In 1937, just slightly down the ridge from the lab, Mary Cabot Wheelwright and Navajo artist and medicine man Hastiin Klah commissioned William Penhallow Henderson to design their museum dedicated to Indian art—he chose a strikingly modernist interpretation of a Navajo hogan. A decade later, the lab and the Museum of New Mexico merged, and in 1953 Meem built the Hill's second major arts showcase, the Museum of International Folk Art, adopting a considerably more contemporary midcentury-modern style with Territorial influences.
The Museum of Indian Arts & Culture opened in 1987 and added the spectacular Amy Rose Bloch Wing a decade later. "When I was a kid, you just drove right up and parked in front of the building," recalls Fugate. In 1996, the parking lot was removed and Milner Plaza was created, complete with the café and the steps leading down to the current parking area.
Subsequent additions to the campus have included the Museum of Spanish Colonial Art in 2002, the Pueblo Revival–style Stewart L. Udall Center for Museum Resources in 2005, and the Santa Fe Botanical Garden in 2013.
TRUE BLUES
Although it's one of Santa Fe's newer attrac- tions, relatively speaking, the Museum of Spanish Colonial Art opened in one of the oldest structures on the Hill. This gorgeously proportioned Pueblo Revival building, designed by Meem in 1930, initially served as the lab director's house. Spanish Colonial Arts Society supporters bought the house in the late nineties, converting it into a museum that dazzles visitors with both its permanent works and its rotating shows.
This summer's Blue on Blue: Indigo and Cobalt in New Spain details the vital role these rich blue pigments played in colonial Spanish culture. "The cobalt influence came from Asian blue-on-white porcelain," says David Setford, executive director of the Spanish Colonial Arts Society.
Colonial Spaniards set out on a quest for blue dyes to use not just in ceramics but in blankets, retablos and santos, and even friars' tunics. During their explorations of New Mexico, the Spaniards became especially enamored of the high-quality indigo used by Zuni weavers. It's no surprise that throughout the state today, we see cobalt and indigo wherever we look, from the doorframes of Pueblo Revival and Spanish Colonial homes to the patterns of Navajo rugs.
"It allows us to bring out a bunch of pieces we haven't been able to show before, and really put a new stamp on our collection," Setford says. 
IN THE RED
The Museum of International Folk Art (MOIFA) has earned a reputation over the years for its often playful and provocative exhibits, and The Red That Colored the World, about cochineal—the curious source of the ubiquitous dye carmine—is no exception. During the colonial period, cochineal trailed only silver as the New World's most valuable export. "The British Empire even encouraged the piracy of Spanish ships, provided they were carrying cochineal," says MOIFA curator Nicolasa Chávez. "But early on, most other countries didn't even know what it was. A berry? A leaf? They had all these theories."
Cochineal is, in fact, an insect, and it was first used by the Aztec and Maya empires to create spectacular crimson dyes. Although originally farmed elsewhere, it does grow in New Mexico. "If you look at cactus and see a cottony-looking film, and you pick that off and smoosh it in your hand, it turns red—that's cochineal," says Chávez, who adds that the carminic acid in the bugs can yield a wide range of hues. "You can get orange, coral, black, burgundy, silvery gray, lilac—and every possible shade of red."
MOIFA's exhibit incorporates artwork from all over the world and shows how cochineal spread from the Americas to Spain and then on to England, where it was sold to the United States and further popularized in New Mexico through trade with the Plains Indians. Today cochineal is used to color everything from cosmetics to food. (Starbucks ran afoul of vegans in 2012 for using it in strawberry Frappuccinos.) Some exhibits will touch on the science of these tiny insects, which visitors will have the chance view through a special iPad microscope.
More than 130 objects are on display, covering an exhaustive range of materials, including decorative arts, manuscripts, paintings, and fashion. You can view British military suits (the infamous Revolutionary War "red coats") dyed with cochineal, as well as contemporary garments created by designers from the Navajo Nation and the Canary Islands, the second-largest producer of cochineal (following Peru, which farms more than 80 percent of the world's supply). Folk-art authorities Carmella Padilla and Barbara Anderson co-edited a book about the exhibit, A Red Like No Other: How Cochineal Colored the World (Rizzoli), which will be available for sale at the time of the exhibition's opening.
ACROSS THE STREET, the Santa Fe Botanical Garden is collaborating with MOIFA by displaying prickly pear cacti covered with cochineal bugs. The other major Summer of Color draw at the garden also concerns insects. Monarch—Orange Takes Flight explores the garden through the world of monarch butterflies. "We're aiming to help educate gardeners about how they can help better assure sustainability of this endangered species," says Clayton Bass, CEO of the Santa Fe Botanical Garden.
If you're looking to increase the presence of monarchs in your own yard, plant some milkweed—"it's their primary source of nutrients," says Bass. The Botanical Garden chose its theme based on the fact that although "there's tremendous color in the gardens in summer, almost none of it is orange." As part of the exhibit, about two dozen container gardens in which orange plants predominate—some created by staff and others by local horticulture and nursery professionals who participated in a juried competition—will be displayed over about two acres of grounds.
Santa Fe Botanical Garden is also holding its first invitational exhibition, Power of Place (May 15–April 2016), showcasing sculptures by 17 of New Mexico's most celebrated artists, including Bill Barrett, Tom Joyce, Dan Namingha, Roxanne Swentzell, and the late Allan Houser. The mix of figurative and realistic works will be displayed on the art trail in the upper garden.
THE JEWELS OF MUSEUM HILL
The Museum of Indian Arts & Culture kicked off the Summer of Color a year ago with its fabulous Turquoise, Water, Sky: The Stone and Its Meaning exhibit, which showcases dozens of priceless necklaces, bracelets, and earrings. (See our related May 2014 story: mynm.us/spiritinthestone.) The Wheelwright Museum is also spotlighting Native jewelry this summer, with the June unveiling of an intensive silver-accented exhibit that will live permanently inside the museum's striking new wing, the Center for the Study of Southwestern Jewelry.
The museum's first major expansion is also the first space in America dedicated to Navajo and Pueblo jewelry. The exhibit details the significance of silver to the Southwest's Native communities, and how generations of New Mexicans have passed along and fine-tuned the art of smithing, which Pueblo metalworkers learned from the Spanish in the late 19th century. Of particular note is a dazzling collection of Navajo and Pueblo spoons, but also keep an eye out for ornate filigree, century-old earrings, and baubles fashioned from other materials, such as the beloved thunder-bird folk-art necklaces created by Santo Domingo artisans using diverse salvage materials, from discarded car battery casings to sun-bleached animal bones.
The Wheelwright's new wing and the Santa Fe art community's creative Summer of Color demonstrate the continued evolution of this creative campus. "It's an opportunity for Museum Hill to shine, and to bring new visitors here," says David Setford. "Everything we have up here relates directly to the entire artistic history of New Mexico."