Chokecherry Canyon offers world-class off-roading. Photograph courtesy of Farmington Convention & Visitors Bureau.
NEW MEXICO BOASTS TONS OF WIDE-OPEN SPACES for out-there adventures. And if you have the right rig, those spaces are yours to explore, whether you're looking for an off-roading day trip to challenge your vehicle with obstacles on designated trails or you're ready for a full overlanding adventure by hitting the back roads for self-supported overnight travel. "There's so much about this state that goes unseen," says Corey Ryan, a member of the Albuquerque-based New Mexico 4 Wheelers club, who off-roads and overlands in his modified 2019 Dodge Ram 2500 Power Wagon. "There are so many places, so many nooks and crannies, that have access but might take a slightly modified vehicle to get there." For those who have a four-wheel drive with extra clearance or a full-on rock crawler, the right trail is out there, waiting to be explored. 
---
Beginning in the tiny town of Queen (pop. 50), near Carlsbad, and snaking northward all the way to Estes Park, Colorado, the Enchanted Rockies Trail includes roughly 800 miles of off-pavement terrain. With relatively mild roadways, it's a great stepping-stone to overlanding (at least in dry weather). While there's spectacular scenery all along the route, we're partial to the 140-mile stretch from Pecos to Angel Fire, which winds toward Santa Fe before hitting higher elevations (and the expansive views that go with it) in the Carson National Forest.
Trail type: Overlanding.
Pit stop: Smokey Bear Historical Park, in Capitán, commemorates the iconic cub who began his fire prevention campaign in 1944 as a simple artist's rendering but was personified in 1950 by a real baby bear rescued by firefighters from a Lincoln National Forest blaze.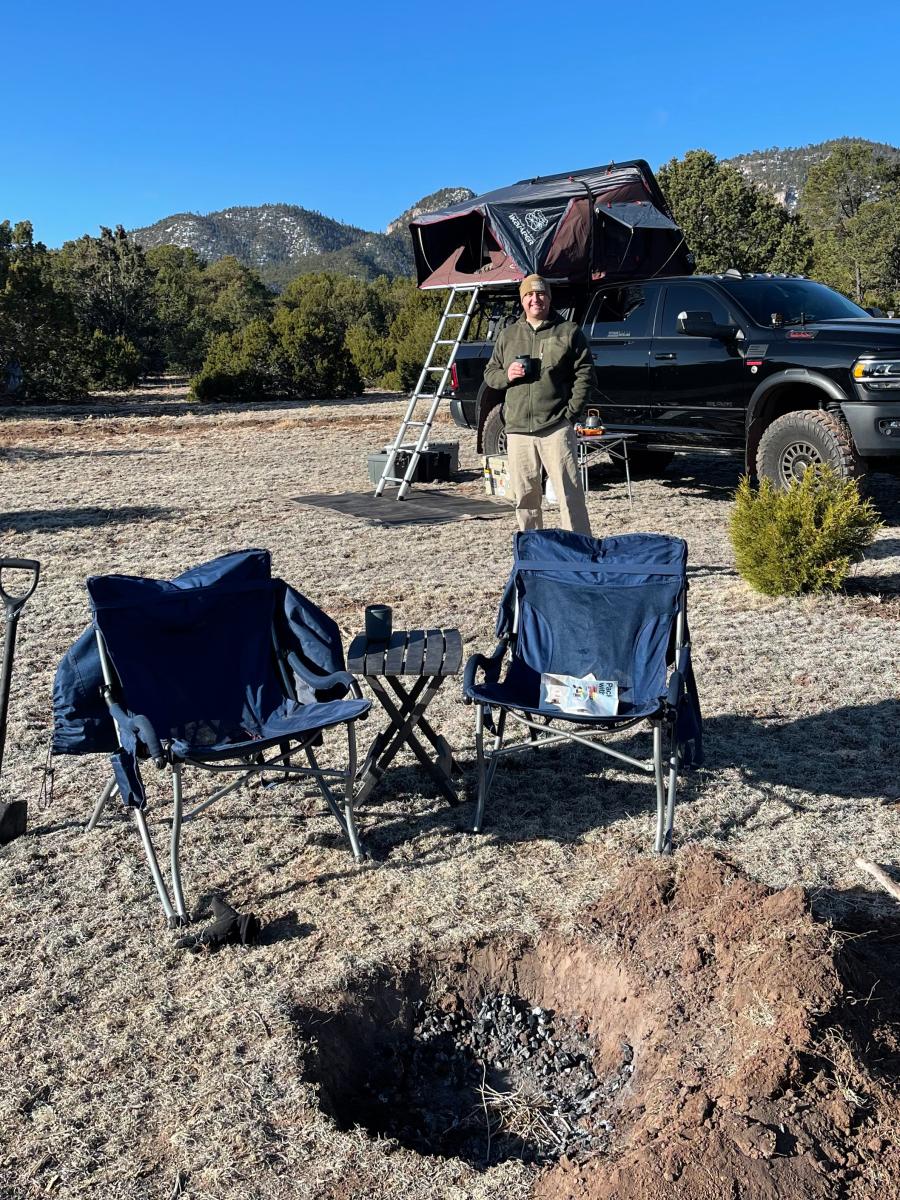 Corey Ryan displays his overlanding setup. Photograph courtesy of Corey Ryan & newmexico-expedition.com.
Historic Pueblo sites, volcanic mountains, and bubbling hot springs are found along this rugged 227-mile trail, perfect for a three- to five-day trip. Overland Trail Guides, which developed the route, recommends starting in the high desert just outside Cañon, southwest of the Valles Caldera National Preserve. You'll then head north through the dusty oranges and reds of Gilman Tunnels before twisting east toward the 11,561-foot apex of Chicoma Mountain. The route skirts its summit, however, and resumes its northward trajectory through Abiquiú and its dramatically colorful and rocky landscapes.
Trail type: Overlanding.
Pit stop: Hike the 2.8-mile round-trip Plaza Blanca Trail near Abiquiú for an Instagram-worthy snapshot of the towering white limestone rock formations that mark this area.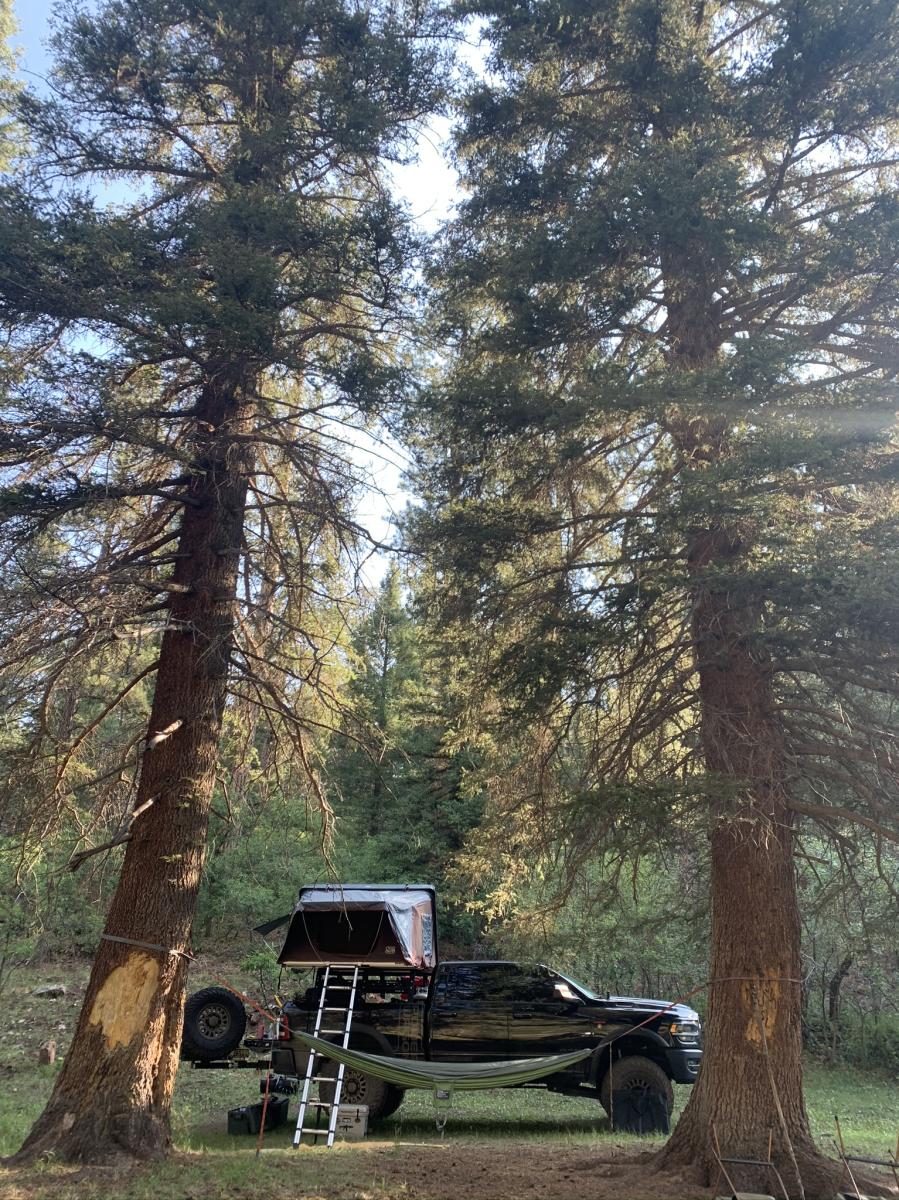 Corey Ryan camps overnight during an overlanding adventure. Photograph courtesy of Corey Ryan & newmexico-expedition.com.
Located within Farmington city limits in the Glade Run Recreation Area (known affectionately as the Glade), Chokecherry Canyon is a haven for off-road enthusiasts ready for an exciting day trip. You can explore numerous beginner-friendly dirt and gravel roads in this vast trail system, but there's a reason Chokecherry has played host to the World Extreme Rock Crawling Nationals. The local Chokecherry Crawlers off-roading club has put considerable effort into classifying the trails, so when you see a trail rated "rollovers likely," they mean it.
Trail types: Expansive, sandy washes; difficult slickrock; and boulders, rock piles, and other treacherous terrain just for rock crawlers.
Pit stop: Once the sun goes down, grab some snacks and get cozy under a blanket for some world-class stargazing. "We don't have your typical city nightlife here in Farmington," says Ingrid Gilbert, assistant director and online marketing manager for the Farmington Convention & Visitors Bureau. "Our nightlife is out there at the Glade."
More than 100 miles of trails crisscross the 55,000 acres of the Hackberry Lake OHV Area, an off-roader's paradise north of Carlsbad filled with rocky, hard-packed trails that give way to alluvial soils with sandy sections. There's also a 132-acre sand dune complex where off-highway vehicles (OHVs) of all types—dune buggies especially—can zip around anywhere they please. Just make sure to pack water, as none can be found on-site, and take note of campfire restrictions.
Trail types: Singletrack for dirt bikes, trails wide enough for side-by-side OHVs, and open sand areas in the dune complex.
Pit stop: Keep your eyes peeled (or better yet, bring some binoculars) for a chance to see the mule deer, coyotes, bobcats, and more that call the area home.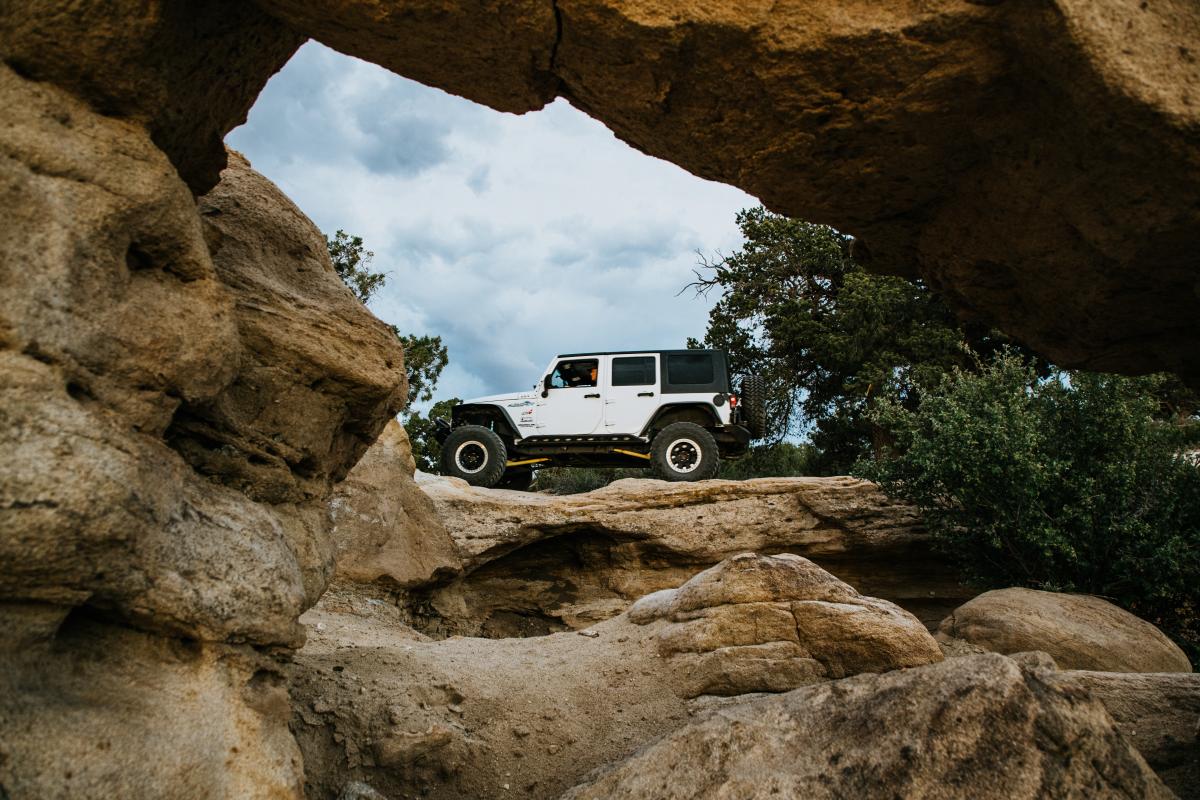 Farmington's Arch Trail offers fun and adventure for off-roading enthusiasts. Photograph courtesy of Farmington Convention & Visitors Bureau.
Beginners and experts alike will enjoy a day trip cruising around the canyons, sandstone and limestone bluffs, and miles of desert trails found at this OHV hot spot in Socorro. "The terrain is rolling desert hills with sandy washes and some rocky areas," says Ryan. Be sure to take a moment to enjoy the high-point views, which look down over the Río Grande Valley. And with numerous arroyos to explore, the terrain never gets old.

Trail types: Singletrack for dirt bikes, side-by-side trails for wider OHVs, and gnarly spots for rock crawlers.

Pit stop: After a day of rugged driving, you deserve a green chile cheeseburger. The only question is which iconic burger joint to hit down the road in San Antonio: the Original Owl Bar & Cafe or the Buckhorn Tavern?
RESPONSIBLE RECREATION
Keep yourself and the terrain safe with these expert tips.  
Stay in touch. Cell service can be hard to come by in New Mexico's most remote areas. Invest in a satellite communicator. "You want to make sure you get out, you enjoy yourself, you have fun, and you know you'll get back," says Gary Swinford, owner of Red River Offroad, which offers Jeep
and snowcat tours. 
Join the club. The safest (and cheapest) way to learn the ups and downs of overlanding? Learn from others' mistakes. Hit the road with one of the state's many off-roading groups, like the Chokecherry Crawlers in Farmington or Albuquerque's New Mexico 4 Wheelers.  
Follow the signs. "Trails are marked for particular use in an effort to protect the area," says Ingrid Gilbert, assistant director and online marketing manager for the Farmington Convention & Visitors Bureau. "You don't just drive anywhere. It's a set trail system that you have to stay on."
---
Read More: Long known for its extraction economy, the state's northwest corner builds a new reputation based on outdoor recreation—and après fun.
Read More: Get revved up with tours by horseback, bike, or buggy.
Read More: Cowboys and trains changed New Mexico—and still spur our dreams.