THE SUN HAS JUST BEGUN WARMING the storefronts of downtown Silver City. A few businesses along Bullard Street have set out sandwich boards on sidewalks dotted with chalk drawings. As I peek into shop windows, I spy mosaic sculptures of pumpkin-colored glass, turned-wood vessels, silver-and-turquoise rings. I had arrived here wary that I might have to tally what was lost in the pandemic, but this little town in the southwestern part of the state surprises me. 
O'Keefe's Bookshop is open, the sun streaming in through the front door. Small groups gather on café patios. Few of the storefronts I pass can be counted as completely empty. Not gone, not lost. On the south end of Bullard, downtown's main artery, I stop in front of Chihuahua Hill History, a mural made by local youths. In it, the Virgin of Guadalupe gazes over both the city and the nearby mountains. Her left arm reaches toward a slope being climbed by tiny silhouettes of men carrying a lamp, shovel, and ax. They're symbols of this town's mining past—and present. 
Over coffee and duffins (a doughnut/muffin crossover) at the Tranquilbuzz Coffee House, Charmeine Wait, executive director of Silver City MainStreet, breaks down the business side of the pandemic. Eleven downtown businesses closed, she says, but three expanded, and 13 new ones opened. "We call them covid-preneurs," she says. Even the patio we wander through didn't exist last summer. Now it attracts locals and visitors with coffee, pastries and quiche, and burbling ponds. 
The common tale for many towns founded on mining goes like this: Boom. Bust. Most become ghost towns when the mining revenue dries up. Others reinvent themselves. Silver City managed to find a third way as copper mining thrived, cattle ranching maintained its toehold, and artists, chefs, and shopkeepers revived the Victorian-era downtown. "In the 1970s especially," Wait says, "artists could move out here and spend $5,000 on a house. The area still attracts people because of the freedom to do what you want. This is a live-and-let-live place."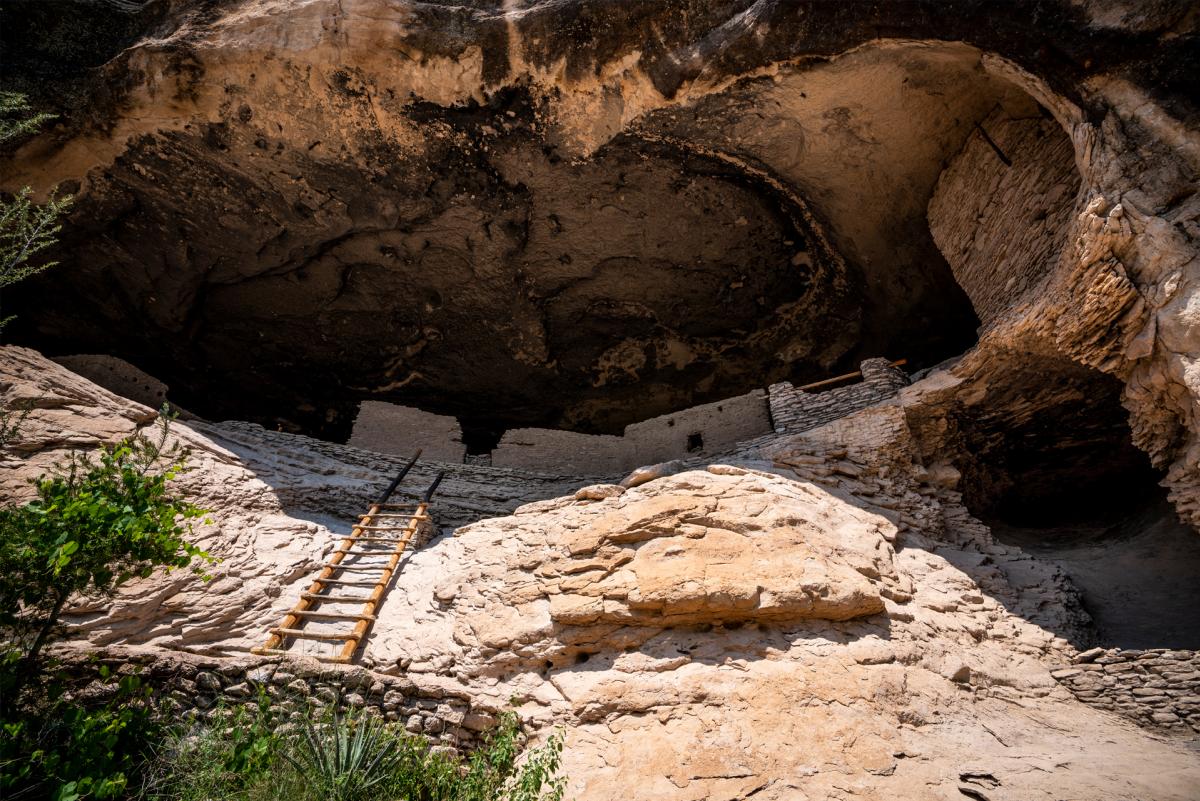 A handmade ladder invites explorations into the Gila Cliff Dwellings National Monument, north of Silver City.
ONCE PART OF APACHE TERRITORY, this valley at the southern end of the Gila National Forest began attracting Mexican settlers in the early 1800s. They mined the hills near what they called La Ciénega de San Vicente, but an 1870 silver strike drew waves of Anglo prospectors, who rechristened the town Silver City in 1878. (Its Chihuahua Hill neighborhood is still a stronghold of the original miners' descendants.) The town's raucous early days included the first arrest of a teenager soon to gain infamy under the moniker Billy the Kid. 
When the railroad came through in 1883, miners and ranchers could more easily move their products, and the town exploded. The L.C. Ranch grew into the largest commercial livestock outfit in the nation, with nearly a million acres. That combo of opportunity, land, and migration still wends through the local culture. 
"Silver City has always attracted people from other places," says Bart Roselli, director of the Silver City Museum, housed in H.B. Ailman's 1881 Mansard/Italianate mansion. Ailman arrived from Pennsylvania, cashed in on the silver boom, and founded a mercantile and a bank. "From those people, there's an influx of capital, ideas, and entrepreneurship," says Roselli. 
Two stories make the case for Silver City's ability to rebound from disaster. When it was still a collection of mud streets and ramshackle wooden buildings, fire dealt a series of blows. In 1880, officials passed a progressive law that mandated only brick buildings. Then, in 1895, a flood wiped out the main street, leaving a 20-foot-deep gorge in its place. 
"Instead of rebuilding, the business owners just moved the main street over one block to Bullard Street," Roselli says, which explains why the fronts of some buildings look more like the back. "Silver City was built to last early on because the city invested in creating something that wasn't going to become a ghost town," he says.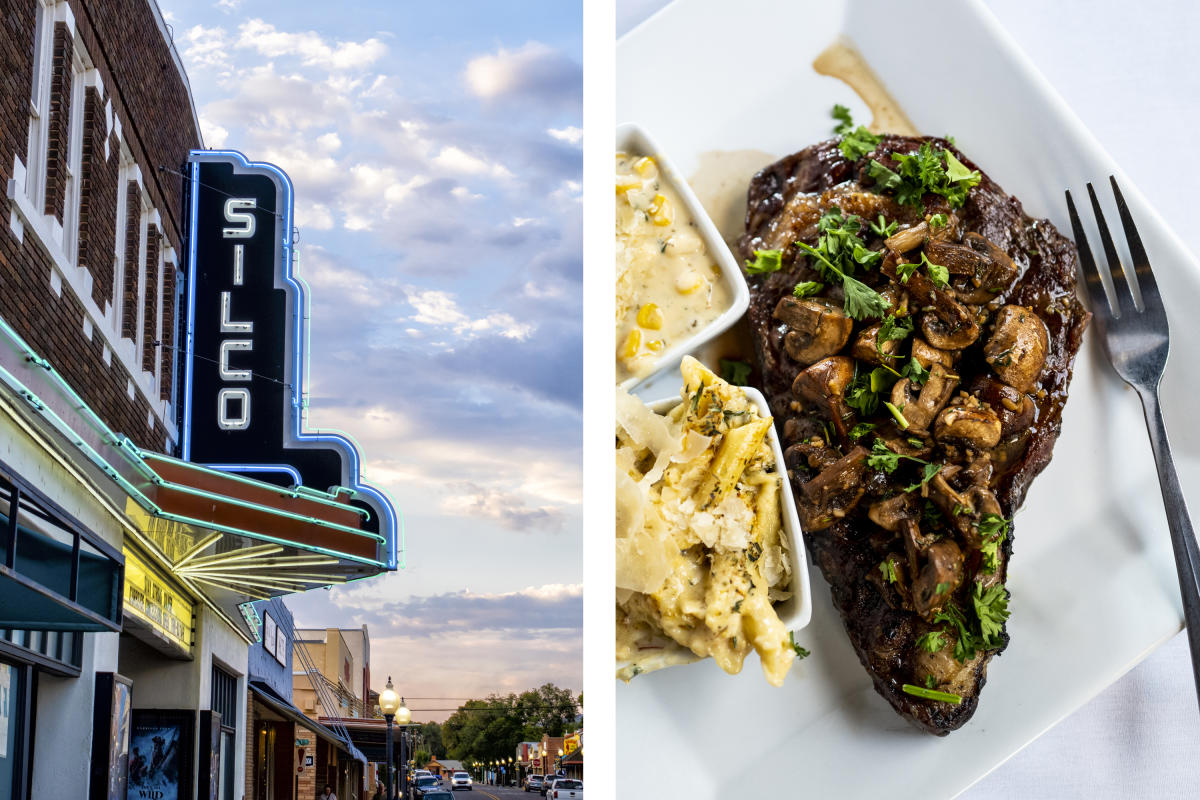 The glow of the historic Silco Theater marquee (left) lights up Bullard Street, where nearby Mick's 33 Lounge offers a tasty dining menu (right).
The rebounds continue today. One of the most popular places on Bullard Street, Little Toad Creek Brewery & Distillery, boasts "killer grub" like green chile fried chicken and plenty to wash it down with. Owner Teresa Dahl-Bredine moved to Silver City with her family when she was three years old. She went away to college but came back with big ideas—the first one being to launch her own acting troupe, Virus Theater, placing it in El Sol, a 1934 movie house she's renovating on Bullard. Later, while looking for land where she could have a sheep farm, Dahl-Bredine stumbled upon an abandoned hotel near Lake Roberts and soon transformed it into her inaugural craft brewery. 
"I worked at this Wild West bar of the day, the Buffalo Bar, and you'd see golfers, bikers, cowboys, miners, people from Western New Mexico University," she says. "All of these different people in a small town are forced to blend. I loved that." 
Since then, Little Toad Creek has left the wilderness for its downtown locale, added a taproom in Las Cruces, and started a canning operation that distributes beers and Mixed-Up Mule cocktails across the Southwest. 
Near Dahl-Bredine's outpost, Kyle Durrie set up her Power & Light Press after getting priced out of the market in Portland, Oregon. Earlier generations of her family grew up in New Mexico, so she took a leap, dragging letterpress equipment with her. "People were really curious when I opened my studio," she says. "There hadn't been a functional letterpress in Silver City for about 50 years." 
Her cards and calendars run a gamut from bawdy humor to upbeat messages like "This is the year we all get it right." Pre-pandemic, Durrie helped the Mimbres Region Arts Council host an annual Print Fiesta where ink lovers from throughout the region gathered for exhibits, workshops, and a pressing of extra-large prints with a steamroller on Bullard Street. The local arts community also banded together for annual blues, clay, and literary festivals that will surely rebound as well.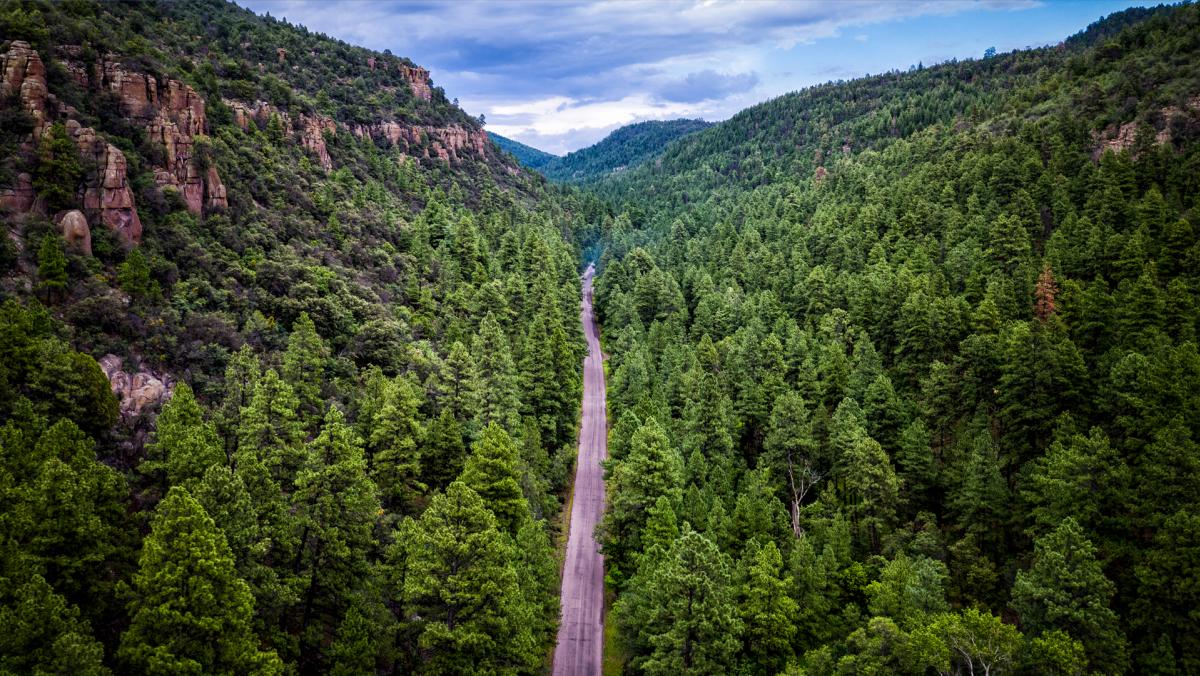 NM 15 slices into the Gila National Forest. 
SILVER CITY CAN TIE ITS LONGEVITY TO THE mining industry's staying power. The Chino Mine, in particular, has grown into one of the largest open-pit mines in the world. East of Silver City, it can be seen for miles. Tiers descend down and down again into a man-made canyon of vermillion- and salmon-colored striations that appear oddly beautiful. "Most of my life, the copper mines have been the number-one employer in Grant County," Dahl-Bredine says. "They're a part of our history and presence." 
Mining's contribution to Silver City's bottom line leads to a coexistence of necessity with residents who treasure the nearby mountains, forests, and waterways—and the recreation dollars they generate. 
"We see hikers coming north and south on the Continental Divide Trail," says Martyn Pearson, a co-owner of the Gila Hike & Bike shop. "We see cyclists riding on the Great Divide Mountain Bike Route. We also see cyclists on the Southern Tier Trail that runs from Florida to California. Protected wilderness areas are this country's most impressive asset." 
Some checks are in place. The Gila Wilderness, within the Gila National Forest, bars the construction of roads, logging, or mining. Virtually untouched, it holds the Gila Cliff Dwellings National Monument, which Mogollon people called home between 1260 and 1280. 
This brew of history and migrating cultures is still fueling me when I check in to the Murray Hotel, a 1938 Art Deco charmer in the downtown area. During the pandemic, the hotel began offering tours of its most storied spaces, including a storage room that once was a bar. One of its walls is covered in hand-painted brands from local ranchers, roughly in the shape of a periodic table—evidence of ranching's economic importance and its place in the region's heritage. 
On my final morning, I dip into the art scene. Lois Duffy is just opening her gallery and ushers me into her studio to see a painting in progress. It depicts a legend about two sisters who built La Capilla, an iconic chapel on top of Chihuahua Hill. The painting's foreground shows the sisters, one holding her own painting of the Virgin of Guadalupe. It feels so embedded in local lore that I can't help but ask Duffy where she's from. 
She smiles and waves a hand, indicating a faraway answer. "We're all from somewhere else here," she says.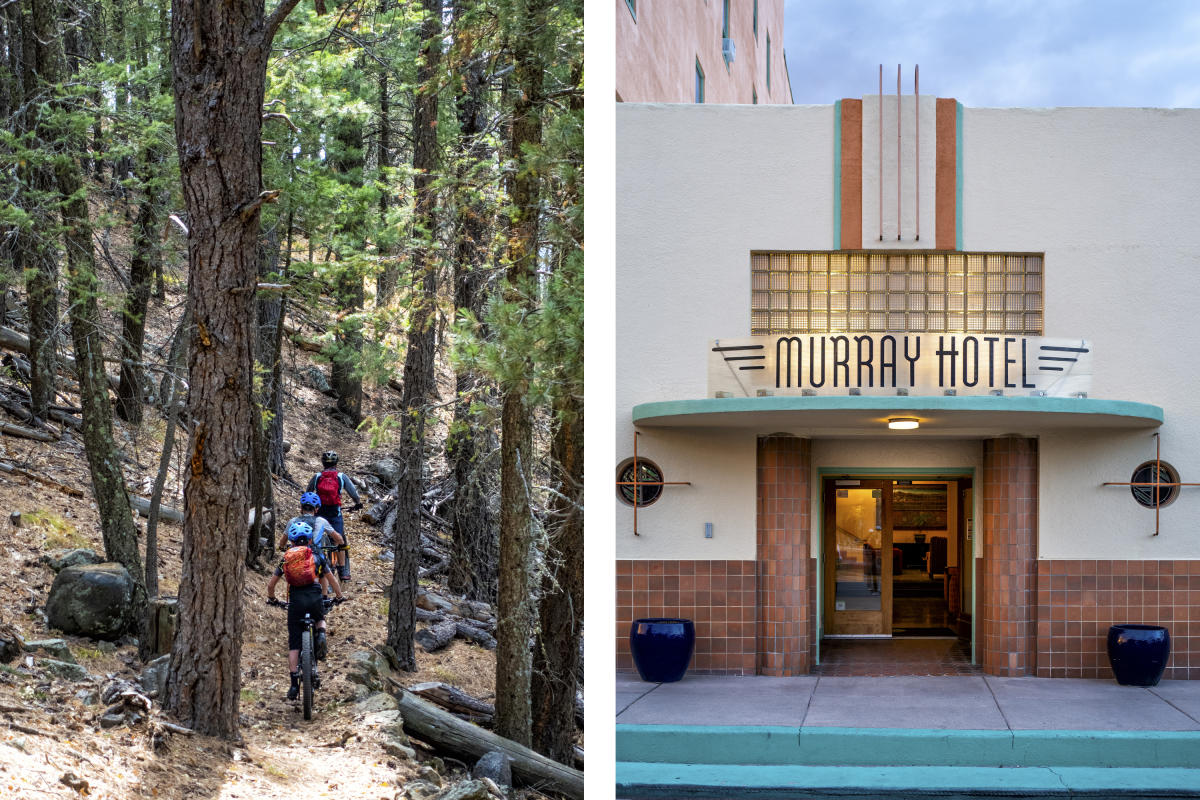 Bicyclists hit the Signal Peak Trails (left) before turning in for the night at the Murray Hotel  in the downtown area (right). 

MODERN TREASURES
Eat. Take your date to Revel for innovative but casual cuisine. For a quick breakfast or lunch, try Chaos Sandwiches' Mule Shoe—hash browns, green chile, cheese, and more on jalapeño cornbread. 
Sip. Little Toad Creek Brewery pours everything from flights to growlers, plus cocktails and nonalcoholic bevvies. 
Explore. Take a self-guided walking tour of downtown murals and historic sites. Pick up a guide at the Silver City Visitor Center. 
Ride. Cruise through mountain and desert trails with full- or half-day bike rentals. gilahikeandbike.com
Hike. Head to the top of Boston Hill for a view of downtown. Keep an eye out for javelina, deer, and foxes. 
Shop. Start on Bullard Street to discover art, gifts, books, antiques, and vintage clothing, plus a twice-a-week farmers' market in the summer. 
Stay. The 1938 Murray Hotel's 53 guest rooms include pet-friendly options. Ask for a tour to learn about Silver City folklore and iconic Art Deco architecture.