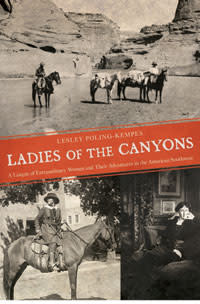 LADIES OF THE CANYONS:
A League of Extraordinary Women and Their Adventures in the American Southwest
BY LESLEY POLING-KEMPES
(The University of Arizona Press, 2015)
When it comes to female cultural pioneers of New Mexico, Mabel Dodge Luhan and Georgia O'Keeffe readily come to mind. But they weren't, as Lesley Poling-Kempes shows in her new book, the pioneers. Both Dodge Luhan and O'Keeffe were deeply indebted to an earlier "league of extraordinary women."
Natalie Curtis, Alice Klauber, Mary Cabot Wheelwright, and Carol Stanley—the leading figures of this league—were, as the Abiquiú-based author points out, "New Women stepping bravely into the New World." They came from that strange late-Victorian era in America when old roles and obligations—particularly those of women—were under considerable strain. Smart, well-educated daughters were growing up in the ferment of revolutionary movements in art, music, science, and industry. They were looking for a way out of old societal roles and into lives created on their own terms.
Curtis, from a well-to-do New York family, was a passionate and well-regarded musician. Klauber, the daughter of a prominent San Diego merchant, was a talented painter. A gifted pianist, Stanley was descended from the Choates of New England. And Wheelwright, a Boston Brahmin's only daughter, was an opinionated and fearsomely self-reliant explorer. Together, and separately, these women were the vanguard of Anglo-American society as it worked to find its own expression in the Southwest.
The main character of the book, as much a spiritual center as a linchpin for a wide constellation of relationships among these women and others, is Curtis. Her life in the desert Southwest, as Poling-Kempes shows, ranged widely. She formed deep friendships with Native storytellers and singers, and then worked tirelessly for Native rights, haranguing in equal measure heads of Indian Affairs offices and good friends like Teddy Roosevelt. She researched, wrote about, and became the foremost authority on Native music. She introduced the Southwest to countless readers, who, through her, explored it vicariously. Many of her friends heeded her call to come, visit, and stay. And then, finally, it all came to an end in an accident in Paris. Although Ladies is a work of nonfiction, Poling-Kempes has won awards for her fiction, and it's clear here why. That last incident—Curtis's sudden death—will make readers gasp, in spite of a few clues beforehand.
Even with differences in interests, personalities, circumstances, and constitutions, the other members of the league had lives similar in character to Curtis's. Klauber became a welcome and frequent visitor to the remotest outposts of the region—until, crushed by Curtis's death, she at last returned in her fifties to California. Stanley became a renowned developer of dude ranches and a lover of cowboys, eventually purchasing what would become Ghost Ranch. Wheelwright, who didn't join the league until 1920, 17 years after Curtis's first trip, became an inveterate collector of Native stories and art, going on to found cultural institutions that continue to this day, including Santa Fe's Wheelwright Museum of the American Indian.
Drawing on a wide range of primary and secondary sources, Poling-Kempes takes the reader on a fascinating journey along-side these pioneer women who traveled rough on the trail, witnessed ceremonies and gatherings never seen before by Anglos, hobnobbed with politicians and tribal chiefs, built businesses, made art, fell in and out of love, and recognized every day that what they were doing was extraordinary. Together, they made a large part of the New Mexico we know today.
Peter BG Shoemaker is a frequent contributor to New Mexico Magazine.