Spanish traditions evolve in New Mexico—and tapas are no different. Michele Ostrove explores how to enjoy these dishes anew.
Photography by Douglas Merriam.
I've got to hand it to the Spanish 
for coming up with such a clever, delicious solution to the pesky problem of fruit flies in wineglasses—tapas.
According to one theory, these small plates of food with big personalities originated in Spain centuries ago, beginning at the local taberna as a simple slice of bread used as a tapa, or lid, to keep flies out of a wineglass. Then it got better. The bread was embellished with a bit of jamón (ham) or anchovies, and the glass of wine or sherry was complemented by a small bowl of olives or fried almonds—in keeping with the notion that drink should always be accompanied by a bit of food. Gradually, each bar developed its own special tapas based on its region's gastronomic specialties—mushrooms, potatoes, shellfish, meat, eggs, or cheese. The idea gradually spread from southern Spain throughout the country and, much more recently, the world.
Fortunately, this tasty, sociable style of dining thrives today in New Mexico, not only as the specialty of such Spanish restaurants as Santa Fe's El Farol, El Mesón, and La Boca, but as an option on menus that feature Asian, Middle Eastern, South American, and other cuisines. Such is the case with Cosmo Tapas in Albuquerque, whose owners, Guillermo Loubriel and Cecilia Kido, get their inspiration from a variety of ethnicities: Loubriel is Puerto Rican, with grandparents from Spain and France; Kido is Chilean and Japanese.
"We serve tapas from all over the world, including New Mexico," says Loubriel. Their popular Tortilla Española, for example, a sort of potato omelet, gets a regional twist with the addition of local green chile.
Although diners now flock to New Mexico's tapas restaurants, the concept of sharing small, single-item plates was a tough sell 25 years ago, when it debuted at El Farol on Canyon Road, says owner David Salazar. "People were not used to seeing just one item on a plate," he remembers. "Now people see tapas as a nice way to broaden their horizons. They are much more likely to try something like eel when they're not buying the whole entrée and taking a big chance."
For El Mesón owner David Huertas, who was born, raised, and trained as a chef in Spain, tapas-style dining is "a stylized, simple way to look at food. It's all about the quality and the primary ingredient." He says the traditional tapa Gambas al Ajillo, or shrimp sautéed in garlic, is a perfect example: "There are lots of ways to prepare shrimp, but this dish uses just garlic, salt, and a little dried chile. That's it. The skill and technique are part of the battle; the shrimp source is the other part."
Guillermo Loubriel, of Cosmo Tapas, believes that almost any dish can be considered a tapa if one ingredient has been condensed to its essence and served without side dishes. "You could go to a restaurant and easily pay $24 for scallops," he says, "but at Cosmo Tapas, you'll pay $11 and get only scallops—no rice, no carrots."
David Huertas notes that a tapa could be anything from a single bite to a larger portion suitable for sharing with several people. "In Spain, you often don't sit down—you stand at a bar four people deep," he says. In the Basque region, items are typically skewered on toothpicks and set out on the counter; patrons are billed according to chalk marks on the bar or the size and number of the toothpicks. "You know it's a good tapas bar when the floor is littered with toothpicks and napkins," he says. "If the floor is clean, it's a place for tourists."
Simple to make and fun to eat, tapas are perfect for casual summer entertaining—and what could be better than sharing food with good friends? "Tapas dining has changed the way we eat by bringing us more together," says Salazar. "Sharing food is family-oriented, but it can break the ice at a business dinner and also be very romantic. More than ever, we all need to have a warm human being across the table."
Michele Ostrove is a Santa Fe–based writer, editor, and public-relations specialist. She founded Wine Adventure, the first wine magazine for women; organizes New Mexico Restaurant Week; and is launching Gourmet Passport, an exclusive dining club.
GAZPACHO DE FRESAS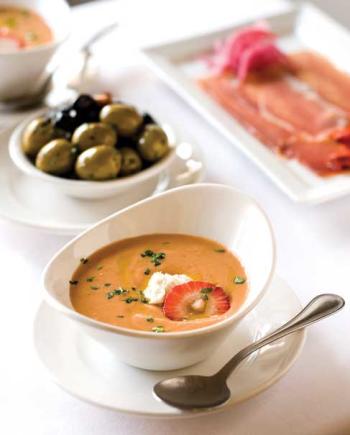 For a fresh, seasonal take on the tapa, try this cold strawberry soup. The recipe comes from La Boca owner-chef James Campbell Caruso, who relies on local growers to supply the most flavorful produce for his Santa Fe restaurant.

Yield
SERVES 6–8.
Ingredients
1 pint strawberries
3 fresh tomatoes, peeled
1 ½ cucumbers, peeled
1 green bell pepper
½ red onion
½ cup French bread (this is a great way to use stale bread)
½ cup good olive oil
½ cup vegetable broth
¼ cup sherry vinegar
salt and pepper to taste
Directions
Cut strawberries, vegetables, and bread into chunks small enough for your food processor. 
Blend all ingredients in processor, adjusting salt and pepper to taste. Serve chilled with a glass of Fino (a dry, pale Spanish sherry) or Amontillado sherry.
ALMEJAS A LA GADITANA CON CHORIZO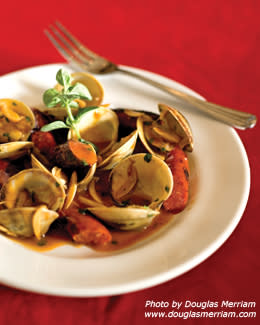 Chef David Huertas, of El Mesón in Santa Fe, shares this version of a traditional tapa recipe: Clams with Sausage in the Style of Cádiz.

Yield
SERVES 6.
Ingredients
2 tablespoons olive oil
2–4 cloves garlic, thinly sliced
2 tablespoons onions, minced
4–6 ounces cured Spanish chorizo
1 tablespoon flour
fat pinch Spanish sweet paprika
2 cups Amontillado sherry (a sherry from 
the Montilla region of Spain)
40 clams
whitefish stock or water, as needed
salt to taste
2 tablespoons chopped fresh parsley
Directions
Heat olive oil in large skillet. Add garlic and onions and sauté until translucent. Add chorizo and sauté 2 minutes more. Add flour and paprika, cook briefly, then slowly add sherry, stirring constantly to well integrate flour and sherry.
Add clams, cover, and simmer until clams open (discard any unopened clams). Depending on how much liquid remains, you may need to add some whitefish stock or water to get the right consistency. Add salt and parsley and adjust seasoning to your liking. Serve immediately.
TORTILLA ESPAÑOLA
This potato omelet, one of the most popular dishes at Albuquerque's Cosmo Tapas, is a New Mexican take on the traditional Spanish tapa.

Yield
SERVES 8 OR MORE.
Ingredients
2 tablespoons olive oil
1 medium onion, very thinly sliced
6 potatoes, thinly sliced
1 garlic clove, finely chopped
6 eggs, beaten
½ cup green chile, drained
½ cup grated cheddar cheese
salt and pepper, to taste
Directions
Fry onions, potatoes, and garlic in olive oil on low heat until soft. Drain and combine with eggs, green chile, cheese, salt, and pepper.
Cook in a 10–inch non-stick pan on medium heat until golden on one side. Using a large plate or tray, turn the tortilla over and return to the pan again until ready.