Chili Line Depot's outdoor patio offers some shade from the summer sun. Photograph by Jay Shaffer Photography.
A VOICE RINGS OUT FROM THE GRILL as we walk into Chili Line Depot. "It's going to be a while," says Sheila Roberts, the Tres Piedras restaurant's hostess, cook, and server on this Saturday afternoon. "I'm the only one here." 
Only two of the mismatched tables are occupied, so we grab one near the small stage, framed by wooden columns. A print of Glen Campbell clutching his guitar watches over the raised platform, a nod to when the country music star used to come from Albuquerque to perform in what was then a bar and dance hall with his uncle, Dick Bills, and the Sandia Mountain Boys. Normally, a band would play here tonight, but Roberts already has her hands full. 
Before our menus arrive, more folks receive the same greeting. "Is there another restaurant around here?" one guy asks. "There's nothing else around here," Roberts replies. 
Located on US 285, the Chili Line Depot bills itself as the "best restaurant for miles around" because it's "the only food and lodging for miles around." When Gil and Deb Graves bought it 11 years ago, the onetime roller rink and hair salon was "a derelict building in bankruptcy," Deb recalls on the phone days later. 
The Tres Piedras residents already operated a 450-acre ranch and a landscaping business. But with nothing for roughly 30 miles, Deb figured a spot that sold coffee and sweets could work. "It's the craziest thing I've ever done," she says. 
Deb tapped the area's railroad history for the name. Part of the Denver & Rio Grande Western Railroad, the Chili Line carried livestock, lumber, mail, and passengers for more than 60 years, from Antonito, Colorado, through Tres Piedras and on to Santa Fe, before it was abandoned in 1941. In the same way, the Chili Line Depot has served as a connector for locals and travelers (four rooms are available for rent).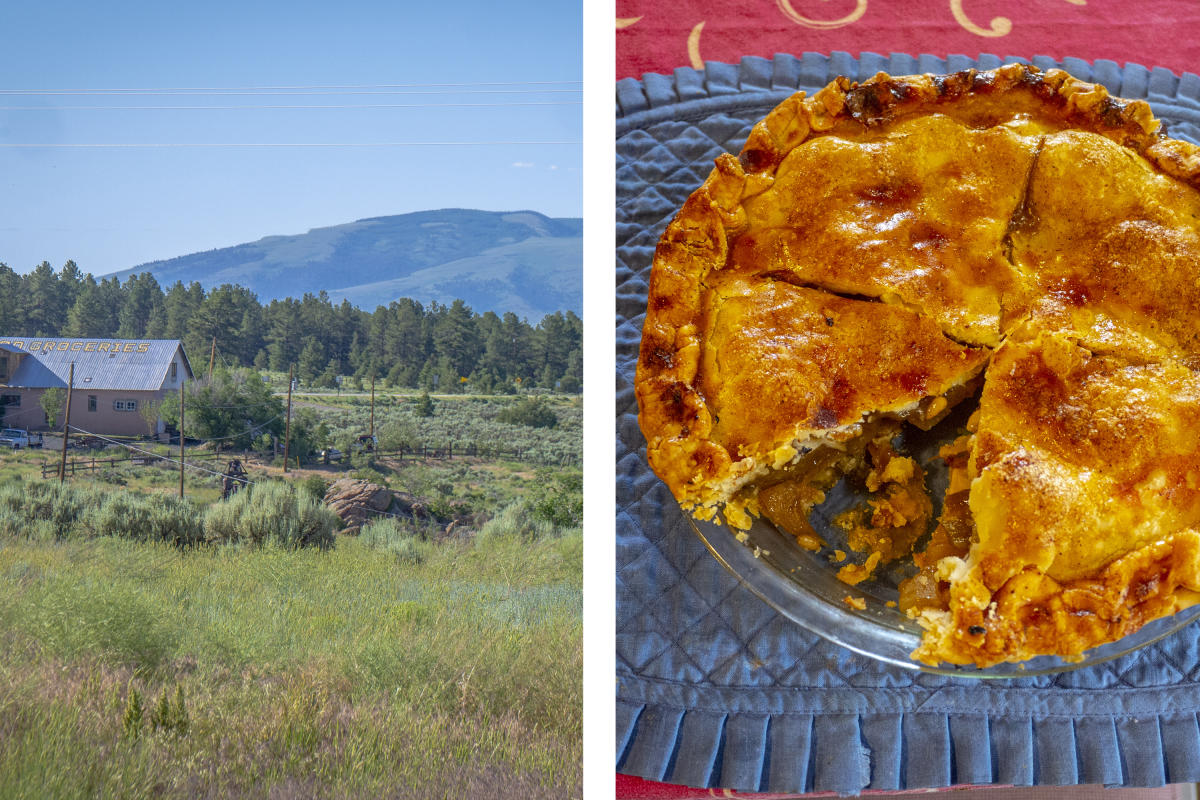 Chili Line Depot offers​ views of the Sangre de Cristo Mountains, and house-made pies. Photograph by Jay Shaffer Photography.
Early on, customers wanted more than coffee, so Roberts started incorporating some of her family recipes. With an entire ranch at their fingertips, they began using the beef, pork, and eggs they raised, while adding a garden out back for vegetables. "We're almost exclusively farm-to-table," Deb says, of the menu of pizza, barbecue, sandwiches, and New Mexican favorites. 
The rolls, pies, and pastries are all made in-house. The BBQ and corned beef start out as beef roast rather than brisket, making them exceptionally tender. Meanwhile, the green chile cheeseburger hits so many flavor notes that Campbell would be proud. 
A customer comes in, and Deb has to hang up. She's the only one on duty today. "We'll see you back here for a Reuben and green-chile-apple-piñon pie, okay?"

Chili Line Depot, 38429 US Hwy 285, Tres Piedras, NM 87577; 575-758-1701.
---
Read More: Cowboys and trains changed New Mexico—and still spur our dreams.
Read More: The Cumbres & Toltec Scenic Railroad's president relishes train travel's storied past.
Read More: AT&SF 2926 long sat idle in an Albuquerque park. Now it's coming back to life after a 20-year renovation.