Above: Sit down at Clafoutis for a light meal and one of their mouth-watering pastries. Then take one (or a few) for the road. Photographs by Douglas Merriam.
TO VISIT CLAFOUTIS, the French bakery and restaurant in Santa Fe, is to feel like family, which is fitting, since it's a family-run business. Upon entering, you're hit with sweet aromas wafting from the kitchen, while the gracious smiles of owner Anne Ligier and her daughter, Charlotte Kolkmeyer, greet customers from behind the pastry counter. Return a few times and you will likely also recognize Omar Reyes, who has served the bakery-obsessed for nine years. Many of the cooks in the kitchen have worked here even longer.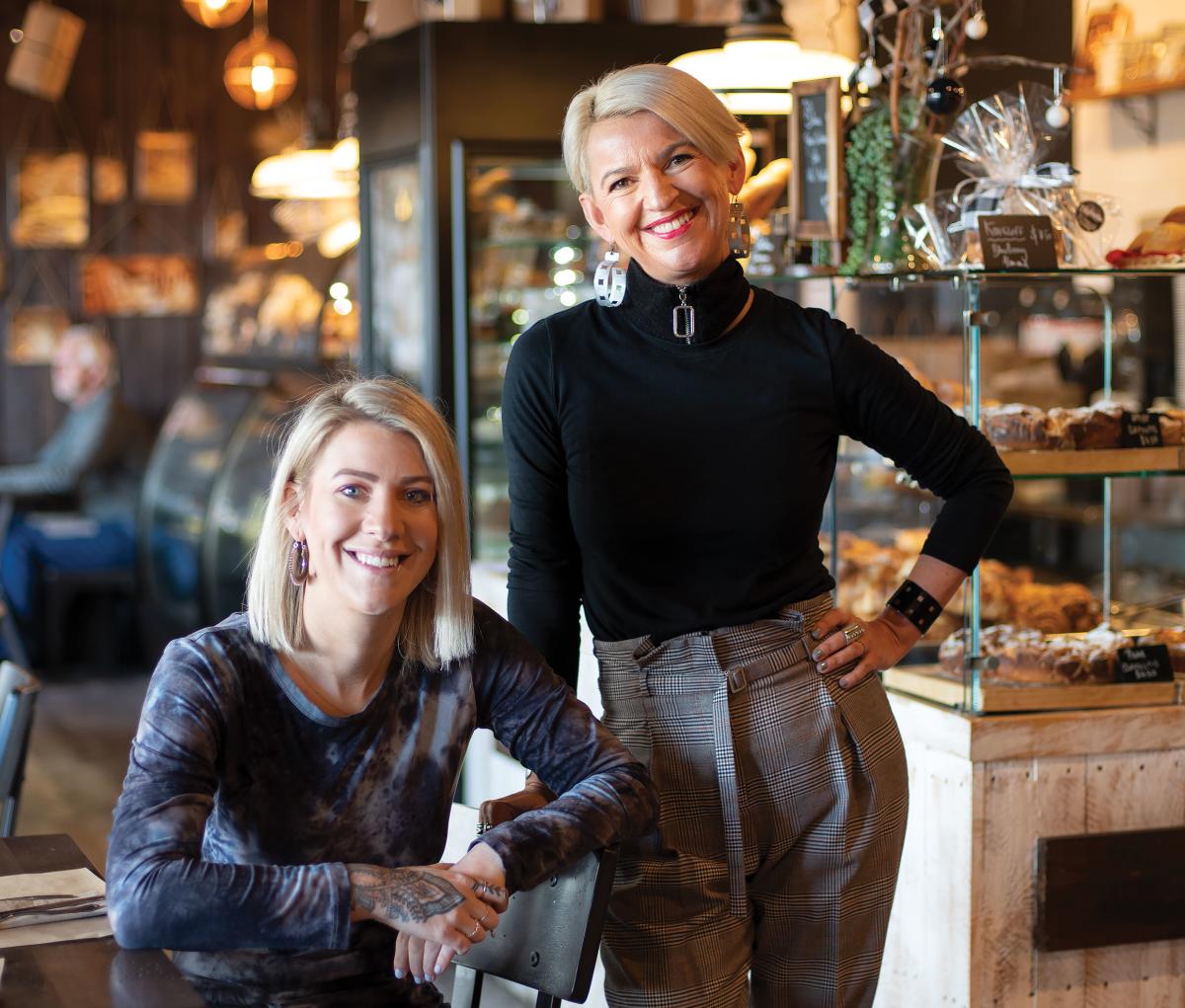 Above: Ann Ligier (standing) and Charlotte Kolkmeyer.
The shop's cakes and pastries are made fresh six days a week by Anne's husband, Philippe Ligier, a classically trained French baker. He learned through apprenticeships with chefs in his hometown of Maîche, in eastern France, starting when he was just 13 years old. Philippe still follows those disciplined methods, beginning his day at 1:30 a.m., a habit kept by only the best pâtissières in France. Monday through Saturday, he makes between 800 and 1,000 fresh-baked goods by hand.
He and Anne ensure that the pastry case is as aesthetically pleasing as its items are delectable. The cornucopia of fruit-topped tarts, chocolate and vanilla éclairs, plum galettes, sugar brioche, and of course clafoutis (a flan-like fruit tart) would shine in the window of any shop in Paris. Sandwiches come on crunchy baguettes. The quiche is fluffy and delicious.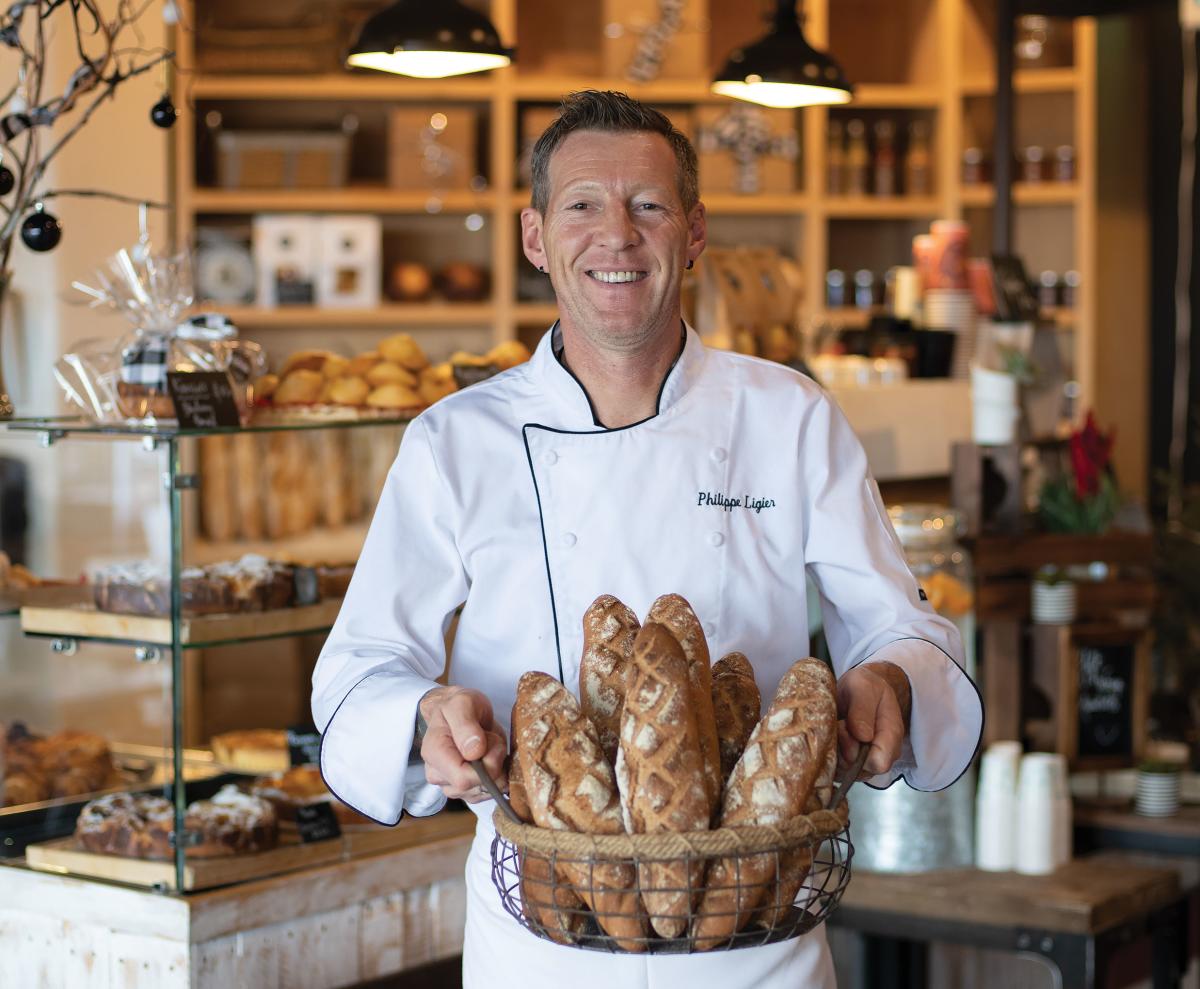 Above: Philippe Ligier.
Anne and Philippe met in the Franche-Comté region of France at a "boom" (supercool French slang for a dance party). They were 13 and 17. By the time of Anne's 20th birthday, the young pair had already started a family and opened their first bakery, La Banette, near Dijon. Ten years later, the family came to New Mexico the way many do—by kismet. A longtime customer in France had mentioned that he was moving to the Southwest and that the area lacked for bakeries. "We came for vacation," says Anne, "and we loved it."
In 1991, knowing no English,  they moved to Albuquerque and opened the French Corner, which scored by selling to local restaurants. At 13, Charlotte worked there as a dishwasher. But after eight years, the Ligiers felt the pull to return to France, where their families still live, and left New Mexico to open a new restaurant in Aix-en-Provence.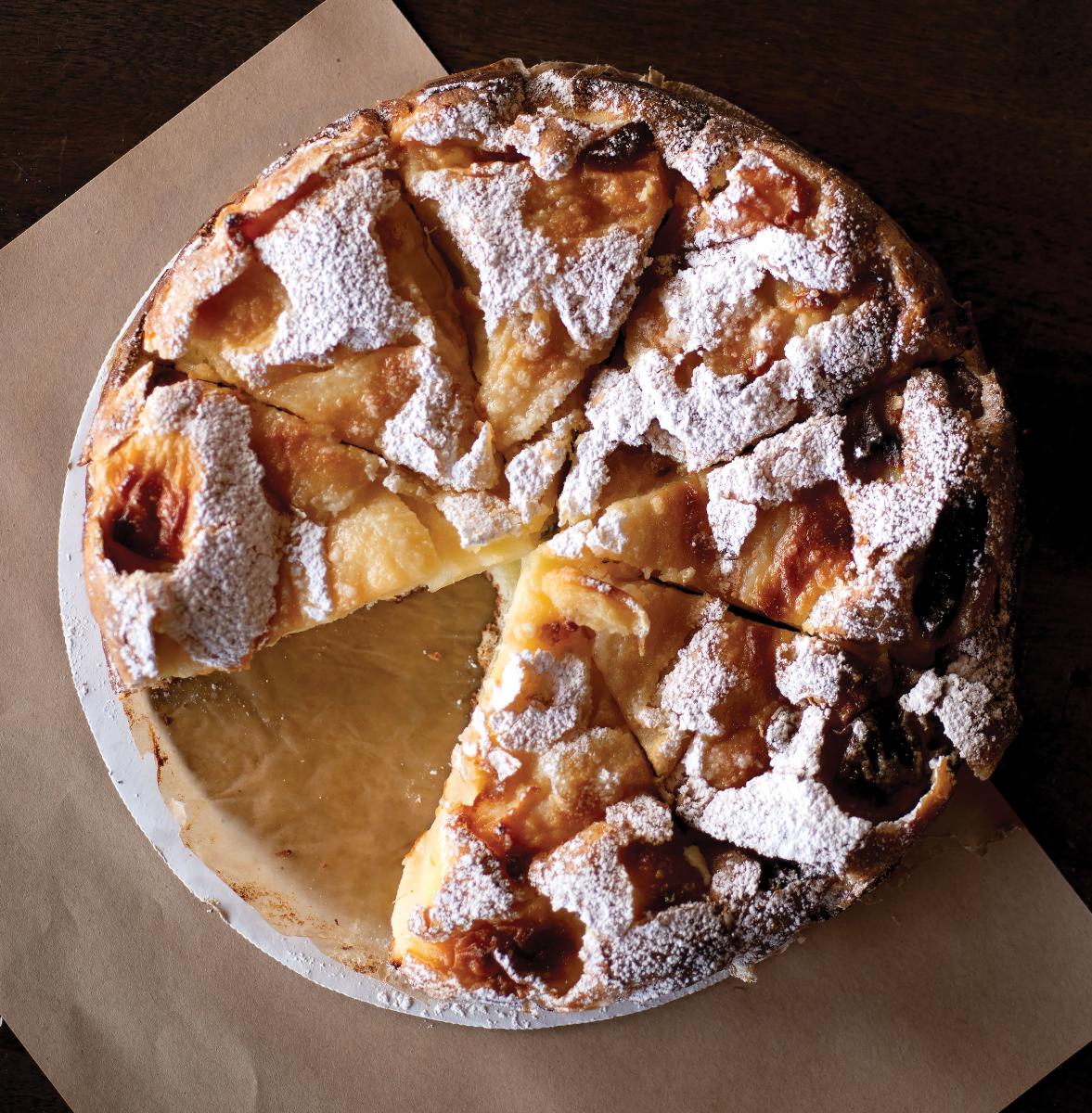 Above: A signature pear clafoutis.
As time passed, they realized their hearts beat loudest in the high desert. They returned in 2007 to open Clafoutis, where Charlotte took on the role of manager.
"When we came back to Santa Fe," Anne says, "we were really like Whoa, a-maa-zing. Everyone was so nice right away. People were so supportive."
The day the Ligier family opened their newer and much bigger space on Cordova Road, after nearly a decade on Guadalupe Street, they received a dozen bouquets from customers who wished them well.
---
THE RECIPE
Philippe's Almond Tuiles
A traditional French cookie that is wafer-thin, curvy, crisp, and delicious.
Makes 18.
3/4 cup flour
1 cup confectioners' sugar
1 tablespoon orange zest
3 egg whites
1 teaspoon vanilla extract
6 tablespoons butter (melted)
1 cup sliced almonds
Preheat oven to 350°.
Combine the flour, sugar, orange zest, and egg whites in a mixing bowl and stir until smooth.
Add the vanilla and butter, whisk again until smooth.
Stir in sliced almonds. (Be gentle or they will break apart.)
Place the batter 1 tablespoon at a time on a large baking sheet and spread in a circular motion with the back of a spoon into a thin 4-inch circle. 
Bake for 5–8 minutes, or until the edges are deep brown.
Working very quickly, while the cookies are still warm and malleable, lay each over a rolling pin to form the classic curved shape.

SEE YOU THERE
Clafoutis, 333 W. Cordova Road, in Santa Fe, is open from 7 a.m. to 4 p.m. Monday through Saturday, serving breakfast and lunch (505-988-1809).
---