Red River Ski & Summer Area spills onto Main Street. Photography courtesy of Red River Ski & Summer Area.
In Red River, the chairlifts meet Main Street, so getting around is a snap. "We don't have a lot of glitz and glam, but offer a family vacation that won't break the bank," says April Ralph, the town's tourism and economic development director. "It's a friendly place with great community spirit." Red River attracts mostly beginners and intermediate skiers and is a surprisingly fine place for powder skiing, including the oft-overlooked yet terrific Cat Skinner expert run.
What's new: When it's time for a warm-up, the town boasts two new coffee shops: Steam Coffee & Tea and Bearly Awake Coffee Co.
Try this: Off the slopes, Red River is home to one of the state's largest snowmobile scenes. Red River Sled Shed offers do-it-yourself rentals and guided outings.
VITALS: Vertical drop: 1,600 feet / Annual snowfall: 214 inches / Skiable acres: 625 / Lifts: 7 / Terrain parks: 3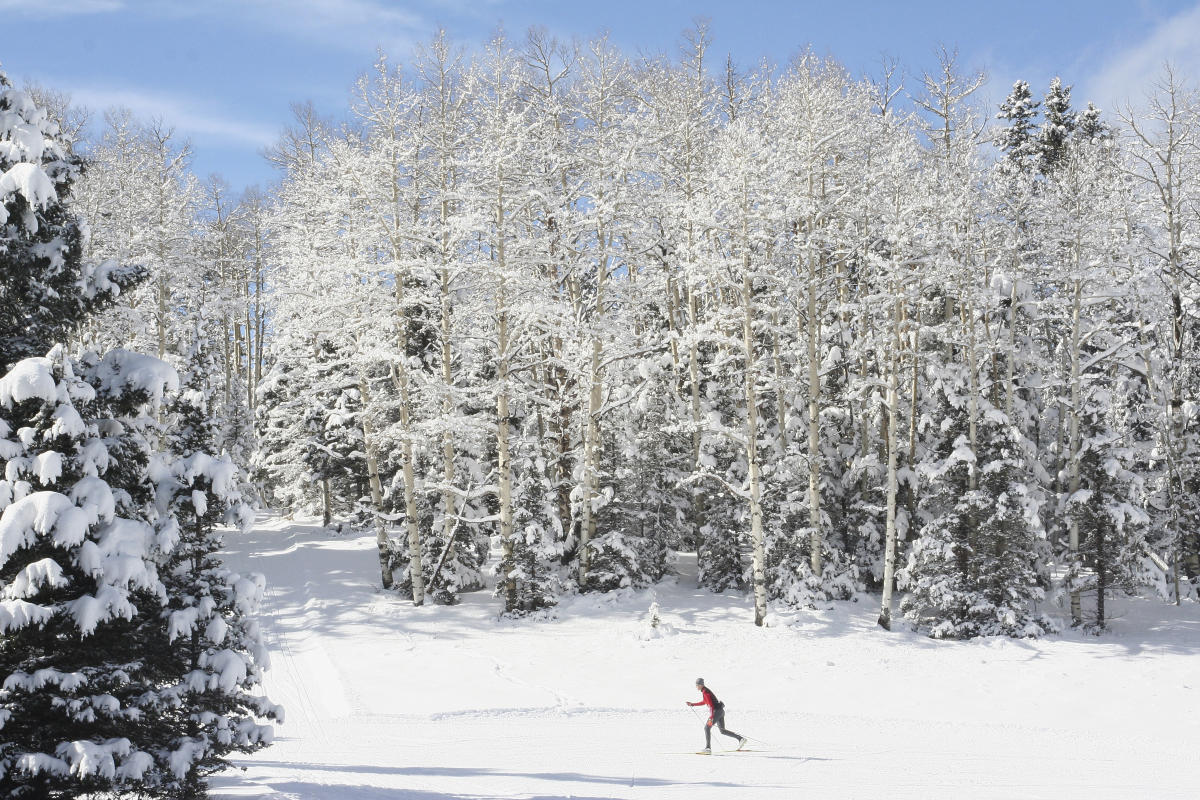 Enchanted Forest Cross Country Ski and Snowshoe Area has 20 miles of groomed cross-country trails. Photograph courtesy of Enchanted Forest.
The extensive trail network at the state's only dedicated commercial area for cross-country skiing and snowshoeing winds through pine and aspen forests, with rolling terrain and tremendous views of Wheeler Peak, Latir Peak, and the Red River Valley. "It is like backcountry touring, except for the expertly groomed trails," says owner Ellen Miller Goins.
What's new: A 20-foot-diameter, eight-person yurt, the Latir, joins the 16-foot Little John and 20-foot Long John, which both received upgrades in the off-season.
Try this: Stay in one of the yurts and opt for the food and gear delivery, or rent one of the sleds for your arrival and departure. There's even a dedicated trail system where you can bring your dogs. 
VITALS: Trails: 20.5 miles of groomed trails for skiing and 11 miles for snowshoeing / Annual snowfall: 200 inches / Skiable acres: 600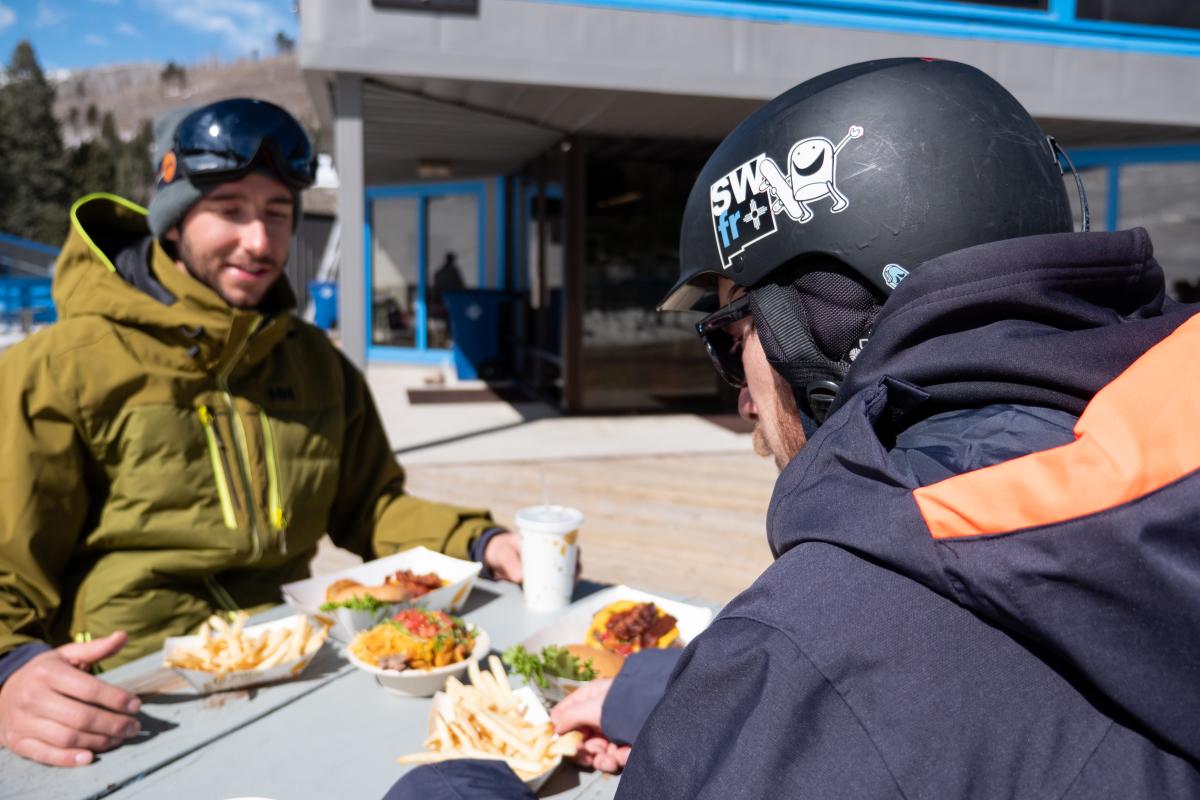 Reasonably priced grub can be found at the Pajarito Mountain Café. Photograph courtesy of Pajarito Mountain Ski Area.
In Los Alamos, Pajarito is the ski area that time forgot, where double chairlifts creak along at a leisurely pace, lines are rare, and moguls on the black-diamond Fab Four grow to monstrous size. At Pajarito, kids rule (10 and under receive a free season pass), and brown-bag lunches are encouraged. In an age of look-alike resorts with $15 hamburgers and $1,000 ski outfits, this throwback puts a premium on the skiing, with lovely views of nearby summits in the Jemez Mountains, the vast Valles Caldera National Preserve, and the Sangre de Cristos.
What's new: "Keep your eyes open for newly cleared tree skiing," suggests Garrett Altmann, a world-class extreme skier and member of a volunteer chainsaw crew that has been thinning dead and down trees. He says there's "lots of new pockets" in the woods between runs, especially in the Fab Four area.
Try this: Altmann suggests the chile cheese fries (small size, $4.25) in the Pajarito Mountain Café. The food is "reasonably priced, and something I actually look forward to," he says.  
VITALS: Vertical drop: 1,440 feet / Annual snowfall: 137 inches / Skiable acres: 750 / Lifts: 6 / Terrain parks: 2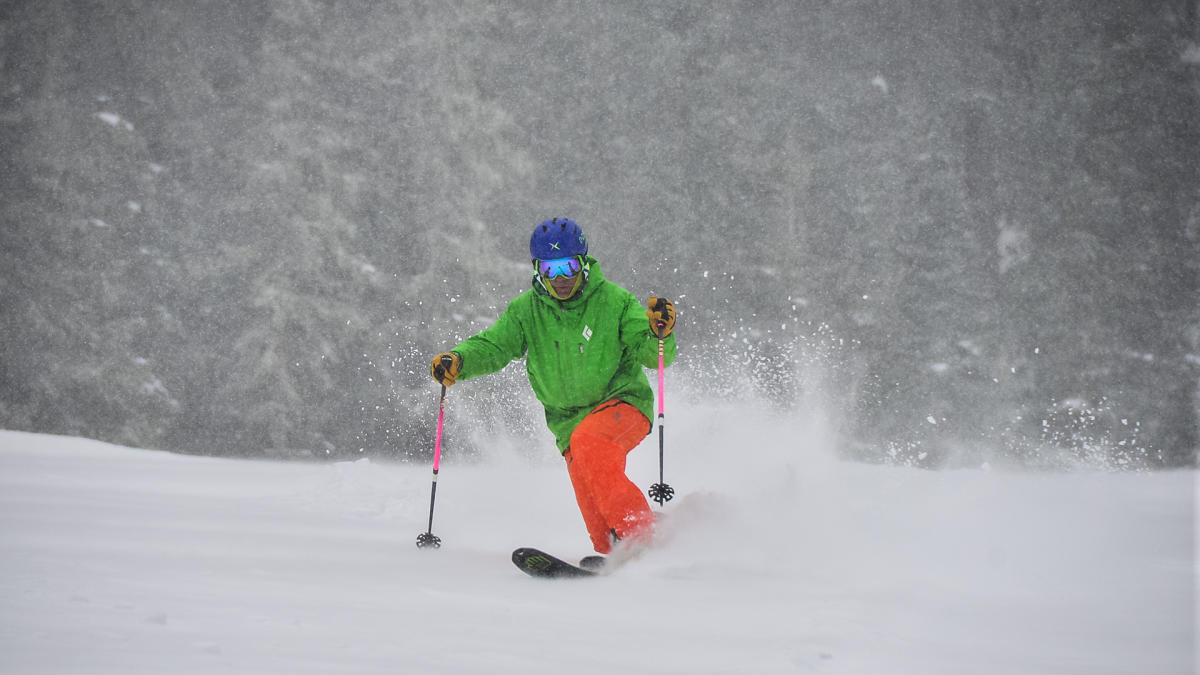 It's relaxed and uncrowded at Angel Fire Resort. Photograph courtesy of Angel Fire Resort.
This four-season resort in the beautiful and isolated Moreno Valley is both old-school and newfangled. With the state's first high-speed quad chair (the 10,000-foot Chile Express ranks as one of America's longest chairlifts), Angel Fire boasts New Mexico's only night-skiing operation and its best terrain parks for snowboarders and skiers. It's also relaxed and uncrowded. "We've been socially distanced since 1966, without the hustle and bustle you find at other resorts," says Vice President Christy Germscheid.
What's new: Angel Fire Lodge, the resort's premier on-slope accommodation, now offers room service. The resort has also added new fire pits, patio heaters, fire features, and 50 picnic tables where guests can spread out to eat and drink.
Try this: Liberation Terrain Park has its own chairlift, piped-in tunes, and graduated sets of features to allow safe and logical skill building. In the base area, Night Rider Park offers a chance to test your tricks in moonlight, or slip and slide on the Polar Express tubing hill.  
VITALS: Vertical drop: 2,077 feet / Annual snowfall: 210 inches / Skiable acres: 560 / Lifts: 7 / Terrain parks: 3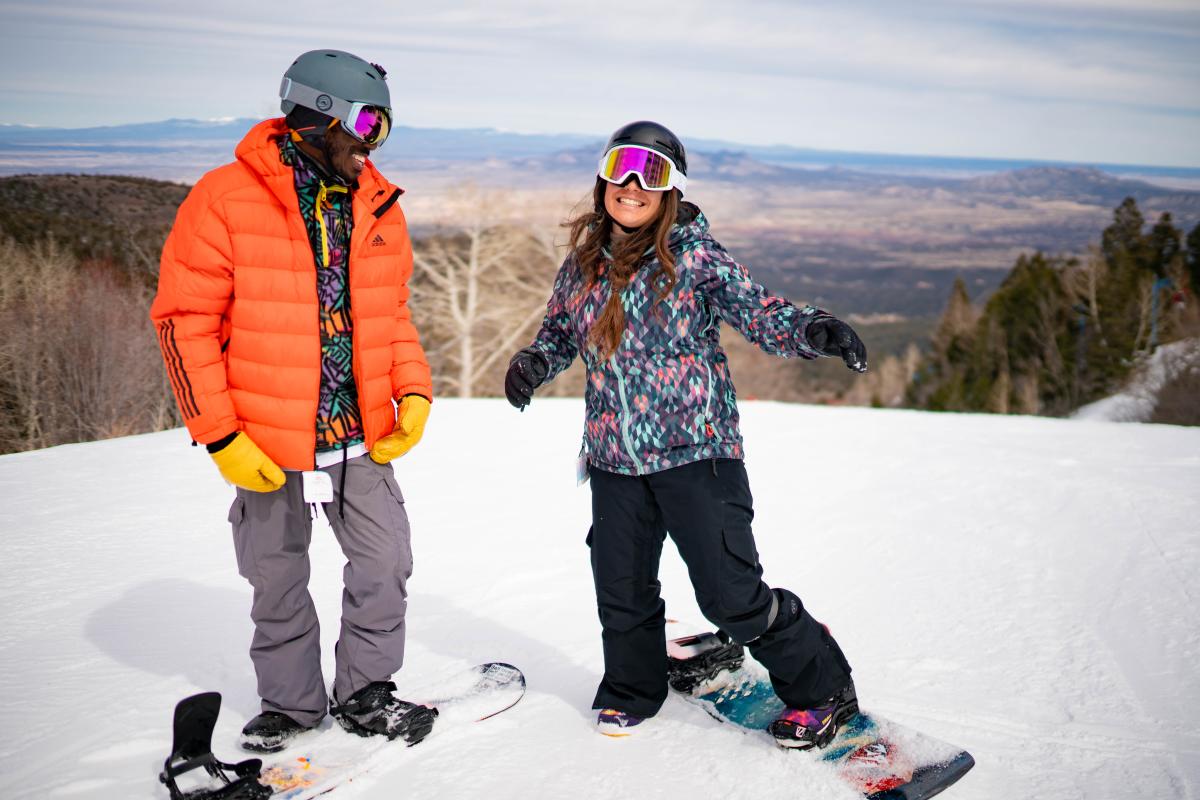 Sandia Peak Ski Area provides easy access from Albuquerque. Photograph courtesy of Sandia Peak Ski Area.
Among America's most easily accessed ski areas from a major urban center, Sandia Peak Ski Area is just a 12-minute ride on the Sandia Peak Tramway, which lifts you from Albuquerque cactus gardens to a snow-draped forest. Here you'll find a substantial vertical drop and a nice mix of runs in a small footprint. On weekday powder mornings, you can cruise the glades and run edges in solitary splendor. On weekends, it's popular with families who make the hour drive from Albuquerque.
What's new: Draw inspiration from the Ventana Gallery artists featured in the Ten 3 restaurant and bar, then carve your own creative lines on a few of Sandia's 35 runs.
Try this: Create a fun run covering many types of terrain by connecting the intermediate Sandia to the easier Cibola run, which includes some rare skiing among ponderosa pines near the bottom.  
VITALS: Vertical drop: 1,700 feet / Annual snowfall: 125 inches / Skiable acres: 200 / Lifts: 5 / Terrain parks: 1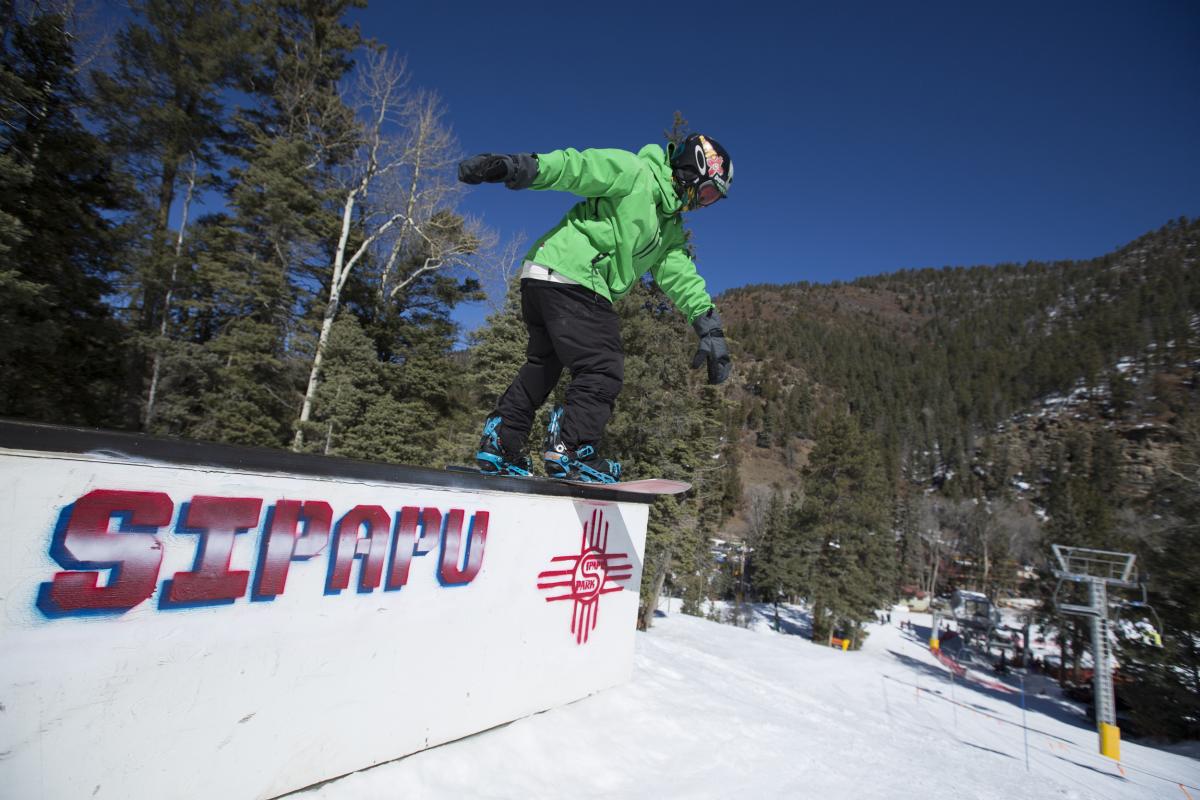 Four terrain parks highlight Sipapu Ski & Summer Resort's family environment. Photography courtesy of Sipapu Ski & Summer Resort.
Thanks to its relatively cozy environs, abundance of intermediate terrain, and overall affordability (season passes for kids 10 and under are free), Sipapu has always been especially welcoming for families. Still, there are some short but excellent expert runs and tree skiing in a good to average snow year. The four terrain parks, with a dedicated design and maintenance crew, traditionally host a handful of competitive events with large youth participation. "We pride ourselves on introducing new skiers and snowboarders to the sport," says Bruce Bolander, whose family launched Sipapu in 1952.
What's new: Following covid-safe practices, parties must reserve lift tickets in advance to be allowed into the parking lot and on the slopes.
Try this: Excellent cross-country skiing and snowshoeing alongside the picturesque Río Pueblo are wonderful off-slope activities.  
VITALS: Vertical drop: 1,055 feet / Annual snowfall: 190 inches / Skiable acres: 200 / Lifts: 6 / Terrain parks: 4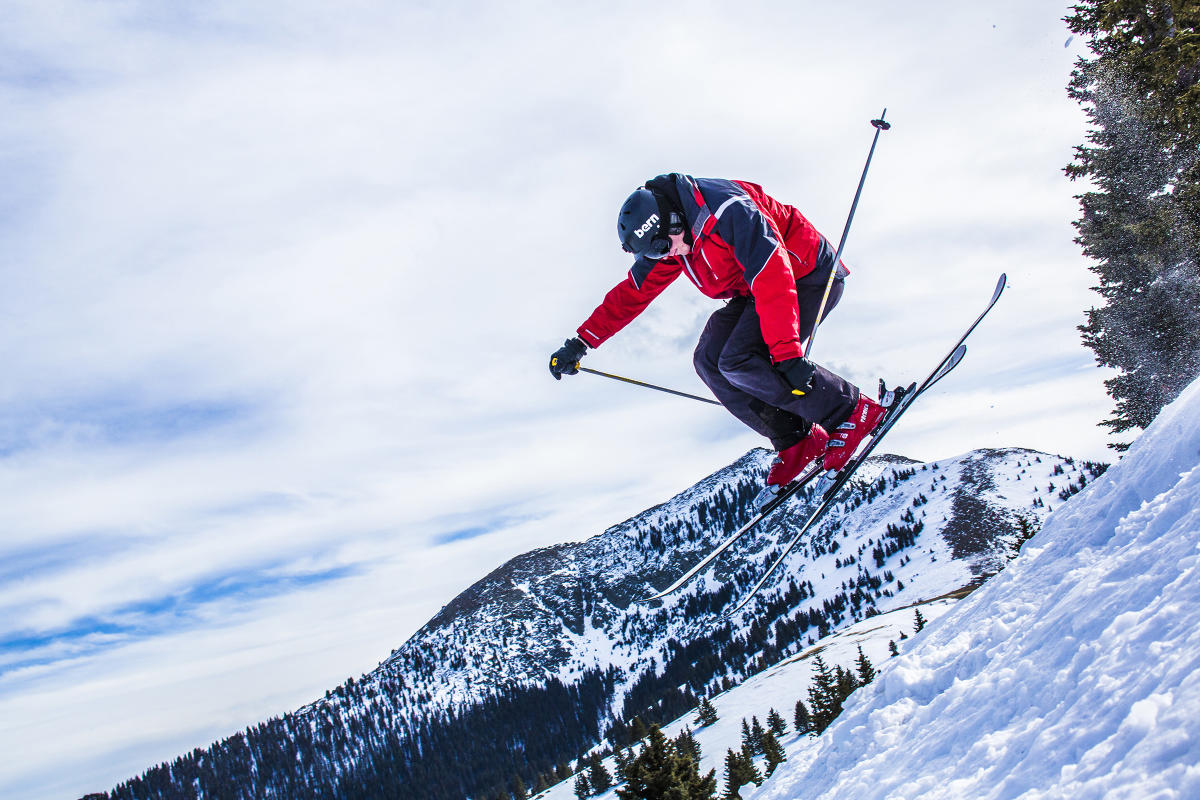 Ski Apache offers some incredible scenery on the slopes. Photograph courtesy of Ski Apache.
This warm-weather powder playground near Ruidoso, at the northern end of the Chihuahuan Desert, is among only a few U.S. ski areas owned and operated by a Native tribe, in this case the Mescalero Apache. Featuring the state's only enclosed gondola lift, it boasts a nice mix of mostly beginner and intermediate terrain with incredible scenic beauty from the 12,000-foot Sierra Blanca Peak.
What's new: A $1 million refrigerated snowmaking machine can produce snow even when the temperature is above freezing, which will ensure adequate snow on the lower slopes. "This is crucial, being the southernmost major ski area in the nation," says Ken Marlatt, director of operations.
Try this: For great skiing in a wide-open basin, head to Apache Bowl, where excellent powder skiing can be found with careful exploration of the forests between runs.  
VITALS: Vertical drop: 1,900 feet / Annual snowfall: 180 inches / Skiable acres: 750 / Lifts: 10 / Terrain Parks: 2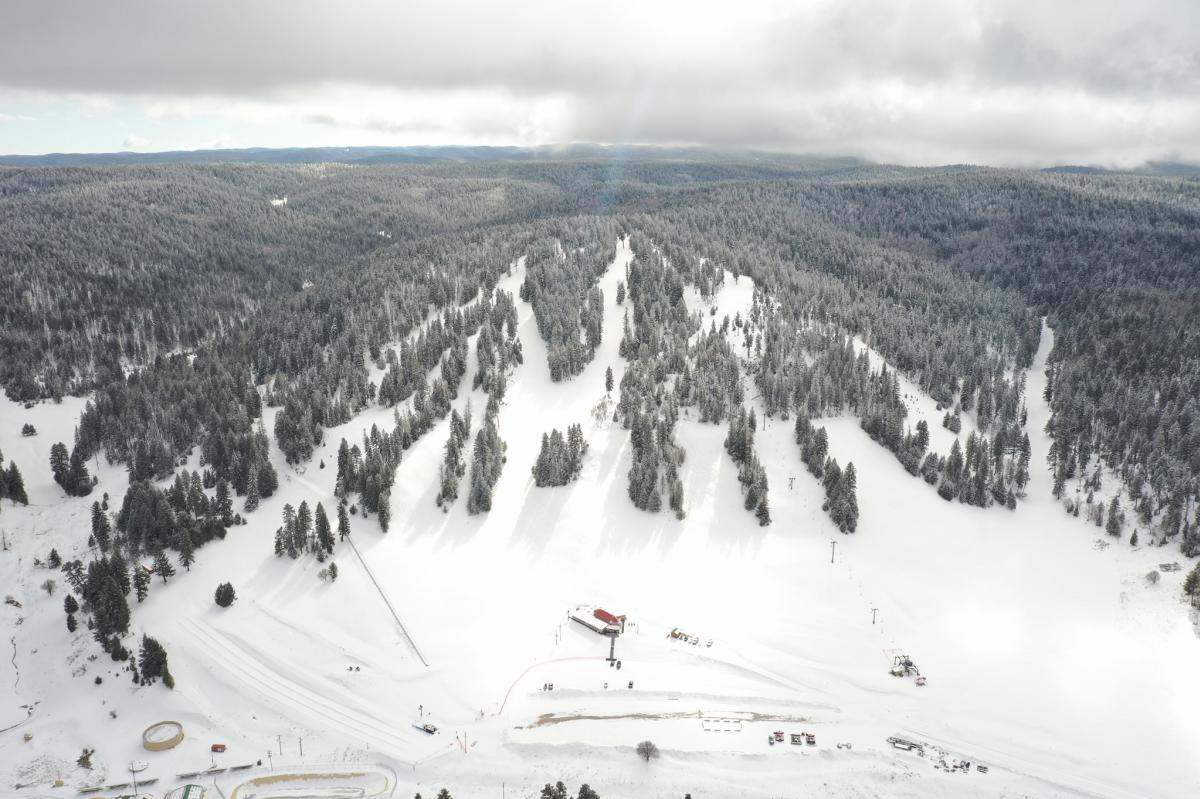 The state's southernmost ski area attracts many Texans trying the slopes for the firs time. Photograph courtesy of Ski Cloudcroft.
The state's southernmost ski area is tiny, with limited snowfall and vertical drop. "Many of our guests from Texas have never even seen snow," says Michael Adams, whose family bought the resort in 1997. "So we pride ourselves on being beginner-friendly and family-oriented."
What's new: The very popular sledding hill was doubled in size, and a conveyor lift installed.
Try this: In a good winter, the area cranks up its double chair and you can wind your way down from the top on a mile-long run.  
VITALS: Vertical drop: 700 feet / Annual snowfall: 70 inches / Skiable acres: 100 / Lifts: 3 / Terrain parks: 0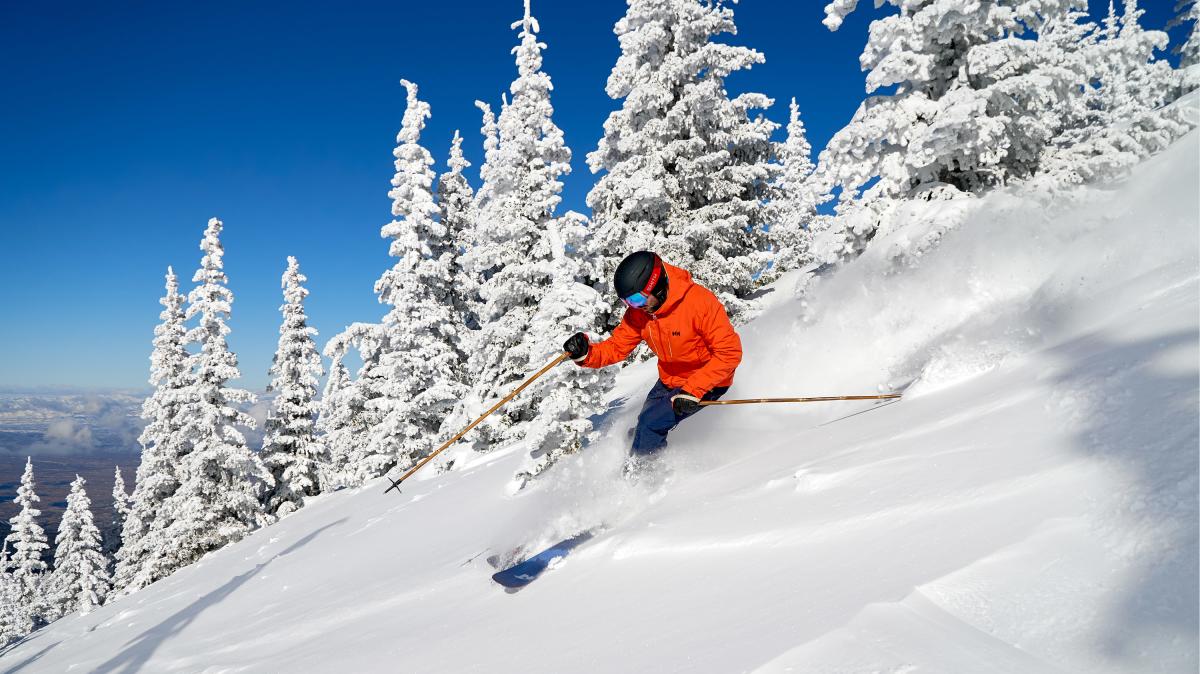 Ski Santa Fe offers possibly the best tree skiing in the state. Courtesy of Ski Santa Fe.
Ski Santa Fe packs tremendous variety into a relatively small area, with arguably the best tree skiing in the state (Tequila), some challenging bump runs (Roadrunner), many wide-open cruisers (Gayway), fantastic powder runs (Cornice), and even some technical chutes (Big Rocks). Just 25 minutes from Santa Fe, it is among the best places in the country for mixed groups that include nonskiers.
What's new: This year the ski school maxes group instruction at four people. "This will provide a real intimate experience and ideal learning conditions," says Bill Gould, who has overseen the area's teaching crew since 1995.
Try this: If you missed the new glades and glens opened on South Burn last season, head that way this winter for some ear-to-ear grins. For some remarkable ski area views, slide over the top of Gayway or Parachute, where you will feel like you're slipping over the edge of the earth.  
VITALS: Vertical drop: 1,725 feet / Annual snowfall: 225 inches / Skiable acres: 660 / Lifts: 7 / Terrain parks: 1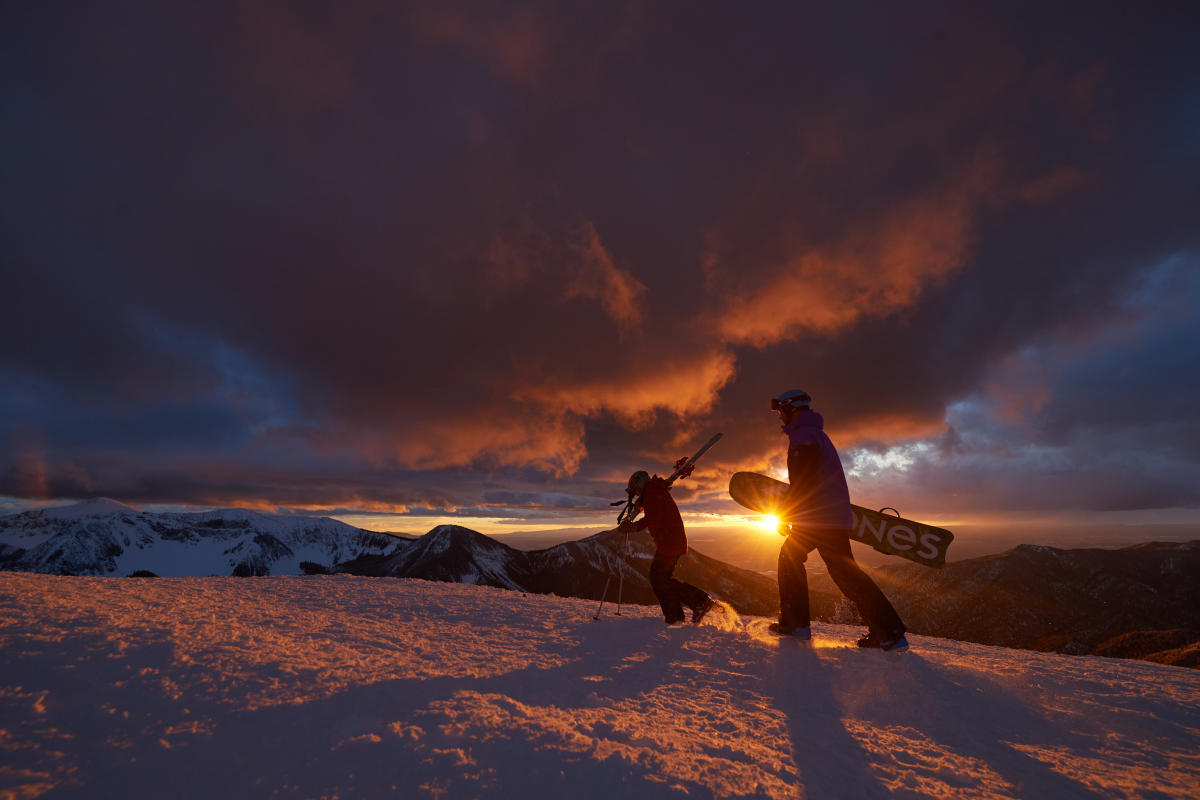 Taos Ski Valley's challenging terrain, huge vertical drop, and fantastic ski school make it a favorite. The sunsets also amaze. Photograph courtesy of Taos Ski Valley.
This world-class destination, ranked No. 4 in the West by the readers of Ski Magazine, earns points for its challenging terrain, massive vertical drop, light, deep powder, and excellent ski school. Established by a cadre of Europeans led by Ernie Blake, it has a distinctive Euro–New Mexican character and culture that encourages return visits over decades and even generations. Its large size also provides for an abundance of beginner and intermediate terrain.
What's new: Taos will have all of its restaurants and day lodges open this winter, but with occupancy limits in place. It will not operate parking shuttles, but a new drop-off circle on Thunderbird Road will provide an easy access point.
Try this: Tommy Murray—snow surface manager in charge of snowmaking, grooming, and terrain parks—loves the way the corduroy lies on Totemoff, on the mountain's back side. "But we take pride in all our grooming efforts," he says. He also suggests advanced skiers head to Two Bucks or Twin Trees for untouched powder in the hike-to zone off Highline Ridge.  
VITALS: Vertical drop: 3,281 feet / Annual snowfall: 305 inches / Skiable acres: 1,294 / Lifts: 14 / Terrain parks: 2