No meat? No problem! Create classic New Mexican recipes with fresh, vegetarian ingredients.
Photography by Douglas Merriam
To most people, New Mexican food may seem meat-driven and lard-laden. Not true! The traditional foods of this region are based on a trinity of vegetables: corn, beans, and squash, which are poetically referred to as "The Three Sisters." To this trifecta, I will add tomatoes and chile.
We adhere mainly to a vegetarian diet in our household. (I'm a consummate omnivore, but Jody, the woman I love, is vegetarian. I see no sense in cooking two dinners every night!) I'm also a conscientious consumer and a proud locavore, the kind who likes knowing the first names of the people who grow, raise, and prepare the food we eat. Our last visit to the Santa Fe Farmers Market—which at this time of year is brimming with The Three Sisters—included sipping fresh-brewed coffee and sampling artisanal bread with local cheese. After a stroll through the market, and a few social calls, we departed with the majority of our groceries for the week, an armful of fresh flowers, and (OK, fine) some bison sausage.
September is one of the finest months in New Mexico: gorgeous weather, plenty of regional festivals, and the veritable cornucopia that is September's harvest! The recipes featured here focus on healthy eating, classic ingredients, and local foods. I believe these creations will please the palates of vegetarians and meat-eaters alike. There's no need to label this menu as vegetarian, I'll simply call it "The Harvest of New Mexico."
¡Buen provecho!
Rocky Durham is a native Santa Fean, an educator, and a lifelong culinary professional. See more of Douglas Merriam's work at www.douglasmerriam.com.
TORTILLAS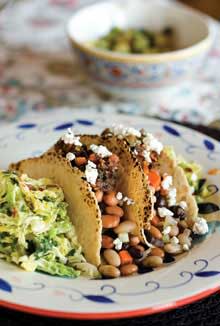 These tacos are made with fresh, not fried, corn tortillas. You can try your hand at making these ancient flatbreads or locate a tortilleria in your community—but there's no substitute for fresh!

Yield
2 DOZEN
Ingredients
1½ cup masa harina
1 cup warm water
1 tablespoon olive oil
½ teaspoon salt
Directions
Combine all ingredients in a large bowl and mix well, until a soft dough is achieved. If the dough is too sticky, add a little more masa harina. If it's too dry, add a little more water. Divide dough into approximately 24 balls, cover, and set aside.
Preheat a large, heavy skillet over a high heat and lightly oil.
To flatten the dough, press a dough ball between 2 plastic sandwich bags or 2 pieces of parchment paper. Flatten until it reaches the desired thickness. (Corn tortillas should be quite thin.)
Cook in the skillet for about 1 minute on each side. Set aside cooked tortillas in a cloth-lined basket to keep them warm and moist.
Makes 2 dozen
TACO FILLING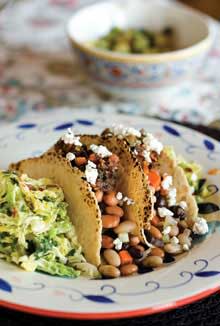 Although you may use pinto or black beans, this is a great recipe with which to try one of the heirloom varietals cultivated in New Mexico: rattlesnake, Anasazi, Jake's Ranch, Appaloosa, and more. To decrease the gaseous quality for which beans are famous, soak the beans before cooking them.

Yield
2 DOZEN
Ingredients
1 small red onion, diced
1 small carrot, diced
1 rib celery, diced
3 cups cooked beans
2 tablespoon sherry vinegar
1 tablespoon local honey
1 teaspoon red chile flakes
¼ cup cilantro, chopped
salt and pepper to taste
Directions
Sauté onion, carrot, and celery for 2 minutes. Add remaining ingredients, remove from heat and mix well. Season to taste. Place mixture in fresh tortillas and top with Blackened Tomato Salsa and Chipotle Cole Slaw.
BLACKENED TOMATO SALSA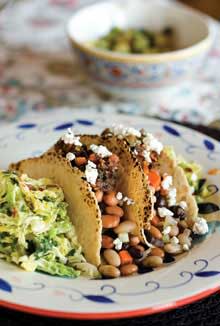 Yield
ENOUGH FOR 12 TACOS
Ingredients
4 fresh tomatoes, halved
1 small red onion, cut into thick rings
2 jalapeños, halved and seeded
4 cloves garlic
oil
¼ cup cilantro, chopped
1 orange
salt and pepper to taste
Directions
Preheat outdoor grill or broiler. Lightly coat tomatoes, onion slices, jalapeños, and garlic cloves with oil. Place directly on the grill or on a sheet pan under the broiler. Cook ingredients until tomato skins blacken. 
Grill or broil the orange halves until the edges are browned.
Place the vegetables (not the orange) into a food processor along with cilantro. Pulse until desired consistency is achieved. Squeeze juice from the orange halves into salsa. Season with salt and pepper.
CHIPOTLE COLE SLAW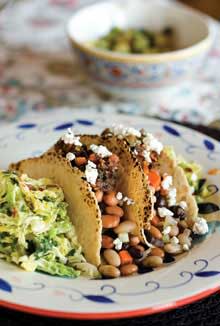 Yield
6 SERVINGS
Ingredients
1 teaspoon Dijon mustard
2 teaspoon chipotle en adobo, minced
1 lime, zested and juiced
1 teaspoon honey
½ cup olive oil
½ head green cabbage, sliced very thinly
3 scallions, chopped
salt and pepper to taste
Directions
In a large mixing bowl, combine mustard, chipotle en adobo, lime juice, and honey. Slowly whisk in olive oil until combined. Pour over cabbage and scallions. Mix well.
Refrigerate for 30 minutes before seasoning and serving.
CALABACITA RELLENOS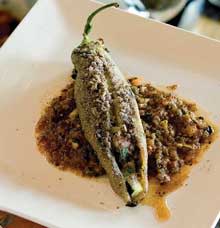 Chile relleno is Spanish for "stuffed chile." Although it is traditionally served stuffed with cheese and batter-fried, to be a relleno, it needn't be served this way. Here's a fresh, healthier take on the recipe.

Yield
SERVES 6
Ingredients
6 large New Mexican green chiles 
(poblano or Anaheim peppers may be substituted)
1 zucchini, diced
1 yellow squash, diced
1 small yellow onion, diced
3 cloves garlic, minced
1 ear corn, shucked, 
kernels cut from the cob
½ cup goat cheese, chèvre style
½ cup piñon, toasted
1 tablespoon fresh sage, chopped
salt and pepper to taste
½ cup blue corn meal mixed with 
1 tablespoon olive oil
Directions
On an outdoor grill over high heat, roast chiles until the skin blisters and blackens all over. Place them in a small paper bag until they are cool enough to handle. Wipe away the blackened skin with a paper towel or a clean dishtowel. Do not rinse under the tap or soak in water—that method will wash away the flavor. Without removing the stem, slit the chiles from stem to tip and remove the seeds. The stem should remain intact.
Preheat a non-stick pan over medium-high heat and sauté the zucchini, squash, and onion for 3 to 4 minutes stirring infrequently. Add garlic and corn, and sauté for another 2 minutes. Place sautéed mixture in a large mixing bowl to cool.
Add remaining ingredients and season with salt and pepper.
Spoon filling into prepared chiles and arrange on a lightly oiled cookie sheet with the opening facing up.
Sprinkle each relleno with the blue corn mixture.
Bake in a preheated 350- degree oven for 20 minutes or until hot and bubbly.
CALABAZA CHILI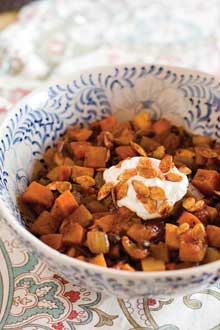 Although calabaza is often translated as "pumpkin," it really means "winter squash." Any of the winter varieties can be used in this stew.

Yield
SERVES 6
Ingredients
1 butternut squash, peeled, seeded, and 
cut into bite-sized pieces
1 russet potato, diced
1 large yellow onion, diced
2 carrots, diced
1 golden beet, peeled and diced
3 cloves garlic, minced
¼ cup olive oil
½ teaspoon salt
¼ cup New Mexican red chile powder
2 teaspoon Mexican oregano
1 teaspoon ground cumin
1 teaspoon ground coriander
½ teaspoon cinnamon
1 can diced tomatoes
1 can black beans, drained
Water (enough to cover ingredients)
salt and pepper to taste
Directions
Combine squash, potato, onion, carrots, beets, garlic, olive oil, and salt in a large bowl and mix well. Place on a foil-lined sheet pan. Bake in a preheated 375-degree oven for 30 minutes or until squash is fork-tender.
Place roasted veggies in a large soup pot and add remaining ingredients. Simmer for at least 30 minutes. Season to taste and serve with sour cream.