Some success is quantitative: Baseball batting averages, for instance, tell you down to the thousandth percentile how a hitter is doing. Handicapping chefs is a lot more subjective. A matter of taste, you might say. However, the James Beard Foundation, based in New York, takes on that task annually, announcing awards in multiple categories each May. Chefs consider recognition from the Beard Foundation as one of the highlights of their career, and we're focusing this month on New Mexico's winners and nominees from past years.
BEST CHEFS SOUTHWEST
Mark Miller
The founder of Santa Fe's Coyote Cafe and a tireless promoter of chiles and Southwestern foods, Miller the first chef working in New Mexico to receive the Beard Foundation's award as Best Chef Southwest, in 1996. A cultural anthropologist by training and an academic at heart, Miller almost accidentally became part of the burgeoning Berkeley, California, culinary scene that grew up around Alice Waters and her Chez Panisse in the late 1970s and early 1980s. He then ran a couple of Berkeley restaurants of his own, celebrating New World ingredients and dishes. At the time, these foods were out—way out—of the culinary mainstream. Miller offered his most sophisticated take on the cuisine when, in 1987, he opened the Coyote Cafe. Instantly, he was showered with wide national acclaim for his takes on American regional cooking.
Miller put Santa Fe—and, more broadly, New Mexico—on the national culinary map. With his innate talent and historical knowledge, his constant quest for bold flavor combinations, his desire to make a traditional home cooking style appealing for fine dining, and his media savvy, he and the Coyote thrived. In 1989, Life magazine named him one of the decade's most influential chefs. Late in 2007, Miller sold the Coyote Cafe. He has been involved with numerous other restaurants, including, early in its development, Red Sage at Buffalo Thunder Resort & Casino. Miller maintains a home in Santa Fe but spends most of his time consulting internationally. I think it's safe to say that, without Mark Miller's vocal championing of chiles and more, New Mexico's culinary profile wouldn't be where it is today.
Coyote Cafe, 132 Water St., Santa Fe; (505) 983-1615; coyotecafe.com
Mark Kiffin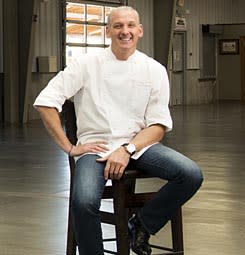 The chef-owner of The Compound, in Santa Fe, Kiffin is the only other New Mexican chef to win the Best Southwest imprimatur. When he bounded onto the Lincoln Center stage to receive the coveted award in 2005, he opened his acceptance speech with the words, "The best thing I ever made . . . ," then paused dramatically before saying that it was his young daughter, Phoebe. He dedicated the award to her, making a poignant point about the many evenings that chefs' kids go to sleep without that good-night kiss from mom or dad.
Kiffin began working in the kitchen before he had a driver's license, and later graduated from the Culinary Institute of America. He came to Santa Fe, worked at Coyote Cafe, and co-authored several cookbooks with the Coyote's founder, Mark Miller.
Known as much for its interior design, by Alexander Girard, as for its luxe Continental menu, the Compound had arguably been Santa Fe's best-known restaurant until Coyote Cafe came on the scene. Kiffin set his sights on acquiring the landmark when its longtime owner retired, and invigorated the menu with contemporary flair. Some of those early dishes became so popular that they're now ensconced in a "Classics" section of the menu: the crackling-crisp chicken schnitzel, for example, and sweetbreads and foie gras with cèpes, cayenne, and Spanish sherry. I still think about a dish Kiffin served at a Santa Fe Wine & Chile Fiesta lunch last year—a mélange of fennel-roasted prawns with a little stew of green olives, piquillo peppers, and garlic. For a February dinner at the Beard House, he created a scallop appetizer just slightly different from the one you'll find as a web extra on nmmagazine.com (http://bit.ly/14DWGdu). Early in 2012, Kiffin opened the casual Zacatecas Tacos + Tequila, in Albuquerque, (a 2013 Best New Restaurant Semi-Finalist.
Now, with a few years' perspective on winning Best Chef Southwest, what has the honor meant to him? "The award is the affirmation of a career, now 36 years in the industry, of work, of joy, of so many of the best experiences of my adult life. To be included in a very small club of talented people is, and always will be, a true honor. To know that I now must uphold the highest standards of American cooks, for our new culinarians who follow, is another true honor."
The Compound, 653 Canyon Road, Santa Fe; (505) 982-4353; compoundrestaurant.com.
Zacatecas Tacos + Tequila, 3423 Central Ave. NE, Albuquerque; (505) 255-8226; zacatecastacos.com
And the Semi-Finalists Are . . .
Being a "Beardsmaid" may be a tad frustrating, but the tag of Beard Semi-Finalist is itself a huge honor. Only a handful of chefs in any state make it to this level of consideration, and ours have to go up against Texas, with six of the country's largest metro areas, along with the other four states in the region.
Jennifer James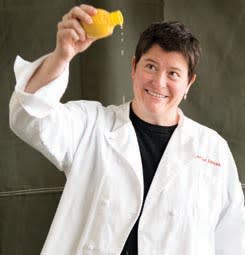 Jennifer James grew up in Illinois farm country. With grandparents who farmed and a mother who catered, she always ate well. As a student of hospitality management the University of Illinois, her eyes were opened to the full world of food and dining out.
James's love of the West brought her to Albuquerque in the mid-1990s. After cooking at a couple of other well-regarded restaurants, she launched Restaurant Jennifer James, and farmers began showing up at her door with produce. She took advantage of the fresh ingredients there, and then later, at Graze. After a disagreement about the direction of Graze with her then business partner, she came back stronger than ever with Jennifer James 101, whose name signifies a return to basics that she calls "Complexity in our simplicity." I call it superb cooking. James has been named a Semi-Finalist in 2012 and 2013.
Jennifer James 101, 4615 Menaul NE, Albuquerque; (505) 884-3860; jenniferjames101.com
James Campbell Caruso
The owner of Santa Fe's popular La Boca has received Semi-Finalist recognition six times since the restaurant opened, in 2006. Chef James came to New Mexico from New England, where he grew up in a large family of Italian, Basque, and other Mediterranean ancestry. Cooking and eating were so ingrained that, for his 10th birthday, Caruso's parents gave him an omelet pan. The study of anthropology brought him to the University of New Mexico, where he became fascinated with the mix of Latino food traditions, which led back to Spain. He cooked a Spanish menu while at El Farol, in Santa Fe, and has further explored the cuisine at La Boca. Caruso opened Taberna La Boca, a churro's throw from the original restaurant, in the fall of 2012. Taberna, a real community gathering spot, serves rustic peasant-style Spanish fare. That allows the chef to experiment a bit more at La Boca, with somewhat more modern techniques and his own creativity.
La Boca, 72 W. Marcy, Santa Fe; (505) 982-3433; labocasf.com. Taberna La Boca, 125 Lincoln, Santa Fe; (505) 988-7102; labocasf.com
Martin Rios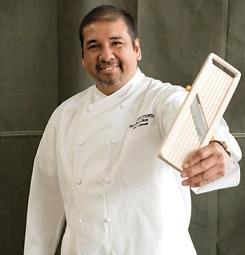 A Semi-Finalist multiple times for Best Chef Southwest, Chef Rios also garnered a Semi-Finalist nod for the national title of Best New Restaurant after he opened Restaurant Martín, in Santa Fe, with wife Jennifer in 2009. His style is purely his own: an accomplished and visually stunning combination of French technique with flavor accents from around the world. The hardworking Rios graduated from the Culinary Institute of America, but before that he had managed, through sheer hard work and innate talent, to become Executive Chef of the four-diamond Eldorado Hotel, in Santa Fe. Though born in Guadalajara, Martín has lived most of his life in Santa Fe. He was tapped two years ago to cook at the Beard Awards gala at Lincoln Center, a huge distinction.
Restaurant Martín, 526 Galisteo St., Santa Fe; (505) 820-0919; restaurantmartinsantafe.com
Frederick Muller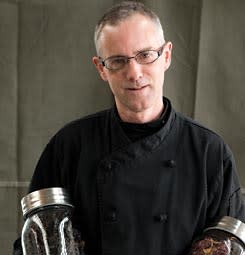 Chef Fred of El Meze, in Taos, has an amazing combination of skills. During a couple of breaks from the restaurant world, he trained military platoons in counterinsurgency techniques. It's good to have something to fall back on, but I hope Muller stays in the food field so that all of us can take advantage of his culinary gifts. Muller grew up in Europe, where he picked up a solid Swiss culinary training, then went to college in Colorado, where developed an enduring love of the West. He worked at the renowned Crook's Corner, in North Carolina, under the late Bill Neal, and then in Berkeley, with Mark Miller, at Santa Fe Bar and Grill. It was there that he chanced to meet Marion Cunningham, a contemporary of James Beard and another early proponent of American food. When Muller settled in Taos in the 1980s, he opened a café serving local food. I remember driving up from Santa Fe many times for his dead-on red- and green-chile sauces and other dishes, such as chicos and calabacitas. Fascinated with the history of food here, Muller began tracing the roots of New Mexican and Mexican cooking back to Spain, and ultimately to the Moorish and Arab world. El Meze, in a tiny house on the north side of Taos, serves dishes that make the connections among all of those areas. Fred's Semi-Finalist nod came in 2012.
El Meze, 1017 Paseo del Pueblo Sur, Taos; (575) 751-3337; elmeze.com
Charles Dale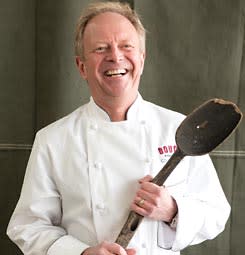 Chef Charles belongs here, even though he received his two Beard Southwest nominations while running restaurants in Colorado. He has been an important influence on the Santa Fe dining scene ever since the years he spent in the kitchen of Terra, at Rancho Encantado, under the property's former management company. After a total of some 30 years manning the stove, Charles took time off during the second half of 2012. His new Bouche Bistro, on the edge of downtown Santa Fe, opened in February. Expect creative, casual French fare prepared with great skill.
Bouche Bistro, 451 W. Alameda, Santa Fe; (505) 982-6297; bouchebistro.com
Ron Cooper
He's not a chef. It's not a restaurant. But Ron Cooper, founder of Taos-based Del Maguey Single Village Mezcal, has made three appearances on the Semi-Finalist list for Wine & Spirits Professional. Cooper has raised the quality of the Mexican beverage, along with the standard of living of those involved in its production, while creating a market for mezcal throughout the U.S.
Find it at Susan's Wine Shop, in Santa Fe (505-984-1582; sfwineandspirits.com), or via mezcal.com.
Chefs To Watch
Owen Aguilar: Vinaigrette, Albuquerque When Michelle Roetzer, head of the Santa Fe Community College's culinary arts program, lets me know that someone really special has completed the program for cheflings, I pay attention. Owen Aguilar, a 26-year-old Santa Fe native, was hired right away by proprietor Erin Wade for her ABQ spin-off of Santa Fe's wildly popular "Vinny." Owen spends half his time in the front of the house and half in the kitchen, perfecting his skills. 1828 Central Ave. SW, Albuquerque; (505) 842-5507; vinaigretteonline.com
Juan José Bochenski: Inn of the Anasazi, Santa Fe Still too new to the U.S. to qualify for Beard Award consideration, this Argentina-born chef arrives with global sophistication and a great résumé. He most recently worked for Jumby Bay, a Rosewood Caribbean resort, but has embraced contemporary Southwestern fare in a big way since his becoming Executive Chef of the Anasazi in late 2011. 113 Washington Ave., Santa Fe; (505) 988-3030; rosewoodhotels.com/en/innoftheanasazi
Andrea Clover: Inn and Spa at Loretto, Santa Fe This downtown hotel's Executive Pastry Chef creates gutsy, fun, thoughtful finishes to meals throughout the hotel. The hotel's signature restaurant, Luminaria, shows them off best. Think maple panna cotta with candied pecans, chocolate waffle, and chocolate-dipped bacon. This past winter, Clover won an episode of the Food Network's Sugar Dome. 211 Old Santa Fe Trail, Santa Fe; (505) 988-5531; innatloretto.com
Andrew Cooper: Terra, Four Seasons Resort Rancho Encantado, Tesuque Freshly arrived late last year from one of Four Seasons' resorts on Hawaii's Big Island, Cooper is fired up about New Mexico ingredients. His background includes a degree from the Culinary Institute of America and stints at other Four Seasons restaurants, and he's now overseeing the creation of a kitchen garden for Rancho Encantado. 198 State Road 592, Santa Fe; (505) 946-5700; fourseasons.com/santafe
Ka'aimaina Ravey: Red Sage, Buffalo Thunder Resort and Casino, Pojoaque Chef Ka'ai, a native of Hawaii, garnered raves for his simple but inventive cooking as the opening chef at Albuquerque's Farm & Table. To further develop his career, he wanted to work in a larger venue, and seems to be settling in well at this Pojoaque Pueblo–owned resort with a creative American menu that includes touches from the Southwest and his island home. His slow-roasted pork belly with miso caramel sauce was among the top dishes I ate in 2012. 20 Buffalo Thunder Trail, Pojoaque; (505) 819-2056; buffalothunderresort.com
Jon Mudder: The Blonde Bear Tavern and Café Naranja, Edelweiss Lodge and Spa, Taos Ski Valley The chef-restaurateur was the driving force behind a much-loved but now-closed Greenwich Village trattoria, Bellavitae. According to many reports, Mudder has been raising the quality of food at the Edelweiss restaurants to levels that approach to TSV's altitude. Expect mountain comfort food here, with European and New Mexican touches. 106 Sutton Place; (800) 458-8754; edelweisslodgeandspa.com/dining
Jaye Wilkinson: Farm & Table, Albuquerque Looks like owner Cherie Montoya Austin made a good call on her second chef. Chef Jaye, a Santa Fe native, is a graduate of the Seattle Culinary Academy, the first in the country to have incorporated sustainability as a formal part of its curriculum. Wilkinson is making great seasonal meals nightly from the restaurant's 1½-acre farm and other local sources. 8917 Fourth St. NW; (505) 503-7124; farmandtablenm.com