Indulgence Bakery & Cafe's Italian cream cake (left) and German chocolate stuftcakes (right). Photographs by Paige Allsup/Pipsink (left) and Meagan Higgins (right).
THROUGH A SHINY INDULGENCE BAKERY & CAFE display case, a dessert lover's dream temptingly awaits: mounds of fluffy, chocolate-glazed cream puffs. A stately, frosting-sculpted Italian cream cake. Lemon bars dusted with confectioners' sugar. And these are just a few of the delights created by the mother-daughter team behind the Las Cruces eatery. 
"I love to bake, and I love to feed people," says Marybeth Higgins, who co-owns Indulgence with her daughter, Meagan. "I love for people to have something I've made for them." 
A single mom, Marybeth had worked in restaurants for years, but felt the pull to try something bigger and more creative. Despite having no formal culinary training, she launched a bakery-café near one of the town's public high schools in 1997.  
Just 11 at the time, Meagan grew up in the business, working as a server, filling cream puffs, and enjoying the camaraderie of a tight-knit family operation that included her older brother, Jeremy Hixon, as the café chef. It was "super inspirational," Meagan says, to watch her mom start her own business. "Even though I was little, I still felt that sense of ownership over it." 
Still, Meagan left Las Cruces for a few years after high school. She returned to study English and music at New Mexico State University, and before long she was working again with her family, decorating cakes alongside her mom. There were twists and turns along the way: Jeremy started his own restaurant, Marybeth set up an adjacent bakery, and eventually Jeremy closed his eatery in fall 2016. That's when Meagan and Mary-beth decided to open Indulgence on South Main Street. 
On a Sunday afternoon, sunlight pours through the windows at the front of the café as customers stream in to pick up their orders. A hum of conversation fills the room. Corrugated tin paneling, sunflower-hued walls, richly stained concrete floors, and a wall menu in the shape of a rooster create a cozy but modern vibe. 
During normal times, one can imagine enjoying breakfast with family or meeting up with a friend for coffee and dessert. In the meantime, counter service and pickup are available. Indulgence also delivers within a three-mile radius.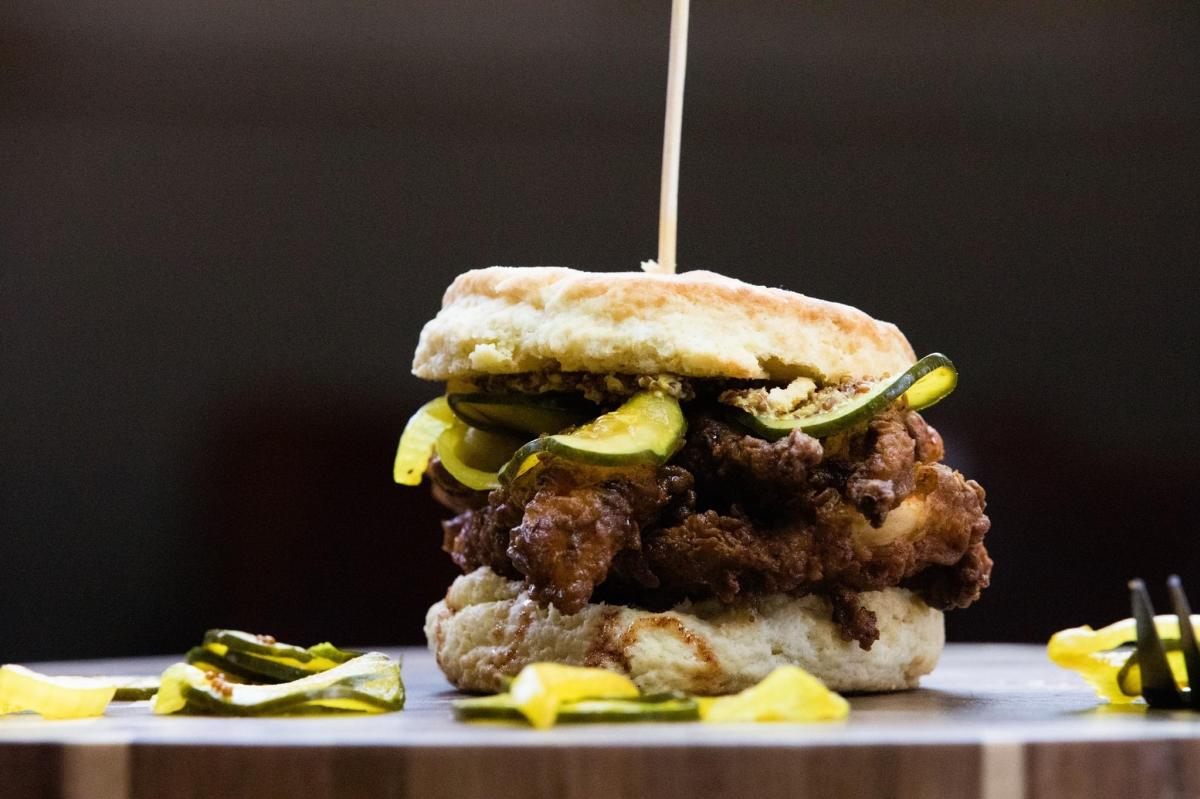 Indulgence Bakery & Cafe's boxcar chicken biscuit. Photograph by Paige Allsup/Pipsink Photography.
In addition to fresh-made pastries and desserts, Indulgence serves up an array of American breakfast and lunch dishes ($8–$12) and a full espresso bar. Jeremy again helms the kitchen, adding creative touches to classics. (Try Meg's Butternut French Toast, topped with butter-and-sage caramel sauce, ham, and roasted butternut squash.) 
Sweet favorites include Indulgence's signature cream puffs and the "stuftcakes," jumbo cupcakes injected with flavorful fillings.  "I dream about dessert," Marybeth says. 
While the past year was difficult, it also strengthened their resilience. "Even though we've had to pivot so many times, being able to still do what we love and being able to still share that with our community has been our beacon of normalcy," Meagan says.
INDULGENCE BAKERY & CAFE
Wednesday–Saturday, 9 a.m.–4 p.m.
Sundays, 9 a.m.–3 p.m.
2265 S. Main St., Las Cruces
---
Read More: High-altitude baking guru Susan G. Purdy uses kitchen science to rescue blown-out cakes and flatten muffins—and help woo your Valentine.
Read More: Las Cruces' Artist Haven.
Read More: As one of the only scientific institutions devoted to a so-called condiment, New Mexico State University's Chile Pepper Institute flourishes in Las Cruces.