SAVORING THE FANTASTIC FUSION OF Mexican and Southwestern cuisines in the intimate dining room of Zacatlán Restaurant is like enjoying a delightful dinner in the welcoming adobe of a friend who happens to be an exquisite chef.
"I want my guests to feel like they're at home," says Eduardo Rodriguez, the gregarious chef and owner of Zacatlán, which opened in July 2020 in a sweet house tucked away on Aztec Street, in the Santa Fe Railyard District. "I love to make this food. I love to make people happy. I have to cook with my soul and my heart and my passion, and I hope people like it."
Customers are just as passionate about Rodriguez's creations. Shortly after his longtime dream of opening a restaurant came true, Condé Nast Traveler called Zacatlán "one of the hottest tickets in town," while USA Today named it one of America's top 10 new restaurants. Then came the most prestigious distinction yet: In 2022, Zacatlán was a semifinalist for a James Beard Award in the Best New Restaurant category.
The accolades are apt. As guests begin a meal with a complimentary glass of prosecco, enticing aromas waft from Zacatlán's tiny kitchen, providing the first clue that wizardry is afoot in the back of the house. Out front, servers with genuine smiles deftly deliver plates to guests in the art-filled dining room, where the turquoise petals of a giant flower sculpture bloom above an adobe fireplace. On the enclosed patio, canary-yellow walls festooned with Mexican art, hanging baskets, and ristras suggest a festive mercado.
The fragrant food is as artful as the decor, from appetizers of yellowtail ceviche and stuffed squash blossoms to main dishes like cochinita pibil, a Yucatecan specialty of slow-roasted pork shank with an intoxicating mole coloradito that glistens like black lacquer. Moles negro and poblano get paired with succulent lamb and duck, while pork belly carnitas are drenched in a delectable date mole.
By the time a plate of cinnamon-dusted churros arrives for dessert, neatly stacked and served with a thick, caramelly cajeta for dipping, the evening has become ethereal. Add in a curated selection of award-winning wines from Mexico, and the Zacatlán experience equates to a virtual voyage to Mexico, home of the world's first cuisine to land on UNESCO's Intangible Cultural Heritage List, in 2010.
"I want guests to feel like they're in Mexico, with all my flavors," Rodriguez says. "I want them to be comfortable, with amazing food and amazing service," whether they stop in for brunch Thursday through Sunday, or dinner, served nightly.
In the Nahuatl language of the Aztecs and Toltecs, Zacatlán means "land with an abundance of grass." The restaurant's name pays tribute to the mountain city of Zacatecas, where Rodriguez was born and where his culinary journey began in the family kitchen. "I learned to cook under my mother and my grandma," Rodriguez says. "We have a big family, and my mother's side was always working in the fields, with corn, calabacitas, beans, and chiles."
His grandmother foraged wild chamomile and dandelion for teas. " 'Drink this,' she'd tell us, 'This is healthy,' " he recalls. She also passed on her mole knowledge to his mother. "My mom was making mole for 30 people," Rodriguez says. "She'd make mole coloradito, which is more sweet, flavored with sesame seeds, chocolate, and plantains."
Intrigued by the many varieties of mole, Rodriguez set out to learn more about the art of making this complex staple of Mexican cuisine, which originated in Puebla and Oaxaca. "I went to Oaxaca on vacation for almost 10 days, and everywhere was mole," he says. "I could smell chocolate and coffee in the air, and that's the smell of mole negro." From a master mole maker, he learned the essential techniques of toasting seeds, roasting chiles, and making masa and chicken stock from scratch. "I came to love these foods. Oaxaca became my second city in Mexico. The food is amazing."
In high school, Rodriguez traveled to Santa Fe to visit his older brothers, José and Juan, who were then working in the kitchen of the iconic Coyote Cafe. "I was seeing this energy in the kitchen and in the front of the house, and I thought, This is fun." His brothers got him a part-time, two-month job at Coyote, turning his trip into a working vacation. "I did everything from washing the dishes to cleaning the chile and helping the saucier," he says.
He was hooked. Rodriguez moved to Santa Fe to wash dishes at Geronimo, then quickly rose through the ranks under the mentorship of the late legendary chef Eric DiStefano. "I didn't need to go to culinary school," he says. "Eric was teaching me all the time, every single second, to make food that was simple but rich in flavor. He told me to learn a lot and to absorb everything."
Like a painter mixing colors, Rodriguez began fusing Geronimo's upscale cuisine with the foods he'd grown up eating in Mexico. "I wanted to do something from my roots, like mole with a rack of lamb, filet mignon, or duck," he says. "We made ostrich quesadillas and a duck and mole relleno that Arnold Schwarzenegger came in and tried. After he ate my relleno, he said, 'I'm always going to come back to Geronimo for this relleno.' "
After 13 years at Geronimo, Rodriguez moved to Coyote Cafe with DiStefano, who became a partner in the restaurant in 2007. At Coyote, he carved out a reputation as one of Santa Fe's leading chefs. During the global pandemic in 2020, as restaurants temporarily shuttered and the Aztec Street property became available, Rodriguez took a long-anticipated leap.
With the help of family and friends, the small building that had once housed a scruffy bohemian cafe was transformed into a casita-style space brimming with charm. "I asked my brother José, who's the chef at La Casa Sena, if he could give us some ideas to run the front of the house," Rodriguez says. "My other brother, Juan, helped paint. I asked my sister, Diana, if she wanted to be part of this business, and she said, 'I don't know anything about restaurants, but we can do it together.' " She and Rodriguez's daughter, Grecia, are Zacatlán's managers.
While Zacatlán dazzles diners, Rodriguez isn't one to sit back and relish success. "I'm always happy to try new things," he says. "I'm inspired by different ideas and ways to prepare the food. I want to visit Mexico again and bring back ideas."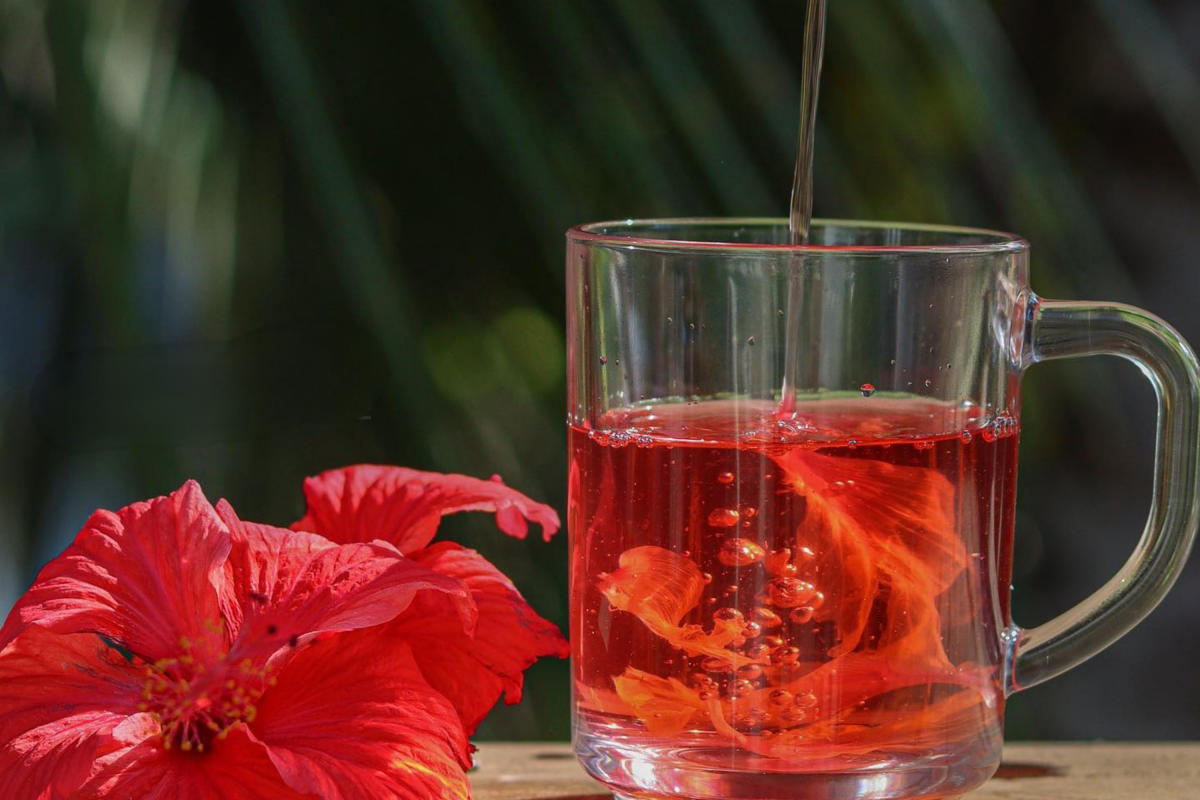 6 cups hibiscus flowers
2 gallons water
4 cups sugar
2 Mexican cinnamon sticks
2 cups star anise
Lime wedges, for garnish
Serves 8-10
Mix all the ingredients in a large pot and bring to a boil. Reduce heat to low and simmer for 30 minutes.
Strain and refrigerate until completely cold.
Serve in a glass with ice and lime wedges, if desired.
2 pounds rhubarb, cubed
4 whole seedless heirloom tomatoes
2 medium seedless cucumbers, cubed
2 red bell peppers, cubed
2 whole shallots
2 ounces sherry wine
4 pounds fresh strawberries
2 cups sugar
1 cup olive oil
2 tablespoons Tabasco sauce
Fresh mint or basil sprigs, for garnish
Serves 8-10
Blend rhubarb, tomatoes, cucumbers, bell peppers, shallots, and sherry wine in a blender, then pass the mixture through a strainer.
Blend the strawberries separately and add them to the other blended ingredients.
Stir in the sugar, olive oil, and Tabasco.
Chill in refrigerator for at least 2 hours.
Garnish with fresh mint or basil sprigs to taste, to give a scented touch.
8 six-ounce pieces of boneless lubina (branzino), scales removed
2 tablespoons salt or more, to taste
2 tablespoons garlic, chopped, or more, to taste
Italian parsley, chopped, to taste
A few tablespoons butter
2 pounds hominy for posole
⅓ cup salt
1½ cups mirepoix (diced onions, carrots, and celery)
4 green tomatoes, chopped
2 gallons water
1 cup Pernod
½ cup green curry, toasted
6 kaffir lime leaves
⅓ cup garlic, chopped
2 gallons clam juice
Cilantro leaves, for garnish
Serrano peppers, thinly sliced, for garnish (optional, as this is pepper is hot)
Tortilla chip strips, for garnish
Serves 8-10
Preheat the oven to 375 degrees and line a sheet pan with parchment paper.
Cook the hominy in 2 gallons of water and ⅓ cup of salt on medium heat for 30 minutes or follow the directions on package. When cooked, drain and set aside.
In large pot, cook the mirepoix and green tomatoes with 1-2 tablespoons butter until caramelized. Add the Pernod and bring to a flame.
Add the toasted green curry, kaffir lime leaves, garlic, and clam juice. Bring to a boil.
Add the hominy to the whole mixture and simmer for 25 minutes.
Season the branzino with a paste of salt, garlic, Italian parsley, and butter. Place the fish on the sheet and bake for about 8 to 15 minutes.
To serve, place a piece of fish atop a bed of posole and top with cilantro leaves, serrano peppers, and tortilla chips, for garnish.