When the birds call, answer. But don't forget to pack a picnic breakfast of green-chile pastries and blue-corn muffins for your migration.
Photography by Douglas Merriam
Some say that native New Mexicans can't really appreciate the state until they leave. As one who spent more than a decade abroad, I've experienced this myself. For example, as residents, we can become desensitized to our amazing sunsets—beautiful colors cast on dramatic clouds and rosy light drenching the hillsides. But it shouldn't take 10 years of the kind of gray, English weather I experienced to make this point abundantly clear.
Since I've returned home, I've become an avid outdoorsman who's acutely aware of the state's beauty. If I'm not in uniform teaching and cooking, or sitting at my desk writing about cooking, I have my boots laced up to explore the wilds of New Mexico.
Visiting our rivers, lakes, and wetlands brings my spirit much closer to this place I call home. ¡Nuestra agua, nuestra vida! (Our water, our life!) This season, one of our most spectacular riparian areas, the Bosque del Apache National Wildlife Refuge, is flush with migratory birds. I have enjoyed many a chilly November morning, bundled up, speaking in hushed tones, sipping hot coffee from a Thermos lid while watching the sandhill cranes and other visiting waterfowl at the Bosque.
Much like the birds themselves, visitors come from all over the world to enjoy the beauty of the Bosque and the spectacle of the migration. Unlike the birds, visitors to the Bosque del Apache need to bring their own food! If you're making your annual migration to commune with our enchanted land or if you're a local venturing into the wilds, this month's menu is a breakfast picnic you can pack the night before and enjoy with friends and family on your early morning Bosque adventure.
¡Buen provecho!
GREEN CHILE, SAUSAGE, AND POTATO CRESCENTS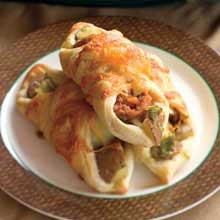 Think of these as a New Mexican version of pigs in a blanket.

Yield
SERVES 6.
Ingredients
¾ pounds pork sausages, cooked and sliced
2 russet potatoes, peeled (optional), diced, 
and simmered in salted water until tender
1 cup New Mexican green chile, thawed 
(Bueno Autumn Roast is a favorite) 
salt and pepper to taste
1 box frozen puff pastry, thawed
1 cup cheddar cheese, grated
Directions
In a large bowl, combine sausage, potatoes, green chile, salt, and pepper; mix well.
On a clean work surface, unroll puff pastry and cut each sheet into six, square pieces. Place the mixture in the center of each piece, dividing evenly. Fold corners of dough around filling, brush with eggwash, and place on a baking sheet. Sprinkle cheese on top. Bake pastry according to manufacturer's specifications. Allow to cool completely before placing in a large ziplock bag.
BLUE CORN MUFFINS WITH PIÑON HONEY BUTTER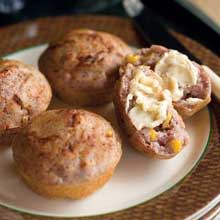 Make these muffins the day before, but to ensure their freshness for your breakfast picnic, place them into a ziplock bag while still warm and leave it sealed until ready to eat. Note: These measurements have been adjusted to high-elevation baking. The muffins do not need any adjustments for lower elevations.

Yield
MAKES 12.
Ingredients
1 cup blue cornmeal
1 cup unbleached, all-purpose white flour 
½ cup jack cheese, grated
1 cup corn kernels (frozen kernels 
that have been thawed are fine)
2 teaspoons baking powder
1 teaspoon baking soda
1 teaspoon salt
1 large egg, lightly beaten
2 tablespoons honey
1¹/ ³ cup buttermilk
½ cup unsalted butter, melted
Directions
Preheat oven to 425 degrees and grease a muffin tin with nonstick spray. In a large mixing bowl, combine blue cornmeal, flour, cheese, corn, baking powder, baking soda, and salt. Mix well.
In a separate bowl, whisk the egg, honey, and buttermilk. Add wet ingredients to the dry ingredients and stir until just combined. Add butter and gently fold in. Do not overmix.
Carefully fill the muffin wells two-thirds of the way. Place tray in the oven and bake for 15 minutes or until a toothpick inserted into the center comes out clean.
Piñon Honey Butter
½ cup piñon nuts toasted (toasted pecans  may be substituted)
½ cup unsalted butter, softened
3 tablespoons honey
1 teaspoon salt
Combine all ingredients in a food processor and pulse until evenly combined. Store in an airtight container.
SMOKED SALMON SALAD WRAPS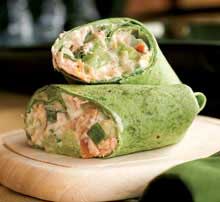 The beauty and portability of the wrap makes it a perfect foil for this brunch-on-the-go.

Yield
SERVES 6
Ingredients
1 pound hot, smoked salmon chopped (lox or smoked trout may be substituted) 
3 celery ribs, diced
¼ cup capers
1 bunch scallions, chopped
2 tablespoon parsley, chopped
1 tablespoon Dijon mustard
1 lemon, zested and juiced
1 cup mayonnaise 
salt and pepper to taste
a few dashes of your favorite  New Mexican hot sauce (optional)
6 large, spinach tortillas
Directions
In a large bowl, combine all ingredients—except the tortillas—and mix well. On a clean work surface, lay out 6 tortillas and place the mixture in the center of each tortilla, dividing the mixture evenly between them. Fold in the sides of the tortilla until they almost meet. Roll the bottom edge up and over. Keep rolling until the flap is underneath. Place flap-side down on a square of aluminum foil and fold the foil around the wrap. Keep refrigerated until you hit the road.