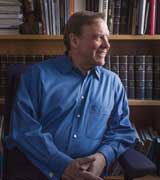 I JUST CHECKED our Facebook page—99,677 likes, which means we'll be over 100K by the time the ink is dry on this issue. To put that number in visual terms, I like to envision a football stadium full of that many people who've opted in to our online community. Not just any old football stadium, either: The biggest pro stadiums hold only around 80K, so we're talking about the massive college stadiums here. Texas, Ohio State, Michigan. Now let's add our print readership and the people who drop in to our website every month, and then our Twitter followers—any way you slice it, we've got a monthly audience of at least three football stadiums. And like college football fans, our audience isn't just a bunch of passive spectators: Many of you are part of the action, actively engaging in correspondence with us here at the home office, and with one another on social media and in our reader-generated departments—Mailbag, One of Our 50 Is Missing, and Only in NM.
This is good! It shows that in its 94th year, grand old New Mexico Magazine has got all kinds of life in it—a traditional magazine that's relevant in the 21st century. We've got a loyal bunch of subscribers who've been with us for a long time (the core, as I like to call you) and there are signs that the next generation is on board, too. A heartening example of that is this month's Only in NM a personal essay by Elena Vicentita Valdez titled Cuentos y Querencia. Ms. Valdez is a 25-year-old daughter of NM who's studying in Texas, where she's discovered that the stories of her elders keep her grounded by providing a reservoir of knowledge and sensitivity. I'm grateful that she chose to share this story in this magazine.
The Mailbag is pretty lively this month, too. I want to assure the thoughtful people who write in to express complaints that we take constructive criticism to heart. We're merely stewards of this venerable title; it belongs to the people of the state and the community that supports it.
Cheers,

Dave Herndon
editor@nmmagazine.com