Agritourism All-Star
Family-owned Los Poblanos is both a historic home—designed by New Mexican starchitect John Gaw Meem in 1932—and an organic farm, on one of the largest remaining plots of land in the Albuquerque metro area. Check in for a night or two, and you can live the field-to-fork dream in impeccable style. The resident chef, Jonathan Perno, runs a patch of the land as his kitchen garden, picking the best goodies to make globe-trotting breakfasts from chiles rellenos to shakshouka (eggs stewed with tomatoes and chickpeas). After eating, you can stroll over and say hi to the motley assortment of happy chickens that made those scrambled eggs so marigold-yellow. Dinners, typically available to guests only, showcase just-picked lettuces, New Mexican lamb, and other locavore pleasures.
Los Poblanos feeds the other senses, too. In summer, the smell of lavender wafts from the fields out front; in winter, you can lather up with soaps made of the same stuff. Peacocks call from the trees, and bees buzz happily over the formal flower gardens. A dip in the eco-friendly saltwater pool refreshes, or a wood fire in your room warms you up. And everywhere are details to delight the eye, right down to Meem's stamped-tin radiator covers.
From $150/night. 4803 Rio Grande Blvd. NW, Albuquerque; (505) 344-9297; lospoblanos.com
Spelunking in Style
Technically, Kokopelli's Cave is a cliff dwelling, but that term doesn't quite do it justice. The ancients of Bandelier and Mesa Verde would barely recognize the three-room cave, blasted out of the cliff face above Farmington by a local geologist. They'd be stumped by the full kitchen, rain shower, and whirlpool tub. To get there,you'll have to abandon modern trappings like wheelie suitcases as you tiptoe, mountain-goat style, down and along narrow staircases carved into the sandstone.
Once you've arrived, you can get plenty comfortable. With one bedroom, plus a sofa bed in the living room, it's big enough for a family—and cool enough to give kids indelible memories. Thanks to the insulating stone, Kokopelli's is a refreshing hideaway in summer. In all but the coldest months (it's closed in deep winter) you're kept toasty by a kiva fireplace, whose chimney runs up through the rock to the clifftop. But even with all this, you'll still likely find yourself outside much of the time, on the cliff edge, admiring the view across the Four Corners flatlands. That's something the ancients would recognize perfectly well.
From $260/night. 3204 Crestridge Drive, Farmington; (505) 860-3812; bbonline.com/united-states/new-mexico/farmington/kokopelli.html or info@kokoscave.us
Season's Greetings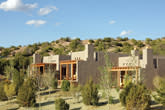 A weekend at the 65-room Rancho Encantado, which the elegant Four Seasons resort group took over this summer, is a visit to a transportingly luxe expression of the best Santa Fe has to offer. It provides all the elements of the City Different,
but in a serene location north of town in Tesuque, away from the bustle of downtown.
Modern art? Yes: The influential LewAllen Gallery has a showroom there.
Outdoorsiness? Check. Take a hike along the path around the resort's 57 acres, or head up the road to the Rio en Medio trail, which climbs past small waterfalls.
Afterward, hit the spa for some Santa Fe–style alternative healing. Get your doshas balanced—or, more practically, get your body calibrated to thrive at 7,000 feet with an altitude-adjustment massage—then steep for a bit in the outdoor hot tub.
Terra, the main restaurant, draws on local produce for its refined American menu. But the panoramic view out the restaurant's front windows is the best local product of all, so settle down on the west-facing portal with a margarita to watch the evening light show. In winter, you can make s'mores by the fire. And plan ahead for summer: Rancho Encantado is an opening-night sponsor for The Santa Fe Opera, and guests get excellent seats.
From $250/night. 198 State Road 592, Santa Fe; (877) 262-4666; encantadoresort.com
Middle East by Southwest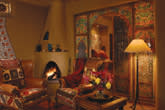 Inn of the Five Graces is really two destinations in one. Outside, it's typical Santa Fe—a rambling complex of old adobe homes on either side of a side street, clustered around small courtyards shaded by gnarled cottonwoods. Inside, however, you're off to the Taj Mahal via flying carpet. The hands-on owners are Ira and Sylvia Seret—if you've been to Santa Fe, you likely recognize the name from their cavernous warehouse of exotic imports, Seret & Sons. They've furnished the 23 suites with some of their stock's finest treasures: carved Indian doors and marble screens define the spaces, while Turkish kilims and vibrant Central Asian ikats adorn every surface. Sylvia specializes in mosaics, and her breathtakingly detailed work covers the suites' bathrooms. The couple's masterpiece is the two-floor Luminaria House apartment—book it (or at least ask to peek at it) to be wowed by its layers of color and texture. In short, it's no place for people who admire the clean lines of an Eames chair, and shopaholics may be putting themselves at serious risk. But for anyone in search of a romantic, orient-flavored hideaway, it's a perfect escape. It's lavish, sure, but still cheaper than two plane tickets to Samarkand.
From $425/night. 150 E. DeVargas Street, Santa Fe; (505) 992-0957; fivegraces.com
Taking the Cure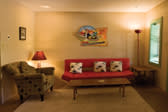 Opened in 2006 after a year of intense renovation, Blackstone Hot Springs exemplifies the renaissance of Truth or Consequences. The converted old motel is a hip spot to enjoy the town's main tourist attraction, the hot springs that bubble up all over downtown. A weekend here makes a great low-key spa getaway, with nothing more to do than soak in the healing waters. T or C owes its oddball name to an early boob-tube stunt, so it's fitting that the décor in the Blackstone's seven suites is loosely (but not kitschily) inspired by old TV shows—I Love Lucy, The Jetsons, The Twilight Zone—and the fridges in the kitchenettes are the clunky old kind you might've grabbed a snack from during commercial breaks when you were a kid. But the real draw is the beautiful bathrooms, where 110° F mineral water gushes from the tap into huge custom tubs. (A separate spa area, with vintage 1930s soaking tubs, is open to non-guests.) Stock that fridge, slip into your plush robe, and brew yourself a cup of the Blackstone's excellent coffee. You just might not go out for several days.
From $75/night. 410 Austin Street, Truth or Consequences; (575) 894-0894; blackstonehotsprings.com
Pied-á-Pueblo
While the Inn at Halona is hardly the only place to sleep on tribal land in New Mexico, this homey bed-and-breakfast near the main crossroads in Zuni Pueblo is certainly the only place to get a taste of daily life on a reservation. Run by descendants of Dutch missionaries who established a trading post here in 1903, the small compound adjoins a 102-year-old general store. The eight rooms, with rustic pine furniture and local oil paintings, get booked solid for Shalako, the early-December dance ceremonies that last all night, and other feast days throughout the year. But even when there's no special event, Halona makes an excellent home base. After a breakfast of blue-corn pancakes, it's an easy walk over to the Nuestra Señora de Guadalupe Church, with its gorgeously detailed murals of kachinas, or to the A:shiwi A:wan Museum, just across the intersection. And anyone interested in Zuni's beautiful pottery and jewelry can design their own arts tour by strolling from workshop to workshop. By night, the Pueblo is quiet, except for the occasional barking dog. Most of the action is at Halona Plaza, the general store, where a counter in the back serves fried chicken with red-chile sauce on the side.
From $79/night. 23-B Pia Mesa Road, Zuni; (505) 782-4547; halona.com
Eco-Gorgeous Hideaway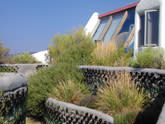 John and Joan Dobson spent three years crafting their home, Dobson House, out of threadbare tires and discarded cans and bottles. If this sounds more like a junkyard than a bed-and-breakfast, then you haven't yet heard of Earthships. These eco-friendly buildings, which rely on solar and wind power and an ingenious circulatory system of collected rainwater, flourish in Taos, where there's even a whole groovy subdivision around the Earthship Biotecture (earthship.com) headquarters. Dobson House offers a rare opportunity to spend a night completely off the grid without camping out.
You wouldn't immediately notice the 6,000-square-foot home's recycling ethos. With brushed-adobe walls, hand-carved wood doors, and red sandstone floors, it looks like many elegant New Mexico homes. But its layout—sprawled along a hillside near the Río Grande Gorge, to maximize solar gain—gives a clue to its sensibility, as do the garden walls studded with bottles.
The two guestrooms are separate, down a long corridor lined with eclectic artwork. But you'll likely be drawn to the main house for its vast round great room with a panoramic 270° view—and no power lines to spoil it.
From $118/night, two-night minimum stay. Off U.S. 64, El Prado; (575) 776-5738;
new-mexico-bed-and-breakfast.com
Lincoln Sleeps Here
The rocking chairs on the long front porch of the Wortley Hotel are like front-row seats on Wild West history. This sturdy old hotel's story began in the 19th century, when sheriff Pat Garrett was a co-owner. It's one of a handful of old buildings in the tiny mountain town of Lincoln, all so flawlessly restored that it's easy to sit back in your chair and imagine the wild shoot-outs that occurred on the main(and only) drag. Up the street to the right is the jail from which baby-faced outlaw Billy the Kid made a dramatic break in 1881. Down the other direction are the defensive torreón where sharpshooters drew a bead on enemies during the Lincoln County War, and the museum that tells the story of the feud, which raged here in 1878.
The hotel itself, run by Victor and Cathy Garrison, is a place of comfort. Inside its 18-inch-thick walls, the rooms are sparsely decorated with New Mexican rugs and antique furniture.
Meals in the creaky wood-floored dining room are homey and satisfying: migas, roasted pork and black bean burritos, and enchiladas. At least two fresh-baked pies come out of the Garrisons' oven each day. These un-embellished features—and the lack of cell-phone service—make it all the easier to feel Lincoln's history as if it were yesterday.
From $85/night. Hwy. 380, Lincoln; (575) 653-4300; wortleyhotel.com
V is for Victorian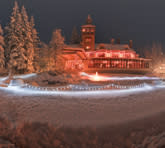 In 1900, a steam train chugged 4,000 feet up from the flatlands of southeastern New Mexico to the newly minted resort town of Cloudcroft, depositing passengers at a wood-frame hotel named The Lodge. In the next few decades, holidaymakers and Hollywood escapees flocked in for a fresh-air vacation. The train stopped running in 1938, but the mountain air and fine views are intact, as is the old-timey atmosphere at The Lodge Resort and Spa perfect for history buffs. In the main building, Victorian trappings include stained glass, heavy drapes, the occasional Murphy bed, and even a juicy ghost story involving a red-headed chambermaid named Rebecca. It's not hard to envision Pancho Villa swaggering down the halls, or Clark Gable savoring a smoke in the lobby.
More modern amenities—a nine-hole golf course, a spa, a lavish restaurant—are available too, and you can hike part of the route the train once ran, a challenging zigzag route. But one activity not to be missed is a climb up the building's tall central tower. Ask for the key and wind up the staircase to a glassed-in dome. The view looks all the way back down those 4,000 precipitous feet.
From $135/night. 601 Corona Place, Cloudcroft; (800) 395-6343; thelodgeresort.com
Chez Georgia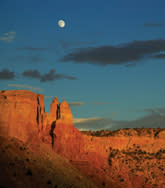 The list of amenities at the 21,000-acre Ghost Ranch, north of Abiquiú—gorgeous setting, spa, farm-to-table meals, horseback riding—might make it look like a five-star resort. Actually, it's a very affordable getaway. And the added attractions—like a dinosaur museum—make it a very special place indeed.
The ranch, where Georgia O'Keeffe kept a summer home, isn't exactly a hotel—it's a retreat center run by the Presbyterian Church, and best known for its eclectic schedule of weeklong classes, from fly-fishing to adobe construction. Students get dibs on lodging, but the place is open even to those not enrolled. The class schedule lightens up in fall and winter, leaving plenty of space for families who want to take a hiking or horseback trip—or, when snow's on the ground, a cross-country ski outing (the ranch rents gear). For those who prefer to kick back, the spa offers reasonably priced massages, and the library, stocked with Southwestern tomes, is open round the clock. True to the ranch setting, rooms are spare and simple—some even have bunk beds, and some share bathrooms. It's the Abiquiú landscape that O'Keeffe made famous that's the real luxury here.
From $50/night. U.S. 84, Abiquiú; (505) 685-4333; ghostranch.org
It Glows as it Goes
If you dream in neon, there's no better place than Tucumcari . . . Tonite! (As the billboards say). The town's stretch of historic Route 66 still shimmers with vintage signs and quite a few equally vintage motor courts. Perhaps the best is the faithfully maintained Blue Swallow Motel, which was added to the national register of historic places in 1993 and whose sign advertises "100% refrigerated air" in glowing green.
Its 13 rooms, including a family-ready suite, are just as they were when they were built, seven decades ago—which is to say, thick-walled and snug (people were smaller in the 1940s, we suppose). And throughout, crucial details have been freshened up: The honeycomb tiles in the bath are all shiny; the beds are firm and plush. Chenille bedspreads, heavy rotary-dial phones, and big-knobbed radios round out the way-back vibe. For those motoring west, each room has an adjacent carport, painted with fun murals (some younger guests' favorites are those with the characters from Cars). Getting your kicks here is as easy as settling into the metal shell-back chair in front of your room and watching the neon flicker on at twilight.
From $60. 815 E. Route 66 Blvd., Tucumcari;(575) 461-9849; blueswallowmotel.com