Judy Chicago unveils a new smoke sculpture Saturday in Belén, where she previously showed Birthday Bouquet for Belen (pictured) in July 2019. Photograph courtesy of Judy Chicago.
Find diamonds in the sky.
No one does it like Judy Chicago. The feminist artist and founder of Through the Flower Art Space and education nonprofit in Belén debuts one of her largest smoke sculptures yet on Saturday, during a weekend-long block party.
At dusk, the Diamonds in the Sky installation will appear as hundreds of yellow, orange, and white smoke bombs that create a color-drenched alternate reality on Becker Avenue. "This one specifically will be monumental," says Jamie Marie Rose, director at Through the Flower Art Space. "They are short, but ephemeral and very impactful. It's pretty magical. You are lost in this colorful atmosphere and it changes the way you see everything."
The doors open at 5:30 p.m. and tickets are required, but downtown businesses also host a block party all weekend, with gallery shows, wine tastings, food trucks, and much more beginning at noon on Saturday and Sunday. If you'd like to check out Chicago's work but can't make it to Belén this weekend, Turner Carroll Gallery, in Santa Fe, unveils a new exhibit, The Iconic Judy Chicago, Friday and it's up through August 15.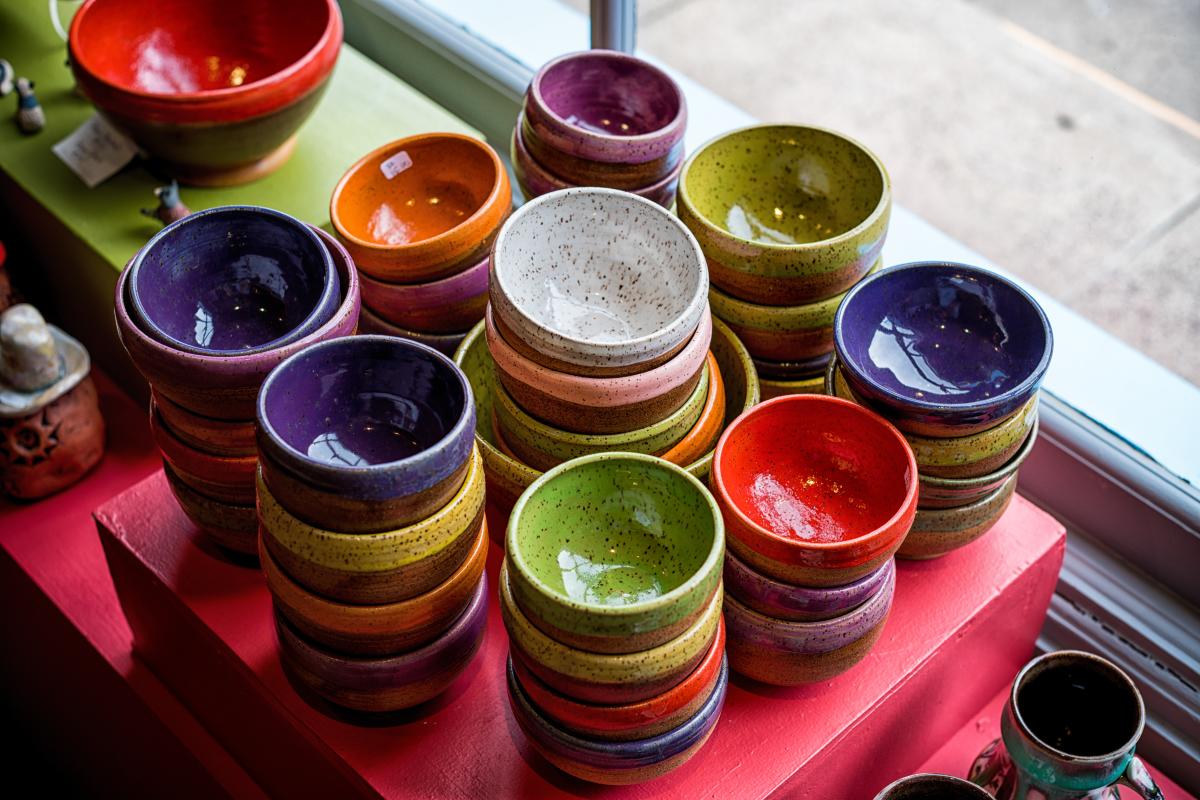 Find clay in all its forms this weekend at the Clay Festival in Silver City. Photograph courtesy of the Silver City Clay Festival.
Take a spin for ceramics.
The 10th annual Clay Festival in Silver City fires up a host of walking tours, lectures, artist demonstrations, and an artisan market this weekend. On Saturday, New Mexican makers take over the recently renovated Market Street Plaza with booths selling clay goods and home wares.
Silver City galleries join in with clay-themed exhibits and demonstrations, including a presentation of traditional Pueblo pottery techniques at Blue Dome Gallery, and wheel throwing at Dragonfly Gallery. Ruminations, an exhibit at Light Art Space, features ceramicists who reflect on the last year of pandemic. A retrospective of Claude Smith III's work is on view at Diana Ingalls Leyba Gallery.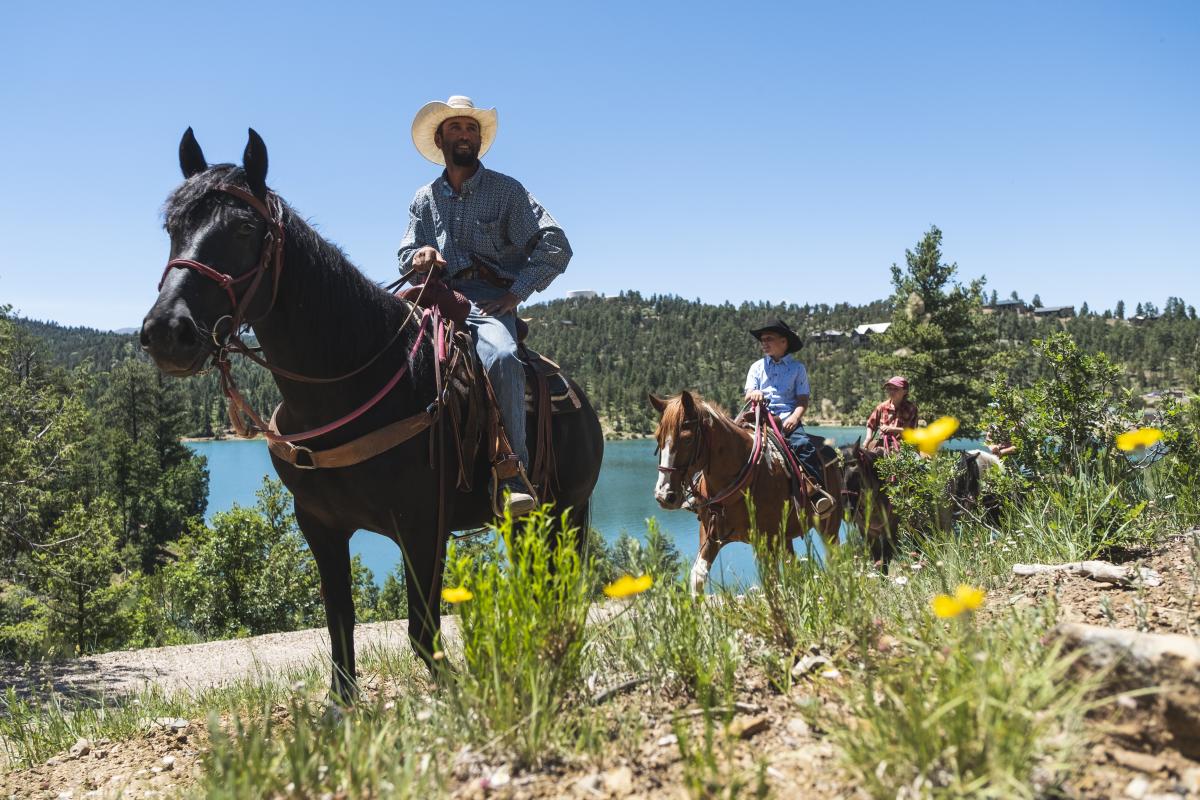 Horseback riding is among the adventures that could earn you big prizes in the Ruidoso Adventure Tours Sweepstakes kicking off this weekend with a party in Wingfield Park. Photograph by Jerod Foster.
Rev up your summer.
Ruidoso Adventure Tours gears up for summer excitement with a party in Wingfield Park Saturday, 2–6 p.m. Featuring live music from the Levi Platero Band and Sage Cornelius, food from Whitt's Branding Iron and El Camino Nuevo, and craft beer from Bonito Valley Brewing Co., the mini festival heralds the launch of the Ruidoso Adventure Tours Sweepstakes with prizes that include a 2021 Jeep Wrangler, 2021 Harley Davidson motorcycle, 2021 Polaris OHV, and more. Download the Discover Ruidoso travel app, then complete any of seven self-guided adventure tours, ranging from mountain biking to horseback riding, before October 11 for a chance to win.
Celebrate the art of flamenco.
The 34th annual Flamenco Festival de Albuquerque dances into its final days this weekend with a flourish of performances. On Friday at 8 p.m., the eclectic San Francisco–based ensemble Caminos Flamencos takes the stage at the National Hispanic Cultural Center to perform Nuestro Camino, a new creation that honors resilience in the pandemic world. Afterward, the cozy Tablao Flamenco hosts a special late-night performance at Hotel Albuquerque with festival cantores (singers), bailaores (dancers), and a guitarrista (guitarist), starting at 10:30 p.m.
On Saturday, the Youth Flamenco Expo takes over the Albuquerque Museum Ventana Salon, 12–2 p.m., with performances by students from schools like La Emi Flamenco Academy and Mina Fajardo Flamenco. The festival wraps up Saturday with an 8 p.m. performance by Grammy Award-winning flamenco dancer Nino de los Reyes, who presents his latest work, PerpetuARTE, at the National Hispanic Cultural Center.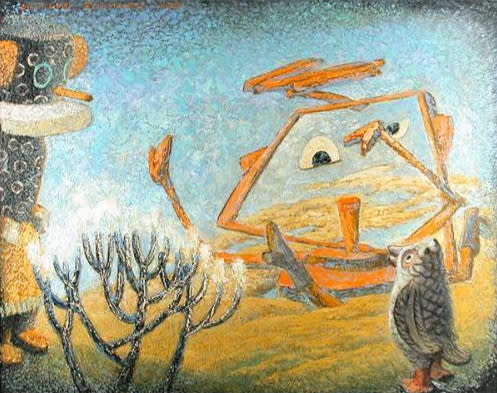 Gustave Baumann's The New Comer is among the works featured in the New Mexico Museum of Art exhibit, Storytellers: Narrative Art and the West. Photograph courtesy of the New Mexico Museum of Art.
See how the West was painted.
The New Mexico Museum of Art, in Santa Fe, explores the story of the West in the new exhibit Storytellers: Narrative Art and the West, opening Saturday and running through February 2022. Mediums like ceramics and paintings depict themes of satire, ecology, agriculture, and religion. The exhibit includes various ways artists told stories from ceramicist Diego Romero's (Cochiti Pueblo) images of the Pueblo Revolt to paintings of local religious ceremonies such as William Penhallow Henderson's Holy Week in New Mexico and Billy Schenck's pop cowboys.