Above: Among the 447 artists participating in the virtual Santa Fe Indian Market is Virgil Ortiz (Cochiti Pueblo). Photograph courtesy of Southwestern Association of Indian Arts.
Attend Santa Fe Indian Market.
At the height of summer in Santa Fe, the plaza fills with Indigenous artists, dancers, and fashions. There's so much fun it spills over to gallery parties, galas, and mini exhibits.
And while the Plaza won't look the same this year without the Santa Fe Indian Market, the Southwestern Association for Indian Arts is keeping the spirit (and the good times) alive. Starting Saturday, the market opens online with original works by 447 Indigenous artists from throughout the country—jewelry, prints, paintings, pottery, beadwork, and more. 
The website serves as the market hub and includes an artist directory, sorted by name and medium, like textiles or pottery. "Visitors will be able to get a sense of what the artist does, who they are, and most importantly," says Amanda Crocker, SWAIA's public relations and marketing director, "link to their e-commerce sites and buy directly from them."
Open through August 31, the virtual Indian Market includes daily performances, conversations, and auctions. The Indian Market Fashion Show takes the runway August 16, premiering new collections by Orlando Dugi (Navajo), Patricia Michaels (Taos Pueblo), and Delina White (Anishinaabe), plus virtual a meet-and-greet with Dugi after.
Indian Market has also gotten creative with its use of technology. Several SWAIA favorites, like the previews, gala, and awards show, have been reimagined as members-only immersive events (membership starts at $25). "These will be available for people to participate on a virtual-reality platform if they choose," says Crocker. "They will be able to select a select a Native or non-Native avatar and actually interact in a 3-D environment." 
In addition, many of the participating artists are making their first foray into online sales through the experience. "I am most excited for those artists who never envisioned themselves venturing into the world of e-commerce," says Crocker, noting artists such potter Bernice Suazo-Naranjo (Taos Pueblo) and silversmith Norbert Peshlakai (Navajo). "I can't wait to see the success they have on the platform." 
Hit the market early to get first pick and find the item of your dreams, and continue to visit all month long for daily content. "Without in-person shows, many Native American artists find themselves disconnected from buyers and unable to make a living. It's essential to not leave them behind during this time," Crocker says. "And on a deeper level, art is crucial, and especially so for Indigenous communities—it represents the preservation and the evolution of culture. Also, I personally believe that in times of crisis, we need artists more than ever."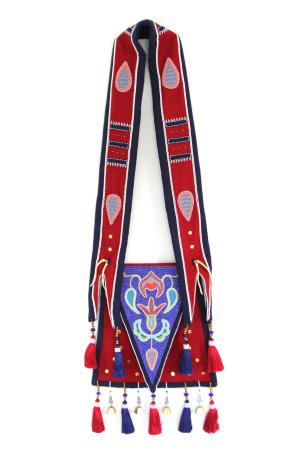 See an exhibit of two Indigenous artists' beaded works. 
Drawing on the sewing, beading, and quilt-work of his grandmother, Hollis Chitto (Mississippi Choctaw, Laguna Pueblo, and Isleta Pueblo) has been beading since he was eight. "I am lucky to still have a few things that she made," he says. "She has always inspired me."
Like his grandmother, Chitto strives to try new things with his beadwork, which has earned him recognition in Vogue magazine and Huffington Post for being an innovator and master of his medium. On Friday, Chitto and Mikalya Patton (Oglala Lakota) premiere an exhibit of their work at Hecho a Mano gallery in Santa Fe.
Patton had other plans in mind for the exhibit, which runs through August 23, when she set out to create new work, but they were dashed when COVID-19 shut down her studio at the Institute of American Indian Arts. She pivoted to create a collection of landscape-inspired beadwork on handmade paper. Her color palette honors the desert: red for the earth and gold representing the Black Hills. 
Chitto's works are known for their vibrant hues. He begins with a concept—such as shape, decorative elements, or frame—then selects the background color. "That's the only color that I start with," he explains. "All the other design colors come while I work."
He points to one piece in this show, Chata Anumpa in My Accent, a bandolier bag that took two months to complete. "It's the largest piece I've ever done," he says. "There is so much work on that piece and I'm incredibly proud of how it came out."
Like many Indigenous artists, Chitto has been affected by the loss of so many markets in a time when social distancing makes them impossible. "It means so much to be able to show my work," he says. "I love to create, and I love that people can see all of the work that I have been doing."
What would his grandmother think of it? "My dad told me that she would be proud of me," he says, "but that the beads I use are too small."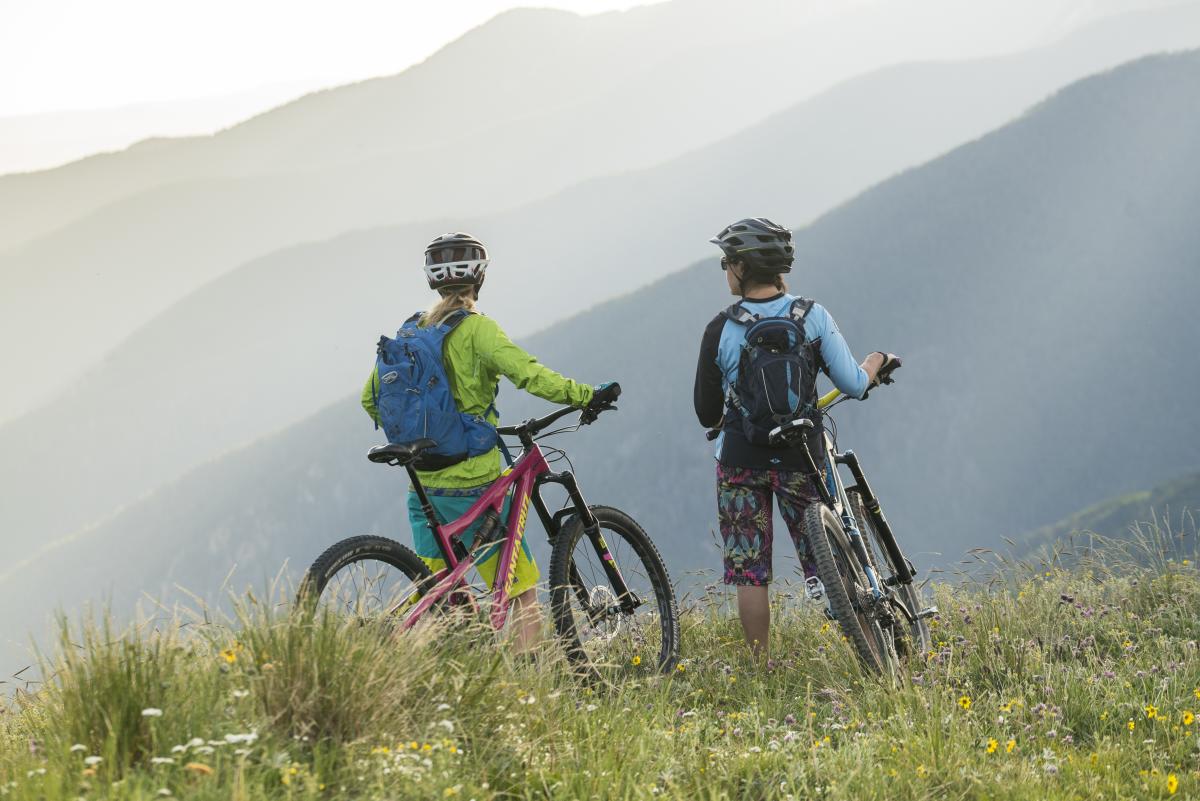 Above: Taos Ski Valley opened a new family-friendly mountain biking trail last week. Photograph courtesy of Taos Ski Valley
Bike the new Green Chile Flow Trail.
You are mountain biking on a smooth trail through the warm summer air, whisking past pines and blooming wildflowers. The air is fresh, clean, and crisp from last night's monsoon. Thanks to Taos Ski Valley, this is your new reality.
The destination unveiled a new mountain biking trail last week with the most New Mexican of names: the Green Chile Flow Trail. While it requires some experience, it is much less technical than the other trails. "Starting at the top of Lift 4, the Green Chile flow track is 3½ miles of banked turns, amazing scenery, and fun for the whole family," says spokesperson Erin Dolin.
Taos Ski Valley is in the midst of a phased reopening, recognizing the simultaneous needs for safety and outdoor recreation. "We are happy to welcome people back to the mountain to help rejuvenate and energize their spirits," Dolin says. "Taos Ski Valley visitors will notice many changes from previous summer, because we are committed to a very cautious, phased approach so we can be confident the health and safety of our guests, staff, and community will remain paramount.
You must make reservations to bike the new trail. Call 575-776-5330 to book your spot.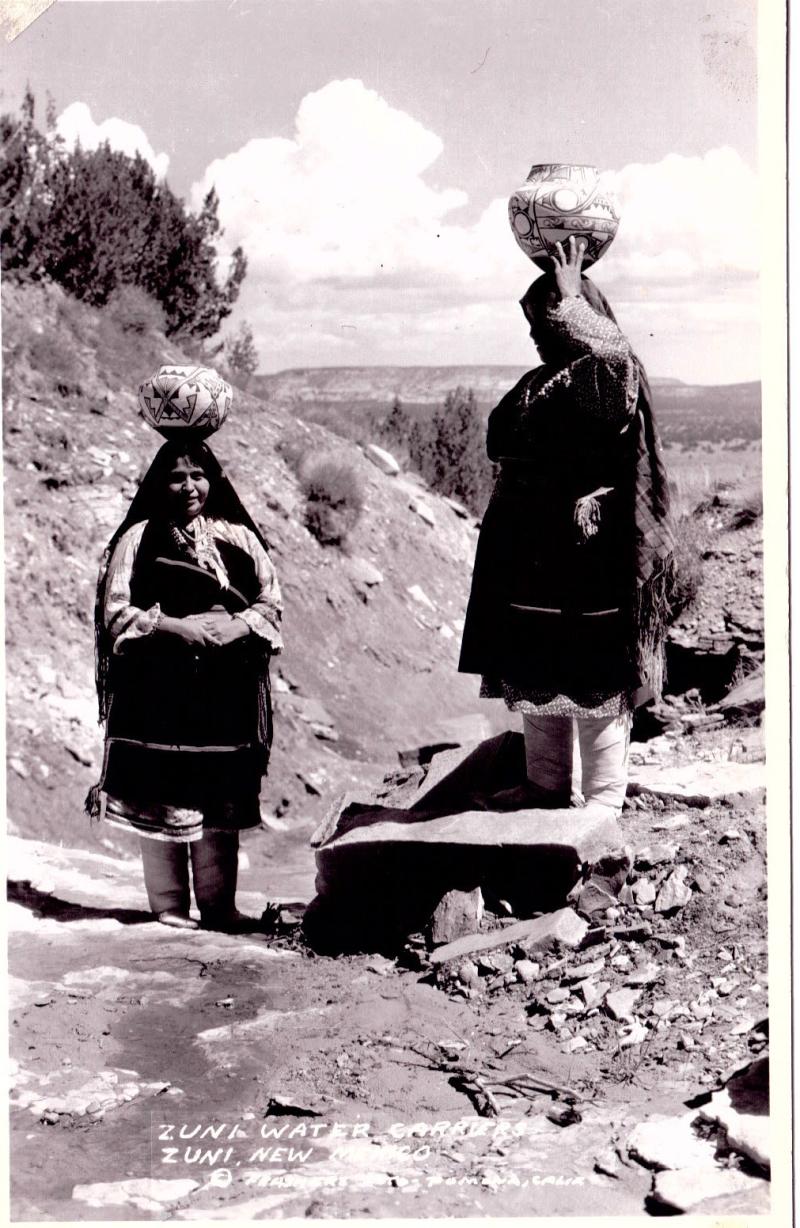 Above: Joe Sabatini uses historical photos, postcards and more in his Zoom lecture. Photograph courtesy of the Albuquerque Historical Society.
Get a postcard lesson in New Mexico history.
It's easy to guess that Joe Sabatini loves stories. He tells them carefully, adding specific, interesting details that bring them to life. A retired librarian, he's seemingly been around stories all his life. So it's little wonder that there's a tale behind how came up with the idea for his illustrated lecture, Olla Bearers and Indian Detours: New Mexico Indians as Tourist Attractions, happening at 2 p.m. Saturday via Zoom. 
Sabatini moved to New Mexico in 1966 and started working in public libraries in Bernalillo and Albuquerque. Eventually, he served as branch manager of Albuquerque's Special Collections Library during the city's tricentennial. (Woah, Burque! You're old.) 
As part of the celebration, Sabatini set up exhibits exploring local history, including one made of postcards from the Land of Enchantment. "That introduced me to using postcards as a way to share popular history," he says. 
On Saturday, Sabatini uses postcards, tourist pamphlets, and historic photographs taken by an Allentown, Pennsylvania, family that visited in 1923 and 1927, to tell stories about the history of Indian Detours. These trips, sold as cultural excursions, were organized by figures like author and historian Edna Fergusson and hospitality entrepreneur Fred Harvey. 
They romanticized and stereotyped ideas about Indigenous peoples for profit, taking visitors into Native lands for two to three days a time, with guides dressed in cowboy costumes and, in Harvey's era, special vehicles called Harvey Cars.
Find the link to the Zoom meeting here, and email Paul Figueroa to RSVP.
Remix your assumptions about art.
Remixing is something we all do without knowing it. It happens when we take a song lyric and make it our own, when we recreate our favorite restaurant dish at home, or when we snap a photo that mimics a painting we love. It's a human process tied up in inspiration and imitation. 
But that process also raises questions—issues that are at the heart of León De La Rosa's exhibit The Remix Room. "This is not an exhibition to be contemplated, rather it asks to be interrogated," he says in the soundtrack of the exhibit. "What are the implications of sampling contemporary art in the creation of new objects of visual content? What happens to a book that is cannibalized and reconfigured into more than 50 versions of its original form?"
A "remixologist," De La Rosa was a creative in residence and educator at the University of New Mexico in spring 2020, and the The Remix Room is on display at UNM Art Museum. In his time there, De La Rosa engaged three classes of students to think about remix as artistic practice and critical inquiry while creating the exhibit, which was conceptualized as a classroom where De La Rosa would teach. 
"It's an ongoing practice," he says. "The basic idea is to take whatever is given or found or there already and make it your own. This show is an exploration of different ways in which remix can occur." 
He says most of us have heard remixed versions of popular music. But De La Rosa says the phenomenon that can happen with any part of culture. "I think of it more in terms of research and practice, it's not married to one medium in particular." 
The physical exhibit is split into four stations, each with a brief introduction about how to think about it. They have titles like "Remix to Expand and Disturb," or "Remix to Question and Wonder."  "I am hoping for people to question it and question what they're being offered," he says. "This is not a show you get through in 20 minutes or less. It really is the type of show that grows with repeated visits and longer engagement." 
Luckily, the exhibit is available virtually for the foreseeable future, so you have plenty of time to revisit.