Above: Albuquerque's St. James Tearoom has been offering full afternoon tea for pick up. Photograph courtesy of St. James Tearoom.
OFTEN, OUR LIVES ARE rush, rush, rush. Work, kids, activities, housework, blah. If anything, our time at home over the past few weeks has caused us to slow down and think about what really matters. So you remembered Mother's Day is on Sunday, right? (We'll wait.) In the meantime, just casually peruse the following. You know, just in case.  
Create a Special Afternoon Tea at Home. 
Tea has long been a ritual that brings calm, connection, and a focus on being present. Creating a beautiful, virtual teatime to celebrate Mom (or chat with friends) can be a great way to foster togetherness and find comfort in conversations with loved ones.  
"The time and attention you spend shows the amount you care," says Daniel Higbie, who co-owns St. James Tearoom in Albuquerque with his mother, Mary Alice.  
While the four-star British tea room is temporarily closed for dine-in tea, St. James knows how to create an experience.  A full three-course afternoon tea, which includes a savory course, breads and scones, desserts, loose leaf tea, tea bags, special sugars, lemon curd, clotted cream, and special butters, can be picked up Tuesday–Sunday. (Heads up: This weekend is already sold out, but really every day is Mother's Day, so keep this in mind for your next hangout.)  
Or just create your own tea party at home for mom—even if it's with (gasp!) store-bought tea and treats—to enjoy together over Zoom or Facetime. "The whole point of tea is to connect, and just be with one another and connect in a deeper way,"  Higbie says. 
Use pretty cups and saucers, get fresh flowers for the table, build your own three-tier tray, or cut sandwiches into cute little bite-size squares. Higbie suggests making little scrolls to label items or to hold sweet notes written inside. You can crumple paper and stain it with tea to make your scrolls look like antique treasures. "Use anything that is beautiful, the whole point is to give your best," he says. "The little extra touches go a long way." 
Make the time extra special and interview your mom about family lore. Ask her how she met dad or to tell you that one story you can't quite remember about what grandma did to get in trouble at school. Record it on Zoom to create a family memory to keep and share forever.  
Quick, Get Mom a Gift. 
If you need something extra for mom or just want to own your sibs, we've got you covered on the lickety-split.   
Fresh Flowers : The florist behind Renegade Florals, Melissa Paquin creates stunning, artsy arrangements that combine colors in fresh, inventive ways. While usually reserved for weddings and special events, Renegade Florals is ramping up individual deliveries given the rash of cancellations due to COVID-19.  Her gram-worthy bouquets (@renegadefloral) are sculptural and play with height, highlighting each flower and its unique natural shape. Dare we say: One of a kind, just like mom. "Flowers express the love between a mother and a child," says Paquin, "the growth between two souls."  Email Paquin or text 505-930-9495 and she will create a custom paper-wrapped bouquet starting at $25.  


A Onesie from Our Favorite Soccer Team:  It's never too early to create that special bond. And New Mexico United has just the ticket for new moms and its next generation of fans with its New Mexico United onesie ($20). #BabyGoals. Choose from the signature shield logo or the team's uplifting motto "somos unidos," both printed in bold yellow on black onesies. 


Tees for Every Dog Mom : Hey, dog moms are moms too, you guys. Artist Hillary Vermont understands the unconditional love our fur babies bring. She moved to Santa Fe in 1996 after years of living in New York, where her small apartment didn't allow for a dog, and immediately understood the joy of being a pup mama.  A graduate of Parsons School of Design, she creates prints and tees featuring dogs and sweet sayings like "rescued is my favorite breed" or "woof ya'll from Santa Fe." Peruse her Etsy site or personal message her on Instagram for last-minute options.   
Get your Green Chile Cheeseburger On. 
Did you know one green chile has as much vitamin C as six oranges? And it tastes much better on a cheeseburger. Hatch, New Mexico, is the capital of green chile and home to Sparky's Burgers & BBQ, the roadside attraction where owners and James Beard Award semifinalists Teako and Josie Nunn have made mouths water for 12 years.  
Now you can enjoy their famous green chile cheeseburgers at home with help from their chile cheeseburger kits. When a close friend of Teako's wanted burgers for a cookout, he put together all the fixings his buddy needed to make 10 burgers. When he got everything into the box, Teako had an idea. "Gosh, this looks so cool I want to show my wife," he says. "The next thing I know, it's on Facebook and we sold over 25 of them Saturday and Sunday." 
The $65 kit comes with everything you need to make 10 burgers, including hand-formed Angus chuck patties, five pounds of chile, cheese, Sparky's seasoned salt, and buns. Teako says they're best cooked on a grill, or in a cast iron pan if you don't have one. Plus, making your burgers at home means you get to cook them just how you like them.  
Five pounds of green chile is A LOT, so you're sure to have some left over to smother all your dinners for a week. They ship the kits or you can drop by and pick yours up at their take out window. Call Sparky's to order (575-267-4222).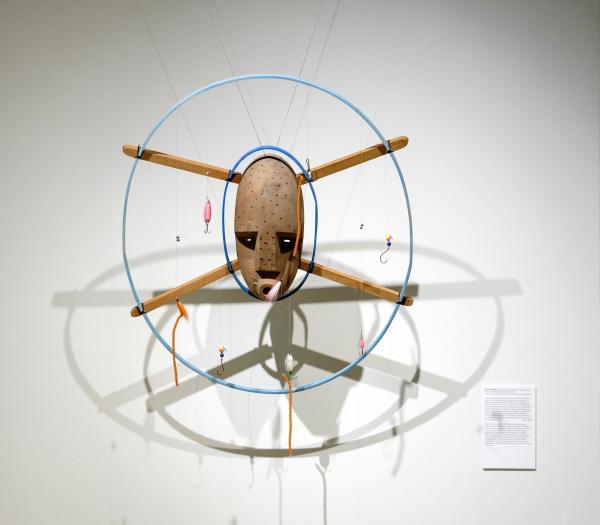 Above: Brian Walker (King Island Inupiat/Deg Hit'an Athabascan) used wood, fishing line, and hooks to create Prayer for the Individual (Salmon), 2019, one of two wooden masks in the show. Photograph by Jason Ordaz.  
Experience the Future of Native Art—Virtually.  
Faithlyn Seawright (Chickasaw/Choctaw) is a museum studies major at the Institute of American Indian Arts, and the curator behind this BFA exhibit, which she put together with help from Manuela Well-Off-Man, the Museum of Contemporary Native Arts' chief curator.  
The 14 works by a dozen students graduating from IAIA this semester and the previous one revitalize traditions and comment on the cultural healing taking place after the trauma of colonization. "We have some bronze sculptures, a mask made of wood, mucklugs, or Alaskan moccasins made of leather, a piece made of cardboard, an installation piece made of adobe bricks, and 2D works like photographs, acrylic paintings, and ledger art," Seawright says.  
The theme of the show called for artists to comment on spreading awareness about indigenous communities reinvigorating traditional artforms. "We are taking these traditional techniques and finding new ways to work with them," says Seawright.  
The exhibit can be viewed in the Artsteps app (available to download on IAIA MoCNA's website), which allows for an experience close to the one you would have actually visiting the museum.  Navigate through the space, zoom in on specific pieces, read artists bios and statements, and take as much time as you want with every work.  
Stroll Back in Time at the Pecos National Historical Park.  
Where the Rocky Mountains meet the Great Plains sit the ruins of the ancient Pecos Pueblo. It was once a center of trade where indigenous people met to exchange regional goods like handmade pottery or macaw feathers. At its height, over 2,000 people lived there.   
The ruins that remain invite you to imagine what life was like back then. There are kivas and remnants of small storage rooms built with rock. The most prominent architectural remains are from a Spanish church built 12 years after the 1680 Pueblo Revolt. An earlier one, built in the 1620s, was even larger and burned by the Puebloans after successfully, although not permanently, reclaiming their homeland from the Spanish.  
This park is usually quiet, and the trail is immaculately maintained. It is an easy 1.2-mile walk to the historic site, which gives a beautiful 360-degree view of the Sangre de Cristos and the lush Pecos Valley. The sky looks bluer than ever against these ancient adobe walls. This hike is a journey through pieces of ancient history that can remind us of humanity's resilience and invigorate a sense of hope.