Above: The Las Cruces Museum of Art unveils seven new La Catrina sculptures by Mexico-born artist Ricardo Soltero. Photograph courtesy of the Las Cruces Museum of Art.
Celebrate skeleton season.
Just in time for Día de Los Muertos season, seven new La Catrina sculptures debut at the Las Cruces Museum of Art on Friday. The eight-foot skeletal ladies made by Mexico-born artist Ricardo Soltero are colorful additions to the museum.
The original La Catrina image was created by Mexican satirist and illustrator José Guadalupe Posada in 1913. Skeleton antics are prevalent in Día de los Muertos celebrations in Mexico and the United States. "Visitors will learn the Indigenous roots of the Catrina, and how it inspired the artist José Posada to come up with the depiction of the Catrina we are familiar with," says Norma Hartell, museum manager. "The artist also includes elements associated with Día de Los Muertos like the monarch butterfly and the cempasúchil (marigold)."
Visitors can participate in the exhibit by adding to the community altar, where they can leave notes for their late loved ones. See the sculptures through January 8, 2022.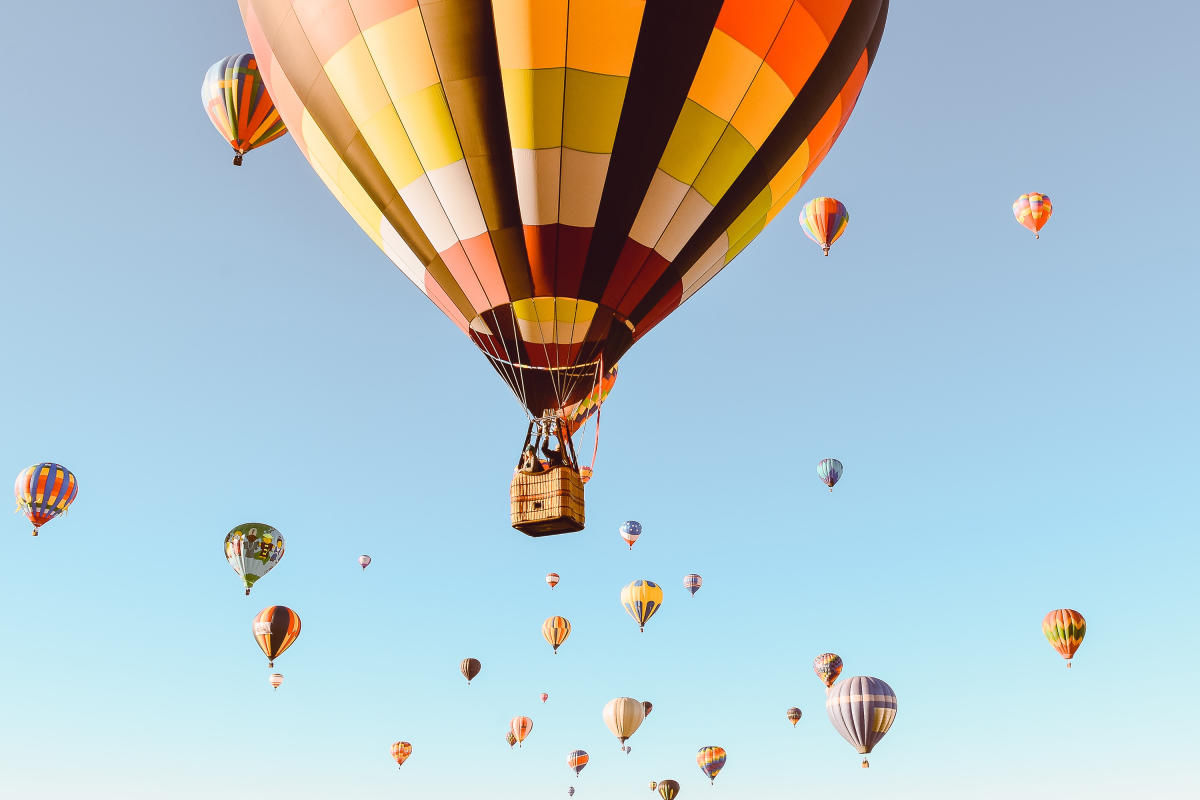 More than 600 pilots are expected to attend this year's the Albuquerque International Balloon Fiesta. Photograph by Tina Witherspoon/Unsplash.    
Lift off at Balloon Fiesta.
Turn your eyes to the skies over Albuquerque this weekend, because the International Balloon Fiesta is back. More than 600 pilots are expected to attend, steering colorful and fun balloon shapes like flying pigs, chickens, monkey faces, and baby heads back to New Mexico's blue skies.
Vendors sell goodies like special Balloon Fiesta pins, hats, and other swag, along with some of the world's best breakfast burritos and green chile cheeseburgers. The family-friendly fest happens through October 10 with morning and evening music and dance performances on two stages, as well as strolling performers on Main Street. Get your tickets and stay up to date with COVID-19 precautions, which are subject to change regarding vaccination requirements.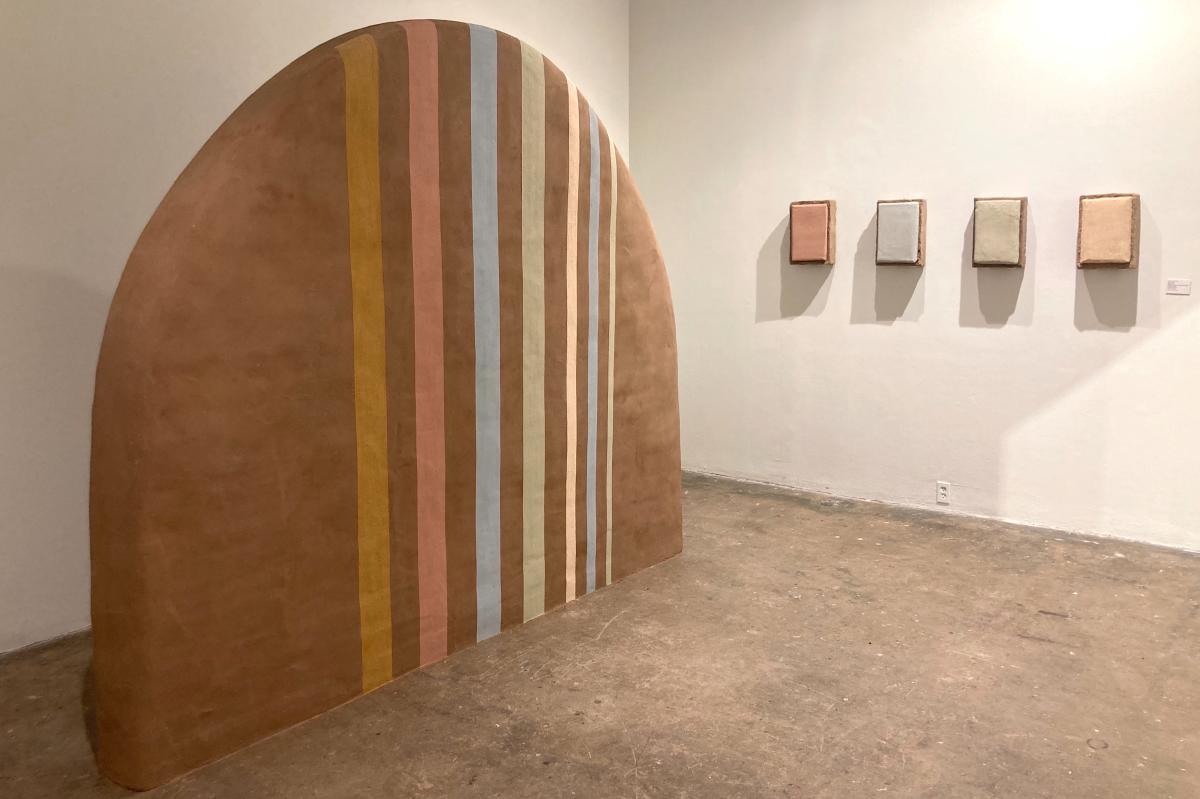 Joanna Keane Lopez explores the boundaries between large-scale installation and adobe architecture in Land Craft Theatre, opening at SITE Santa Fe. Photograph courtesy of SITE Santa Fe.
Party at SITE.
SITE Santa Fe celebrates the opening of three new exhibitions this weekend: Joanna Keane Lopez's Land Craft Theatre; Oswaldo Maciá's New Cartographies of Smell Migration; and Creative Residencies: Johnny Ortiz.
Keane Lopez—who we featured last summer in The Art of Ancient Clay—is an enjarradora who works with adobe and other land-based art forms. She presents two large-scale installations, one adobe and one paper, showcasing her naturalist art with colored clays, insect dyes, and other environmental elements. "It's very rewarding to see large work take form from an initial drawing in a sketchbook," Keane Lopez says. "It takes the collaboration and help of many. I am so thankful."
Maciá, a multi-disciplinary artist from Colombia, shows annotated maps that celebrate migration based on the biological role of smell. These works including a sound element and the diffused scent of tree resins harvested from El Salvador and Honduras.
Ortiz—who we spotlighted in The Forager's Art—is a ceramics artist and chef whose culinary works celebrate a deep sense of place. He gained acclaim creating beautiful meals using foraged ingredients under the moniker Shed. In this exhibition, part of SITE's Creative Residency program, he presents a video project and ceramic pieces.
The triple debut is celebrated with an opening party on Friday from 5 to 9 p.m. with live music by Nizzhoniya Austin and ¡Hijo!, and food by Fusion Tacos. See Keane Lopez's exhibit through January 9, 2022; Maciá's through October 31; and Ortiz's until October 24.
Fall into an old-fashioned harvest celebration.
Stomp grapes, learn how to string a ristra, and take your pick at the pumpkin patch at El Rancho de las Golondrinas, where the annual Harvest Festival takes place Saturday and Sunday 10 a.m.-4 p.m. Under the historic property's giant, gold-turning cottonwood trees, enjoy live musical performances, a visit with alpacas, and demonstrations of traditional blacksmithing, wool-dyeing, and corn husk crafting. Traditional Spanish Market artists will also be on hand for demonstrations and sales of all your bulto, retablo, and tinwork wants and needs. On Sunday at 3 p.m., Kevin Henson of the Mormon Battalion Association gives a historical presentation, The Mormon Battalion Marches Through Las Golondrinas During a Harvest Festival, 1846.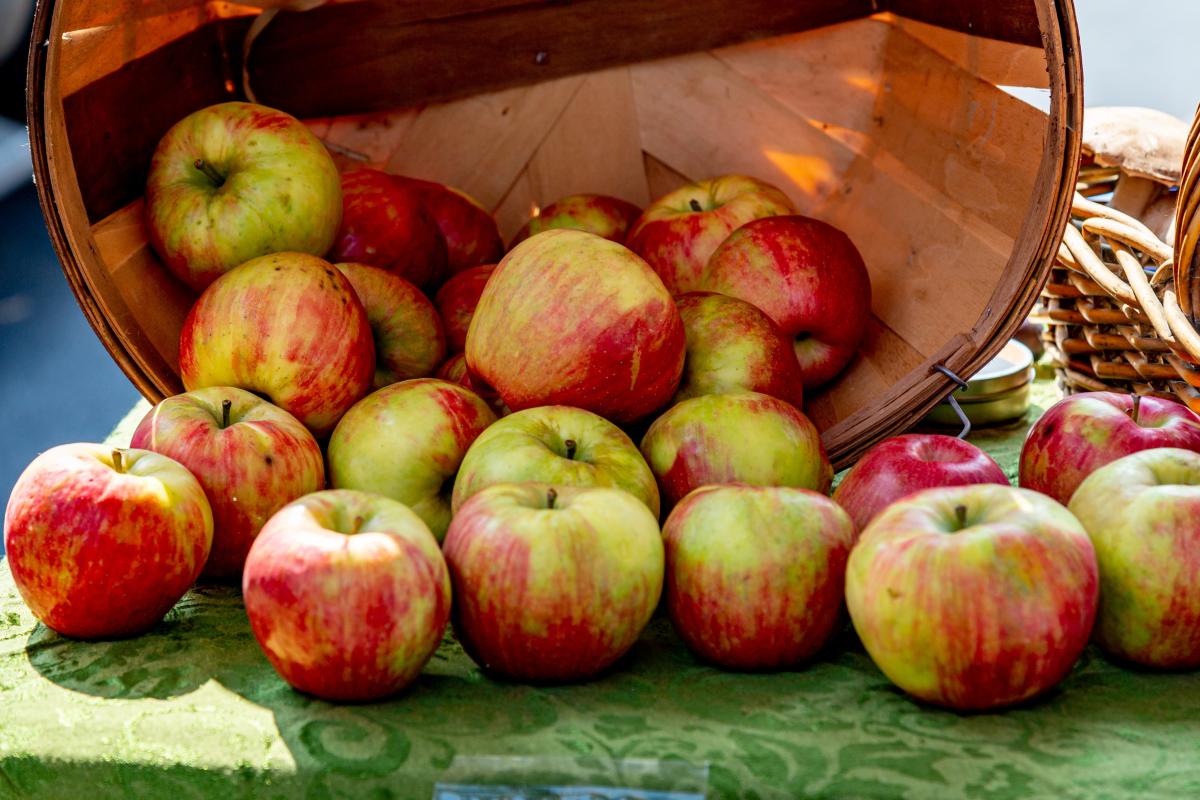 Head to Farmington for the inaugural Southwest Apple Fest and downtown Art Walk on Friday. Photograph by LuAnn Hunt/Unsplash.
Gather under the old apple tree.
The inaugural Southwest Apple Fest happens in Farmington on Friday. Starting at 11 a.m., a slew of vendors set up in Orchard Park with snacks, food trucks, and apple-themed activities. Johnny Appleseed hosts a storytelling time for kiddos before or after you take pics at the Selfie Family Tree and pick up a bushel of freshly picked apples, apple butter, or caramel apples. From 5-9 p.m., the event coincides with Farmington's downtown Art Walk.