Above: Judith F. Baca, who created the mural 442 Infantry, is part of the New Mexico Museum of Art's Poetic Justice exhibit, which opens Saturday. Photograph courtesy of the New Mexico Museum of Art.
Pursue justice through art.
The works of Judith F. Baca, Mildred Howard, and Jaune Quick-to-See-Smith are the focus of Poetic Justice, a new exhibition opening at the New Mexico Museum of Art on Saturday. "The exhibition is a lot about giving voice and using voice," says Merry Scully, head of curatorial affairs. "Both the voice of the artists, but also the voices they bring forward in their work."
Around 40 multimedia artworks centered on the artists' marginalized perspectives on community issues such as land use, housing, civil rights, immigration, and police brutality make up Poetic Justice. Taking a cue from the title, the museum commissioned works from New Mexico poets Hakim Bellamy, Levi Romero, and Edie Tsong, which are displayed alongside the works that inspired them.  See it through March 27, 2022.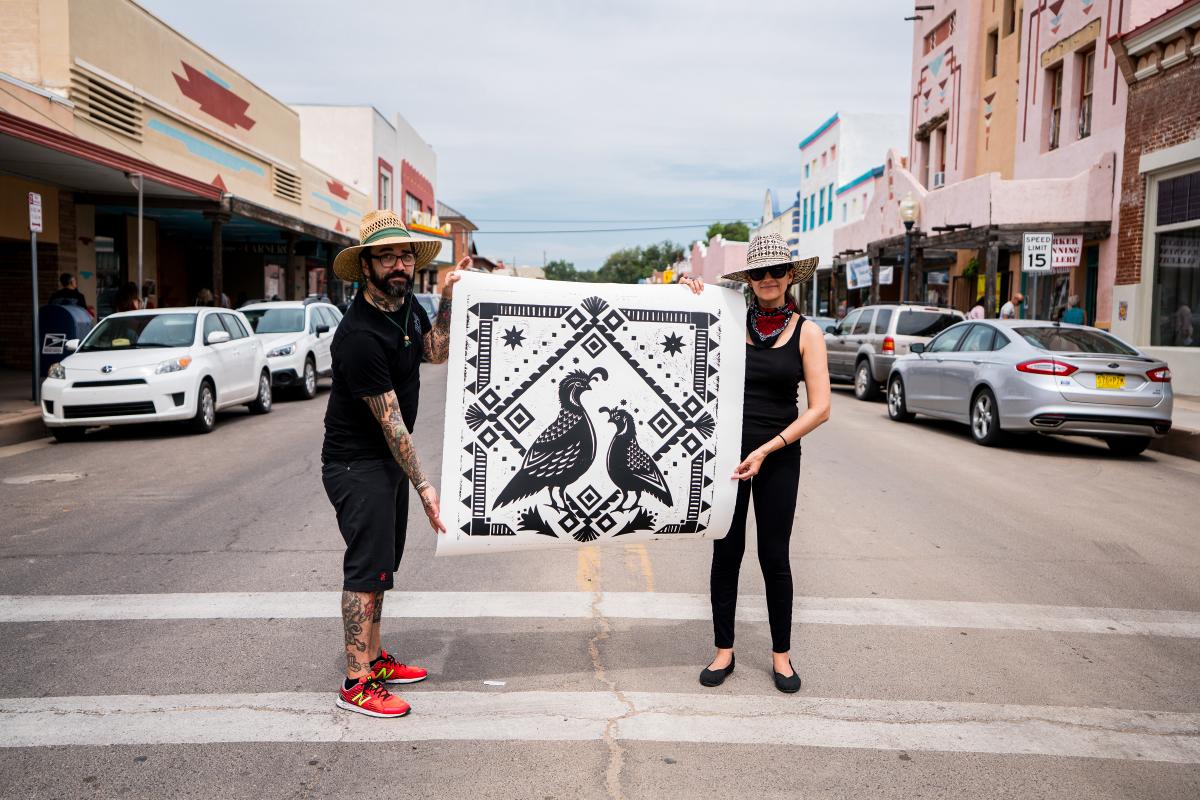 Join artists from throughout the West at the Southwest Print Fiesta in Silver City. Photograph courtesy of the Southwest Print Fiesta.
Play with prints.
A hybrid event with both online and in-person happenings in Silver City, the Southwest Print Fiesta celebrates the awesome art of printmaking Friday through Monday. Artists come from all around the West to join in a printers' market, studio tour happy hour, bookbinding workshop, screen-printing class, and more. "One of our favorite things about printmaking is that it is a truly democratic art form," says Kyle Durrie, owner of Power & Light Press. "It is a medium of multiples. Printmakers run the gamut from formally trained to self-taught, from traditional to radical." Prints at the market range in price from $2–$1,000. See the full schedule and join any of the classes and workshops via Zoom.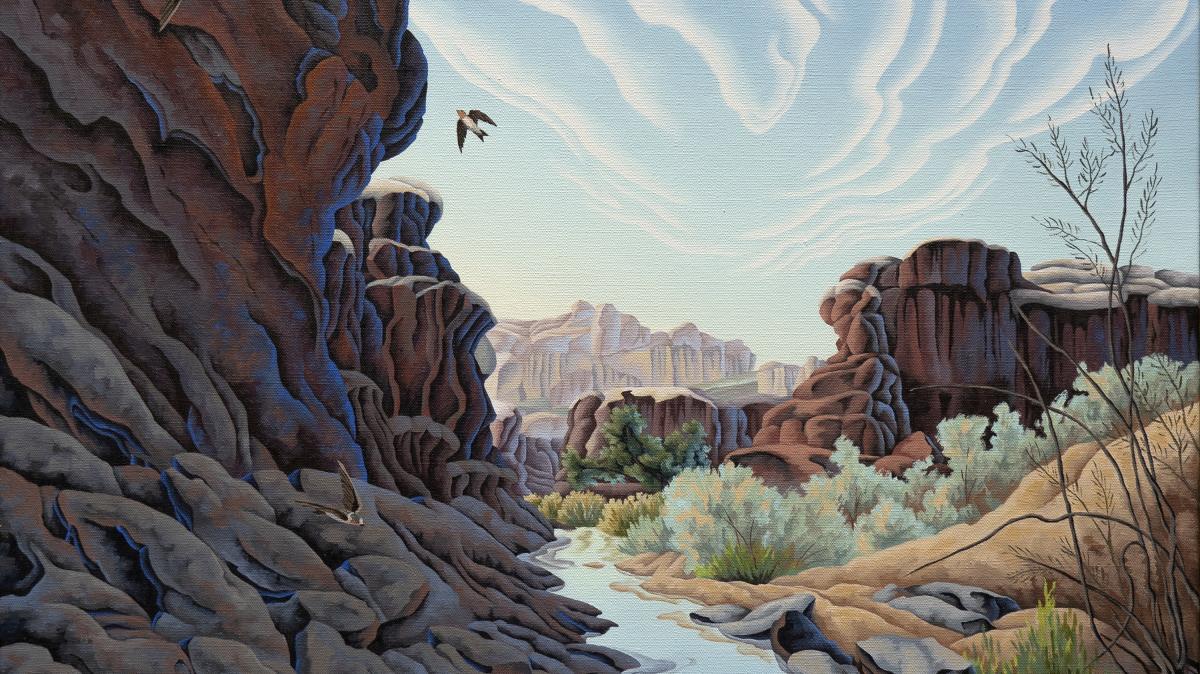 The self-guided Abiquiu Studio Tour includes 24 stops to visit with artists. Photograph courtesy of Abiquiú Studio Tour.
Meet Abiquiú artists.
On a self-guided driving tour that winds through Abiquiú and the Chama River Valley, the Abiquiú Studio Tour is a chance to see some spectacular works. Download a map and explore art that ranges from traditional retablos by Sophie N. García to micaceous pottery by Debbie B. Carrillo. While you're on your fall adventure, warm up with a cup of tea at the Purple Adobe Lavender Farm. Visit the studios Saturday through Monday between 10 a.m. and 5 p.m.
Catch a story.
At StorySLAM, part of the 22nd annual Taos Storytelling Festival, "the storytellers memorize the stories and tell them with props, gestures, and movement," says Jan Smith, executive director of festival organizer SOMOS. "It's a whole performance."
StorySLAM caps the fest on Saturday from 5:30 to 7 p.m., when storytellers take the stage in the SOMOS Bookshop parking lot to weave tales on the theme of Transformations—and compete for cash prizes.
Cisco Guevara, David McDonnell, and Sarah Malone are the judges. Guevara brings a New Mexican flair to his stories, telling tales from his childhood roaming the Land of Enchantment and others gathered from his many years as a rafting guide with his company Los Rios River Runners. Get your ticket and see the full schedule here. It includes a two-hour workshop with Guevara sharing insider tips on oral storytelling.
Follow the flute.
Randy Granger is a Las Cruces–based flutist who is widely known for his full-moon concerts at White Sands National Park. They have been canceled since the start of the pandemic, but he performs at the Doña Ana Arts & Cultural Center Saturday in celebration of Indigenous People's Day. Catch his performance at 7 p.m. He plans to mix storytelling into his set, which includes instruments from around the world, including Irish, Anasazi, and Bansuri flutes.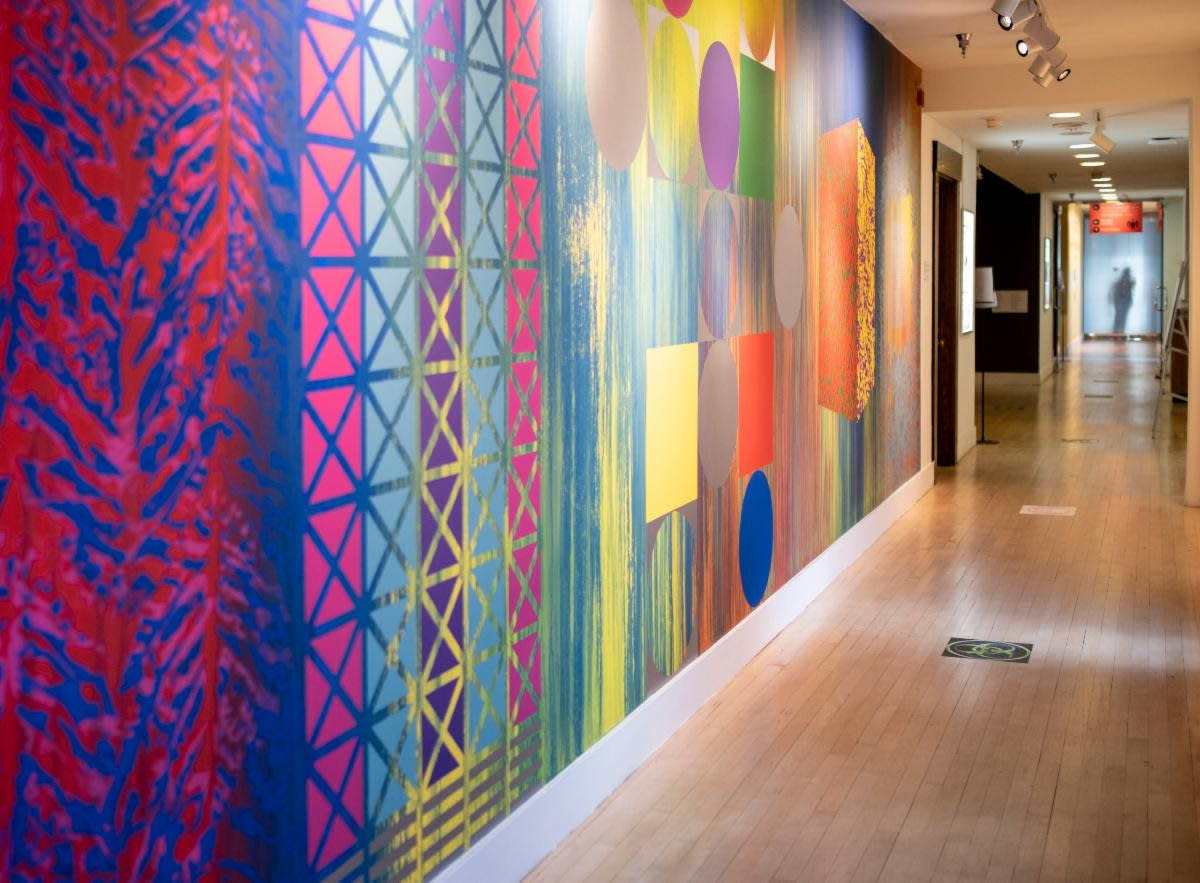 The IAIA Museum of Contemporary Native Art offers free admission and a host of programs to celebrate Indigenous Peoples' Day. Photograph by IAIA Museum of Contemporary Native Art.
Celebrate Indigenous Peoples' Day.
The IAIA Museum of Contemporary Native Art, near the Santa Fe Plaza, is a hub of Indigenous art where both emerging and established artists showcase their work, host workshops, and give lectures. The museum celebrates Indigenous Peoples' Day on Monday with free admission, public programs, hoop dancing by Lightning Boy Foundation, and special docent-led tours.