Jude Candelaria opened Flux Tufa Works to break stereotypes about Native art. Photograph by Del Ray Photography.
FIVE UNASSUMING GLASS BOXES, each containing a single piece of handcrafted jewelry from a local Indigenous artist, hang from the long branches of an alligator juniper tree along one wall of Flux Tufa Works.
The storefront gallery, which opened August 1 in Gallup's downtown, features an airy layout, cement floors, and neutral walls accented with splashes of orange. But the tree stands out. The sparse display upends the traditional notion of Native American trading posts, with their seemingly endless glass cases stuffed to the brim with jewelry.
"I want to break the stereotype of what Native American art can be," says owner Jude Candelaria. A Gallup native and fourth-generation silversmith, the 36-year-old is steeped in the traditional methods of Zuni jewelry. He spent many years selling his work through trading posts in Gallup but has felt constrained by the restrictions those retailers imposed on his art.
"Just because you're Native American doesn't mean that you have to draw a feather or paint a picture of a mountain with a hogan," says Candelaria. "A lot of young Native American artists are influenced by their own culture and pop culture. Who is to say that you can't draw inspiration from that?"
Read More: Home to the best in traditional Native American art, Gallup expands its creative reach to build a better community. 
So, last November, Candelaria leased a long-empty storefront on West Coal Avenue and spent four months tearing out carpeting, restoring a kiva fireplace, and renovating and repainting the space. Originally, Flux Tufa Works' grand opening was set for March, but the COVID-19 pandemic took hold across the country and sent local retail into a tailspin.  
"As small of a grand opening as it seems, I wanted a way to say how much work we put into this with not only money but time," says Candelaria. 
Each month, Candelaria plans to feature two artists. For the opening, he showcased Gallup artists Irv Wauneka, whose portraits include renditions of Nina Simone and Frankenstein's monster, plus emblems of hip-hop culture, and Raven Bright, whose work reflects the cross section of fine art and urban graffiti. "I want what artists are making for themselves," he says. "I tell artists, 'Do you have an idea about something that you want to make, but the traders are not willing to buy? That's what I want.'"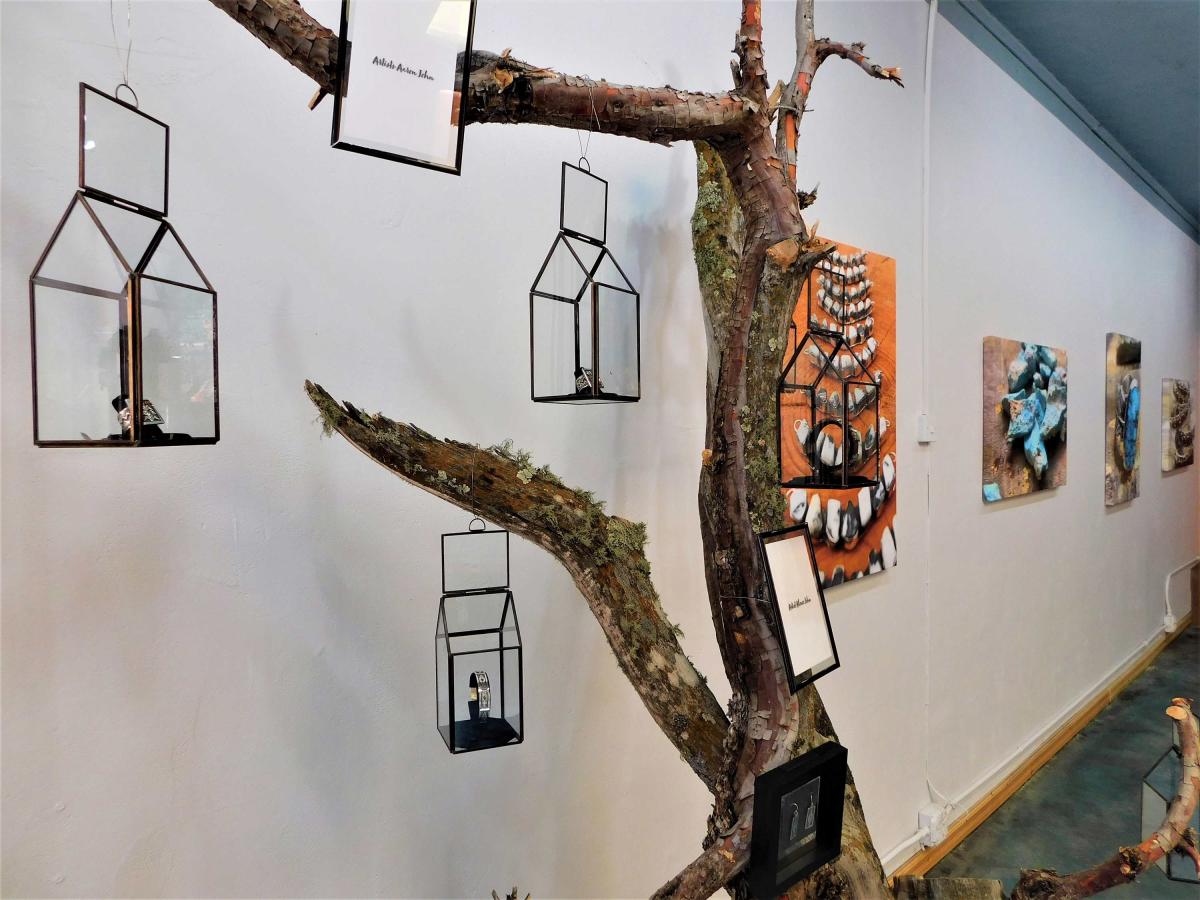 An alligator juniper tree showcases a few individual pieces in Flux Tufa Works in Gallup. Photograph by Karen Fischer.
To the left of the tree, hand-carved limestone tufa molds—a technique rarely used by silversmiths today, because of the fragile nature of the stones—and a soldering torch sit atop an industrial workbench where Candelaria melts silver, pours it into molds he carved, and solders and finishes pieces in full view of customers. For a more hands-on experience, he also offers jewelry-making workshops using traditional tufa techniques.
Read More: Wings of America teaches Native Americans how to compete as runners—and how to live with pride and grace.
"The foundational technique of what I do is definitely traditional," says Candelaria. "But the design is just me thinking, What would someone want to wear on a daily basis?"
And yet, there's also something peculiar and new about both his jewelry and the gallery. "All I knew was what I didn't want to do," he says. "Artists have to step back, be honest, and trust themselves."

Flux Tufa Works is open Monday–Saturday, 9 a.m.– 5 p.m. Book online for jewelry lessons. 211 W. Coal Ave., Gallup; 505-488-2076.