Above: Knobby tires and sturdy bike frames help trail riders earn their "Gila Proven" bragging rights.
"LET 'ER ROLL." TAKING THOSE WORDS AS OUR MISSION, we descend a rocky trail that gets more washed out with each day of the late-summer monsoon season. Our brakes squeal. Our forks rattle. Our bikes—and our bodies—will need a good scrubbing tonight. 
Our Silver City–based group is a mixed batch—a construction worker, campground host, middle school student, doctor, real estate agent, snowbird, food co-op cashier, and gray-haired engineer. I suspect that one might have a death wish—he insists that less experienced riders follow him over exposed slickrock bordered by cacti. Another races to the Continental Divide Trail with his chin on the bars and his butt in the air. There are women with scarred legs and retirees with janky collarbones, bike shop owners in their newest kits and twenty-somethings in torn team jerseys. We're joined by a lone single-speeder who decided to socialize for a change, plus an ultrarunner who strives to keep up. 
On group mountain-bike voyages in the Gila National Forest, there's always someone on your wheel, someone who can climb faster or wants to descend more recklessly, someone on a mission to cover as many miles as possible before sunset—and someone aiming to just stay upright. 
Around here, someone almost always heckles you, using humor to let you know that you're welcome on the trails, too, and that you're expected to dish it out as much as you're expected to keep those pedals turning. Letting 'er roll is the only way to earn our metaphorical and site-specific badge of honor: Gila Proven.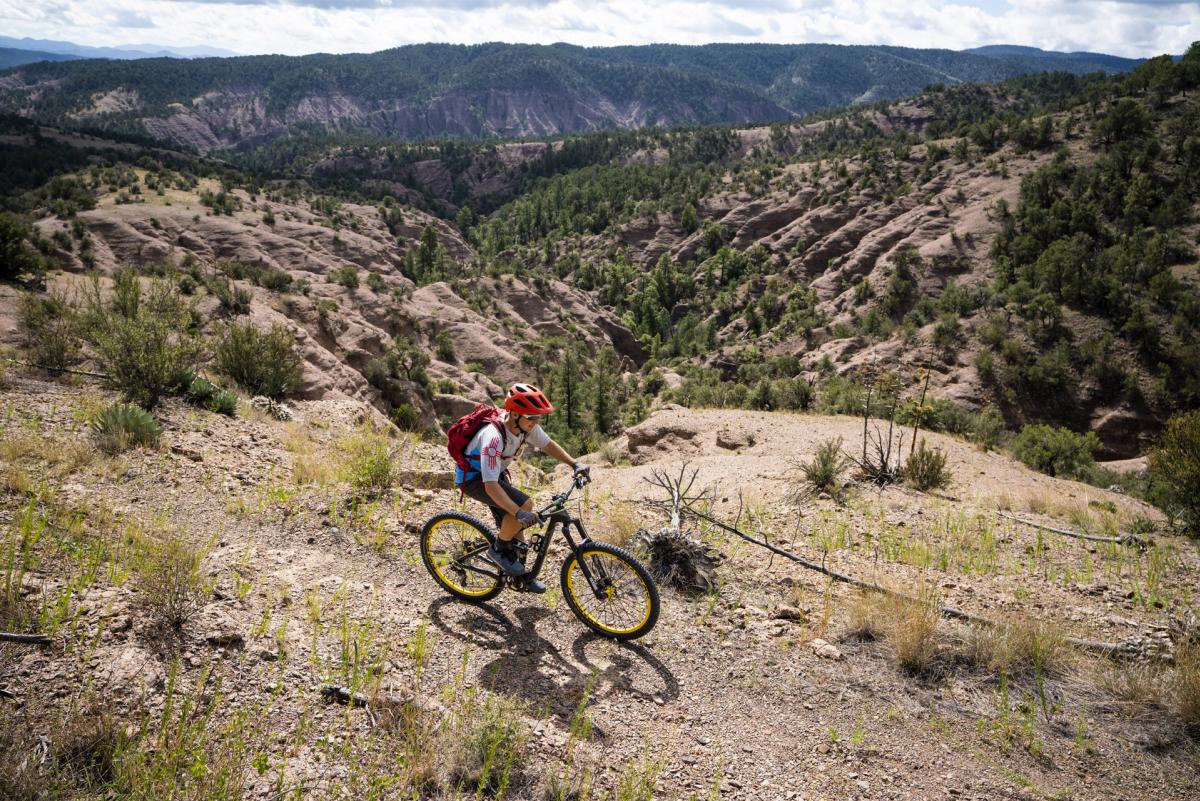 Above: A rider hits the Continental Divide Trail.
Mountain biking hasn't been around for all that long. I was just a baby when it emerged as a thing around here. "Lonnie was already riding, and so was Barin," says Gary Berg of two riders in our group. Berg migrated to Silver City with a mountain bike in the late 1980s, when cycling culture was just taking hold. "We didn't have a big selection of trails, but we rode the hell out of them." 
Those trails, rain-scoured and rock-filled, hammered their equipment. "We were always breaking things, sending stuff in for warranty," he says. 
That's how the term "Gila Proven" originated. Coined in reference to sturdy gear that stood up to those tests, the slogan has evolved into a testament to the people who brave Grant County's rugged and mountainous terrain. 
While equipment truly fit for the Gila wouldn't come into production for a couple of decades, a bike shop opened in the people's chase for the lowest gearing and knobbiest tires. Gila Hike & Bike co-founder Jack Brennan can still be found gleefully navigating this area on two wheels. 
The cycling community hasn't necessarily exploded in Silver City the way it has in places like Gallup and Farmington, with their extensive trail networks, or in Angel Fire, with its professionally designed Bike Park course. Out here, trails come with some DIY responsibilities and a whole lot of room to spread out. On any particular weekend, the trail-riding total might reach four dozen locals, plus the occasional visitor. 
To folks like Berg, none of us will ever be as hardcore as the original Gila Proven crowd, but we think of ourselves as relatively badass and ready to show others a good time with spectacular views.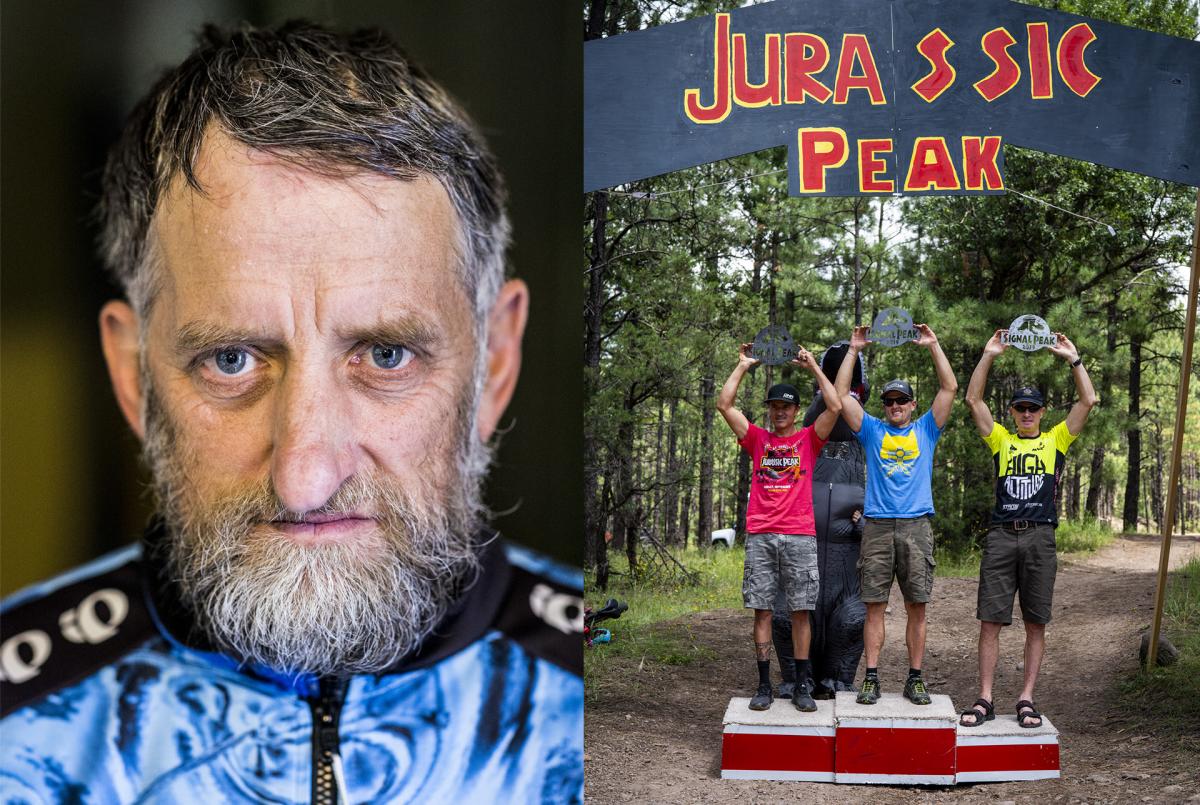 Above from left: Jim York, known as Honey Badger, often leads rides that take rather tame trails and turn them into monsters. The annual Signal Peak Challenge held every Labor Day weekend is as much about the community as the winners.
NO ONE EXEMPLIFIES THE SPIRIT of mountain biking in the Gila quite like the man known as Honey Badger. I'm not sure when he showed up on the scene, but today the rider otherwise known as Jim York embraces all this area has to offer—in terms of both the environment and the community. A frequent ride leader, he is why the administrators of our SilverCityCycling Google group developed a rating system for outings. One star indicates a slow pace, low number of miles, pauses to regroup, and simple trails or flat roads. As the number of stars increases, so does the planned mileage, speed, and elevation change. 
The four-star expert rating promises: "Hail Mary pace, no guaranteed regrouping, multiple burritos, make sure you know the route." Only once did someone post a ride with fewer than four stars. 
To increase the difficulty, Honey Badger frequently takes a route chock-full of smooth climbs and steep technical descents when ridden clockwise and leads a herd of fat-tire fanatics around it counterclockwise. He plans trips with sometimes hourlong hike-a-bike sections—through arroyos, up and over ridges. 
Read More: How to Get Into Mountain Biking in New Mexico.
I wouldn't be surprised if rappelling equipment became recommended on the voyages he leads. And yet, we reliably show up at the designated meeting time and place. Recently I heard him say, "We don't need trails." He wasn't joking. 
We treasure this place for its wildness, as Native people have for thousands of years, and as the U.S. Forest Service did in 1924, when it designated more than half a million acres north of Silver City as the world's first national wilderness. The Gila Wilderness, along with the Aldo Leopold and Blue Range wildernesses, are enclosed within our 3.3-million-acre Gila National Forest. Most of our explorations dip only partially into the Gila's nearly impenetrable heart, as bicycling isn't permitted in wilderness areas. And while this is one of the Lower 48's largest roadless areas, a couple of dirt roads take us and our loaded frames into multiday escapes. 
The trails we ride aren't groomed by resort staff or designed by certified landscape architects. In fact, there's not much flowy singletrack at all in the Gila. When we want to ride a trail, we have to clear the fallen trees, stack rocks, build bar ditches, tiptoe around the snakes, and finally burn it in with frequent trips, because there won't be that many others traveling it. Sections of our routes are unofficially named for their creators: Berg's Trail, Bob's Trail, Doug's Trail.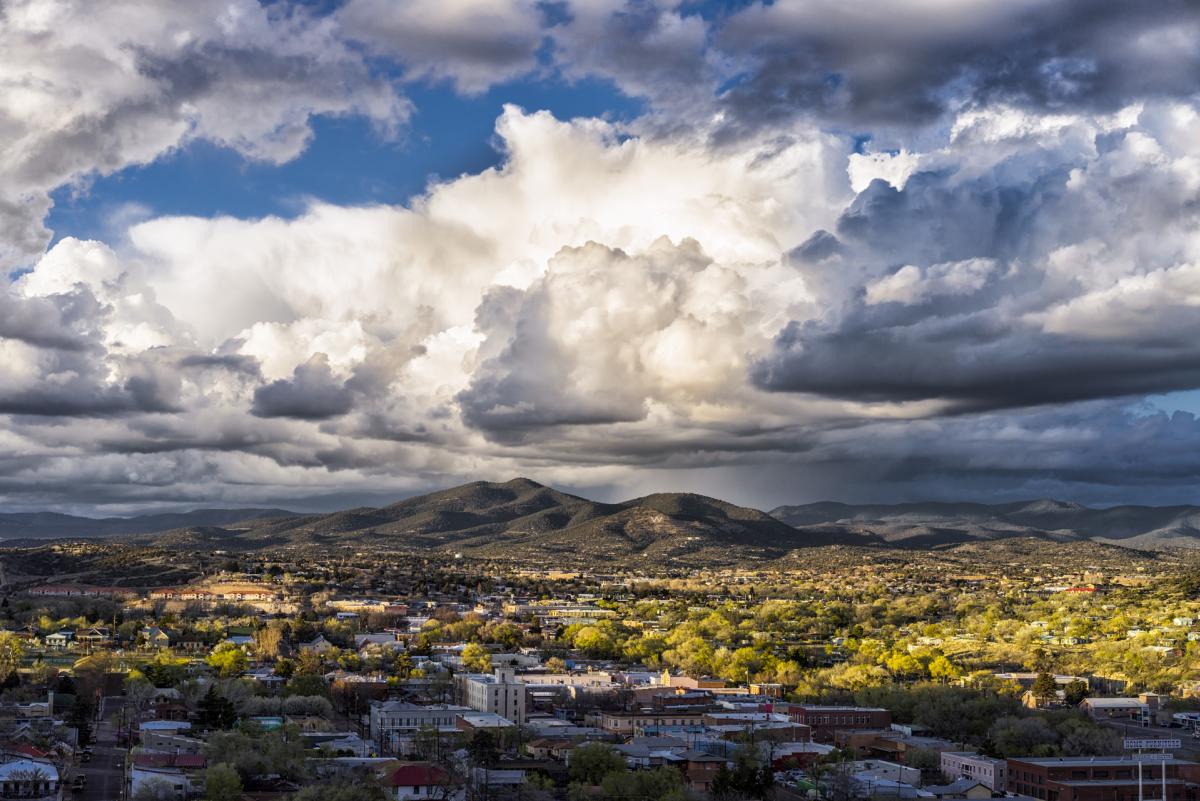 Above: Boston Hill rewards the climb with a view of Silver City.
According to Berg, the Gila's highly erodible surface changes our trails, as do the late-summer monsoons that wash away material our knobby tires have scratched the rest of the long, dry year. 
Without the work that's done by the Gila chapter of the Back Country Horsemen of New Mexico, which maintains some of the best pieces of singletrack the region has to offer, we might not have any place to ride at all. But we're rallying to reroute some of the more popular trails, with sustainability—and, of course, mountain biking—in mind. 
Where there are trails, even newly built or freshly maintained ones, there aren't necessarily signs. Having grown up playing in the Gila, I was 20 years old before I realized that most other outdoor destinations create maps of their trail systems, naming the popular routes. While it is possible to obtain a U.S. Forest Service trail map, it's anyone's guess how old it is or the condition of your chosen trail. 
Gila Hike & Bike now produces and sells a current map of the most rideable trails—and the Forest Service recently hired a trails manager to step up patrols and keep track of the trails. 
Read More: The Gila trout's recovery draws fly-fishermen to its remote and rugged habitat—and to nearby towns rich in New Mexico history.
The Gila National Forest website lists 17 places as "Mountain Biking Areas." Only four are actually used by mountain bikers, and I'd recommend just three. 
That's not to say there aren't places to ride; it's just that where people actually ride sometimes differs from what the guides say. Visitors should stop by the bike shop or connect with locals via the SilverCityCycling Google group. 
I send people to the Gomez Peak–Little Walnut trail system, the Fort Bayard–Dragonfly trail system, or the Continental Divide Trail anywhere in the Pinos Altos Range. On the loops at Little Walnut, we see kids riding with their parents, locals hiking with their dogs, and monks from Our Lady of Guadalupe Monastery, up the road. The Dragonfly system, in Fort Bayard, regularly hosts a group of mountain-biking 70-year-olds. North of Pinos Altos, the Signal Peak area is where we diehards test our mettle. 
We can get a tad competitive—informally during the weekly Taco Tuesday excursions and the semi-regular Honey Badger epics, and more formally at the Signal Peak Challenge, an annual tradition. Held every Labor Day weekend, the challenge has existed for three decades as a highlight of the local mountain-biking season. Some years back, after a major wildfire in the area, it was run as a mere festival, but eventually it became a U.S. Forest Service–permitted race.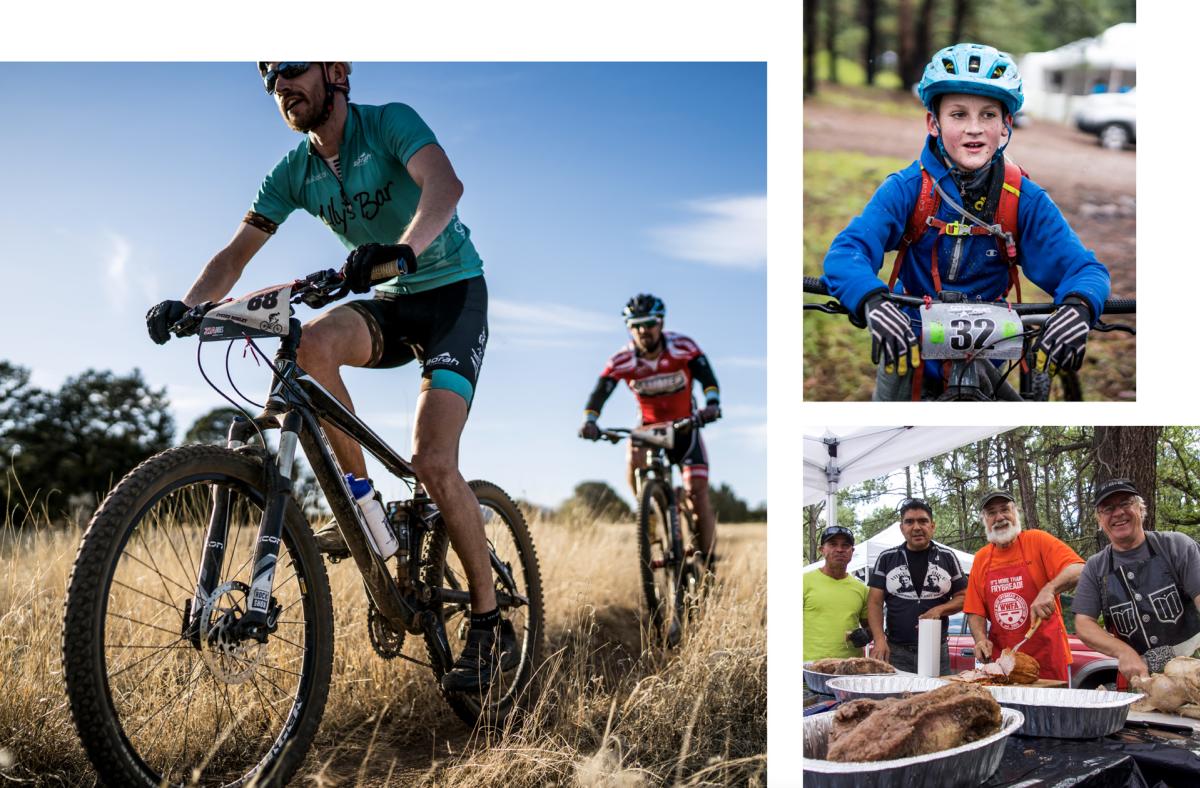 Above from left: Riders take on the Fort Bayard–Dragonfly trails, which comes with mountain views and convenient access to petroglyphs. A Signal Peak Challenge rider rests in between rides.
BUT THERE IT IS: The event isn't about the race. 
Instead, we pit-roast as much meat as the supermarket will donate and build monuments—ponderosa-height castles, giant tiki heads, replicas of the Eye of Sauron—in keeping with each year's race theme. It's our ritual to dig the pit and drink beer on Thursday, load the pit and drink beer on Friday, and show up on Saturday evening with camp chairs, easy-up tents, and tin cups for refilling at the keg. One of us always brings a bottle of smoky Scotch, pouring it with a whisper into every passerby's cup. On Sunday, we finally get around to attempting to ride faster than the others in our age group before returning to polish off the libations. 
At the Signal Peak Challenge base camp last fall, I stepped away from the Saturday night conversation and looked around. From that gravel lot on a mountain in the Gila National Forest, a dirt road runs off NM 15 to the summit, a two-track trail leads to the north, and a line of singletrack climbs the ridge across the highway. 
The pit we dug sat behind a 1980s RV. At the base of the two-track, a grungy black structure arched over the pathway. Two torches flickered below hand-painted lettering that read JURASSIC PEAK. The words were bold and unevenly spaced, outlined in yellow and filled with vermilion as bright as a freshly skinned knee. 
Everyone was there. Single-speed cyclists with their uncombed hair and veiny legs, BMXers I knew in high school, beginner's-loop riders kitted up for the race 16 hours early, and out-of-towners trying to size up the competition, not realizing the event was two-thirds over: the course flagged, the finish line built, the meat cooked, the costumes worn. Amid tweens dancing in inflatable dinosaur suits, I saw the hot dads and the old guys, the unassuming grandmas who will beat you to the finish line, and the pack of teenagers building and launching over jumps. 
The next day, we hit the trails where we'd spent the past few Saturdays cutting brush. We claimed our spots on the podium. The next week, while the course was still in tip-top condition, we tormented one another around it again. 
Here in the Gila, we lead the pack and trail it all at once. We hosted downhill races decades before that came into fashion but stubbornly ride cross-country now, when enduro riding and gravel grinding are all the rage. When most mountain bike racers outfitted their wheels with light, skinny race tires, Gila Hike & Bike stocked ones with the biggest available lugs. 
We are green, hitting the area's shortest loops on flat pedals. Or we used to be professional mountain bikers and came here to embrace anonymity. We left towns like Jackson Hole and Boulder for time on less crowded, more rugged trails. Or we learned to ride in the Gila and never got in the saddle elsewhere. 
We can't be polished to a shine and we might never be cool, but we are Gila Proven.

ROLL ON
Gomez Peak–Little Walnut trail system: Six miles outside of Silver City, Little Walnut is popular among locals of all abilities and features well-built trails that form loops of varying sizes. From here, it's simple to connect to the Bear Mountain and Pinos Altos riding areas via the Continental Divide Trail. 
Fort Bayard–Dragonfly trail system: Three miles east of town, Fort Bayard's variety of terrain—from tacky singletrack to sandy washes—comes with mountain views and convenient access to petroglyphs. Here, a state champion alligator juniper known as the Big Tree is a common destination for cyclists, hikers, and equestrians. 
Continental Divide Trail: The transcontinental route bisects the Gila National Forest, and the trailheads surrounding Silver City provide spectacular mountain biking. Start on Signal Peak Road north of Pinos Altos for a remote experience on two wheels. 
Signal Peak Challenge: The race is held annually on Labor Day weekend. Riders in more than a dozen categories run courses made up of three different lap lengths. Visit signalpeakchallenge.com for the latest details.
---
STAY A WHILE
Gear Up: The staffers of Gila Hike & Bike, in Silver City, have maps, Gila Proven gear, and great advice. Call 575-388-3222 to talk shop or drop by 103 E. College Ave. 
Camp Out: Skid up to a flat spot anywhere along Signal Peak Road, off NM 15, where dispersed camping offers solitude. For picnic tables and outhouses, drop your tent for free at either the three-site McMillan Campground or the 12-site Cherry Creek Campground, both on NM 15. 
Settle In: For a list of cushier places to rest your head between rides, check out visitsilvercity.org, which also highlights local shopping and dining options.
Want more great stories about New Mexico? Subscribe now and we'll deliver them right to your door.