Meals at KitFox go far beyond standard camp fare. Photograph courtesy of KitFox.
GOOGLE MAPS PROVIDED A LOVELY DRIVING TOUR of the Galisteo Basin Preserve but did little to help me find the New Mexico Brigadoon known as KitFox. Like that magical, mysterious village of stage and screen, KitFox eventually materialized below me, its 10 white platform tents shimmering on a piñon-juniper plain. So that's what glamping looks like, I thought. 
I arrived a skeptic. I've no fondness for faddish words, especially the one mashing glamour with camping. I've backpacked, tent-camped, and car-camped enough to know that 1,800-thread-count sheets don't necessarily enhance a sky full of stars. Do you really need gourmet meals, live music, and over-the-top s'mores to appreciate nature? 
In less than 24 hours, KitFox would convince me—gently, graciously—that, well, it doesn't hurt. 
Jennifer Kolker dreamed up this bit of luxury-on-the-llano about 14 miles south of Santa Fe. Her life and business partner, Brandon Gregoire, planted the seeds when the two New Mexico natives were working in Houston after earning twin MBAs at the University of New Mexico. They began cheffing up enough homegrown and farmers' market produce to create a secret supper club before relocating to Santa Fe and operating it as Dig & Serve. The pop-up, experiential dining events required knowing someone who knew someone to snag a ticket. You only learned where you were going 24 hours before. 
Enough corporate clients and wedding planners soon heard of them to put the pop-ups on a back burner. But something was missing.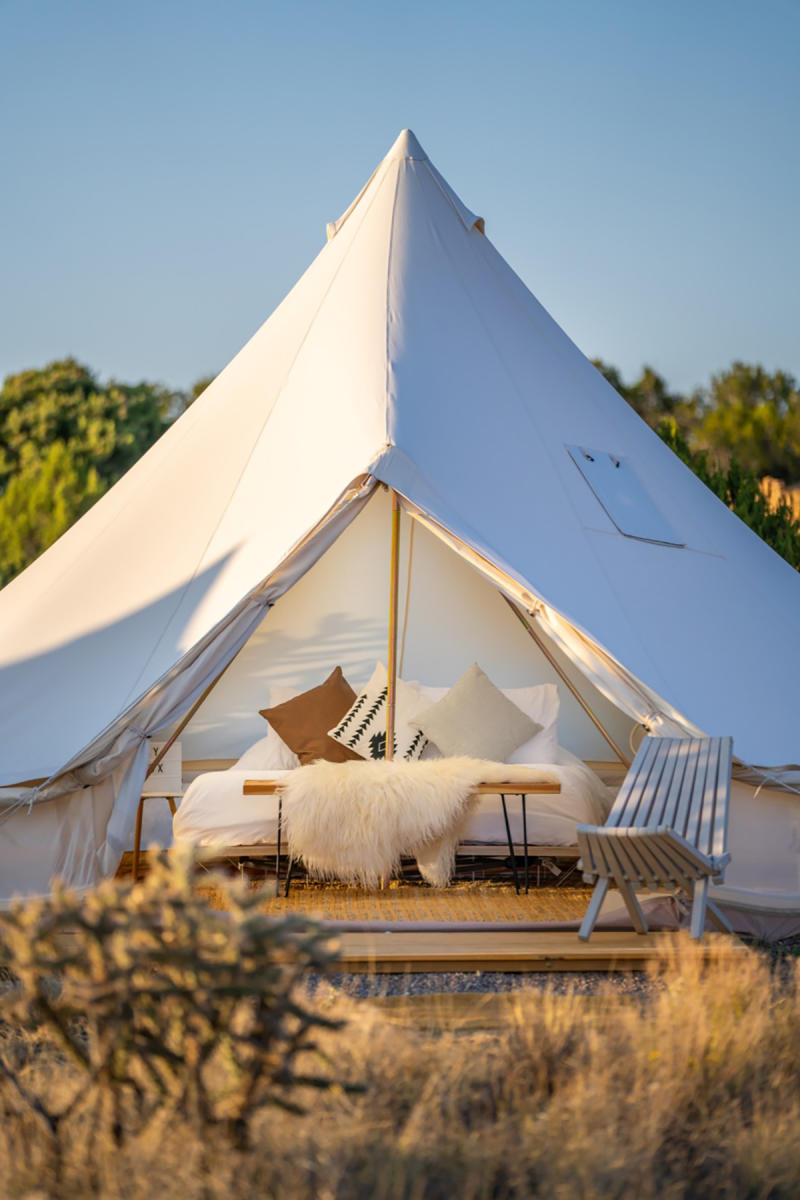 KitFox's safari tent offers a peaceful place to spend the night in style. Photograph courtesy of KitFox.
"I came back from Houston because I missed the sky and earth and easy access to land," Kolker says. "I needed that sense of groundedness, and I wanted to be able to provide that experience. Anyone can go hiking and backpacking, but maybe you have young kids, or no time, or you're someone who's just traveling to Santa Fe for a few days. This lets you experience the land in a way you wouldn't be able to." 
It took her two years to find 160 acres of private property within the preserve. The pandemic stalled her 2020 opening, but this past spring, reservations rolled in. "We're booked through fall," she says.  
KitFox accommodates everything from days-long retreats to bring-your-own-food overnights. I lucked into Dine in the Wild, an overnight that comes with Gregoire's apps, dinner, dessert, and a morning-after breakfast of mic-drop caliber. My safari-style tent held a queen bed, down comforter, sheepskin throw, and an iPhone charger.  
I hit the walking trails twice, read half of a novel on the deck of my tent, and marveled at how much better freshly grilled trout tastes when eaten outside. I didn't miss puzzling over a campsite, fumbling with dirty dishes, or undoing the spinal kinks rendered by blow-up mattresses.  
"You changed me," I told Kolker. 
"This is something that every human can appreciate and enjoy," she replied. "It's the earth. It's made for everybody. It heals everybody, too, if you give it long enough."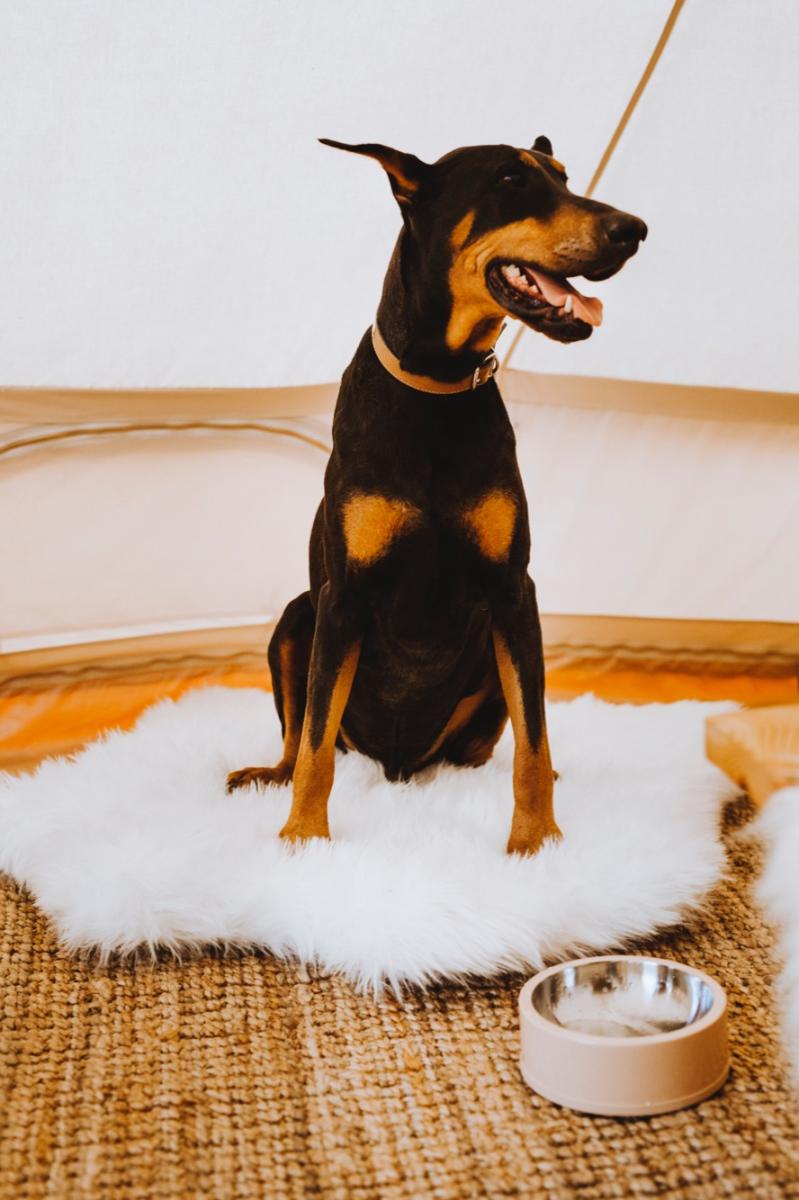 KitFox's 10 safari tents provide luxurious digs for you and your travel companion. Photograph courtesy of KitFox.
CAMP CONFIDENTIAL
Best site: What? At KitFox, they're all good! The tents can be laid out with a queen bed or two twin beds, and an extra-large king tent has a spacious deck.
Nearby activities: Games like cornhole and s'mores around the campfire are on-site, along with a trail that tallies about two moderate miles. A bounty of easy to challenging hiking and biking trails web through the surrounding Galisteo Basin Preserve. 
Bathrooms: Two outhouses.
Water: A station with running water stands next to the outhouses for basic cleansing. Each tent has a large urn of mineral water for drinking.
Dogs: Yes! (Kids, too.)
Fee: From $200 per night. 
---
Read More: Getting outdoors doesn't have to mean roughing it.
Read More: Try these ideas for backyard camping with the kids—and ensure they stick with it all night long.
Read More: Riana Campground's proximity to fantastic hiking, fishing, and much more makes it a dream base for no-frills RVers.