Many Riana Campground sites, nestled among piñons and junipers, feel private while offering access to hiking and good RV living.
SIX YEARS AGO my wife, Jen Judge, and I bought an Airstream trailer. Her initial plan was to use it as our winter home, escaping our permanent residence in Santa Fe and heading to Arizona before the first snowfall. But we saw so many wild and wondrous places on that inaugural excursion—Organ Pipe National Monument, Salt River Canyon, the North Rim of the Grand Canyon—that we resolved to rent out our home, live full-time in the 23-foot trailer, and see the West. From summers in Idaho's Sawtooth Mountains to winters in Texas Hill Country, the Airstream became our ticket to far-flung adventures. 
Then one stormy spring day, after a resupply visit to Santa Fe took longer than expected, we made Riana Campground our overnight home. About an hour north of Santa Fe, the 52-site campground overlooking Abiquiú Lake was a place we'd never considered: It was too close to home, too accessible, too common. 
But on that initial stop, I was stunned by the beauty of the place and sorry we hadn't stopped in sooner. 
Riana is perched atop a rocky promontory that is reflected in the lake's shimmer. On our first evening, thunderheads cast ivory streaks across the water's cobalt surface like battleships on patrol. To the south, curtains of rain played hide-and-seek with the elegant flat top of Pedernal. To the north, the red mesas of Ghost Ranch brooded in the mist like great sandcastles abandoned by the gods.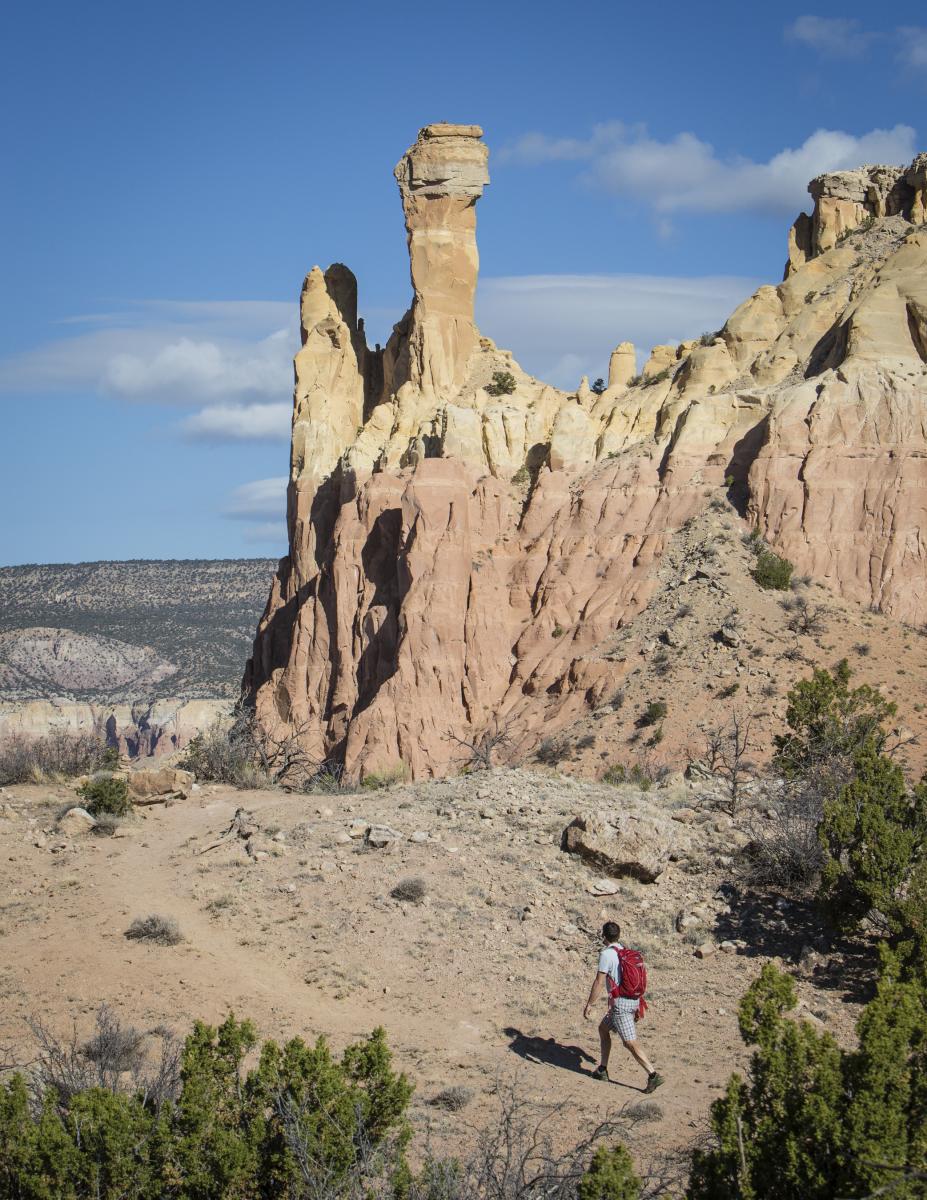 The nearby red mesas of Ghost Ranch offer several stunning hiking trails. 
Of all the inspiring places I'd camped over the years of trail-ering around the West, this place connected with me like no other. 
Though we were only looking for a place to lay our heads for a night on that first visit, we stretched our stay to more than a week. And from that point forward, we began planning our travels to include Riana, a campground with only 15 electrical hookups and few of the amenities found in luxury RV parks. We reserved our favorite site, number 39, six months in advance, as soon as bookings opened, for a week or more starting on opening day (April 15).  
Each time we passed through New Mexico, we cajoled friends from Santa Fe who wanted to hang out in town into meeting us at Riana, with promises of grilled elk steaks, lake views, and a spray of stars. Why sleep in someone's spare bedroom when I could wake to canyon country overlooking glistening water? 
Riana became a home away from home. We learned to paddle our kayaks on the Río Chama, just a few miles away, and found our favorite mountain bike ride in the state. Even after we moved back into our Santa Fe house, I'd often pull the trailer north and set up for 10 days of sun, wind, quiet, and writing inspiration. 
In January, Jen and I started a job that put a leash on our peripatetic lifestyle. We worked almost every day for the first five months of the year. When we finally scored a couple days off in a row, there was no hesitation about where we'd spend them. 
We hitched up the Airstream and pointed toward Riana. The place worked its alchemy, as it always has. Even with temperatures in the nineties, the trails were cool in the morning, a soak in the lake cut the afternoon swelter, and the dipping evening sun turned the water to gold.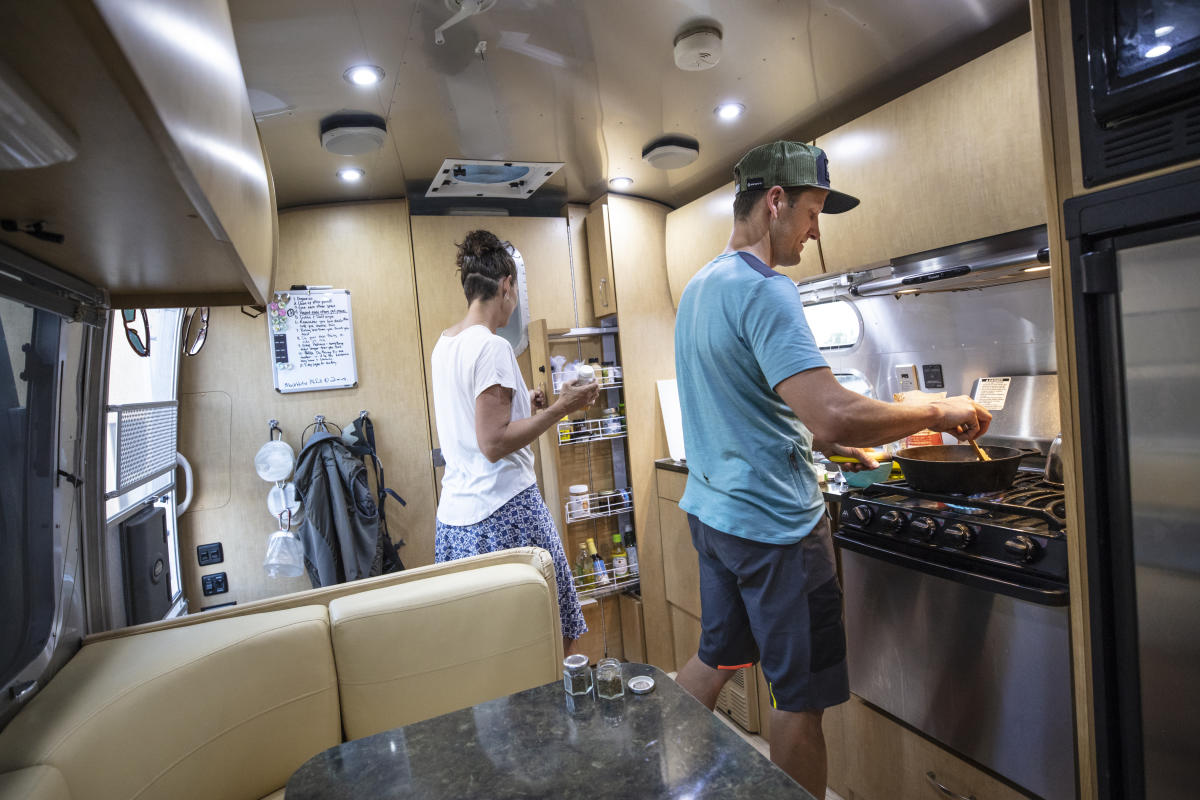 RV camping provides a home away from home.
CAMP CONFIDENTIAL
Best site: The highest at Riana Campground, the nonelectrical number 39, offers expansive views of the lake, a feeling of total privacy, and the closest approximation of boondocking as you can get in a designated campground.
Nearby activities: Playground, beach volleyball, fishing, swimming, and water sports on Abiquiú Lake, and fantastic hiking and mountain biking.
Bathrooms: Basic showers, flush toilets, and a dump station.
Water: Available.
Dogs: Allowed on leash.
Fee: $12 per night; $16 per night with electrical hookups. 
---
Read More: Camping experts Stephanie and Jeremy Puglisi unpack a few of their best overnight tips.
Read More: Live your best RV life at these five parks.
Read More: Ghost Ranch's tour manager answers even the questions visitors don't know to ask.