Above: A hot-air balloon over Gallup, during the Red Rock Balloon Rally. Photography Courtesy New Mexico Tourism Department.
HOLIDAY BIZARRE
New Mexico's avant-garde spirit thrives this holiday season. Meow Wolf, the Santa Fe art collective that packs in crowds of all ages, debuts a line of Experience Tubes by artist Nicholas Toll. Available throughout December in the gift shop of the House of Eternal Return, they look like long stockings with holes at each end. Two participants place the ends over their heads to view each other's faces through a mesmerizing, twisting tunnel of fabric. (505) 395-6369; meowwolf.com
Find more offbeat gifts at String of Lights: A Holiday Market in Santa Fe. Hosted by the After Hours Alliance on December 9 at the Farmers' Market Pavilion, the event features more than 50 vendors from all across New Mexico, plus holiday cocktails by Santa Fe Spirits (505-983-4098; ahafestival.com). Christmas in the Foothills is Hillsboro's annual holiday festival, where an array of vendors sell handcrafted gifts. The December 2 celebration at Hillsboro Community Center includes a $49.99 Art Show and Sale, which raffles off valuable local artworks for a better–than–Black Friday price. (575) 895-5117; sierracountynewmexico.info
THANKS FOR THE LIFTS
Some 200 hot-air balloons enter Santa's flight path in and around Gallup for the Red Rock Balloon Rally, December 1–3. The festival began as a humble gathering of 50 balloonists who navigated the craggy bluffs and canyons of Red Rock Park. Thirty-seven years later, it's the second-largest rally in New Mexico, after the Albuquerque International Balloon Fiesta, with pilots and balloon enthusiasts from around the globe. (Some say they like it even better than Albuquerque's, thanks to smaller crowds, great scenery, and Gallup's Native shopping scene.)
In addition to a daily mass ascension at various sites, the event features ballooning competitions, a Native arts-and-crafts fair, a Christmas parade, and a "balloominaria" (a cleverly punned, holiday-timed balloon glow). Among the event's myriad special-shape balloons is Koshare Gallup, a towering depiction of the Puebloans' sacred clown, piloted by rally co-founder Peter Procopio. (800) 242-4282; redrockballoonrally.com
LET'S GO BOWLING
Held on opening day of the NCAA bowl season, Albuquerque's 12th annual Gildan New Mexico Bowl offers classic game-day fun with a few Southwestern twists. Red and green chiles spice up the concession-stand snacks in UNM's Dreamstyle Stadium. The game's victor receives a piece of Zuni pottery as a trophy. And the most valuable players score traditional Pueblo leather shields. Will teams from the Mountain West Conference and Conference USA win spots? They've gone head-to-head in three of the last six games, with the Mountain West seizing the trophy each time. The UNM Lobos surely hope to make it to the December 16 game to repeat last year's win. (505) 925-5999; gildannewmexicobowl.com
FERMENT STATION
A Franciscan friar and a Capuchin monk planted New Mexico's first wine grapes in the fertile soil of the Río Grande Valley in 1629. That makes this the oldest wine region in the nation, and the tradition continues at more than 60 wineries around the state. Some of the finest vintages will flow at the seventh annual Carlsbad Winter Wine Festival, December 1–2, at the Rio Grande Convention Center. The event pairs New Mexico wineries with specialty food vendors and local arts and crafts. Only a few hundred tasters get into Friday's VIP party; reserve your spot. (575) 522-1232; carlsbadwinterwine.com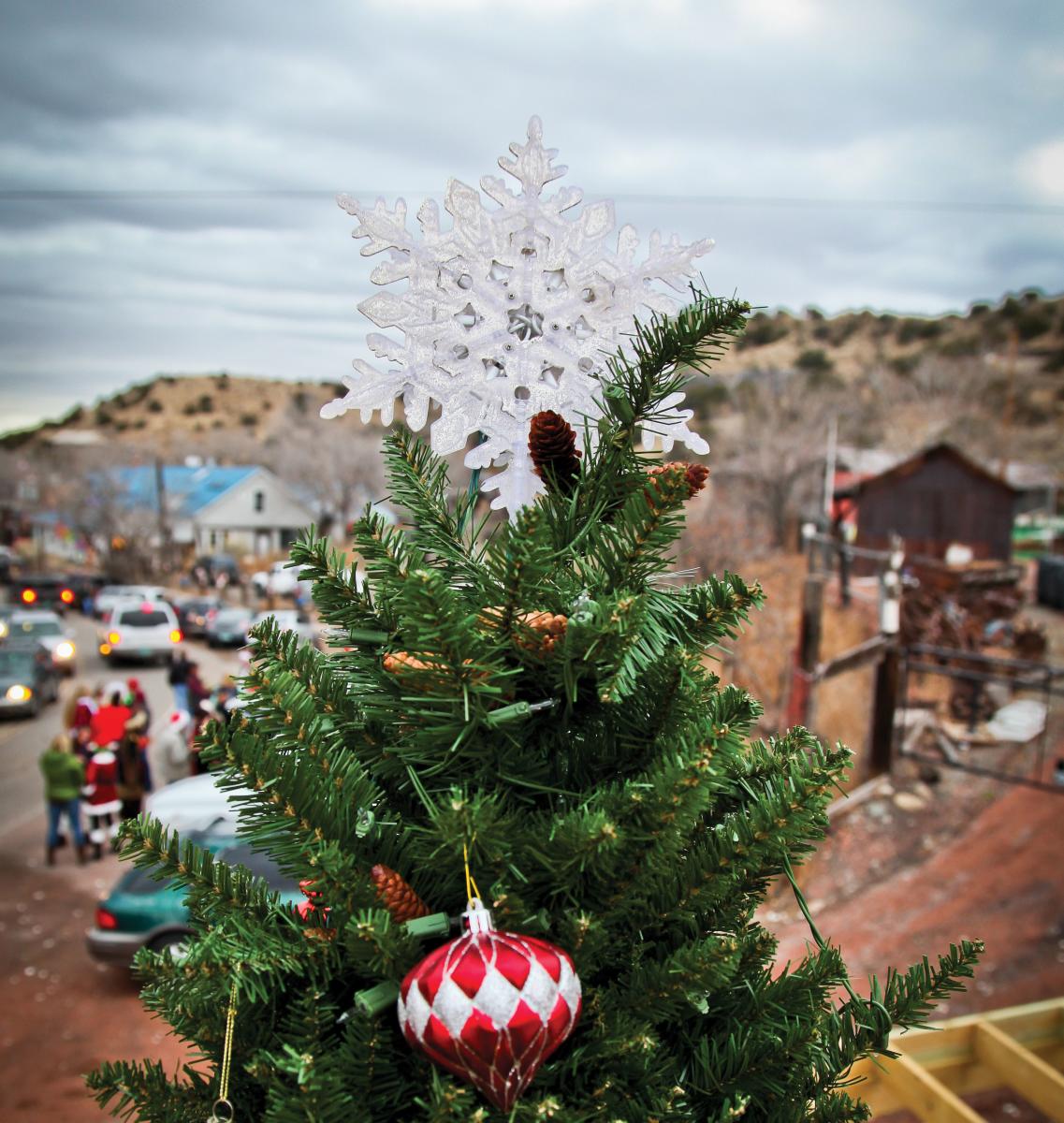 Above: Madrid residents line up for the Christmas parade. Photography by Amiel Gervers.
POWER PLAYS
Madrid's Christmas light display was a national sensation when it debuted in the 1920s. The then-booming coal-mining town deployed some 150,000 lights powered by 50,000 kilowatts of electricity. The spectacle attracted plane flyovers and inspired the design of Disneyland's Main Street, USA. (Or so the legend goes.) The village still flips on festive lights, albeit fewer, but you must bucket-list its classically quirky Christmas Parade (see "The Yak Who Stalled Christmas"). Head out on December 1, shop for Christmas loot at the town's many galleries and boutiques, and pick a prime parade-viewing spot at 4 p.m. (505) 471-7605; visitmadridnm.com
Las Vegas' Electric Light Parade on December 2 offers a glimpse at the city's dazzling architecture. With over 900 buildings on the National Register of Historic Places, it's perfect for a festively lit evening stroll. This year's event honors local firefighters and concludes at Plaza Park with a visit from Santa. (505) 426-3277; visitlasvegasnm.com
Española celebrates the history of a long-gone railway at its Electric Light Parade on December 2. Themed "Chili Line Christmas," after the 1880s narrow-gauge train that connected Santa Fe and Antonito, Colorado, the cavalcade ends at Plaza de Española with a fireworks display, petting zoo, and miniature train rides for kids. Santa arrives by helicopter (505-747-6100; cityofespanola.org). The Festival of Lights Parade in Ruidoso partners with Toys for Tots. Take a new, unwrapped gift to the December 2 event and folks on a special float will collect it. (877) 784-3676; discoverruidoso.com
NATIVE WAYS
The ninth annual Pueblo Gingerbread House Contest at the Indian Pueblo Cultural Center in Albuquerque challenges creative bakers of all ages to construct sweet versions of Pueblo villages, homes, churches, and historic buildings (505-843-7270; indianpueblo.org). See the edible entries from December 4 through early January, before heading out to pueblo celebrations all across the state, including those on Our Lady of Guadalupe Feast Day, December 12. Tesuque celebrates with Bow and Arrow, Comanche, and Buffalo dances. Jemez presents the Matachines dance. (505) 843-7270; indianpueblo.org
Taos Pueblo's Christmas Eve Procession begins at sunset as bonfires roar to life to illuminate a path for Mary and Joseph's journey to Bethlehem (877-587-9007; taos.org). Many pueblos host dances on Christmas Day and the three days following, including Ohkay Owingeh, near Española, Picuris, south of Taos, and Zia, northwest of Albuquerque. Confirm dates at indianpueblo.org, where you can also find a full schedule.
BROWN BAG IT
Paper lanterns form glowing constellations on rooftops, walls, and walkways all over New Mexico. Some folks call them luminarias, others farolitos. No matter the terminology, the charming regional decorations light a number of holiday walks. The Lighting of Ledoux Street, December 2 in Taos, transforms the gallery-and-museum district into a winter wonderland, with a luminaria parade and roaring bonfires (800-732-8267; taos.org). At Elephant Butte State Park, near Truth or Consequences, the Elephant Butte Luminaria Beach Walk on December 9 unfolds along the shores of a serene reservoir (575-894-1968; sierracountynewmexico.info). Rockhound State Park, outside Deming, lights over 1,000 lanterns in its gardens and labyrinth for Luminarias Night on December 9. Santa Claus will do his thing, and hot cider and bizcochitos will be served. (575) 546-6182; friendsofrockhound.org
In Santa Fe, the Christmas Eve Farolito Walk on Canyon Road is a must-attend event, with upwards of 30,000 revelers basking in the glow of farolitos that crown the historic road's art galleries and residences. (800) 777-2489; visitcanyonroad.com
MIDWINTER NIGHT'S DREAM
New Mexico's sweeping high desert delivers an extraordinary opportunity to witness the winter solstice, also known as Yule or midwinter. The astronomical event unfolds December 20–21 as the sun traces its lowest arc and sets at its southernmost point on the horizon. It's the longest night of the year, beginning with a stunning winter sunset, if the western sky is clear. Remarkable evidence of how Ancestral peoples marked the solstice can be found in structures built between the 11th and 13th centuries at what's now Aztec Ruins National Monument. On both days of the solstice, park rangers and volunteers lead hikes to the Aztec West great house for a Winter Solstice Sunset Alignment Observation. The north wall of the towering stone ruin aligns with the sunset. Guided walks begin at 4:30 p.m. (505) 334-6174; nps.gov/azru
At Bandelier National Monument, park rangers host Winter Solstice Walks on December 21 among the ruins. Tours occur at 7:15 a.m. and 1:30 p.m. (505-672-3861 ext. 517; nps.gov/band). At Chaco Culture National Historic Park, only 100 visitors will be admitted on December 21 for a Winter Solstice Sunrise Alignment Observation at the Chaco great house. Arrive about an hour before sunrise. (505) 786-7014; nps.gov/chcu
SNOW GLOW
Over 300,000 Christmas lights fill Belén's Harvey House Museum and spiral across its grounds for the Bugg Light Festival, a new chapter of a 47-year tradition that began in an Albuquerque family's front yard. Their over-the-top vintage decorations, nativity scenes, and more than 100 Christmas trees light up the sky each evening, from late November through December 30 (505-966-2730; belen-nm.gov).
Farmington's Riverglo hosts carolers and live nativity scenes in Berg Park, along the Animas River on December 1 (505-599-1422; farmingtonnm.org). December 1–30, the Albuquerque BioPark shimmers during River of Lights, with more than 500 holiday displays, hands-on crafts, and other fun activities (505-768-2000; cabq.gov).
December 16–January 1, the Santa Fe Botanical Garden's GLOW dazzles visitors. And don't miss the nature-inspired goods in their gift shop. (505) 471-9103; santafebotanicalgarden.org
---
BE SMART!
Adventures abound this December, but many holiday happenings depend on weather and other factors. Before you hit the road, confirm the events, and check driving conditions at nmroads.com.