OKAY, I'M JUST GOING TO COME RIGHT OUT and say it: New Mexico has a lot of mediocre green chile cheeseburgers. Overcooked patties. Spiceless peppers. Unmelted cheese. Soggy buns. Get out of here with your soggy buns! I suppose that's the consequence of their ubiquity. Green chile cheeseburgers in New Mexico are like gumbo in New Orleans: You can find it on every block, but inevitably there might be a few just okay versions.
Read more: The 10 Best Barbecue Restaurants in New Mexico. 
The thing is, we also have the best green chile cheeseburgers. And that's why we're here. We want you to eat a better burger. Because hot damn, after a long day outside, is anything better than a juicy, spicy hamburger on a perfectly toasted, airy bun? Feeling good? I am! Let's add some avocado, crispy bacon, onions, and, hey why not, a fried egg, too. That stack of indulgence right there might just be the most New Mexican thing we know. Now let's talk about how to build your own. —JCD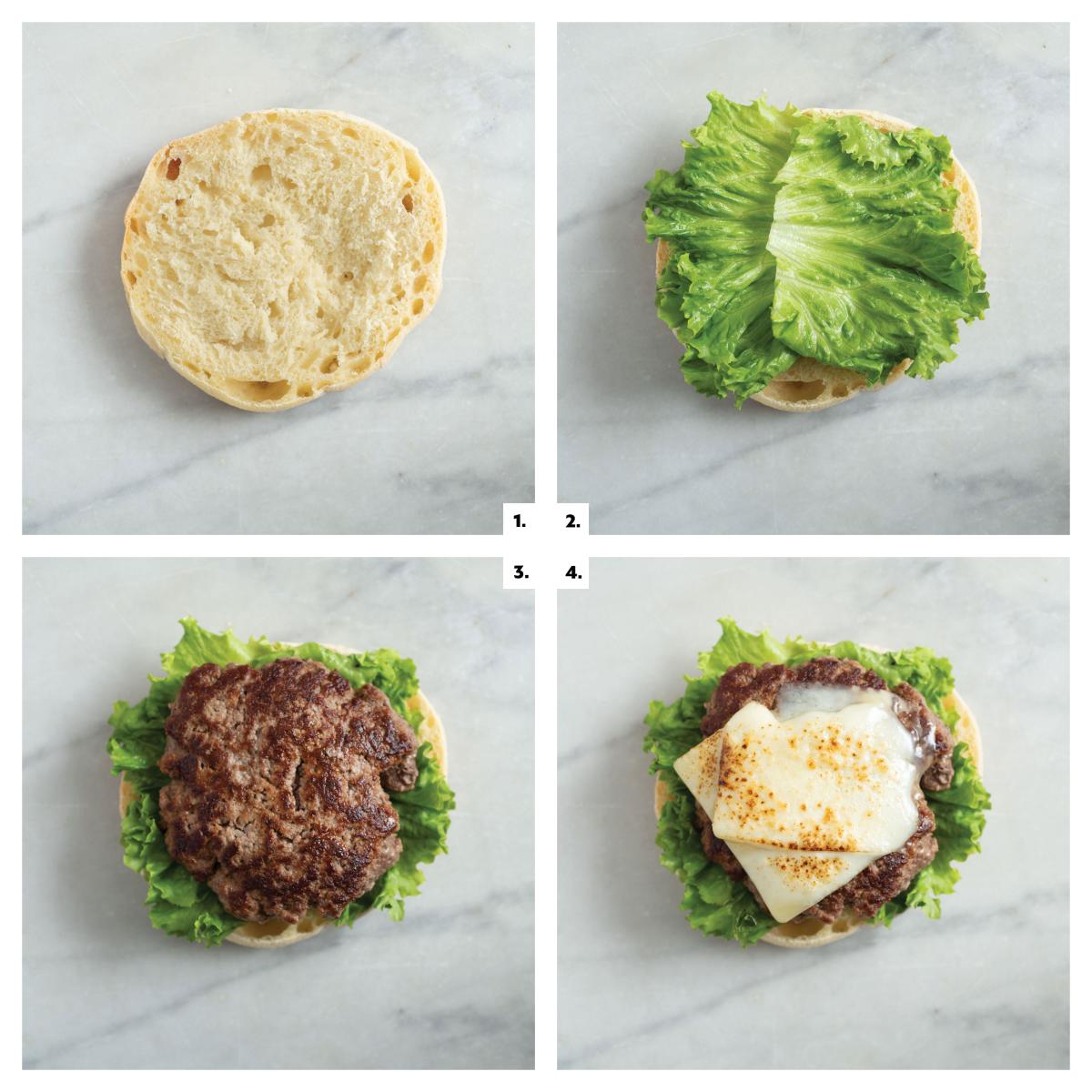 THE PROCESS
Step 1: Sage Bakehouse, in Santa Fe (and sold throughout the state), makes our favorite buns. Choose to use yours right out of the bag, as in the photo here, or give the interior a light toast on the grill.
Step 2: Sacrilege? Maybe not. Lettuce keeps the bun from getting too soggy. We know, we know. Some of you adore that soggy bun. Whatever. Go for it.
Step 3: La Montañita Co-op carries beef raised on Native American ranches. We won't tell if you go meatless or choose buffalo, lamb, or all of the above. Note: Chicken makes a chicken sandwich, not a burger.
Step 4: Tucumcari Mountain Cheese Factory's gouda melts beautifully and adds a mellow tang.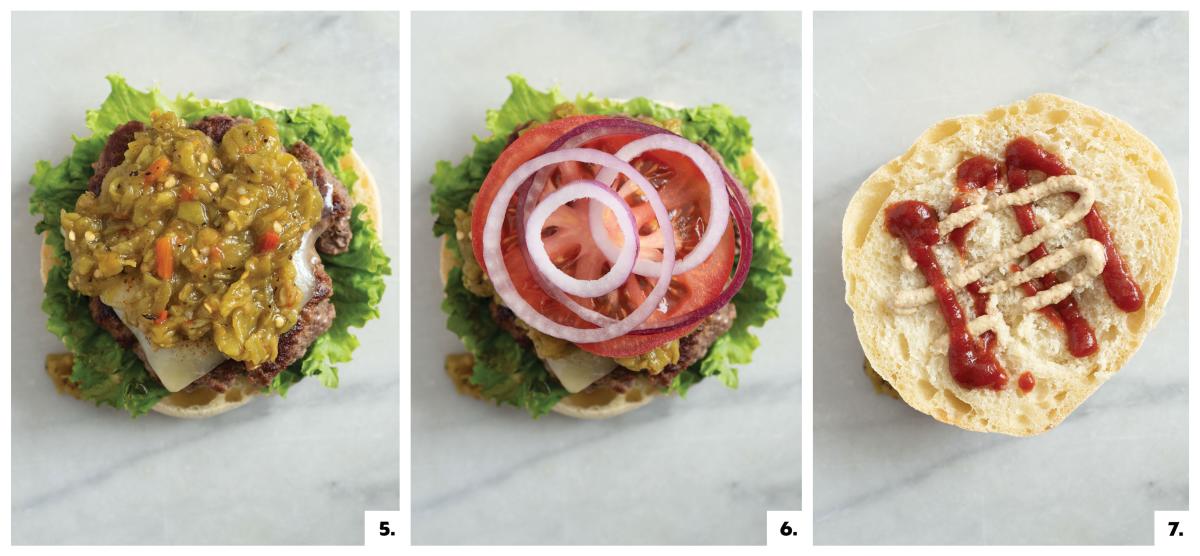 Step 5: The star of our show: GMO-free 505 Flame-Roasted Green Chile comes in a jar, so it's available no matter the season. Whether mild, medium, or hot, apply liberally.
Step 6: Eat your veggies. Tomato and onion are great. So are avocados, roasted jalapeños, and pickles. But watch it, cowboy. You're building a burger, not a salad bar.
Step 7: Favorite condiments? Ketchup, mustard, horseradish, and sriracha. Mayo and ranch dressing, too, we guess, but only if you must.

SOME BURGERS WE LOVE
You Broke (under $10)
You Doin' All Right ($10–$15)
Sparky's: Hatch; Combo #1 World Famous!, $10.99
Range Café: Albuquerque, Bernalillo, and Las Vegas; the Original Range Burger, $12.99
You Goin' for It ($15 and up)
Joseph's: Santa Fe; NM Lamb Burger, $16 Joseph's
Sheep's milk cheese and green chile
The Compound: Santa Fe; Compound Burger, $16 The Compound
Local Lone Mountain Ranch Wagyu beef, avocado, tomato, griddled bulb onions, and aioli, with french fries
Izanami: Santa Fe; Umami burger, $18 Izanami
Wagyu beef blended with shiitake mushrooms, shiitake-onion ragout, tempura green chile relleno stuffed with Spanish goat cheese, house-made brioche bun, homemade pickles
Read More: New Mexico's cuisine, often lumped together with other regional fare, has its own unique DNA.
BURGER BATTLE
When we asked our readers where they have to go for a green chile cheeseburger, some familiar names floated to the top. Sparky's, in Hatch, got a lot of love. Although it represents quite the drive for most of us, every time I've gone, I've run into friends from all over the state. The Owl Café grills 'em up in Albuquerque and San Antonio, but the San Antonio locale seems to be most folks' fave. And then came the laments for the closing of the Buckhorn Tavern, which sits right across the street from the San Antonio Owl. In the middle of that street, the two-lane US 380, lay many a tasty argument over who made the better burger.
Last year, though, Buckhorn owner Bobby Olguin made it through a cancer scare and decided he'd rather spend whatever time he had left with the people he loved best. Unfortunately, that wasn't those of us who crowded into his longtime family-owned restaurant seeking the burger that literally Beat Bobby Flay, as the Food Network show is titled. Good news: In April, Ernie and Stephanie Sichler announced that they had purchased it, with a planned reopening this June. (Note: Buckhorn Tavern has reopened since this story was originally published.)
May the Owl vs. Buckhorn burger battle live on. —KN
Read More: In New Mexico, chile is more than a basic food group. It's our identity.
A PICKLE A DAY
These aren't your ordinary dills.
With all the talk about gut health, the usual contenders, aka the three K's—kombucha, kimchi, and kefir—typically outshine the humble pickle. But let us not forget that, when fermented in saltwater brine (and not vinegar), the pickle carries a lot of probiotic muscle. 
Pat Block, a retired assistant director of the New Mexico Department of Game and Fish, who has a love of fermentation, founded Barrio Brinery, in Santa Fe, on those pickling principles. Since then, his pickles, escabeche (mixed vegetables, including jalapeños, carrots, and onions), and sauerkraut have added the tangy crunch that cheeseburgers, tacos, and hot dogs would be incomplete without. Pop into the shop at 1413 W. Alameda St., where you can taste everything before you buy it, and pick up some classic kosher pickles, garlic pickles, or hot and spicy pickles made with New Mexico red chile for that extra kick.
WHERE TO BUY: Barrio Brinery or Dr. Field Goods Butcher Shop, in Santa Fe, Los Poblanos Farmshop, in Los Ranchos de Albuquerque, and FARMesilla, in Las Cruces. Skarsgard Farms and Squash Blossom also deliver. —AIG