NOTHING BURNS OUR BURRITOS like hearing people—including otherwise knowledgeable foodies—refer to New Mexico's cuisine as "Tex-Mex" or "Mexican."
The confusion is understandable to a point. Yes, we share staples—chiles, posole, tortillas, and beans, for instance—but our only-in-New-Mexico spin is a centuries-old distillation of Native foraging and cultivation, Spanish colonial imports, and a long period of geographic isolation, before the railways began offloading edibles from elsewhere.
"It's really important to understand that New Mexican food, as similar as it is to Mexican in some respects, grew up independently," says Bill Jamison, co-author with our culinary editor Cheryl Alters Jamison of Tasting New Mexico: Recipes Celebrating 100 Years of Distinctive Home Cooking (Museum of New Mexico Press). "There was little influence back and forth between what is now New Mexico and Mexico in the 17th and 18th centuries. A wagon train would come up every two or three years and bring nice things for the rich folks in the area, but not for the general population. Chile became a dominant feature in this period of isolation."
Read More: New Mexico's oldest cuisine goes modern—while staying authentic.
That's why when you walk into a classic New Mexican restaurant, or are lucky enough to sit down at a traditional New Mexican home-cooked dinner, you won't be served a Oaxacan tamale filled with chicken mole and wrapped in a banana leaf. You also won't be eating crispy-shelled tacos filled with refried beans and topped with shredded Velveeta and sour cream, followed by fried ice cream. You'll tuck into some of this: stacked red chile enchiladas, green chile stew, chiles rellenos, pinto beans, chicos, carne adovada, a basket of sopaipillas or horno bread, and natillas (custard topped with cinnamon) or biscochitos for dessert.
Chile, of course, is the most essential—even sacred—ingredient in New Mexican cuisine. Like France does for its wine grapes and cheeses, "We pass legislation protecting our chiles. You can't grow a New Mexico chile in Texas," says Santa Fe–based Kiowa chef Lois Ellen Frank, author of the James Beard Award–winning Foods of the Southwest Indian Nations (Ten Speed Press).
Read More: New Mexico chile fuels a global love affair. We dive into the science, the romance, the flavors, and the recipes.
Along with their vibrant color and flavor, chiles have always brought a lot to the table. "Ancestral indigenous people knew two things," Frank adds. "Chiles have flavor, and they have medicine." Along with vitamin C, they contain capsicum oil, which is now found in over-the-counter pain-relieving ointments. "The spiciness releases feel-good endorphins in the brain," she says. "Chiles were also used to kill bacteria during the curing of meat to make jerky."
In a state so beautiful that it daily makes visitors lose their minds, abandon their regularly scheduled life, and relocate here, an accurate understanding of New Mexican food is the litmus test that separates the newbies from folks whose roots go back centuries. Tip: Never spell it "chili" unless you'd like someone to tell you to go back to Texas.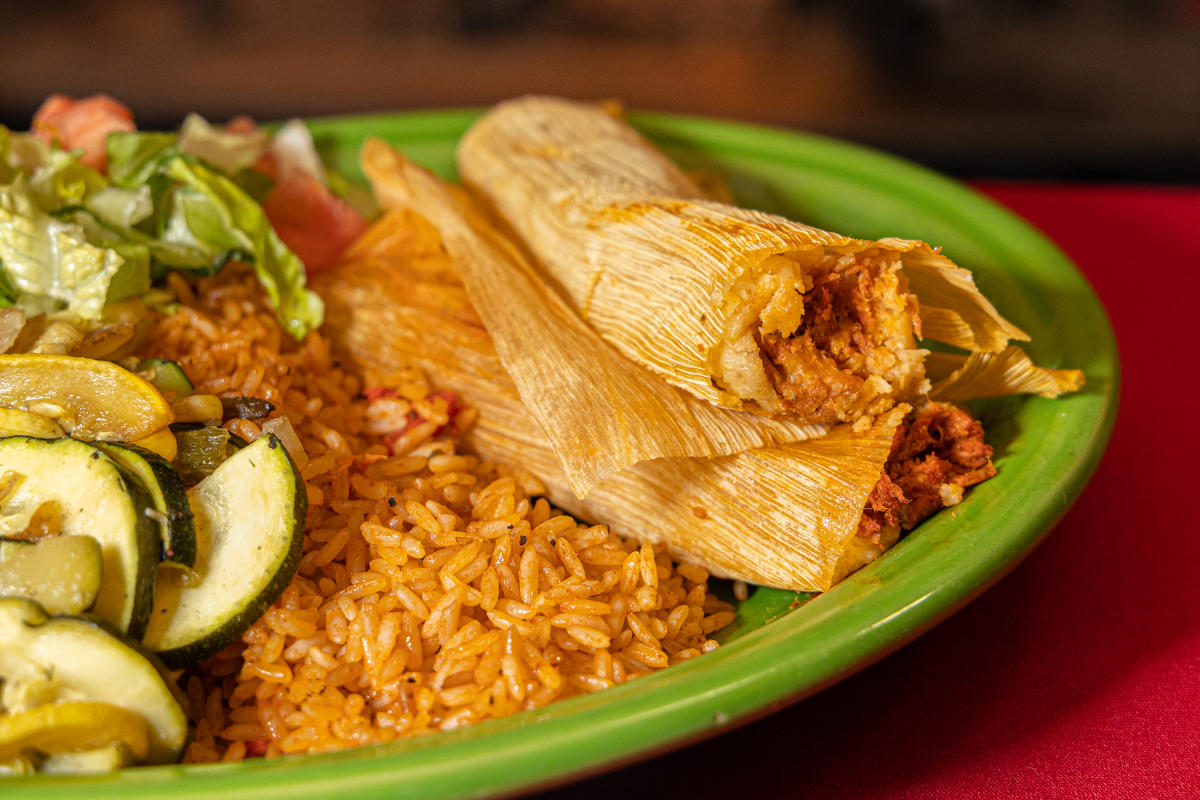 Tamales are a must during the holidays, but also make for a great year-round lunch or dinner. Photograph by NMTD.
Top 20 New Mexican Foods
1.

Green Chile
If this state didn't have such a strong Catholic identity, we'd probably all bow down to statues of green chile and regularly attend green chile houses of worship. Wait—many of our restaurants probably fit that description.
Apart from dried green chile, year-round green chile is actually a relatively recent development; before refrigeration, the young form of the New Mexican chiles could be enjoyed only until they matured into red ones. Hatch is the best-known source, and it's a region and a brand, not a specific type. Arguably the best-known variety is Big Jim, named after the late Hatch chile breeder Jim Lytle.
Found in green chile stew. Move over, chicken noodle soup. This stuff is New Mexico's penicillin—and ultimate comfort food. Chopped chile, pork, onions, garlic, and potatoes are the usual building blocks. also: green chile chicken enchiladas, green chile cheeseburgers (see below), breakfast (and regular) burritos, candy, and even beer—almost anything, when you get right down to it.
2. Green Chile Cheeseburgers
The bun is crusty, or cheek-soft, or brioche-flaky. The meat is rich, the patty pancake-flat or ovoid. We add a layer of cheese (usually Jack or Cheddar), maybe some bacon, and the elevating showstopper, green chile—diced, sliced, or whole wilted. It's our default lunch or dinner choice, our tower of power, our point of pride, our fat stack, our singular source of go-to satisfaction, our comforting panza plumper.
What makes it ours? It was invented here, and the green chile seals the deal. Our state has a Green Chile Cheeseburger Trail with almost a hundred options (although there are many more).
3. 

Chiles Rellenos 
Take a New Mexico green chile, stuff it with Jack cheese, dip it in thick cornmeal batter, and fry it. Served with chile and more cheese, they're best eaten before a strenuous hike, although a nap might be more appealing.
What makes it ours? New Mexico chiles are used; Mexican rellenos' batter is thinner and eggier.
4.

Red Chile
If green chile is like a zippy, fun sauvignon blanc, then red chile is like petite sirah: earthy, extracted. Not only does it eat off a woman's lipstick, it replaces it with its own rusty stain. The mature form of green, its smoky ballast is the yang to green chile's yin. Some swear it's a great hangover cure. You'll find red chile dried in the form of pods, flakes, or powder, and it's incorporated into sauces, not served whole. Lots of people order "Christmas," both red and green, to get the best of both worlds. Chimayó red is a top pick.
Found in carne adovada, stacked red chile enchiladas (see recipe), as a sauce over huevos rancheros, and in chocolate. 
5. 

Carne Adovada 
Pork slow-braised in a spicy red chile bath for hours, then served on its own, folded into burritos, dolloped on savory breakfast dishes, or in omelets. 
What makes it ours? The red chile.
6. 

Stacked Red Chile Enchiladas with a Fried Egg
This was the most-cited ultimate New Mexican meal in a recent Facebook post, which corroborated Bill Jamison's recommendation. (See recipe below.)
What makes it ours? "Mexican enchiladas aren't as heavily sauced," Cheryl Alters Jamison says, and of course, the key ingredient is our red chile.
7. 

Huevos Rancheros 
Two eggs over easy, atop tortillas, smothered with chile and surrounded by whole beans and smattered with cheese—this breakfast handles the hunger of cowboys and desk jockeys alike.
What makes it ours? Blue corn tortillas under the eggs, red and/or green chile ladled on.
8.

Blue Corn
A Native staple, usually ground, it provides 20 percent more protein, has a lower glycemic index, and is sweeter than yellow or white corn. Corn is sacred here; in Pueblo jewelry, stones are carved into representations of corn and the Corn Maiden, who symbolizes life. Pick up some locally grown blue corn at Taos Pueblo's Red Willow Farmers' Market.
Found in blue corn tortillas and chips, blue corn breakfast porridge (chaquehue), blue corn pancakes, and atole, a hot beverage.
9. 

Tamales 
Wrapped like presents in corn husks, tamales are a Christmas must, but the steamed blue or yellow cornmeal-and-lard pouches also make a great year-round lunch or dinner.
What makes it ours? The use of blue cornmeal and/or red and green chiles in the pork filling.
10. 

Tortillas 
Yes, tortillas are found everywhere, but "blue corn tortillas really evolved as a northern New Mexico thing," says Cheryl Alters Jamison. Nestled in baskets and tortilla warmers, these soft hand-made disks serve the roles of bread, wrapper, even scoop. Santa Fe devotees pick up still-warm, fluffy corn ones at Alicia's Tortilleria, 1314 Rufina Circle, Santa Fe; (505) 438-9545.
Found in burritos, enchiladas, huevos rancheros, and fried as chips.
11. 

Chicharrones 
Small pieces of pork (composed of meat, fat, and skin) are slowly simmered and fried in their own fat. Often served in burritos, or as a snack, they are a comfort food to those in the NM know. 
What makes it ours? In Mexico, chicharrones are synonymous with the airy pork rinds, and are commonly packaged as potato-chip-like salty snacks.
12. 

Chicos 
These smoky, chewy corn kernels are traditionally first horno-roasted on the cob overnight, then dried on rooftops. Buy them at Los Chileros, or from Jesus Guzman at the Santa Fe Farmers' Market.
Found in its namesake dish, a cooked-down mixture of pork, chile, onion, and oregano. The traditional family recipe of Margaret Naranjo, from Santa Clara Pueblo, includes bison and green chile, and she graciously shared her bison chico stew recipe with us.
13.

Posole
Traditionally served during pueblo feast days and at winter holiday celebrations all over the state, this hominy-like stew, packed with its namesake ingredient of nixtamalized corn, comes with most classic New Mexican combination plates. 
What makes it ours? "Posole in Mexico [spelled pozole there] is more of a main dish, usually covered with cabbage, and a lot of condiments," Bill explains. You don't find it in Tex-Mex; in New Mexico it's almost a required side dish (instead of rice as in Mexico or Texas).
14.

Beans
These whole (not refried) beans, primarily pinto but also bolita and Anasazi, are most New Mexican when they leisurely simmer in a micaceous pot made of local clay (available at Pasquals). A regular pot works fine, too, but a pressure cooker gets the frijoles ready in a reasonable after-work time frame.
Found in burritos, with chile and chicos, and as a side.
15.

Calabacitas
Sliced or cubed zucchini and yellow squash—sautéed with garlic and onions and then combined with corn and green chile, although variations are legion—is a popular summer vegetable side dish.
What makes it ours? Ours has green chile; Mexico's has tomatoes. Squash, along with corn and beans, was grown and eaten by Native people here prior to contact with the Spanish.
16.

Horno Bread
On pueblos throughout New Mexico, you'll notice beehive-shaped earthen ovens out in people's yards. Hornos were brought to this land by the Spanish, and adopted by the indigenous people, but long before that, Moorish people brought this style of oven to the Spanish. Horno bread, with a thick crust and pillowy interior, is often made in big batches. One variation contains green chile and cheese. At the Gallup Farmers' Market, you can buy sourdough horno bread, a nontraditional iteration by Zuni baker Jimmy Paywa.
17.

Navajo Fry Bread
The Diné people made fry bread out of the bags of rancid, bug-infested flour given to them by the U.S. Army after the Long Walk divorced them from their homeland and their traditional sources of nourishment. Fondly claimed by contemporary Puebloan and Diné people today, fry bread has transcended its bitter beginnings.
Found in Navajo tacos (as the shell), Navajo fry bread burgers (the bun), or sprinkled with powdered sugar on its own.
18.

Sopaipillas
Yes, they're fried pockets of dough, but no, they're not greasy; a thin, crispy outside gives way to a soft, stretchy inner layer.
Found in the north, as a main course stuffed with meat and smothered with chile and cheese, as a dinner side served with honey, or as a dessert in the southern part of the state.
19.

Piñon
This beloved nut from piñon trees is much like the Italian pignoli or pine nut. Locals aver that a good crop comes along only once every seven years. You can pick them up from trucks parked on the side of the road—you'll recognize them by the rudimentary hand-painted PIÑON sign on the side—or order them at the New Mexican Piñon Nut Company. 
Found in blue corn piñon pancakes, sweet-meat empanaditas, piñon brittle, and Taos Cow's piñon caramel vanilla ice cream.
20. 

Biscochitos 
If you tried to sell people on cookies containing lard and aniseed in any other state, it'd be rough going. But here, this cinnamon-dusted, scallop-edged shortbread elicits rapturous sighs and reminiscences of the ways beloved abuelas, madres, and tias made them oh so perfectly. That is, after the cookies are all gone.
Found in Christmas potluck table offerings, but eaten all year round.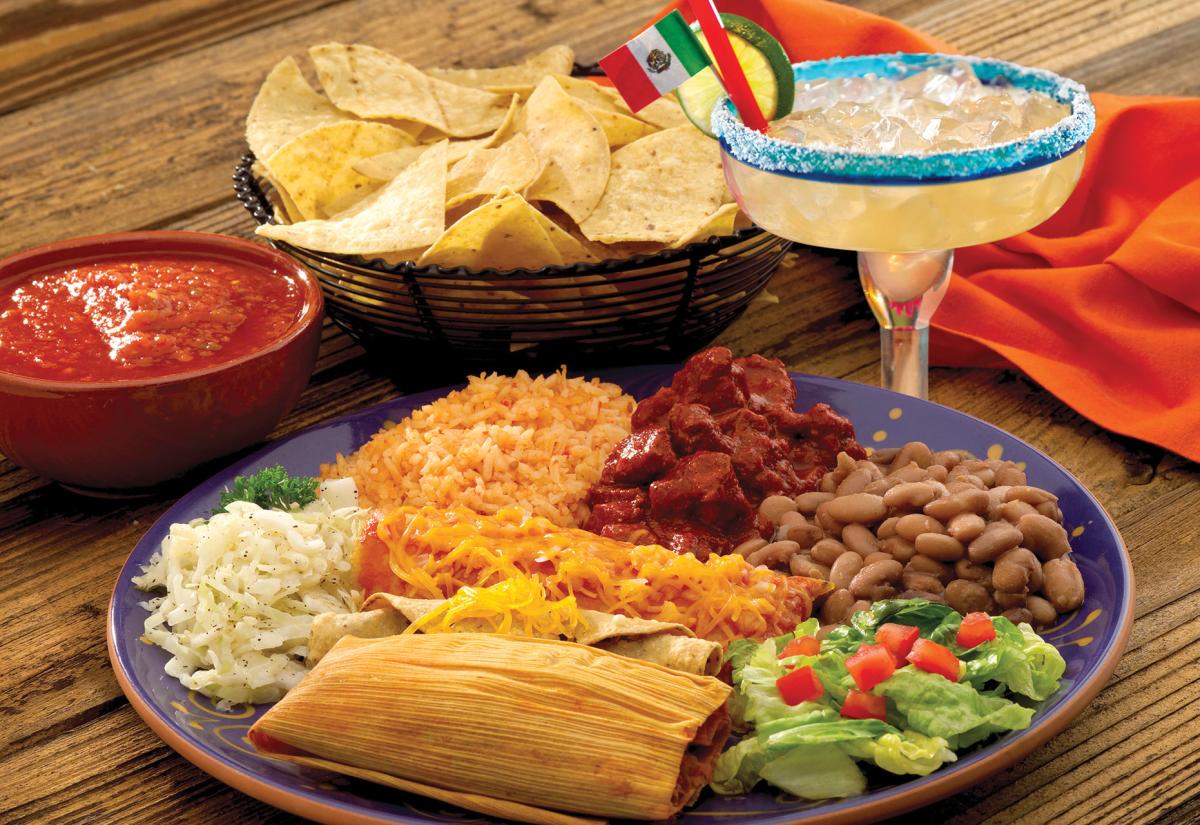 A margarita pairs with every meal at La Posta. Photograph courtesy of La Posta de Mesilla.
12 Of Our Readers Favorite Restaurants (and What to Order!)
ANGELINA'S RESTAURANT
1226 N. Railroad Ave, Española; (505) 753- 8543. Order the posole. (Note: This business has closed since the story was originally published.)
ATRISCO CAFE & BAR
193 Paseo De Peralta, Santa Fe; (505) 983-7401. Order the green chile cheese enchiladas.
BODE'S GENERAL STORE
21196 U.S. Hwy. 84, Abiquiú; (505) 685-4422. Order the green chile cheeseburger.
CHARLIE'S SPIC & SPAN BAKERY & CAFE
713 Douglas Ave., Las Vegas; (505) 426-1921. Order the chicharrón burrito.
CHOPE'S BAR & CAFE
16145 N.M. 28, La Mesa; (575) 233-3420. Order the chiles rellenos.
EARL'S RESTAURANT
1400 E. Historic Hwy. 66, Gallup; (505) 863-4201. Order the Navajo burger.
FOXY DRIVE-IN
720 W. 7th St., Clovis; (575) 763-7995. Order the taquitas (aka flautas).
MARY & TITO'S CAFE
2711 4th St., Albuquerque; (505) 344-6266. Order the turnover (aka sopaipilla) stuffed with carne adovada, served with green chile.
MICHAEL'S KITCHEN CAFÉ & BAKERY
304C N. Pueblo Rd., Taos; (575) 758-4178. Order the huevos rancheros.
EL PARASOL
603 Santa Cruz Rd., Española; (505) 753-8852. Order the tamales.
LA POSTA DE MESILLA
2410 Calle de San Albino, Las Cruces; (575) 524-3524. Order the tostadas compuestas.
THE SHED
113 E. Palace Ave., Santa Fe; (505) 982-9030. Order the stacked red chile enchiladas, topped with an egg.
Read More: In New Mexico, chile is more than a basic food group. It's our identity.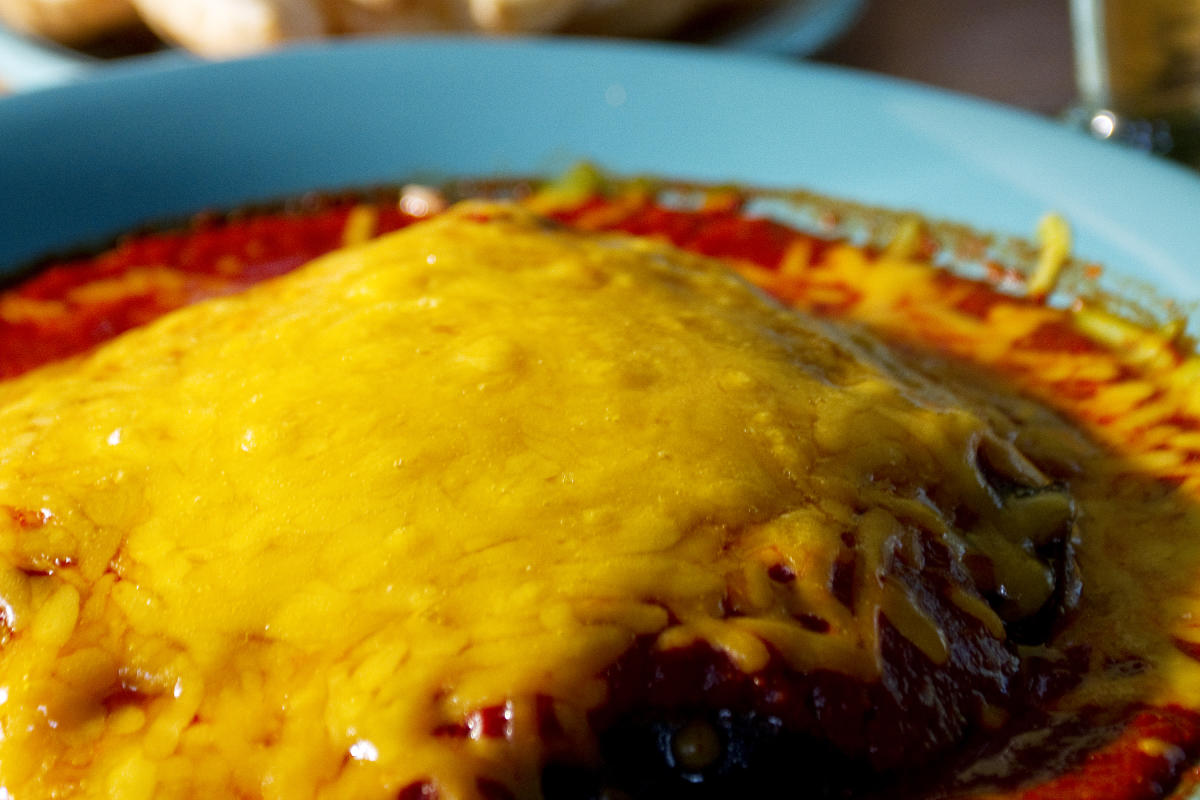 Get busy in the kitchen with this classic recipe for Red Chile Enchiladas. Photograph by NMTD.
Stacked Red Chile Enchiladas
Makes 1 serving (multiply by the number of servings you need)
The ultimate New Mexico enchilada, this molten melding of chile, cheese, and corn tortillas can never be dismissed as ordinary food—and it's even more of a classic topped with an over-easy or sunny-side-up egg. If you are serving multiple people, you can make four or more stacked enchiladas on a baking sheet if you wish, then carefully transfer the stacks, after broiling, from the baking sheet to serving dishes.
Vegetable oil for pan frying
3 blue corn tortillas
3⁄4 cup red chile sauce, warmed
2 teaspoons minced onion
4 ounces mild Cheddar, Colby, or Monterey Jack cheese, or a combination, grated
1 tablespoon butter
1 large egg
Salt and pepper
Makes 1 Serving
---
INSTRUCTIONS
Heat the broiler. (If the broiler has multiple heat settings, use the lowest.)

Heat 1⁄2 to 1 inch of oil in a small skillet until the oil ripples. With tongs, dunk each tortilla in oil long enough for it to go limp, a matter of seconds. Don't let the tortilla turn crisp. Drain on paper towels and repeat with the remaining tortillas.

On a heatproof plate, layer the first tortilla with half of the onion and one-third of the chile sauce and cheese. Repeat for the second layer. Top with the third tortilla, then add the remaining chile sauce and sprinkle the remaining cheese over all.

Broil the enchilada until the cheese melts.

Meanwhile, warm the butter in a small skillet over medium heat. Crack the egg into the skillet, season with salt and pepper, and cook either sunny side up or over easy.

With a spatula, place egg over enchilada stack and serve piping hot.