(above) Green chiles feeling the heat.
THE PUNGENT SMOKINESS of 40 pounds of roasting green chile hung in the air around me like a delicious fog. Round and round, the plump peppers tumbled in the wire cage, flames licking them from below, leaving their telltale scorch marks on the outer skin and the succulent flesh. The year was 1980, and I was mesmerized by the scene as I stood waiting for my first burlap sack of New Mexico's most iconic crop.
What on earth was I thinking? I lived by myself. I had a diminutive apartment freezer. It was my first fall in New Mexico, however, and I was going to get my chile like a local, no matter what it took. I froze those 40 pounds of chile in quart freezer bags, even abandoning my ice cube trays in my zeal to stuff all of it into the freezette, as I came to call it.
In the year ahead, the green chile topped enchiladas, blanketed my morning eggs, and added zip to stew and simple bowls of pintos in broth. It flavored pizza, pasta, polenta, and gravy. If I could have afforded steak, that chile certainly would have been all over it. The green, as locals call it, topped burgers and pork chops, and even made tuna salad interesting. It became jam, jelly, chutney. That humble purchase marked my first true step toward becoming a New Mexican.
The scene plays out all over our state this month, as it has year after tasty year. We may argue about the traits of green chile from Hatch, Dixon, Lemitar, or Puerto de Luna. We may heatedly discuss the merits of the large, meaty hybridized chiles of southern New Mexico versus the smaller, wrinkly heirloom chiles from the mountain valleys of the north. Sometimes there is a true difference in heat or in the distinct flavor the peppers pick up from the soil. But other times, our choices have more to do with what we first were served, especially if that introduction came at a grandmother's table. Some folks will get together in backyards to roast their chile over the family grill. Others of us will pay someone else to do that roasting, in a parking lot or at a farmers' market. We will get contentious about whether our favorite restaurant green comes from Charlie's in Las Vegas, or Horseman's Haven in Santa Fe, or Katrinah's East Mountain Grill in Edgewood. Maybe your favorite's at Chope's in La Mesa, or Nellie's or Dick's in Las Cruces.
What we can probably all agree on is that likely no food in any other state—not lobsters in Maine, or beef in Texas—is as vital to the culture as chile is here. It shows up in most New Mexican dishes in one way or another, defining the essence of our traditional cooking. Economically speaking, chile is a major crop and a top export, but, first and foremost, it's a necessity—the reason why so many New Mexicans (including me) own two freezers. I can't wait to get my next 40-pound fix. Viva la verde.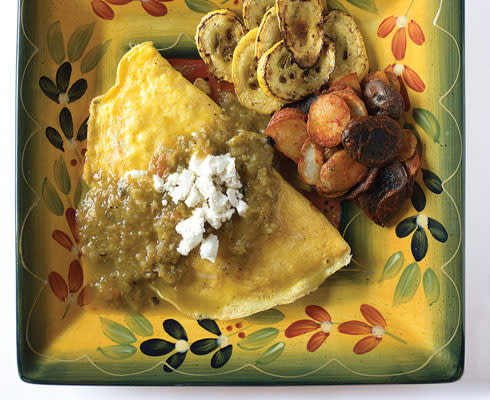 Omelets taste better with green chile.
GREEN CHILE CHEESE OMELET
Lots of New Mexico dishes combine green chile with cheese and eggs, a classic merger of elemental flavors. Some cooks put them together in breakfast burritos or enchiladas, others in chiles rellenos casseroles, and others still in baked snack squares. Of all the options, this one may be the best, a popular eye-opener where the three tastes meld beautifully and equally. You can pick up green chile sauce from a favorite restaurant, or make your own by following the recipe. Makes 1 serving
2 extra-large (preferred) or large eggs
Salt and freshly milled black pepper
1 tablespoon water or milk
1 tablespoon unsalted butter
3 ounces (about 1/3 cup) shredded mild or sharp cheddar cheese or
  crumbled mild creamy goat cheese
About 1⁄2 cup green chile sauce (see recipe below), warmed
Briefly whisk eggs together in a bowl with salt, pepper, and 1 tablespoon of water. Whisk just enough to combine yolks and whites.
Warm 1 tablespoon of butter in a 7-to 8-inch omelet pan or skillet, preferably non-stick, over high heat. Swirl pan to coat entire surface thoroughly. Just when butter begins to color, add egg mixture and swirl it to coat entire surface as well. Let pan sit directly over heat for a few seconds, until eggs just begin to set in bottom of pan. Scatter half of cheese over eggs. Pull pan sharply toward you several times, and then tilt pan and use a heatproof rubber spatula to fold front half of omelet over back portion. Tip omelet out onto a heatproof serving plate, neatening it with the spatula if needed.
Pour chile sauce over omelet and top with remaining cheese. Serve immediately.
Adapted from Tasting New Mexico, © Cheryl Alters Jamison and Bill Jamison, 2012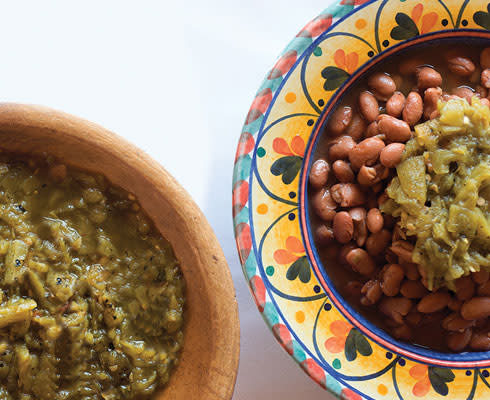 GREEN CHILE SAUCE
Here's one version of New Mexico's classic cooked sauce, which anoints enchiladas, burritos, the omelet, and much, much more. Makes approximately 4 cups
2 tablespoons vegetable oil
1⁄2 to 1 medium onion, chopped fine
2 to 3 garlic cloves, minced
1 tablespoon all-purpose flour
2 cups chopped roasted mild to medium-hot New Mexican green chile, fresh or thawed
2 cups chicken or beef stock
1⁄2 teaspoon salt, or more to taste
Warm oil in a heavy saucepan over medium heat. Add onion and garlic and sauté until onion is soft and translucent, about 5 minutes. Stir in flour and continue cooking for another 1 or 2 minutes. Mix in chile. Immediately begin pouring in stock, stirring as you go, then add salt. Bring mixture to a boil. Reduce heat to a low simmer and cook for about 15 minutes, until thickened but still very pourable. Use warm or refrigerate for later use. The sauce keeps for about 3 days in the refrigerator, or freezes well.
Adapted from Tasting New Mexico, © Cheryl Alters Jamison and Bill Jamison, 2012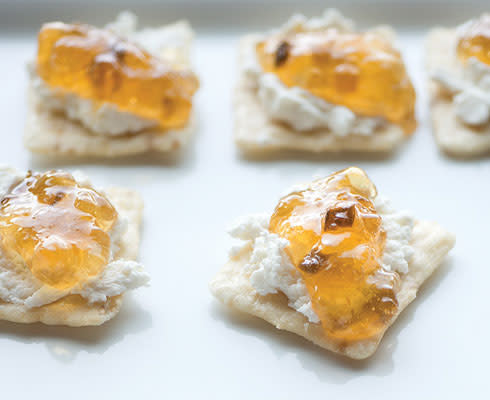 GREEN CHILE CHUTNEY
Green chile jellies and jams abound at this time of year. Here's a slightly different take, one with vinegar tang to offset and enhance the sweetness. Slather this on a turkey-and-cheddar sandwich or over cornbread, corn cakes, or biscuits, or pour over fresh New Mexican goat cheese and serve with crackers. It can glaze a ham or even a side of salmon. Makes about 2 cups
1 cup cider or white vinegar
1 cup packed brown sugar
6 ounces tomatillos, husked and chopped
1 medium onion, minced
3⁄4 to 1 cup chopped roasted mild to medium New Mexican green chile, fresh or thawed
1⁄2 teaspoon salt
Combine all ingredients in a heavy saucepan. Simmer over medium heat until cooked down and thick, about 25 to 35 minutes. Chutney can be used warm immediately or transferred to a jar, chilled, and kept for up to 2 weeks. ✜
Adapted from The Border Cookbook, © Cheryl Alters Jamison and Bill Jamison, 1995
Cheryl Alters Jamison is New Mexico Magazine's contributing culinary editor. See more of Douglas Merriam's photography at douglasmerriam.com.