IF PEOPLE HAD BEEN THERE TO SEE IT—and there's a chance Ancestral Acoma or Zuni people were—lava flowing across what's now El Malpais National Monument might have looked a little like a dark ocean, swelling with waves too far from a beach to break. 
When an eruption began, magma spilled from cinder cones and fissures in the earth, spreading across the ground into channels, jumbles, and coils like rope, which then cooled and hardened. As the liquid fire continued to flow, it sometimes moved underneath and lifted a blackened crust. Mud from creek beds the lava had run across rose with it, as did the burning trunks of trees, leaving patches of red earth and tree-trunk hollows in rock now 30 feet above ground. In places, the crust inflated unevenly. Lines that marked the lava flowing across a flat basin, rumpled like a rug where it caught on something, now tip up
and down small hillsides. 
As it reached the rim of sandstone mesas around the southeastern edge of El Malpais, lava rolled away from the rock walls, slipped into cracks, or filled in corners. Here, some of the continent's newest rock now abuts the sandy floor of an ancient inland sea. 
"It's such a contrast—200-million-year-old sandstone and thousand-year-old lava flows," says Larry Crumpler, a volcanology curator with the New Mexico Museum of Natural History & Science, in Albuquerque. Crumpler studies El Malpais, which sits south of I-40 in western New Mexico. "It's all very dramatic and fluid." 
That's not even the best of it: Behind the park's western visitor center, lava ran over Precambrian granite. "So it's 1.5-billion-year-old rock, and on top of it is 10,000-year-old rock." 
Managed by the National Park Service, El Malpais has the unusual distinction of having a twin park in El Morro National Monument, to its west along NM 53. Together they deliver an action-packed day trip. But those who linger can soak in the subtler qualities of the duo, both of which include skies uniquely untouched by city lights and landscapes so quiet that intermittent rockfall from the mesas ranks as one of the noisiest things around. 
"That peace and quiet kind of helps you get in touch with yourself, in touch with the past, and in touch with your surroundings," says Steve Baumann, resources management division chief for the two monuments.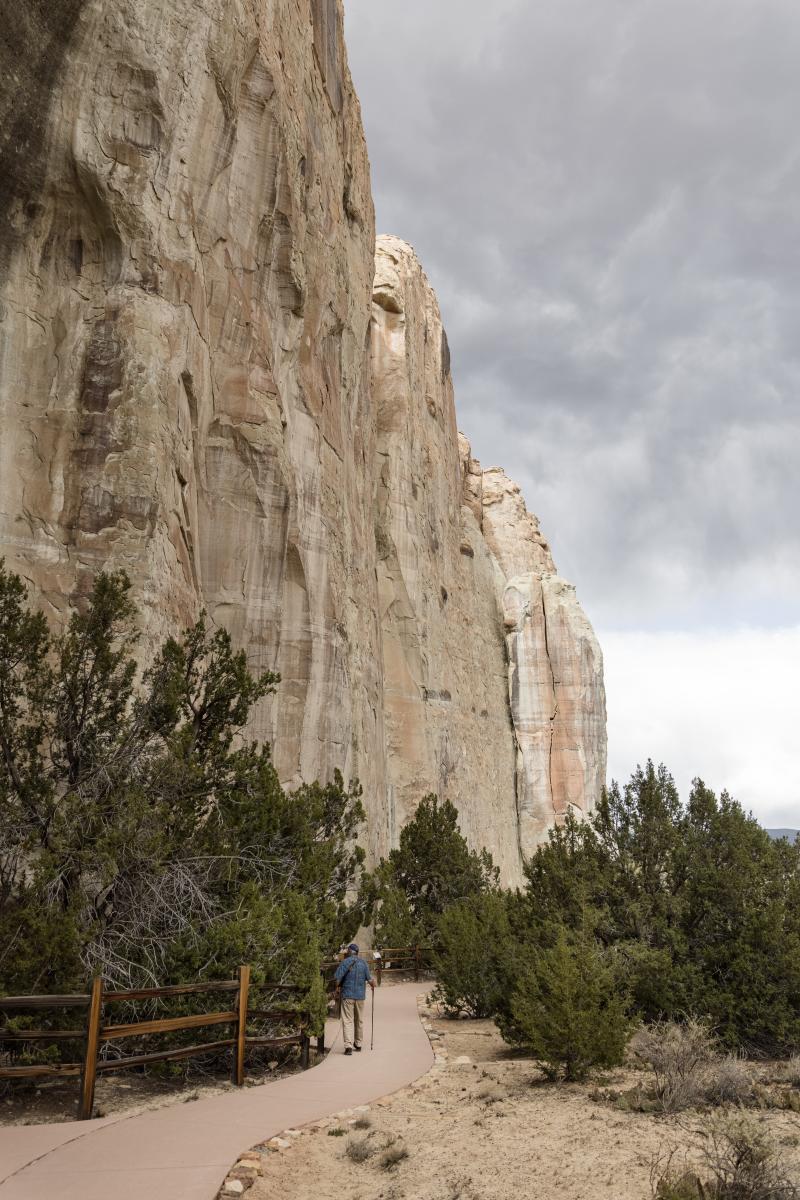 A trail winds close to the 200-foot-tall monolith of El Morro's Inscription Rock.
I CONTEMPLATE THE GEOLOGIC OVERLAYS Crumpler mentioned as I drive west on NM 53, sampling my way through El Malpais's hiking trails, crossing a landscape that has made and remade itself over thousands of years. Every time I step out of my car, I shift back in time by thousands of years. At the eastern edge of the park, the newest flows are about 3,000 years old, give or take a millennium—a geologic blink of an eye. Elsewhere, the lava was last liquid 150,000 to 170,000 years ago.  
From the rim of a cinder cone, the view sweeps over that lengthy timeline. The trail climbs a slope of reddish-black pebbles—each one a cinder spit from a violent center that's now just a bowl of massive ponderosa pine trees—and looks out over the dark basin and the pale sandstone cliffs lining the horizon.  
Read More: Learn more about the story behind Inscription Rock.
The rugged nature of the land between where I stand and those distant mesas acted as a defense system, preserving delicate pieces of the past. Spanish colonists and, later, homesteaders eyed the prospect of shattering their wagons and shredding their horses' hooves trying to cross the rough surface and decided to circumvent it. 
Islands of vegetation in the lava field show how an ungrazed West might have grown. At cave mouths and skylights, species in moss gardens closely resemble others found in the Arctic, possible remnants of an ice age.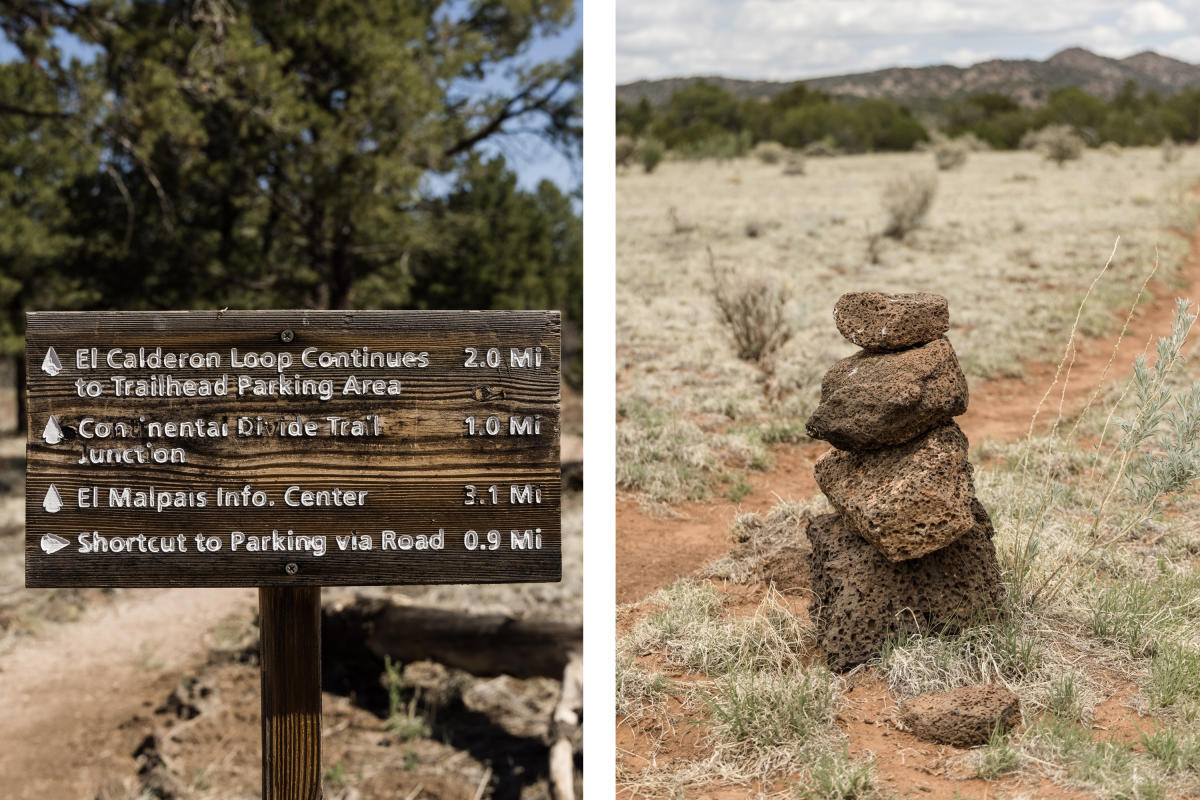 In El Malpais, a trailhead offers options (left) and cairns help hikers find the way in the volcanic landscape (right).
Evidence that Ancestral Puebloans lived near and made use of the lava flows also lingers, often untouched. By following their footpaths across the jagged rock, archaeologists have been able to find a puzzle and then discover clues to solve it. Baumann was near those trails when he noticed rock markers scattered across the landscape. They presented a mystery until he hiked out after a "murderous thunderstorm" one July. 
"We were out in the morning, and it had rained quite a bit the night before," Baumann says. "We could hear trickles and drops of water moving around and took a look at some of these shotgun-pattern markers. In many cases, they were basically marking pits in the lava flow that had a couple gallons of water in them." 
Read More: For Ancestral Puebloans, Chaco Canyon was the center of the world.
Cool, damp air wafts from caves that cut into lava flows, and it's not hard to imagine—as Baumann has—Ancestral Puebloans thinking that scent of wetness could lead to a vital ingredient for living in this landscape. Sure enough, a 2020 study of ice deep in those caves, some of which never thaws, has found remnants of carbon, the only likely source for which is fire. Cavers who might venture into that territory now are advised to wear helmets, kneepads, and sturdy shoes and take along three sources of light and a free permit (though for now, COVID-19 precautions have closed the caves). A thousand years ago, people would have visited with no such preparation, lighting their way with torches, so they could melt ice to carry out in ceramic canteens. Dates for that charred material match droughts in the Southwest, suggesting that a dire need drove this search.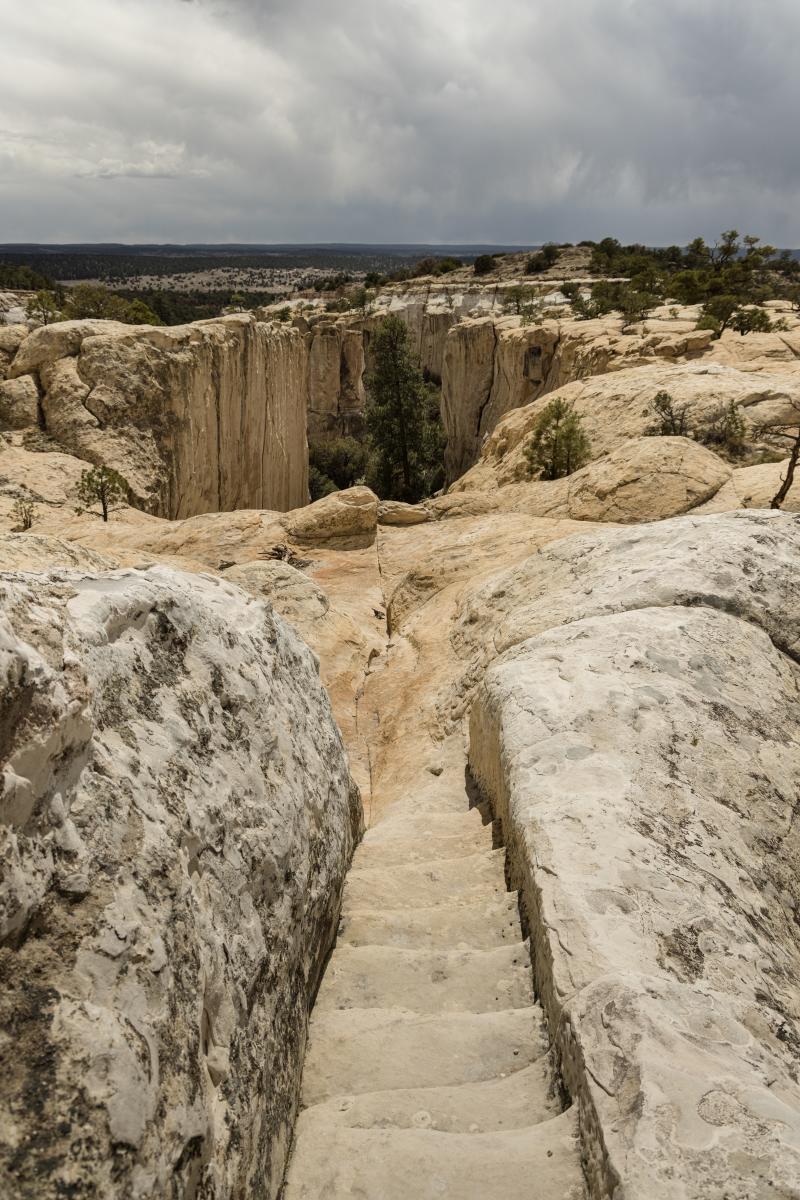 Ancient steps carved into the rock lead to pueblo ruins at El Morro.
SURVIVING IN THIS REGION HAS LONG MEANT shaping your journey around not the shortest path to your destination, but the one that passed by water sources, which is how Spaniards began visiting what's now El Morro National Monument. A drive of less than 30 minutes takes you from one park to the next. But for anyone on horseback, it would have taken at least a day. Back then, the throughway we now call NM 53, which threads between heaps of lava rock and sandstone, would have been a major trade route. Travelers knew to head to El Morro's massive, cream-colored sandstone buttress for the pool of water at its base, the only reliable source in a region with no perpetual streams or rivers. 
Rain and snowmelt still gather there, in a deep-green pool ringed by cattails that rattle in the breeze. Spaniards stopped here on their way to preach to the Zuni and Hopi, or to colonize the region. Later, government survey teams and homesteaders spreading into the new U.S. territories in the Southwest did, too. They used knife blades or horseshoe nails to sign their names and record their destinations and purposes, even a poem, in the soft surface of the 200-foot-tall monolith of Inscription Rock. Those markings layer alongside much older petroglyphs and pictographs, and a short, steep hike leads to the mesa-top home of an Ancestral Zuni village, perched on airy fins of sandstone. The trail loops past a few rooms and kivas after dipping and twisting over sandstone bleached as white as the clouds above. 
Read More: Laurence Parent shows there's more to a good road trip than pretty pictures.
"It's kind of like one of these places where there was no battle there, nobody got hanged, nothing significant in history happened at that spot," Baumann says. "But just about everything that happened in the Southwest seemed to go by there and stop by for a visit."  
A superintendent in the 1920s scrubbed out signatures added after 1906, when El Morro became a national monument, assessing them as illegal graffiti and leaving bald patches in the surface. No record remains of who made the arduous drive to see the country's second national monument, or who visited around 1918, during a major war and another pandemic. Now, as water works through and over the sandstone, the etchings' lines soften, lichen obscures some, and rockfall has taken down others. It's hard to hold history in place. 
But in these faded bluffs, in the creases of lava flows, I start to see landscape-scale reminders that history is also happening now. We don't live at the end of the timeline, a terminus point from which history is a fixed and distant object we look back on. Rather, it's something that constantly unspools behind us, written moment by moment.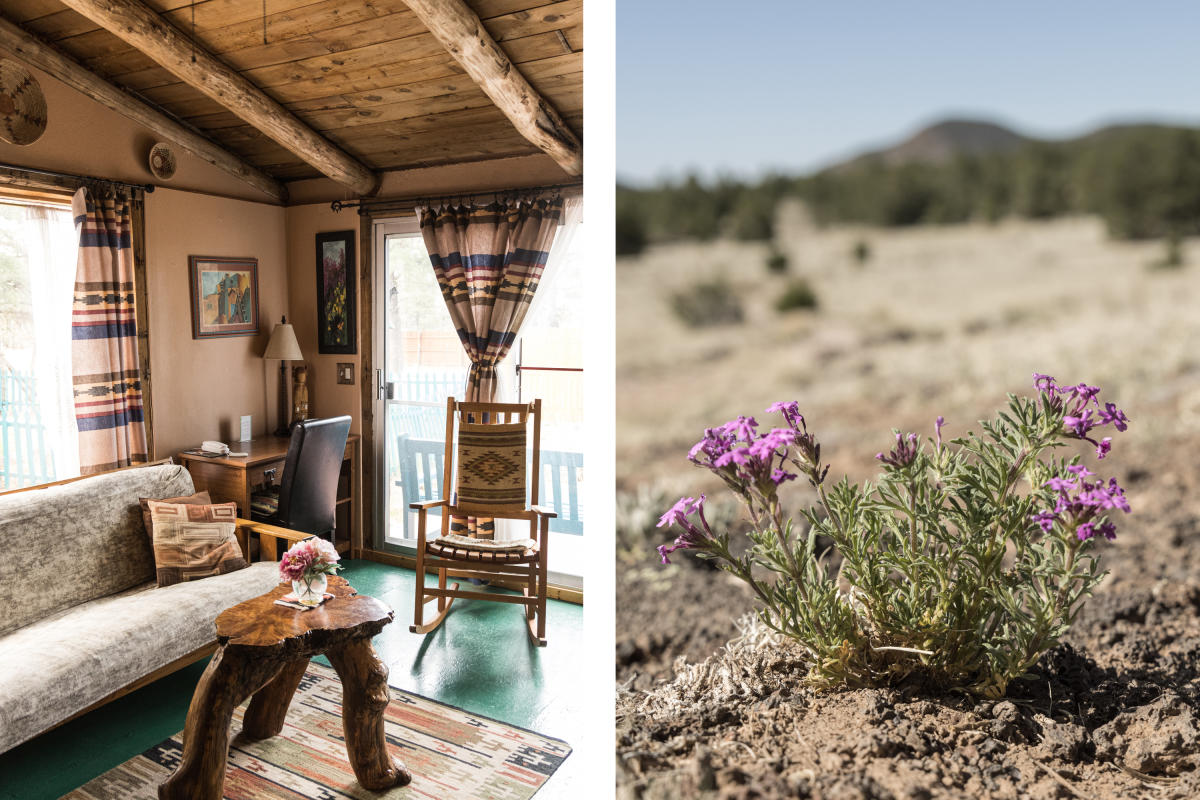 Gracious lodgings await at the Cimarron Rose B&B (left), and nearby mock vervain brightens a path at El Malpais (right).
MONUMENT HOPPING
Hike. Visitor centers for El Malpais (off I-40 at exit 85) and El Morro (between mile markers 44 and 45 on NM 53) are open for limited operations but provide restrooms, maps, and rangers' advice. Travel on an ancient pathway by hiking the eight-mile Acoma-Zuni or Zuni-Acoma Trail (depending on your direction of travel). Trailheads are on NM 117 and NM 53, so set up a car shuttle. A three-mile loop hike at El Calderon, off NM 53, skirts cave entrances and climbs a cinder cone. Wildflowers may be abundant. At El Morro, a trail passes along the base of Inscription Rock, then switchbacks 200 feet up the mesa, passing through an ancient pueblo before looping back to the visitor center in just over two miles.
Stay. Camp at El Morro in one of nine sites spread among the junipers, each with a fire pit, a picnic table, and a view of stars thick overhead in this official International Dark Sky Park. Open on a first-come, first-served basis, with water available seasonally.
Between the two national monuments, at Cimarron Rose B&B, owner Sheri McWethy-Kennedy converted a house and former café into three suites, each with a kitchen—some equipped with an antique range. An on-site gallery sells art made by local Zuni and Navajo artisans.
Explore. Zuni Pueblo's Department of Tourism shows visitors around the Hawikku site, one of the first places of contact between Southwestern Puebloans and Spaniards, among other tours of ancestral sites, plus tips on where to find Native artists' work. Check ahead for travel restrictions; make reservations. 505-782-7238