This herb-scented "green grasshopper" comes from Del Maguey jefe Ron Cooper.
Green Chapulin
Ingredients
12 ounces freshly squeezed red grapefruit juice
10 large sprigs fresh cilantro (discard stems below bottom leaf on each sprig)
4 ounces Del Maguey San Luis del Rio
2 ounces Del Maguey Crema de Mezcal
Highly carbonated soda water or club soda, about ½ cup
Directions
For best results, use the recommended combination of mezcals. Vida and Crema de Mezcal both have many other cocktail and culinary applications. Suggest that the fortunate gift recipient also try a "float" of 1 tablespoon of San Luis del Rio over their favorite margarita, or a drizzle Crema over baked apples or pears, or use it in a margarita made with only fresh lime juice.
Blend juice and cilantro until mixture turns pale green and is fully pureed.
Half fill 2 tall "Collins" glasses with ice cubes. Pour juice over ice and stir in both mezcals. Top off each glass with about ½ inch of soda water. Enjoy.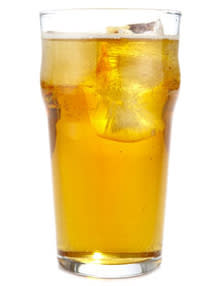 The stone fence may be an old New England creation but it's a perfect fit for New Mexico.
Stone Fence
Serves 2
Ingredients
½ cup apple brandy, preferably Santa Fe Spirits
Several dashes of Bitter End Curry Bitters or Angostura bitters
Apple cider, about 2 cups
Directions
Pour ¼ cup of apple brandy into each of two tall glasses, and add a dash or 2 of bitters to each if you wish. Add several ice cubes or cracked ice, fill each glass with cider, and serve.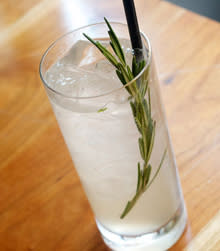 Chris Mililgan, the super mixologist who oversees Secreto, created this refreshing herbaceous cocktail with a bold hit of Bitter End's Thai bitters.
Thai High
Serves 1
Ingredients
½ ounce fresh lemon juice
½ ounce simple syrup
1 ounce lychee puree
1 inch sprig of fresh rosemary
2 ounces gin
3 drops Bitter End Thai Bitters
Fresh rosemary sprig, for garnish
Directions
Make the lychee puree by blitzing a can of lychees in syrup in a blender. Write up the recipe and affix to a bottle of the Thai bitters or the boxed assortment of various flavors.
Muddle lemon juice, simple syrup, lychee puree, and rosemary in a cocktail shaker. Add gin and bitters. Shake well with a half dozen ice cubes and strain into a cocktail glass. Garnish with rosemary sprig and serve.