I CRADLED MY FOUR-MONTH-OLD DAUGHTER as the campfire fizzled. After our friends retreated to their campsite with their kiddos, my husband and I unzipped our tent and set our snoring bundle in her bassinet, where she slept through the night for the first time.  
In the morning, I left her with her dad and headed for the ladies' room. Mesa Campground's bath houses—with flush toilets, porcelain sinks, and clean water—help make for a cushy weekend outdoors. In my youth, I calculated how long we'd been camping by counting the layers of sunscreen, dirt, and marshmallow on my face. With facilities like these, I might've lost track of time. 
Read More: Follow these rules to help protect the outdoors.
The hours melded together anyhow this weekend. Baby in the carrier, I walked next to my friend as her two- and five-year-old sons pedaled their bikes. The paved road circling Mesa Campground, near Silver City, offers views of Lake Roberts below. 
With scant elevation change, the path is ideal for beginning cyclists like the ones just ahead of us. On one side, a dozen tent sites hide among piñon and juniper. Twelve RV spots and two bath houses are on the other.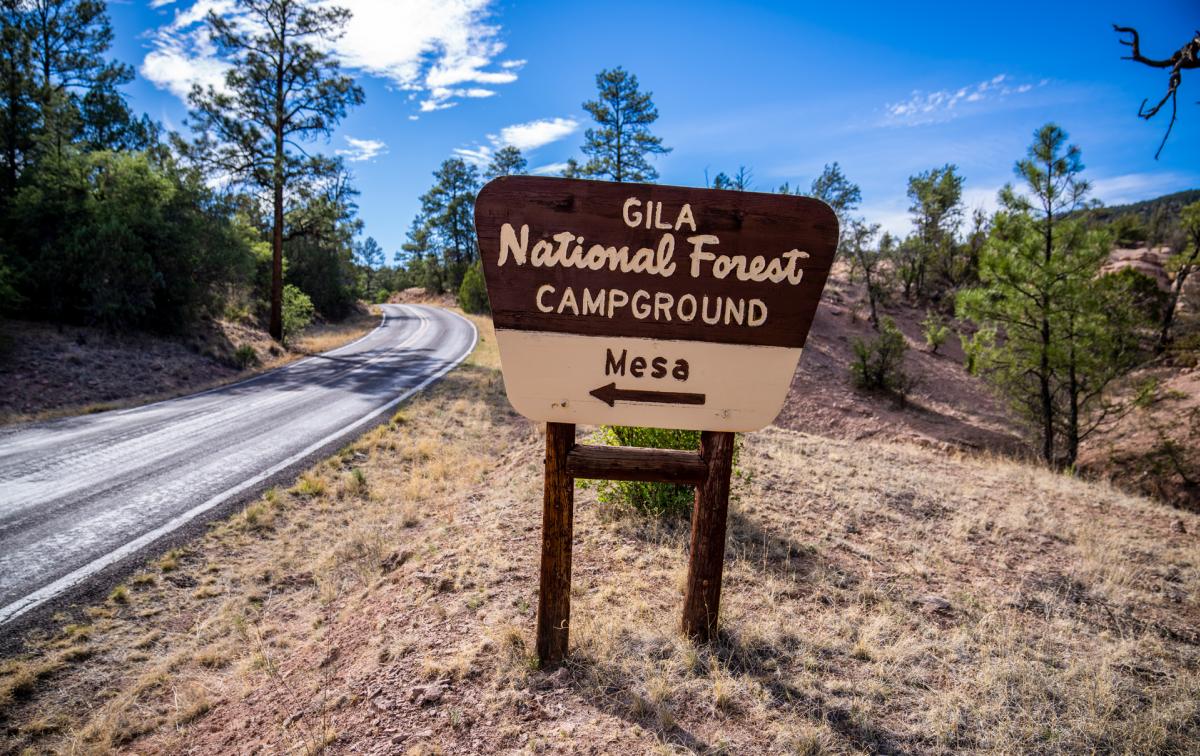 Mesa campground area activities include, hiking, fishing, and nonmotorized boating on Lake Roberts.
Later, we loaded our friends' youngest son and my daughter into backpacks, hiked past the boat launch, and crossed the Trail of the Mountain Spirits Scenic Byway to the 1.5-mile lollipop called Purgatory Chasm. We maneuvered around vegetation and between boulders as we headed up the arroyo, traversed a ridge, and dropped into the namesake narrows. Thirty-foot walls boxed us in. Ponderosa trunks jammed into the narrowest bends of the gulch suggested that this was a place to avoid in monsoon season. 
Afterward, the adults collapsed at our site's picnic table. Other friends' children played in the meadow between our family's camp and another. My Willa did tummy time under an oak tree—our dog watching over her, with one eye on the migratory birds flitting just out of reach.  
Before starting a family, my husband and I regularly visited Mesa Campground—21 twisty miles from our Pinos Altos neighborhood and an equal distance from Mimbres. Once, we arrived early enough to claim the site closest to the water. I ventured to Lake Roberts General Store, the nearest source of ice cream and beer, for a candy bar. Then I reclined facing the lake and cracked a novel. The hours I spent there showed themselves later in the form of a lingering tan line.  
Read More: Find solitude—and some rare discoveries—in the San Pedro Parks Wilderness.
As a new parent, uninterrupted leisure time was a luxury now. On the second morning, I spread SPF 50 over my daughter's squishy arms, before our group headed down to the lake. While the rest of our crew fished from shore, I launched my kayak and stole a few moments for myself.  
Paddling near Lake Roberts's southern shore, I glided where cranes had been resting, tracked a spider suspended over the water, and cruised past the weather station toward the dam. On my way back, I explored a cattail-ridden cove and gave fishing lines a wide berth. The boys were playing on the fillet table by then, uninterested in catching any of the prize trout stocked in this reservoir.  
Around noon, we scrambled back to the campsite and packed up. Our family tarried awhile after saying goodbye to our friends, however. The lack of cell service and the sight of clouds building over the Gila National Forest were too appealing not to relish just a little longer. 
CAMP CONFIDENTIAL 
Best sites: The two closest to the water have the best views of Lake Roberts.
Nearby activities: Hiking, fishing, and nonmotorized boating on the lake.
Bathrooms: Two heated bath houses with flush toilets.
Water: Available.
Dogs: Allowed on leash.
Fee: $10 per night without electrical hookups; $15 per night with electrical and water hookups.