FOURTH JUDICIAL DISTRICT ATTORNEY Thomas Clayton remembers playing as a child in the massive boarding house his grandparents owned at 515 Railroad Avenue. It was built by British saloon owner William W. Rawlins in 1898, the same year as the Mission Revival–style Castañeda Hotel just across the street. Subsequently enlarged from a one-story brick structure, the Rawlins Building served as a dormitory for the young women who came to Las Vegas to work in the Fred Harvey Company's very first trackside hotel.
For much of Clayton's life, however, the family's historic property featured peeling paint and boarded-up windows. "The building was purchased by my grandparents in 1949," he says. Eisabel and Matilde Peña ran it as a rooming house for 30 years. "When my grandmother died in the early seventies," he says, "they decided to shutter it."
Last fall, Clayton and his wife, Tina, celebrated its reopening, the culmination of a nearly $1 million project that began in 2015. They've restored the two-story World's Fair Classic–style building to two commercial spaces that feature 13-foot ceilings, along with several private apartments upstairs. The effort to save the building involved a Historic Preservation Division feasibility study and a top-down overhaul.
Beginning with a new roof, local contractors shored up the exterior wall, added new ironwork and high beams, and reportioned the 14 upstairs sleeping rooms into three one-bedroom apartments and two two-bedroom apartments. The new living quarters are clustered around a stunning—and original—central skylight. Most of the renovated second floor, handsomely decorated by Tina with charcoal-gray-painted walls and Art Deco accents, is now occupied by long-term tenants, and the couple plans to name each apartment after Harvey Girls who once lived there.
"Rawlins was a businessman," Thomas says. "He saw the opportunity of the Castañeda." He gestures toward the carved wooden balusters that support the original railing above the staircase. "I took these home, and I was sanding them to clean them up and repaint. Look at what I found on this one." The initials WR are cleanly knifed into the wood, so he decided not to paint it and plans to add a plaque nearby.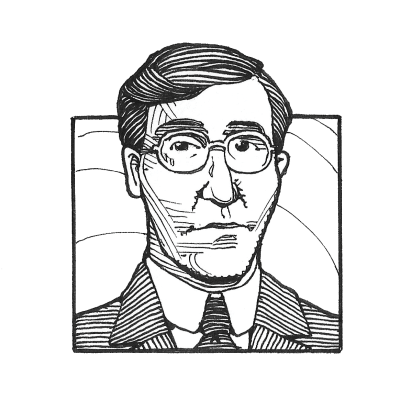 MEET EISABEL PEÑA
Thomas Clayton's grandfather is typical of a hardworking Las Vegas businessman who saw opportunity in the Railroad District's historic buildings. Peña, born in 1885, and his wife had 16 children.
The Rawlins Building's striking pressed-tin facade is one of the last of its kind in the state. It was ordered from a Mesker Brothers Iron Works catalog; they operated out of St. Louis from the 1880s well into the mid-20th century. Bernard and Frank Mesker, whose catalog had a print run of 500,000, also produced tin ceilings and even freight elevators. Many of their buildings are listed on the National Register of Historic Places. Master painter Marcus Gottschalk, who doubles as a Las Vegas historian, has spruced up the facade's decorative flourishes, and new stained-glass panels have replaced the once-missing or painted-over rectangles that illuminate the storefront.
"There are some real treasures here," Thomas says of the town's Railroad District, where he grew up. With the revitalization of his family's gem in conjunction with the Castañeda, its adjoining Bottle Shoppe, and the popular Rough Rider Antiques, Railroad Avenue is thriving. The couple's recent donation of land across from the building has turned a vacant lot into the Las Vegas Community Garden, which supports community service and includes an art park for creative expression.
The longtime Las Vegans are welcoming newcomers who are helping restore the community to its former glory. "MainStreet de Las Vegas is securing grants and putting in a ton of money to revitalize this whole neighborhood," Thomas says.
"It's so much better than seeing it dilapidated and falling down," Tina adds. "What attracts people to a community is seeing what it was like in the past. There's so much history here, and you can see it all in the buildings."
Read more: The Plaza Hotel and the Charles Ilfeld Building anchor the Las Vegas Plaza.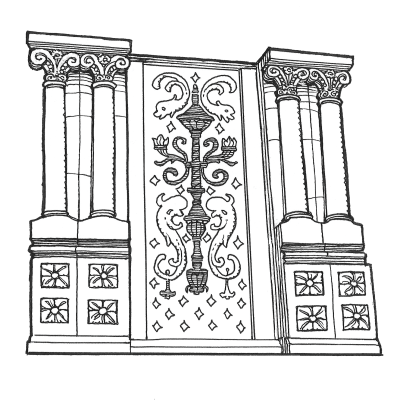 DECORATIVE CARTOUCHE
The Rawlins Building's Mesker facade contains an intricate central decorative panel. Like the facade itself, the panel is inspired by classical architectural motifs.