THE IDEA for Earth Traveler Teardrop Trailers came after a camping debacle. Angel Irlanda had turned in for the night with his family at Elephant Butte Lake State Park when a sharp wind picked up. "It was 3 a.m., and I was holding the tent up with my hands," Angel says. "It was horrible. The kids were scared, too."
As they drove home the next day, Angel decided to build a camping trailer that would be small, elegant, and lightweight, so that even compact cars could tow it easily. He drew up plans, refining the design over the next few years. Almost a decade later, Irlanda and his wife, Laura Esteves De Irlanda, have moved their camping trailer business out of their home garage and into a Santa Fe warehouse.
Read More: Getting outdoors doesn't have to mean roughing it.
It's an exciting time. Laura paces across the front office, fielding calls from manufacturers and suppliers, mapping out the next steps for the rapidly expanding business. In the back, Angel checks specs and goes over manufacturing details, constantly searching for ways to refine his process.
Both originally from Puerto Rico, Laura was living in Santa Fe when Angel, a sculptor and trained engineer, moved to the area. They found each other through mutual friends and worked together in a frame shop for a while. "Ever since I was a kid, I played with tools," says Angel, who created house renderings, floor plans, and drawings for his engineer father as early as age 10.
The teardrop trailer's design draws on various disciplines, both industrial and artistic. Biomimicry, a design method that copies features in the natural world, is central to Earth Traveler's customizable trailers. "We make the one-piece exoskeleton with the ribs on the inside, like crabs or turtles," says Angel. "It holds the structure out."
Read More: Riana Campground's proximity to fantastic hiking, fishing, and much more makes it a dream base for no-frills RVers.
Built mostly from fiberglass or carbon fiber, the trailers feature modular upgrades, like tents for expanded sleeping space. While some models clocked in at just 250 pounds, the easy-to-tow camper's advantage also created a problem: It could become unstable at high speeds. But in the same way the aerodynamic shape of a bird's wishbone helps to keep it airborne, the concept flipped over keeps the trailer grounded. "You need a downforce," Angel says. "The shape of the hood creates that."
After winning $125,000 in economic development grants from the state and the City of Santa Fe, Laura and Angel are ready to expand with the new warehouse, additional employees, and a waiting list of customers excited to spend a night under the stars.
"It's imagining something and then making it happen," Angel says, while closing the hatch on a newly built model. "The materialization of a thought."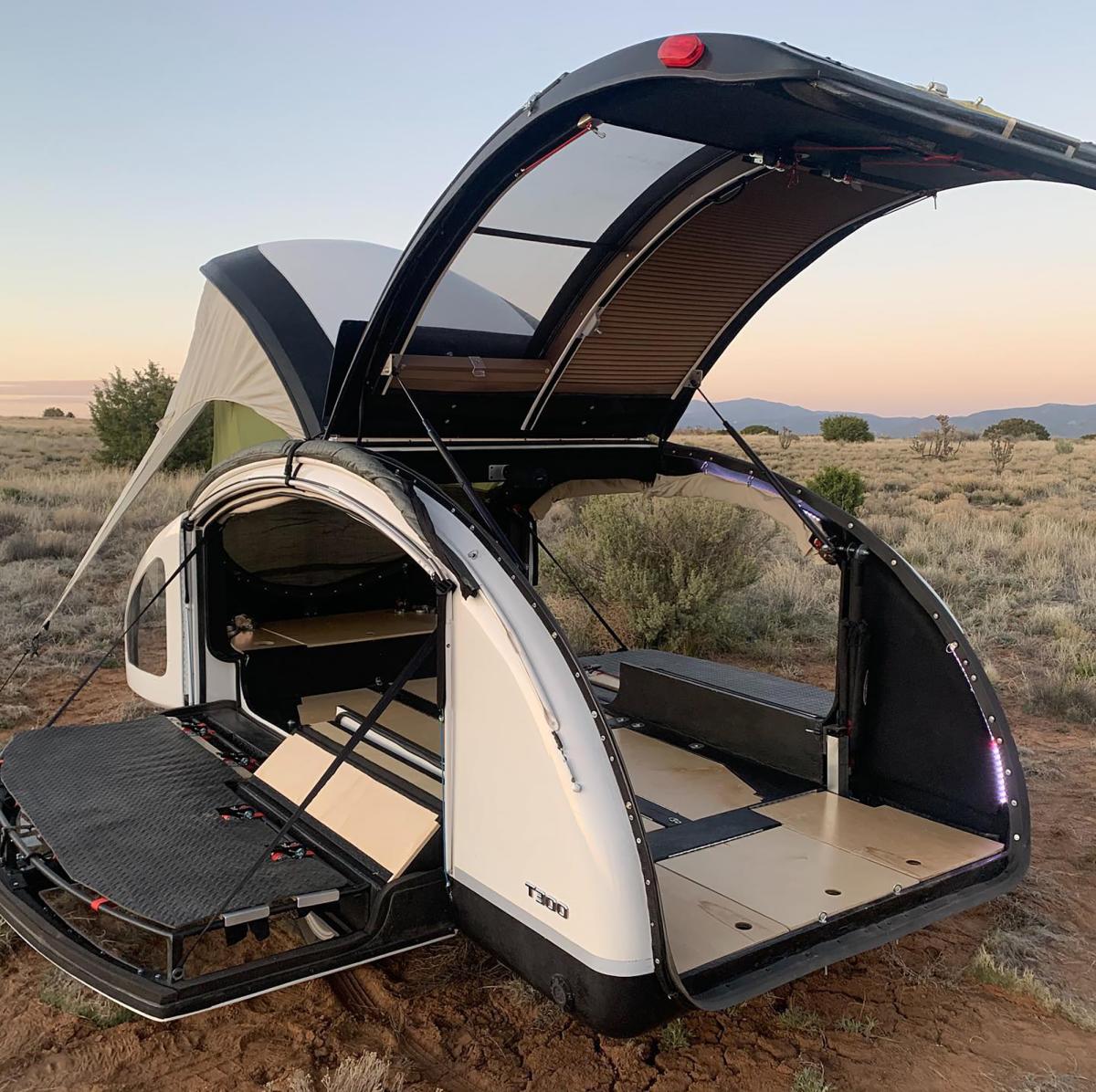 The trailers feature modular upgrades, like tents for expanded sleeping space. Photograph courtesy of Earth Traveler Teardrop Trailers.
GET HITCHED
Here are three of Laura Esteves De Irlanda's favorite camping places.
Jemez Springs and the surrounding Santa Fe National Forest. "There are so many cool spots."
Hyde Memorial State Park, northeast of Santa Fe. "It's a beautiful place for families to camp. It's easy to get to, and you can reserve it for a few bucks."
Diablo Canyon, northwest of Santa Fe, which Laura loves for the awe-inspiring views. "They've filmed movies there."