A young guest at Los Poblanos Historic Inn enjoys one of the outdoor games.
NORTH OF DOWNTOWN ALBUQUERQUE, Río Grande Boulevard entices visitors to leave the city behind. Just north of Griegos Road, the boulevard's asphalt narrows to two skinny lanes, the speed limit drops to 25 miles per hour, and the scenery quickly changes from the hustle of the city center to horses grazing in grassy fields bordered by 100-foot-tall cottonwoods. 
I live here, so I'm biased, but the Village of Los Ranchos de Albuquerque is paradise, definitely worth a day trip—or, even better, a weekend. As with many charming places in New Mexico, it rarely achieves first, second, or third honors as a must-see tourist spot. But it's an experience you shouldn't miss. By barely leaving the city of Albuquerque, you can dip your toe into history, immerse yourself in a bit of culture, eat and drink amazing food and wine, grab some cool summer shade, and maybe even get wet.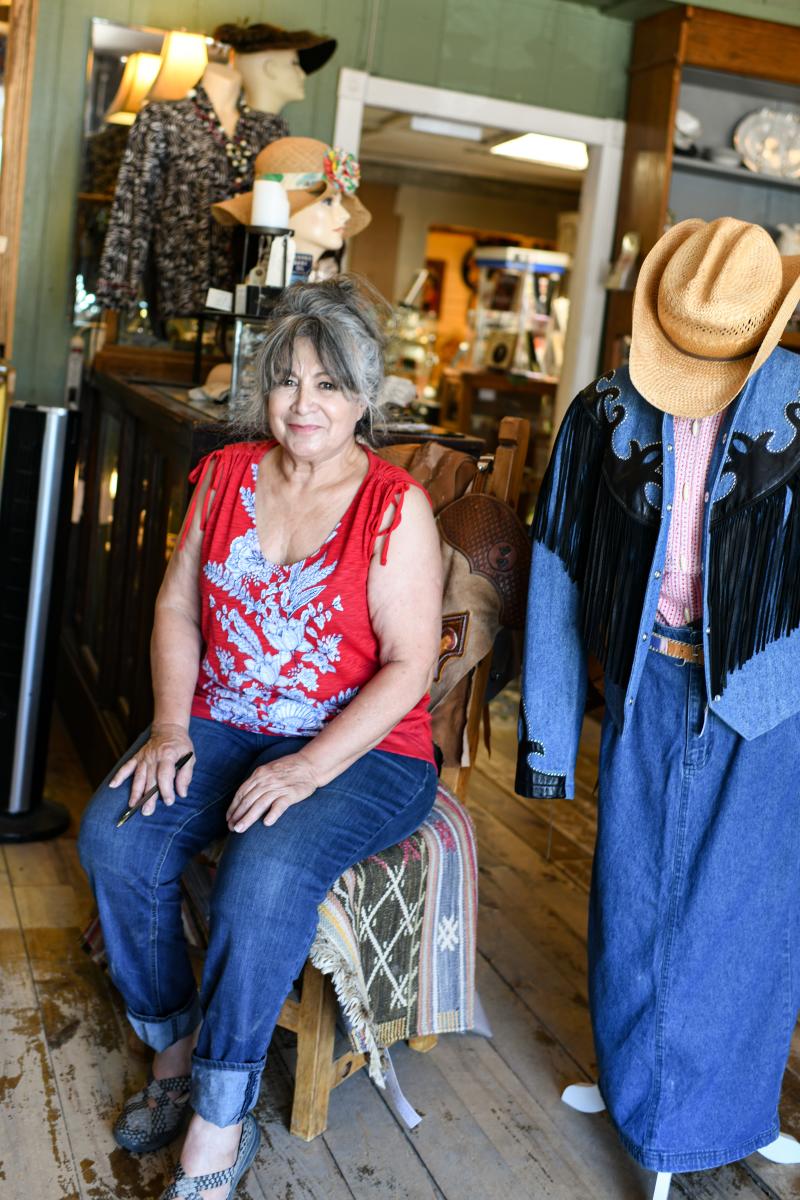 Nancy Flores at the Antique Co-op.
A concentrated taste of village life can be found at Los Poblanos Historic Inn, a boutique lodge and organic farm that delivers an understated and elegant experience focused on the area's agrarian past. Pick a seat on the patio at its restaurant, Campo, dig into a dish made with local ingredients, and peer up at 10,679-foot Sandía Crest. 
In 1694, the king of Spain gave everything between the farm and the peak—a 35,000-acre strip—to one Hispanic family. This is among the biggest pieces left. 
"We don't consider ourselves owners," says Matt Rembe, who grew up here, in a historic house that was recently converted into a spa. "We consider ourselves stewards."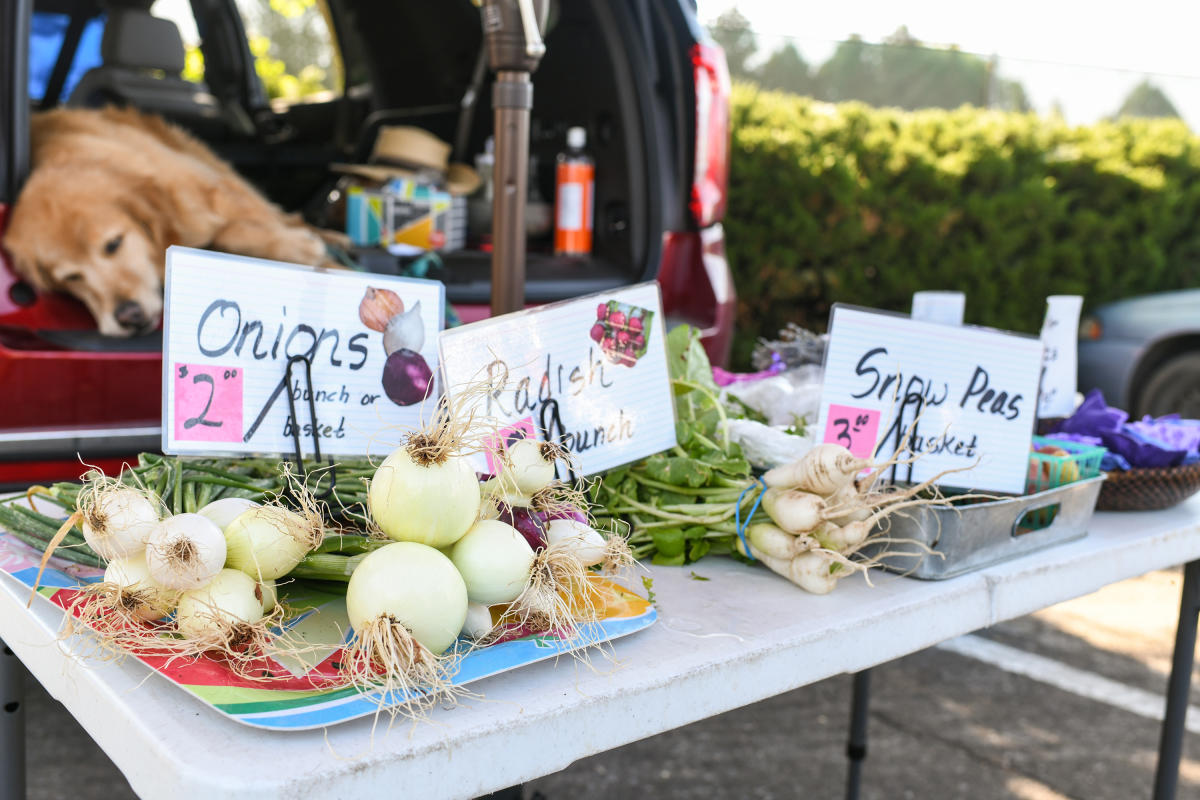 Visitors to Los Ranchos can explore antique stores, wander along Río Grande trails, and sample all the treats—fresh, crunchy, and gooey—at the weekly growers' market, held next to the Village Hall. 
In the early part of the 20th century, the farm was owned by the wealthy and influential Simms family, who hired local artists to decorate the John Gaw Meem–designed La Quinta, a cultural center on the farm, where they hosted art shows, lectures, and readings. It is now open for afternoon tea, and guests can take an hourlong walking tour of the compound's art and architecture. 
The village's commitment to agriculture is on display Saturdays, May into November, at the growers' market, held in a parking lot next to the Village Hall. "It's more laid-back than other farmers' markets," says volunteer manager Colene Montoya, who sells fruit and vegetables from her garden alongside about 40 other backyard growers and artisans. 
In late summer, the market fills with ripe tomatoes, hot chiles, and bushels of apples. Some of the growers still irrigate their crops with river water, using the network of acequias started by Pueblo people and later extended by Spanish colonists. Today's irrigation system is possible only because of the 20th-century network of dams, levees, drains, and irrigation ditches that finally tamed the Río Grande's snowmelt-fueled spring floods. It saved the farms—and made the village an attractive landing spot for new residents.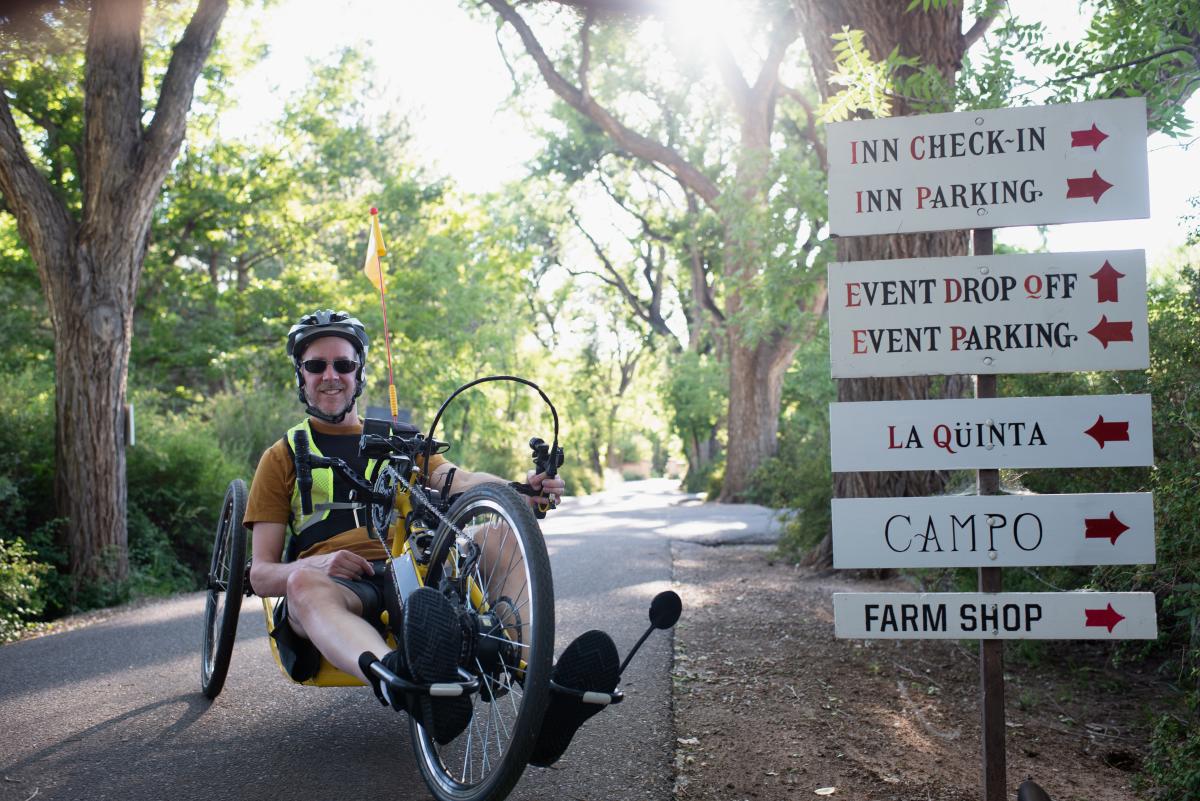 Dave Bexfield can frequently be found on a Los Poblanos path.
Commercial development accompanied the housing boomlet, most of it clustered on Fourth Street. This served as the main north-south road through Albuquerque until the completion of I-25 in 1958—the year residents incorporated Los Ranchos in an attempt to protect its pastoral character from Albuquerque's encroachment. 
You can tell this stretch of Fourth Street was Route 66 (until its 1937 realignment through Tijeras Canyon) by the flickering neon at places like El Camino Motor Hotel. The motel's name underscores history: El Camino Real ran through Los Ranchos on its way from Mexico City to Santa Fe. 
Small shops now dot Fourth Street's "Antique Mile" in the village. "The shops are mostly in little houses, not big antique malls," says Nancy Flores, who has run the Antique Co-op since 1983. That low-slung ramble of rooms is a personal favorite, with a fun selection of vintage clothes and at least one dealer who carries vintage silver jewelry. (Keep your eye out for retro cowboy boots.) 
Flores recommends the strip's family-run New Mexican restaurants for an authentic bite, particularly Casa de Benavidez, where she orders the sopaipilla burger with green chile. "I get it mild," she says. "The chile is spicy and I'm a little pansy." (Truth be told, it's also spicy at Sadie's and El Bruno's.) 
Just off Fourth Street, Casa Rondeña Winery continues New Mexico's 400-year winemaking tradition in a picture-postcard setting. Sample a flight of Casa Rondeña's wines ($12) and wander grounds that include acres of vines, Andalusian-inspired buildings, and a small pond. Owner John Calvin, an architect who was born in the valley, spent years in Spain playing flamenco guitar and drinking wine before returning to Los Ranchos to combine his passions into one project. "The idea is to create something here that speaks to history and the beauty of this landscape and the culture," he says.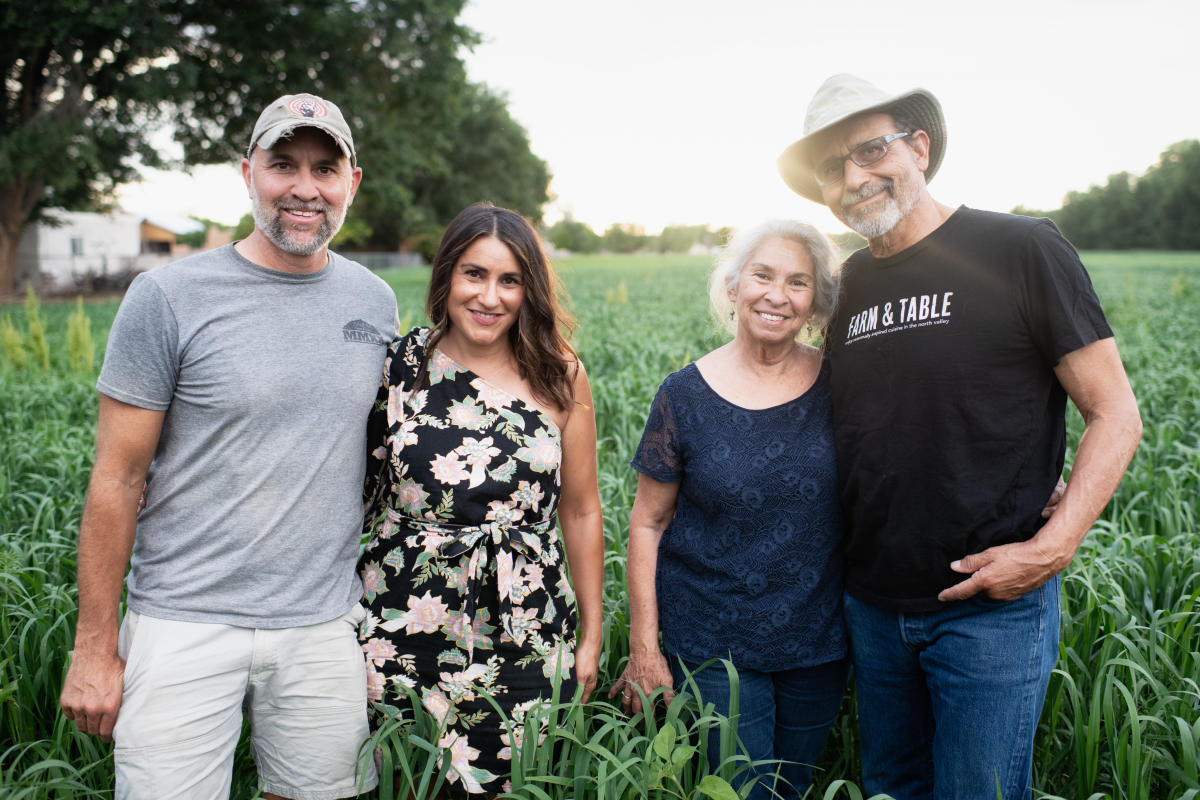 Farm & Table's Cherie Montoya (second from left), with her partner and parents.
Neighboring orchards are celebrated at the family-friendly Steel Bender Brewyard, which offers hard cider made exclusively with apples grown in Los Ranchos, as well as bar food and barrel-aged and bottle-conditioned brews.  
The river that makes it all possible can be experienced feet first. Park at the Alameda Open Space to access the northern tip of the paved 16-mile Paseo del Bosque Trail. Walkers, runners, bikers, and birders flock to the trail, which affords views of pastures, orchards, and vineyards irrigated by the acequias. Notice how the properties along the river are unusually long and skinny? Starting in the 1600s, land-grant heirs divided their acreage into strips called tripas (intestines), giving each heir access to the water. 
Cherie Montoya owns Farm & Table restaurant and part of a nearby tripa, once a seven-acre parcel. "It's been divvied, divvied, and divvied up," she says with a laugh. "My grandmother, out of all of her kids, gave it to my dad, and out of his five daughters, he gave it to me, so I have an acre there right now." 
Farm & Table sits on another 12-acre family property. Ask for a seat on the patio with a view of the setting sun and see if you can spot some of the family's Black Angus cattle grazing in the distance, there to remind you that you're not in the city anymore.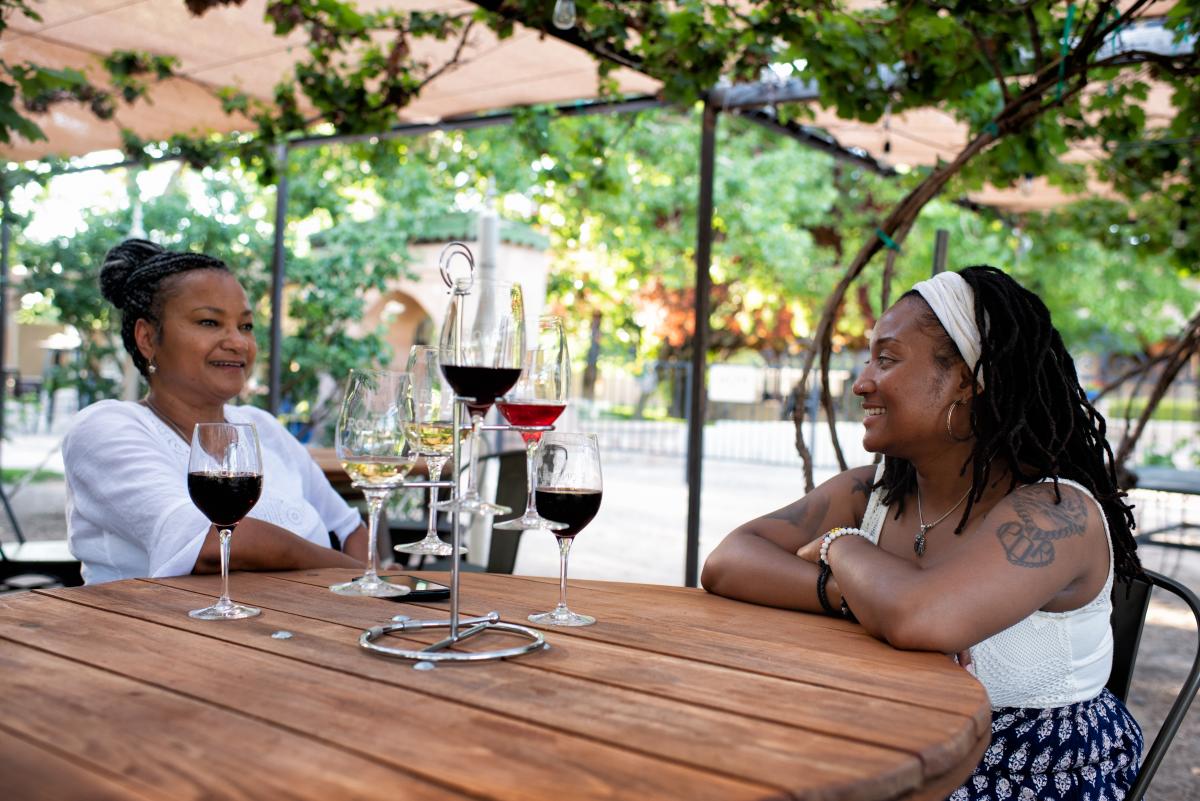 A flight of local wines at Casa Rondeña Winery.​
SECRET MENU
Dave Bexfield probably covers more ground than most during his thrice-weekly bike rides through Los Ranchos de Albuquerque, which he documents for Village Vision magazine. He and I compared notes for this list of insider tips.
Eat. A few years ago, Casa Rondeña Winery owner John Calvin turned his house into a members-only club called 1629 (after the year wine was first made in New Mexico). Ask for a day pass and you can have dinner in the restaurant.
Picnic. For an especially romantic treat, order a picnic at Farm & Table restaurant. They'll set you up under your own ramada in a field behind the restaurant, deliver your dinner picnic-style, and leave you blissfully alone. Call ahead; there are only two ramadas.
Sip. Have a fancy cocktail in the bar at Vernon's Speakeasy. Knock on the door, and when the guy wearing a zoot suit answers, tell him, "Joe sent me."
Snap. While you're at Vernon's, look for the tombstone of Walter White, the main character in Breaking Bad, the AMC series that helped bring international fame to Albuquerque.
Snack. Pick up some old-school carne seca at Delicious Beef Jerky, on Fourth Street. The green chile flavor is outstanding, but there are non-chile flavors, too. "Plain" is actually one of the best.
Dig in. Fourth Street and Osuna Road is the unlikely location of an excellent Salvadoran restaurant, El Papaturro. Start with a plate of pupusas and try one of the Central American sodas.
Walk. The shady paths along the acequias seem tough to access if you don't live in Los Ranchos. Here's how anyone can: Leave your car at the Shining River Parking Area, on Río Grande Boulevard just south of Paseo del Norte. Walk one block south along the boulevard until you reach a canal. Cross Río Grande Boulevard and walk to the far bank of the canal. Follow it a short way until it comes to a T. Turn right and walk south for a mile and a half. You'll see pastures, orchards, horses, peacocks, and, if you're lucky, a couple of llamas. Turn around when you reach Green Valley Road. 
---
Read More: As New Mexico's only U-Pick chile farm, Big Jim Farms offers nine acres of fun, excitement, and connection to the land.
Read More: Campo chef Jonathan Perno shares this recipe for Lamb and Rosemary Crepes.
Read More: Los Poblanos Historic Inn and Organic Farm shakes up the way we eat, right down to the roots.