1. Russian Olive Berry Face Serum, Dryland Wilds
Robin Moore and Cebastien Rose, founders of Dryland Wilds, harness the natural curative power of Russian olive trees in a serum that builds collagen. The company focuses on harvesting and upcycling unwanted and invasive plants.
▶ $30 for 15 ml.; $56 for 30 ml.
2. Concrete Candle, Bad Moon on the Rise
Stacey Brewer, who moved to Albuquerque in 2020, colors concrete with pastel hues, rich tones, and glittery copper before molding it to form candleholders. Her candles are made of soy wax, nontoxic fragrances, and X-shaped wicks that facilitate a whopping 40 to 50 hours of burn time. The Dark Rum Pumpkin accents a cozy fall evening.
▶ $35
3. Raw Honey Face Cleanser & Mask, Taos Bee
Made with honey from owner Moira O'Hanlon's hives in Taos, this moisturizing cleanser—which can be left on longer as a mask—is packed with natural enzymes that can help to prevent signs of aging and heal blemishes. It's also a gentle exfoliant.
▶ $16 for 5 oz.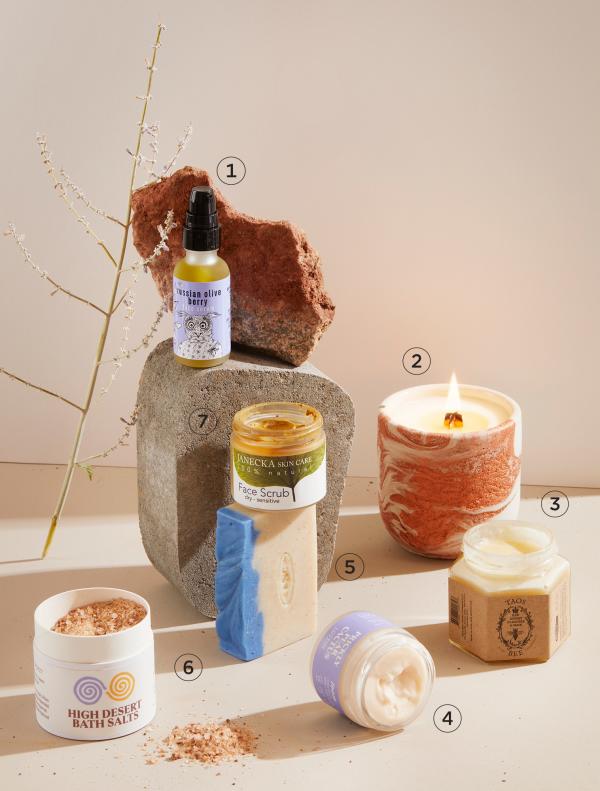 4. Prickly Pear Cactus Lotion, Loam
The pastel hue of this water-based lotion comes from the prickly pear tunas that owner Halley Roberts Strongwater harvests in and around Santa Fe. The vitamin C–rich prickly pear brightens skin along with jojoba oil and locally foraged piñon pine resin.
▶ $44 for 2 oz.
5. Blue Corn Soap, Enchanting Soap Collections
The vibrant blues of New Mexico's skies are reflected in a lusciously lathering bar soap made of coconut milk, local blue corn, clay, and rosemary essential oils. It's inspired by the atole owner Roberta Easter drank while growing up in Placitas.
▶ $10
6. High Desert Bath Salts, Loam
These bath salts smell like a New Mexico forest, thanks to locally sourced piñon and sage essential oils. The compostable tube makes your bath feel like a desert escape.
▶ $18 for 5 oz.
7. Natural Face Scrub, Janecka
When Elizabeth Janecka discovered her many allergies, she decided to make her own soap. That project turned into a line of natural body-care products she now makes with her daughter, B Janecka. Made with organic aloe vera, French clay, and lavender oil from herbs homegrown in Jemez Springs, this scrub softens skin and clears blemishes.
▶ $22 for 2 oz.
Read more: At Los Poblano's Hacienda Spa, skin is lavished with farm-fresh ingredients.