Jemez Pueblo's Oak Canyon Dancers perform in the Indian Pueblo Cultural Center courtyard. Photograph courtesy of Indian Pueblo Cultural Center. 
THE SCENT OF BAKING BREAD wafts across the courtyard of the Indian Pueblo Cultural Center, in Albuquerque, as Jemez Pueblo's Oak Canyon Dancers prepare to entertain an audience assembled under a latilla-covered porch on a Sunday afternoon. The mostly teenage dancers enter joyfully, wearing ceremonial attire, playing drums, shaking rattles, and singing songs that predate the arrival of the Spanish.  
After an opening prayer and a blessing that serves as a kind of "national anthem" for Jemez Pueblo, as drummer and cultural interpreter Julian Fragua explains, the performers segue into the shield dance. Topping their regalia with buffalo hides, the men jab arrows overhead and dance close, then step away, an interplay meant to showcase the bravery of warriors heading into battle. 
"It's awesome to be back and share our traditional dances with the public, to let them know that we do have a Pueblo culture and a Native American perspective," says Fragua, who has been dancing and drumming for more than 20 years.  
After being canceled during the pandemic, these shows from the 19 pueblos of New Mexico began again in May. Their return is significant: The IPCC is the only place in North America to host Native American dances every week, year-round. 
Staged in public for outsiders and explained by cultural interpreters, these social dances serve as important educational outreach to people who might not know much about Native history, or even be aware that Native people exist and thrive today, says the museum's cultural educator, Jon Ghahate (Laguna/Zuni). "We have and still hold a legacy that literally transcends the creation of this country," says Ghahate.  
The dances, with their vivid imagery and stories, form a narrative that illustrates the resilience of Pueblo people and communities.  They attract visitors from all over the world, including Chuck Miller of Oregon, who made it his first stop on a visit to Albuquerque with his 17-year-old daughter. "It's been really eye-opening," says Miller, whose wife is Navajo. 
Frankee Romero (Laguna), of Albuquerque, brought his toddler daughter, Waniya, as a way to connect with their heritage. Romero danced at the center as a child, and his mother did, too. The pandemic hit pueblos hard, and made it difficult for Romero to take his daughter to Laguna for important cultural rituals, many of which were postponed. "I've been showing her videos of our feast days," he says. "But seeing the dances again in person here really does help."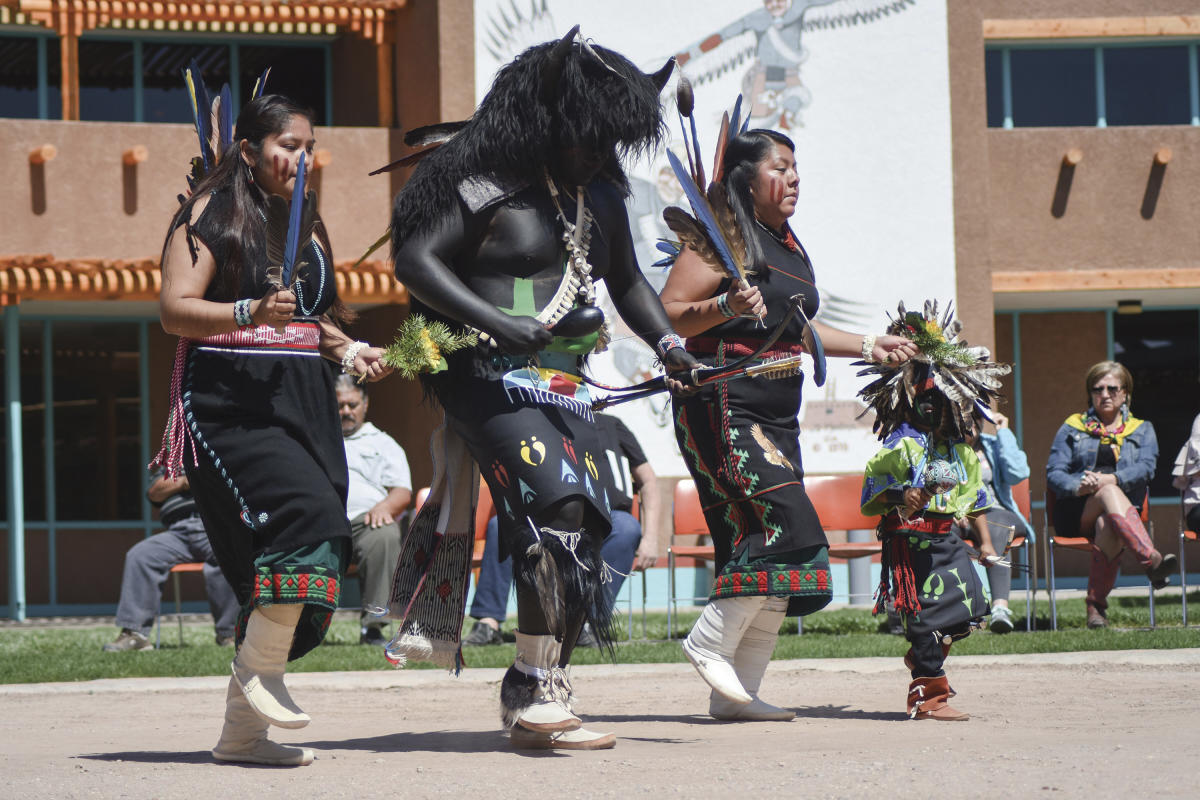 The Indian Pueblo Cultural Center's courtyard is alive once again with drumbeats, songs, and dancing feet, including Acoma's Sky City Buffalo Ram Dance Group. Photograph courtesy of Indian Pueblo Cultural Center. 
Feel the Beat
In August, dances are presented Fridays, 2–3 p.m., and Saturdays and Sundays, 11 a.m.–noon and 2–3 p.m. Experience Indigenous cuisine and history at the cultural center's Indian Pueblo Kitchen, peruse museum-quality art, jewelry, and textiles at the Indian Pueblo Store, and browse goods from certified-authentic Pueblo makers in the courtyard. For a compelling overview of the people of the 19 New Mexico pueblos, visit We Are of This Place: The Pueblo Story, an exhibition highlighting traditions passed down for generations. 2401 12th St. NW, Albuquerque; 505-843-7270.
---
Read More: Here's how to ace this summer's art, food, and culture fests.
Read More: As director of the annual Santa Fe Indian Market Indigenous Fashion Show, Amber-Dawn Bear Robe curates what we see and what we wear.
Read More: A new chef launches a take-home tour of Indigenous foods.