Native dance, traditional Spanish art, and global folk art return this summer. Photograph by Gabriella Marks.
MARKET SEASON IS ABOUT MORE THAN ART. The Santa Fe events are cultural touchstones. "They are important to relationship building, education, and investing in living communities that not only produce beautiful, one-of-a-kind pieces of art, but also keep alive techniques and information for future generations," says Kim Peone, executive director of the Southwestern Association for Indian Arts. Details remain fluid, but here's some of what we know about the International Folk Art Market, Traditional Spanish Market, and Santa Fe Indian Market.   
---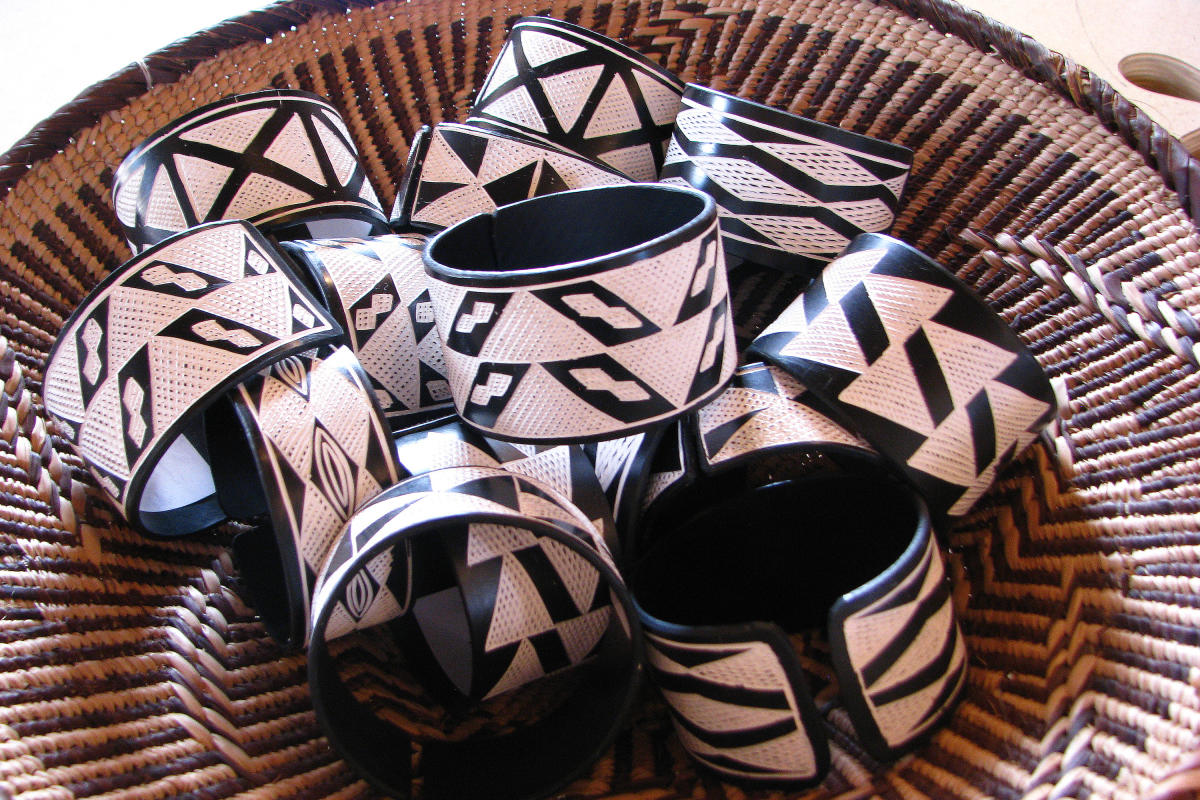 Artists from Namibia, Mexico, Ukraine, Colombia, and beyond share their work at the biggest folk art event in the world. Photograph courtesy of the Omba Arts Trust and International Folk Art Market, Kelly Waller.
July 7–11 and 14–18
Milner Plaza on Museum Hill, 706 Camino Lejo, Santa Fe; 505-992-7600
The International Folk Art Market bubbles with energy created by hundreds of artists and collectors from near and far. The biggest folk art event in the world, it draws artisans from Indonesia, Mexico, Ukraine, Colombia, and beyond—though COVID-19 concerns may impact their travel.  
What to expect: Split over two weeks on Museum Hill, it features different artists in each four-day session, with invite-only opening parties July 7 and 14. Timed tickets limit attendance to 200 per two-hour block. Vendors will have extra space between booths and won't accept cash. 
Pro tip: "Buy an early-bird ticket for Thursday morning," says Stuart Ashman, executive director of the International Folk Art Market. "That gets you first crack at what's there." 
Don't miss: Cuban artist Leandro Gómez Quintero makes whimsical models of vintage cars and military vehicles using simple materials. "He carves packing Styrofoam for tires, uses straws for exhaust systems, poster board for the bodies of the cars, and enamel paints to create sculptural works that are accurate in every detail," says Ashman.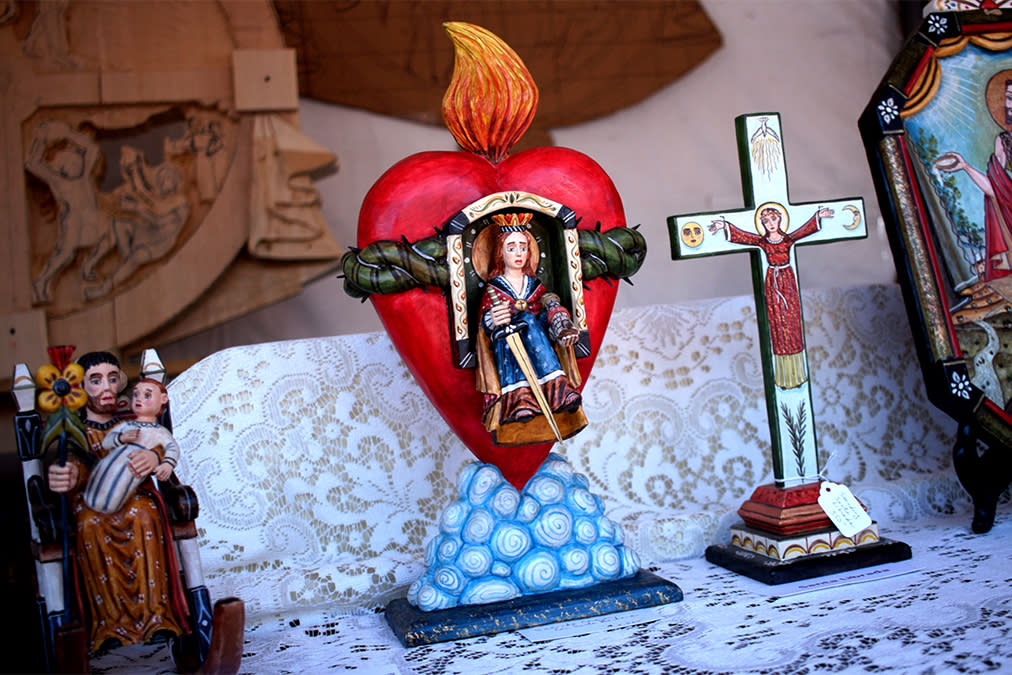 Spanish art, food, and music can be found at the Traditional Spanish Market on the Santa Fe Plaza this summer. Photograph by Kaela Waldstein.
July 24–25
Santa Fe Plaza, 63 Lincoln Ave., Santa Fe; 505-982-2226
Since its 1926 inception, Spanish Market has drawn artists—some for several generations—working in tinwork, retablos, weaving, and straw appliqué. The same is true for attendees. I spent many childhood summers at the market with my father, the late flamenco guitarist Ruben Romero, selling CDs and eating push-pops in the 1990s and early 2000s. "It's a heritage event," says Jennifer Berkley, executive director of the Spanish Colonial Arts Society, which hosts the market. "It's food, it's art, it's music, and generations of artist families. It reflects hundreds of years of history in New Mexico."  
What to expect: As the first big bash on the Santa Fe Plaza since the pandemic, Spanish Market may serve as a test for future events. While organizers hope for a fully open state, they encourage attendees to watch the Spanish Colonial Arts Society's website for the latest info.  
Pro tip: Even with an in-person market, the annual preview will happen online. That's when you can peruse artwork before you arrive.  
Don't miss: Joseph Ascensión López, whose work appears on this year's commemorative poster, is the son of Felix López, known for his carved bultos. Joseph grew up at the market, showing his work for the first time at eight years old, along with his sister, Karissa Maria López, who creates straw appliqué. "It will be really cool to see his work in person," says Berkley.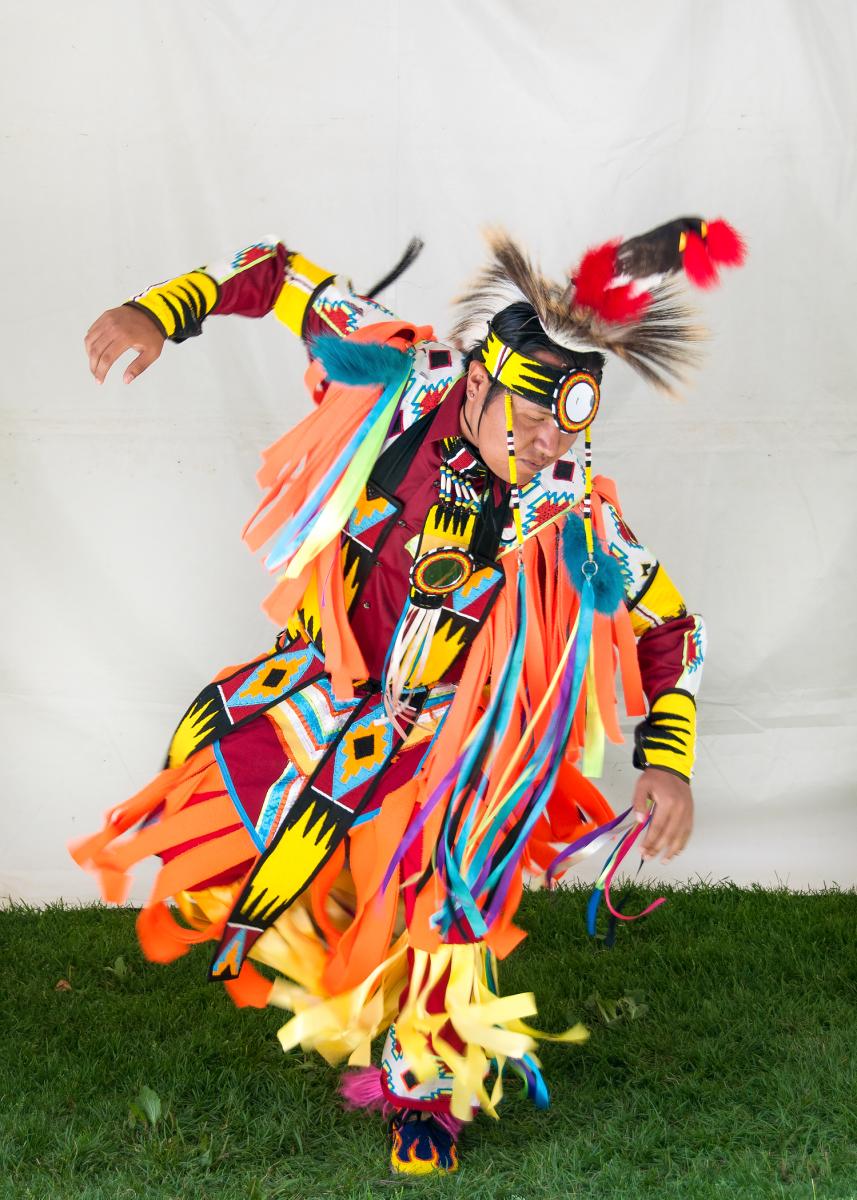 Thousands of visitors gather in Santa Fe each summer to celebrate Native dance, art, and fashion. Photograph courtesy of SWAIA.
August 21–22
Santa Fe Plaza, 63 Lincoln Ave., Santa Fe; 505-983-5220
White tents form neat borders along the streets in and around the Santa Fe Plaza as thousands of Native art collectors and Indigenous artists gather for Santa Fe Indian Market. "Native American artists sell their work, win ribbons and prize money, and educate clientele, and are exposed to audiences of up to 120,000 people," says Peone. 
What to expect: Indian Market anticipates a hybrid event for its 99th year, with about 500 vendors selling jewelry, beaded bags, pottery, woven textiles, and other works, plus a digital market with even more artists. Daily tickets will be required for in-person attendance. 
Pro tip: Do some research on the mediums and artists that interest you. "Think of questions you want to ask," Peone says. "Remember: The artist booth number and map are going to help you find specific artists." 
Don't miss: Rain Scott (Acoma Pueblo) sculpts pots from thousands of individually folded pieces of paper, each one containing a prayer, that resemble the metallic cones on a jingle dress. 
---
Read More: The Santa Fe designer talks about the Indian Market Fashion Show, inspiration for his new collection, and how COVID-19 may change the fashion industry.
Read More: Artists We Love—Native Beadworker Hollis Chitto.
Read More: Martha J. Egan casts new light on an intricate form of centuries-old Catholic jewelry—and encourages a new generation of makers.