Reed Luplau performs as Puck in the Santa Fe Opera's A Midsummer Night's Dream. Photograph by Curtis Brown for the Santa Fe Opera.
NETIA JONES HAS something special planned for the Santa Fe Opera premiere of A Midsummer Night's Dream. The British director, designer, and artist has designed a performance of Benjamin Britten's opera, based on the William Shakespeare play, specifically for New Mexico and the Crosby Theatre's open-air stage. "When I see a project, the thing comes to me very complete," says Jones, who has worked on projects including Philip Glass's Orphée at the English National Opera. "It's only a matter of realization after that." Before Saturday's opening night (through August 25), Jones talked with us about her approach to Shakespeare's forest tale of fairies, mismatched lovers, and crossed paths, how Santa Fe sparked her creativity, and more.
You're involved in every creative aspect of an opera, from lighting to directing. How does that approach make your operas different? Because I am directing and designing, I get to participate in almost every aspect of the show-making. But it's not at all that I work by myself. The process of putting on an opera is an incredible community work. An opera house is like a microcosm—it's got so many talents in it across every type of discipline.  
How did New Mexico inform this Midsummer Night's Dream?
The night sky is quite a major part of life in New Mexico, and it's a major part of the play. I think the moon is mentioned on every other page. Whenever I work on a project, I want to visit the place before I even begin to conceive of it. I think where you are really affects how you feel about things. This play is so rich and so varied that you are going to experience it completely differently here than if you're somewhere else. The very lucky thing about our show is that it's set outside. When you're in an outdoor venue, you have the wind and the weather—it's really a gift.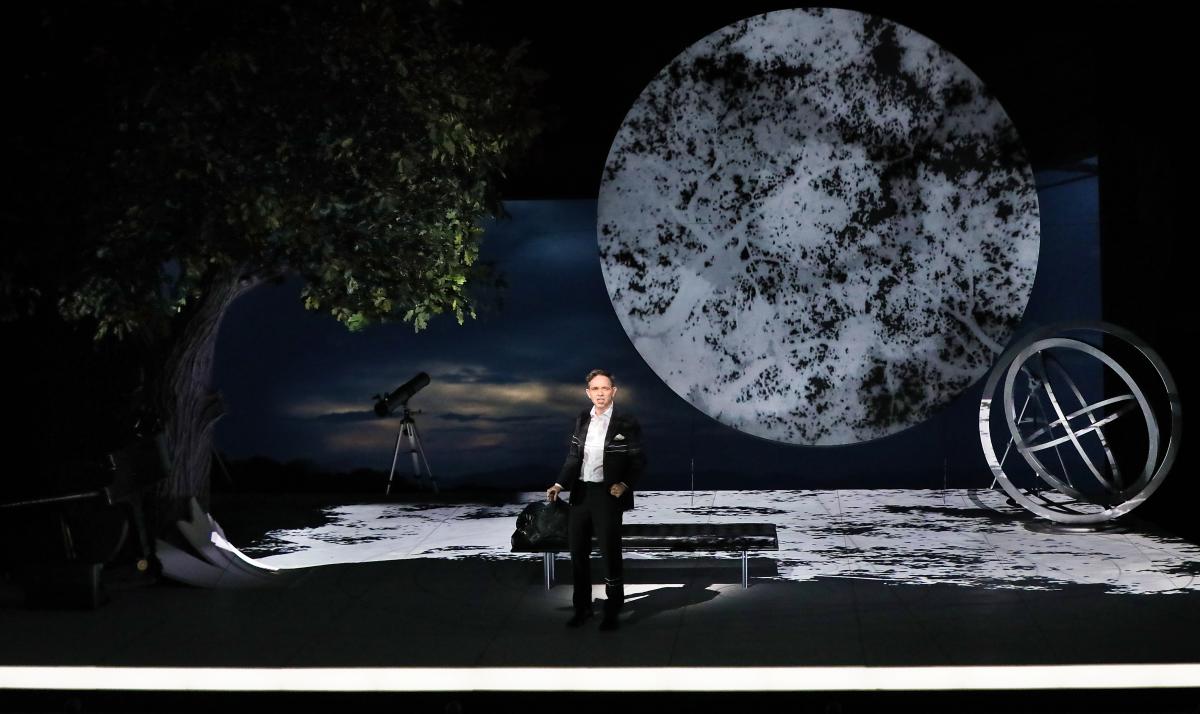 Iestyn Davies plays Oberon in A Midsummer Night's Dream. Photograph by Curtis Brown for the Santa Fe Opera.
How do you use video projection in your design?
The way I bring life to the set is through projection. It allows for those changes in atmosphere to come through the piece. It may be set theoretically in the same woods, but the flavor of each scene is so different. They're all experiencing the idea of the forest in a different way. 
What did you find most joyful about creating this opera?
Whenever you embark on A Midsummer Night's Dream, you could go in any direction because it's so rich. It leaves ambiguity, so it leaves room for interpretation. And that it's brilliant, brilliant, brilliant. It's really three plays in one. You have totally different casts, and often they don't really meet until some of the final run-throughs. It's so clever how it is three disparate things woven together in this piece.