Diné weaver Kevin Aspaas lives near the Ship Rock formation, a sacred peak to his people. 
AN INHERITED UPRIGHT LOOM STANDS against the wall of weaver Venancio Aragon's Farmington studio. The warps and wefts of a work in progress hang between the bars and selvage cords. In other Diné weaving studios, you might find the muted hues of a regional Two Grey Hills pattern or the red-and-black diamond of an eye-dazzler design taking shape. On Aragon's loom, however, a color field scatters across the tapestry like thrown mosaic tiles. The colors hopscotch from the deepest purple and brightest green to the fairest blue. His ancestors wouldn't recognize the design. But in his hands and heddle, it captures a modern view of Diné culture through one of its signature art forms.  
"I think my pieces represent the monumental vitality of our cultures today," Aragon says. "Indigenous culture in general and Navajo textile culture specifically are active and evolving. When I produce pieces like this, it deconstructs people's romanticism of us." 
Aragon is part of a new generation of Diné (Navajo) weavers. Raised in the customs of their forebears, they are breaking free from weaving's boundaries and stereotypes—if their creations are even identifiable as weavings at all. Like Aragon, fiber artists Kevin Aspaas, of Shiprock, and Eric-Paul Riege, of Gallup, explore their modern indigeneity through the medium. 
Color, design, and material star in their groundbreaking works. Aragon and Aspaas stretch traditional palettes to their limits, and in some cases toss them aside entirely for synthetic hues while adapting authentic styles in ways that barely resemble stereotypical Diné weavings. Riege breaks free from the bounds of the loom altogether, transforming fiber into sculpture and even performance art. In the process, these weavers are discovering that deepening their connections to their heritage and themselves can be the most rebellious path of all.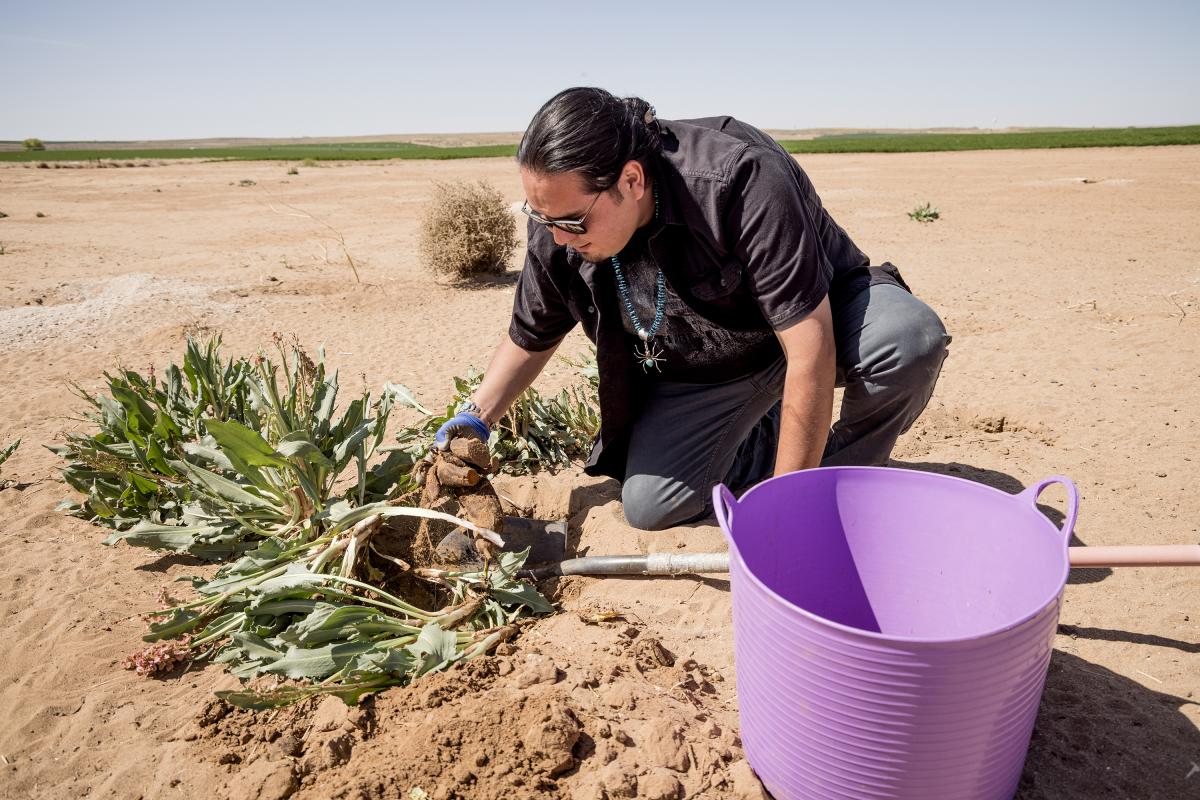 Venancio Aragon gathers traditional materials for his natural dyes.
AS VENANCIO ARAGON WEAVES, HE WEARS A SILVER SPIDERWEB pendant inset with turquoise. The necklace echoes the deep spiritual connections weaving has for the Diné. The practice of weaving plays a role in the tribe's creation story and religious observances today. According to tradition, two spiritual beings, Spider Woman and Spider Man, taught the Diné to weave. 
Spider Woman often gets top billing, but Spider Man did his part by creating a loom from sky, earth, sun, and lightning. Spider Woman showed the Diné to weave not only fiber but also their lives, by balancing mind, body, and soul. In the wake of this holy gift, weavers intentionally introduce small, often invisible errors into their rugs as marks of human imperfection. 
Aragon descends from a legacy of weavers on his mother's side. He began dabbling in the art at age 10, when his work on an elementary school project unveiled his mother's otherwise latent weaving knowledge. His curiosity carried him to the University of New Mexico, where he earned degrees in cultural anthropology and Native American and Indigenous studies. He also studied weaving techniques and styles and continued independent research via books and even YouTube tutorials. In 2020, his investigations took him to the School for Advanced Research, in Santa Fe, where he completed an artistic fellowship tracing and documenting traditional designs.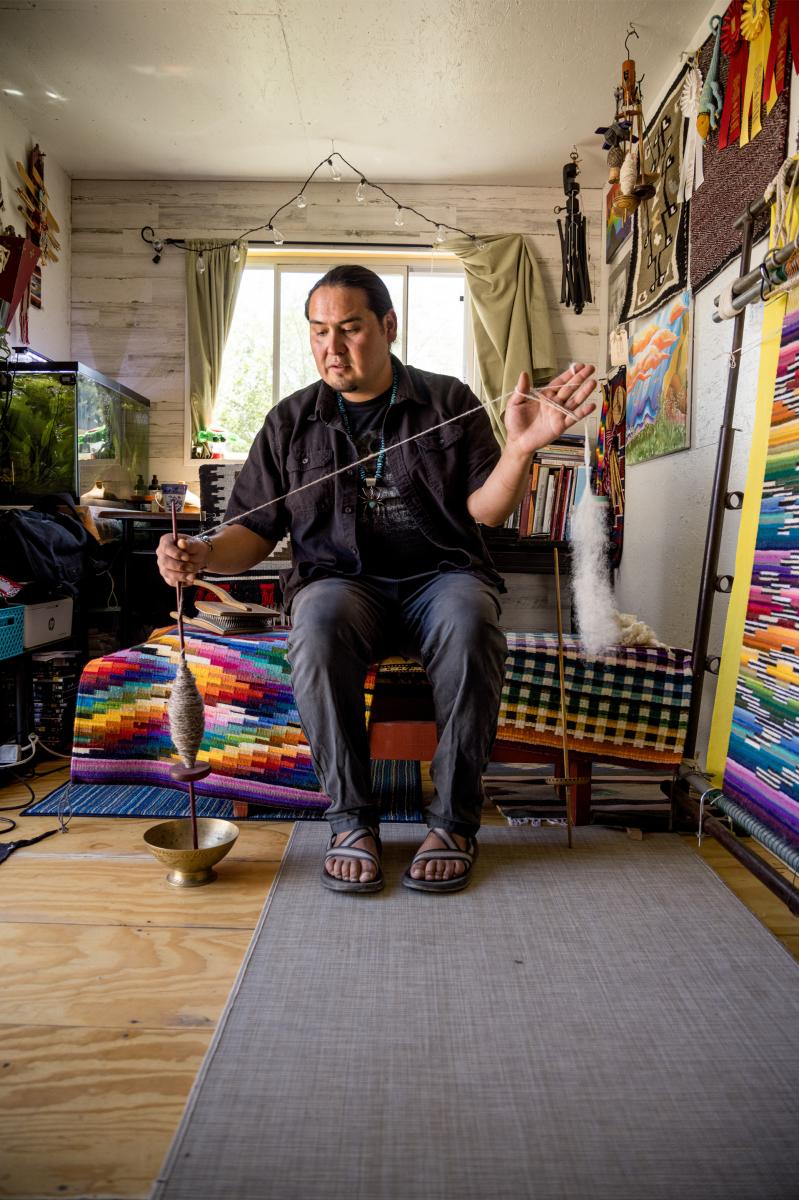 Venancio Aragon spins wool for a future piece.
As far back as a millennium ago, the Diné wove cotton gathered from ancient trade routes. The 17th-century arrival of Spanish colonists introduced sheep and wool into their practices and designs, which were also later influenced by Pueblo people. The advent of trading posts was another turning point in the art's evolution as traders pressed artists to create commercially viable rugs. Many long-held designs went out of fashion and were forgotten. 
"If we lose utilitarian-derived techniques, we lose part of culture and history," Aragon says. "Navajo weavers are investing a lot into cultural transmission, into recording and being cultural bearers. There are rare parts of the weaving tradition that, if we don't work actively, will be lost." 
Aragon has begun subtly incorporating lost designs into his works, which, whether in techniques or styles, are never stereotypical. As he found his artistic voice, he fell in love with dyeing wool and a color spectrum rarely seen in customary rugs. In his hands, natural dyes such as indigo, cochineal, and rabbit brush cozy up with synthetic hues. The results are cascading mosaics that sometimes become even more tactile with the addition of tufted natural fiber from churro sheep, as they do in his piece Texture and Movement. 
Read More: A group working to reinvigorate New Mexico's pastoral history wants to show you how to shear sheep.
"We're such a colorful people, from our landscape to our culture and our histories. I want my textiles and tapestries to reflect the place I come from," says the Santa Fe Indian Market 2019 Best of Class Textiles artist. "I weave as I'm moved to and inspired to. The colors and shapes interact and make their own thing." The 35-year-old often finds inspiration in and meditates on water, always a point of concern for desert-dwelling people. Polychromatic Refraction, based on the appearance of light in water, used 85 colors. "Our items don't have to look like they were looking centuries ago," Aragon says. "I'm creating something from this contemporary moment."  
Aragon doesn't feel fixed in the traditional/contemporary dichotomy, where the former is locked in a time capsule and the latter disregards heritage. He calls his work "neo-contemporary," a term he feels draws on the past yet challenges ideas of how Diné weavings should look. "There's a great amount of weaving that's being done today that's unclassifiable by the old system," he says.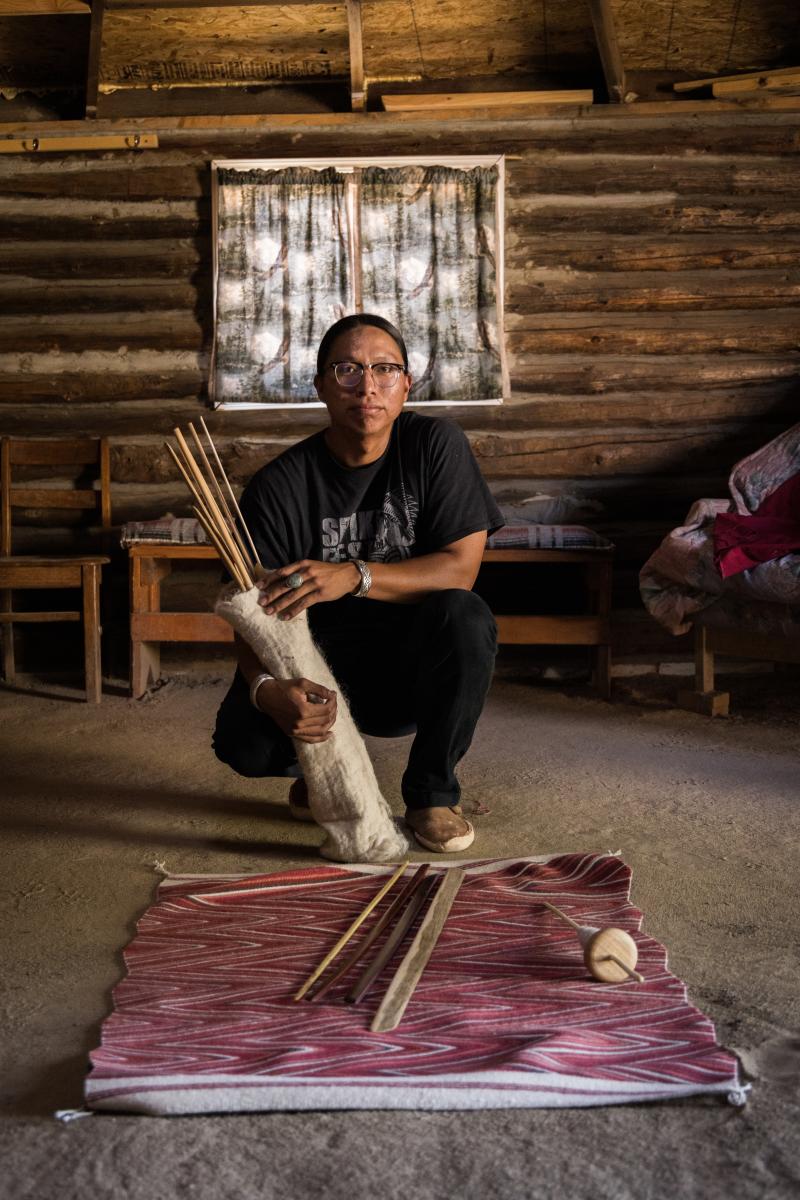 Kevin Aspaas in his Shiprock studio. 
IN SHIPROCK, KEVIN ASPAAS RESURRECTS A TRADITIONAL weaving method overlooked even by many of his fellow weavers. The 25-year-old grew up steeped in tales of his maternal grandmother, who herded sheep and supported her family selling rugs. When he was around eight years old, his mother began teaching him to weave simple sash belts. "It provided me a connection to my mom, but also to my grandma, who I had never met," he remembers. "It carried on her legacy." 
He gravitated to the practice, even though he didn't fit the conventional identity of today's Diné weavers who are usually female. But from the days of Spider Man, men have always had a role in weaving. "Beginning at the time of European contact and colonialism, Indigenous people have been forced to understand rigid gender systems, but in the Diné culture, roles weren't strict. People could do anything they wanted as long as they contributed to the survival of their people," he says. 
Read More: Following the strands of New Mexico's staunch weaving traditions, from sheep to shop.
In 2014, he began an apprenticeship with master weaver Roy Kady, who invited Aspaas and other promising young weavers to his sheep camp to learn both the art of weaving and the cultural practice of raising sheep and spinning wool. 
Aspaas remembers distinctly the day he learned wedge weave, a mid-1800s design that had fallen out of favor. "Once I started, I couldn't stop looking at the design, because it was a zigzag pattern. It was a technique I wasn't aware was in the realm of Navajo weaving," he says. "Navajo weavers had created it. It's one of the techniques that we can claim as uniquely Navajo because no one else taught us to weave it."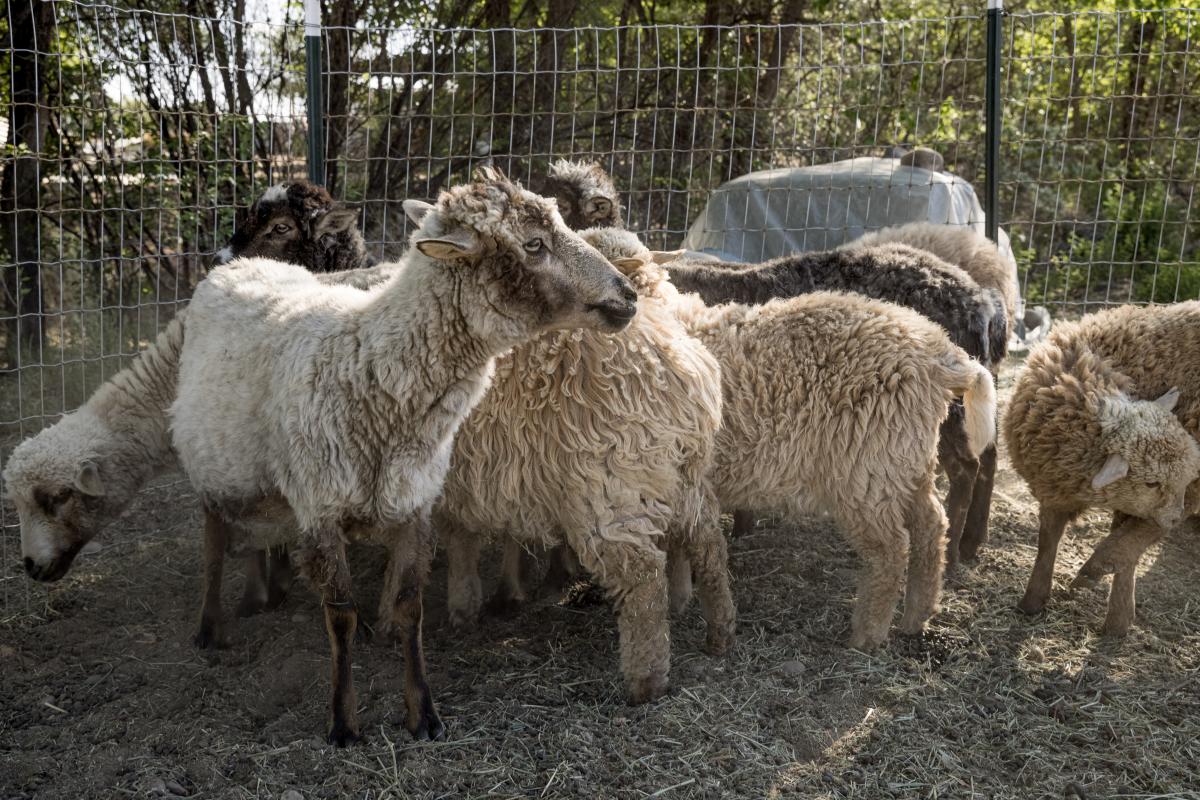 Kevin Aspaas raises Churro sheep for wool used in his work.
In wedge weave, the weft yarns are woven diagonally rather than horizontally across the warp, and each row is pulled taut. Instead of straight, even edges, the technique creates scalloped edges, and often the finished rug is wavy instead of lying flat. Trading posts viewed these intentional qualities as imperfections and often refused to buy the rugs. Over time, weavers simply stopped making them because they weren't commercially acceptable. "The idea was imposed on weavers to make their rugs perfect," Aspaas says. He views resurrecting the design as an "act of rebellion to what is thought of as Navajo weaving." 
As he works, relatives often drop in to his studio to suggest subtly that he straighten the design or "fix" the edges. However, his work has caught the eye of Gallup Inter-Tribal Indian Ceremonial judges, who awarded him a blue ribbon, and Arizona's Heard Museum Guild Indian Fair and Market, which named one of his revival blankets Best of Class in 2018. Many of his rugs have used bright natural dyes like indigo and cochineal, but recently he has incorporated synthetic dyes in yellow, purple, and turquoise, all of which buck tradition.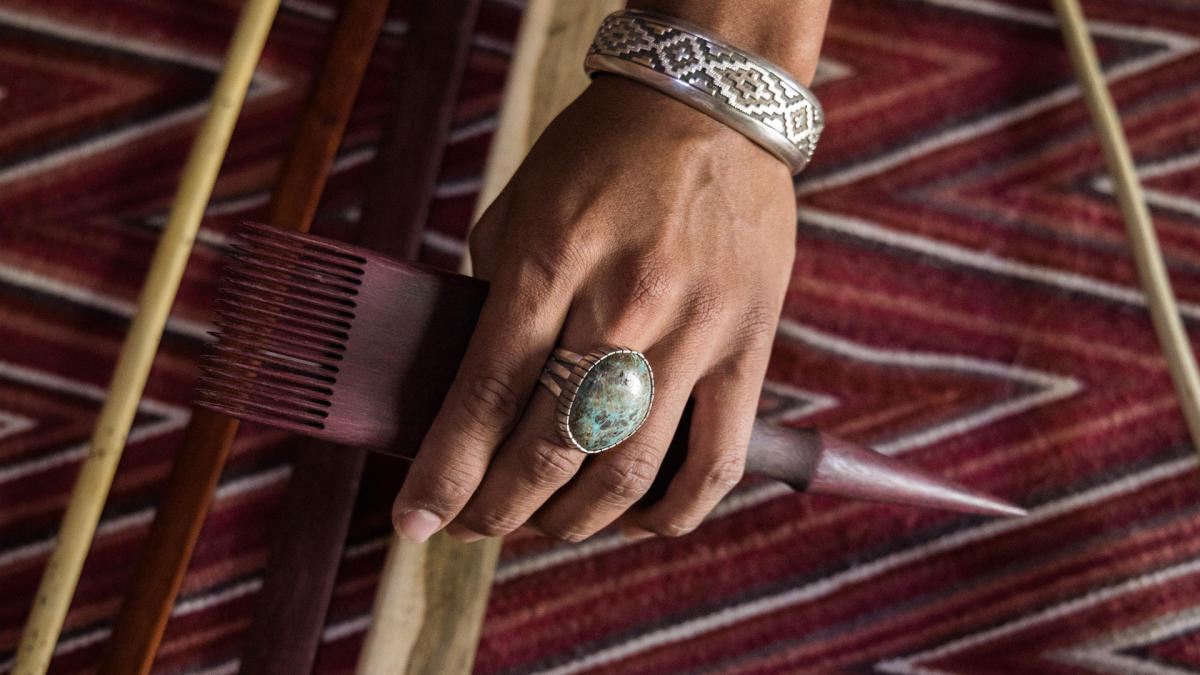 Kevin Aspaas weaves a new piece.
Even as he presses his art in new directions, he goes back to his roots in another way: This past spring, he started his own flock, with nine churro sheep and one goat, so he can harvest his own fiber—just as his grandmother did. It's a bold choice for the twenty-something when most of his peers lean away from heritage and into modern society. "Contemporary life has given us many more luxuries," he says. "It's more enticing versus living a Navajo lifeway, which humbles you to the earth." 
Aspaas, who is a board member of the nonprofit cultural preservation group Diné Be'Iiná (the Navajo Lifeway), often spends time in the corral with his flock reflecting on the stories told about sheep in culture and ceremonial songs. "It's made me realize I'm actually part of this fully," he says. "It's decolonization when we talk about relearning our ancestral way of life. Especially when we're not just learning it, but we're walking the walk. I don't think we should forget anything that our ancestors have used to survive. Ceremonially, spiritually, physically, all these things have brought us here."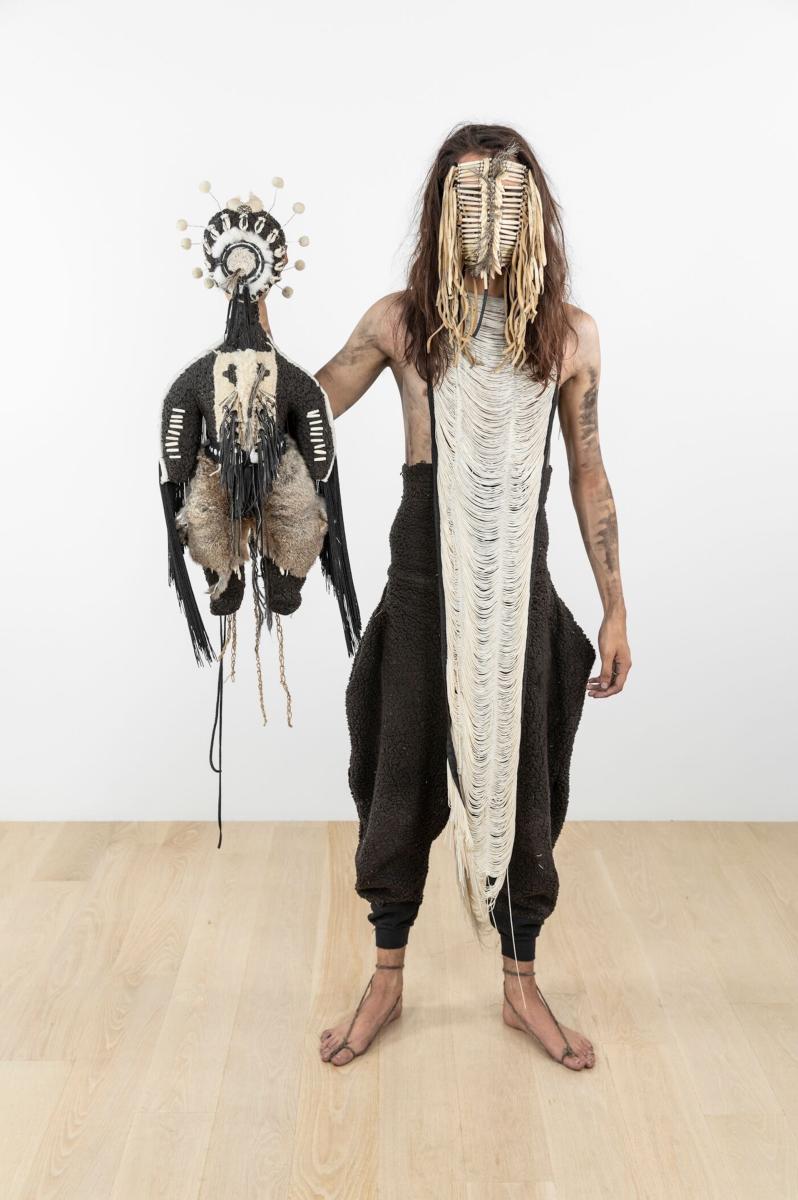 Eric-Paul Riege becomes part of his sculpture Hóló. 
FOR INTERNATIONALLY ACCLAIMED GALLUP-BASED ARTISTS Eric-Paul Riege, culture is interwoven with fiber art. Weavers make up both sides of his heritage: His Diné great-grandmother on his mother's side was a master weaver, and one of his grandfathers on his father's side was a German American weaver. Weaving "is innately in my genes and the fibers of my veins," the 27-year-old says. "All the women in my mom's family are fiber artists. I think of it as the power of women, because the Diné people are a matrilineal society. I consider my work to be totems or altars of that history."  
His artistic career seemed an inevitability from his teenage days, when breaking rules and making his own way was both a rite of passage and a foreshadowing of his future profession. "When I became a weaver, I didn't want weavings to be only what comes off the loom," he says. "Once it's finished, I pretend it's wool again and begin manipulating it."  
His weavings sometimes expand into room-size installations. Some may receive metal bangles and become regalia for performance art or transform into the sculpture Hóló  ("It exists" in Diné), which appeared in his first solo exhibition, at the Institute of Contemporary Art, in Miami. His work has taken over several rooms of his parents' house as he piles foam pillows for an upcoming collaboration on the East Coast with Indigenous artist Jeffrey Gibson in one corner and drapes a six-foot-tall fiber beadwork piece weighing 50 pounds in another.  
Always experimenting with materials, Riege uses fiber he's woven himself alongside foam, muslin, or faux fur he's purchased at Walmart or JoAnn Fabric. "This blend of real and fake is another important idea within my work," he says. "I don't consider these materials 'less than.' It's all part of contemporary young indigeneity." He approaches his work with curiosity and considers himself a perennial student of it. Sometimes he's even inspired by the way art handlers return his museum-quality work to him. For a spring 2021 exhibition at Regen Projects, a modern art gallery in Los Angeles, his piece blankets have warmed us for a long time why not just keep making MORE. Make a blanket for a blanket—they get cold 2 features a blank upright loom displayed in the plastic packaging in which it was shipped. "I kept it in the cocoon that the art handlers created," Riege says. "It was an homage to the art handler's work. The clear material also shows both sides of the rug, and both the process and the product."  
Read More: A growing number of Indigenous filmmakers are making their marks and redefining the role of Native people on the silver screen.
Riege also meditates on the cultural practice of weaving itself. The University of New Mexico–educated artist ruminated on his familial history of raising sheep for his thesis project, donning wearable art that allowed him to play the role of the sheep through time as he traced the influence of his grandmother, master weaver Angela Ashley, on his practice today. Then, in 2018, he reimagined Spider Woman's traditional Diné dwelling (a hogan) with each of its eight walls formed by an empty traditional loom for SITE Santa Fe's biennial exhibition. His accompanying three-hour performance embodied the gestures and history of weaving.  
 During performances, he sometimes carries objects or ceremonial regalia for long periods. "For me, that represents the carrying of fiber into the future and honoring the weight that's been put on my people," he says. "The duration also honors weaving and the long, slow building of millimeter-by-millimeter work." Throughout his performances, he thinks about the source of the wool and the practice of weaving. Although his actions easily fall into the category of mind-expanding contemporary fine art, the practice remains rooted in tradition. "It's kind of me picking up the phone and talking to the work, my ancestors, and the holy people."   
ARTISTIC LICENSE
Venancio Aragon and Kevin Aspaas will have pieces in this year's Santa Fe Indian Market, August 21–22, 2021.
Learn more about the weavers on their websites: 
Venancio Aragon
Kevin Aspaas
Eric-Paul Riege