Above: Dorothy Massey, owner of Collected Works in Santa Fe,
talks shop with author Forrest Fenn.
PHOTOGRAPHY BY: KATE RUSSELL
FOR D. H. LAWRENCE, New Mexico was the land "where the old gave way to the new." For Ernie Pyle it was where "you actually see the clouds and the stars and the storms." For Willa Cather, it was "a sweep of red carnelian-coloured hills lying at the foot of the mountains."
Even a woefully incomplete roster of wordsmiths who've lived and worked in New Mexico or found inspiration in its lands, people, and cultures adds up to a who's who of literary America. There's Edward Abbey, Rudolfo Anaya, Alice Corbin Henderson, Oliver La Farge, Tony Hillerman, Cormac McCarthy, Hampton Sides, George R. R. Martin, N. Scott Momaday, and Leslie Marmon Silko. It's no wonder that the National Endowment for the Humanities has ranked New Mexico first in the nation for the number of working writers per capita.
New Mexico has natural charms ready to serve as inspiration. But it also has literary festivals, welcoming communities, iconoclastic believers in independent bookstores, and, perhaps most important, readers who support and sustain it all. Traveling north to south, here are the places to go and things to do, straight from the writers (and other literary sorts) who make the state such a powerhouse of words.
TAOS
Beacon to renowned writers since the early 1900s, Taos has always been more than a painter's town. It gleams with names like D. H. Lawrence, Willa Cather, and, now, John Nichols. Two of the world's bestselling authors on creativity and the writing process, Natalie Goldberg and Julia Cameron, have Taos roots, too. Jan Smith, who runs the Taos-based—and delightfully named—Society of the Muse of the Southwest, or SOMOS, says that the famed creative energy that has made the city a gathering place for artists, writers, and poets for over a century is only getting stronger. In the past few years, the society has turned out to be a large part of that.
Literary-minded travelers can avail themselves of the group's ongoing writers' series (one in the summer, one in the winter), frequent hosted readings and launches of new books, open-mic opportunities for writers, poets, and playwrights, a summer writers' camp, a Storytelling Festival (October 7–8), a June poetry festival, and an increasingly popular bookshop that takes donations from local writers and others and sells them inexpensively to all comers (108-B Civic Plaza Dr.; 575-758-0081; somostaos.org). Taos hosts a number of festivals every year, and the society has a presence at many of them, including a LitWalk at the Paseo, a one-of-a-kind arts extravaganza featuring performance and installation pieces every September (paseotaos.org).
Poet Veronica Golos, who moved to Taos over a decade ago, fell in love with the "swirl of language, poetry, and music" that characterizes a life lived in close proximity to a pueblo, Hispanic settlements, and the riotous spirit of creativity that permeates the place. She finds a strong sense of camaraderie in the local scene, and singles out the intimate environs of the Brodsky Bookshop (226A Paseo del Pueblo Norte; 505-758-9468) and its seemingly omniscient owner, Rick Smith, for providing a resolute refuge for readers and writers. And in a town with over a dozen coffee shops, Wired? (705 Felicidad Lane; 575-751-9473) is a popular place for writers to gather, as is the Farmhouse Cafe (1405 Paseo del Pueblo Norte, El Prado; 575-758-5683). Also worth a visit is the under-the-radar Op. Cit. Books Taos, formerly known as Moby Dickens (124A Bent St.; 575-751-1999).
SANTA FE
Home to writers of the caliber of Cormac McCarthy, Hampton Sides, Sam Shepard, and the ragingly popular George R. R. Martin, Santa Fe hosts a vibrant and diverse literary community. A central character in that scene is James McGrath Morris. To Morris, an award-winning biographer, critic, and essayist, Santa Fe's mountains, air, and deep historical culture make it much like Paris in the 1920s: "an intoxicatingly provocative brew for writers." He recommends the Collected Works bookstore (202 Galisteo St.; 505-988-4226; collectedworksbookstore.com), not just as a place to find books—many by local authors—but also as a place to hear readings of those authors' newest works. Sweetening the deal: Iconik Coffee Roasters serves up lattes and fresh pastries.
The coffee shops Ecco (128 E. Marcy St.; 505-986-9778) and Downtown Subscription (376 Garcia St.; 505-983-3085)—with its spectacular newsstand and proximity to Garcia Street Books and the artfully literary offerings at Photo-Eye Gallery—allow readers and writers a place to relax, eat, drink, read, and write. Morris also recommends the Lensic Performing Arts Center (211 W. San Francisco St.; 505-988-7050; lensic.org) and St. John's College (1160 Camino Cruz Blanca; 505-984-6000; sjc.edu/programs-and-events), both of which host regular events with writers from around the world.
Also noteworthy: Rare and used bookstore Gunstock Hill Books (239 Johnson St.; 505-983-0088), whose owner, Henry Lewis, is a gold mine for those seeking hard-to-find or first editions. Don't miss Op. Cit. Books Santa Fe in its brand-new digs at the eclectic DeVargas Center (157 Paseo de Peralta; 505-428-0321). Finally, if you're truly inspired and want to get involved in a big way in a short amount of time, the UNM Summer Writers Conference is held in July and features some turbocharged weekend workshops (unmwritersconf.unm.edu).
ALBUQUERQUE
V. B. Price—a poet, critic, journalist, novelist, former editor of New Mexico Magazine, and fixture of Albuquerque's literary scene—says that the biggest city in the nation's "most exotic and most eccentric state" doesn't really even have a scene. "Not here," he says, not quite jokingly. "We have no time for that; we write for a living." Yet Albuquerque is an undeniable force in New Mexican letters—it even turned Pulitzer Prize winner Ernie Pyle's house into the city's first branch library (900 Girard Blvd. SE; 505-256-2065). Price notes that the University of New Mexico Press has been around for nearly nine decades and has published nearly every New Mexican writer of note (unmpress.com). Over the past 20 years, the city has emerged as a force in performance poetry, winning the National Poetry Slam in 2005. Its writers, in other words, are worth reading.
Two places in the city stand out particularly for Price. The first is Bookworks (4022 Rio Grande Blvd. NW; 505-344-8139; bkwrks.com), the city's indisputable champion of all things literary. He praises the bookshop's "aggressive" writers' program for bringing in local, national, and international authors nearly every night of the week. In addition, Bookworks hosts book clubs and special events throughout the year.
A second high point for Price is Albuquerque's Chatter Sunday (512 First St. NW; chatterabq.org/sunday). Fifty Sundays a year, Chatter puts together innovative programs of classical music and spoken word. Recent participants have included Albuquerque's second poet laureate, Jessica Helen Lopez, and Nathan Brown, a former poet laureate of Oklahoma. Each gathering costs $15. Also check out events organized by ABQSlams (the folks who won that national slam in 2005), which include open-mic nights, slam contests, and youth programming (abqslams.org)
Don't leave Albuquerque without popping into Page One (5850 Eubank Blvd. NE; 505-294-2026; page1book.com), a 35-year stalwart with a sprawling collection of both new and used books shelved together, and an antiquarian book boutique, all overseen by a knowledgeable staff.
LAS CRUCES
For poet Connie Voisine, visits to literary Las Cruces must begin with novelist and New Mexico luminary Denise Chávez and her Casa Camino Real (314 S. Tornillo St.; 575-523-3988; nmmag.us/casacamino). A combination salon, store, and clearinghouse for writers, readers, and even lovers of old-school turntable vinyl, the Casa rests at both the literal and figurative heart of the city. Within walking distance of it is what Voisine describes as her first stop for anything printed: Coas Books (317 N. Main St.; 575-524-8471; coasbooks.com). Founded in 1984 by the archaeologist Patrick Beckett, it's still in the family, and still has one of the state's best collections of archaeology, anthropology, and regional-studies materials. The bookstore is also now home to a coffee shop run by the local Milagro Coffee Roasters; it's there and at the Casa that writers and readers generally gather to get their fix.
New Mexico State University (1780 E. University Ave.) hosts the Distinguished Visiting Writer Series, which has brought Andrea Barrett, David Foster Wallace and others to the city. The series is open to the public, and this year's highlight will be U.S. poet laureate Juan Felipe Herrera on November 19 (nmmag.us/writerseries).
Finally, Voisine recommends an 80-year-old institution: the dive-bar-cum-open-mic-pit known as the Palacio Bar (2600 La Mesilla Cir., Mesilla; 575-525-2910). Thursday nights feature emerging and veteran poets, alternating slam performances with traditional readings.
SILVER CITY
While German-born, British-raised novelist JJ Amaworo Wilson finds the weather and cost of living in Silver City hard to beat, it's the cast of characters who populate his adopted home that really makes the place work for him. The Gila Wilderness has long attracted artists, musicians, and writers, and local Western New Mexico University does its bit, offering—as it did for both Wilson and his wife, educator Alexandra Neves—a refuge and a launch pad for those determined to make words work. "So many varying perspectives," Wilson says, "combined with so many people making stuff, makes this a really incredible place to be." The town has a few bookstores, the most comprehensive of which is O'Keefe's Book Shop (102 W. Broadway St.; 575-388-3313). But the day-to-day literary hub is the Javalina Coffee House (117 W. Market St.; 575-388-1350). Owner Polly Hassler-Cook is a dedicated supporter of local writers and artists, hosting readings and providing free Wi-Fi in a space that welcomes browsers and writers alike—as well as those few connoisseurs of javelina taxidermy.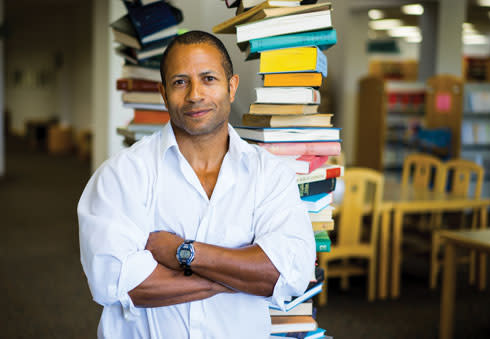 Above: Novelist JJ Amaworo Wilson of Silver City.
PHOTOGRAPHY BY: JAY HEMPHILL
Silver City claims its own poet laureate, Elise Stuart, and the Southwest Festival of the Written Word. Co-chair Jeannie Miller describes the every-other-year event as a "cozy" celebration of writers who live and work in the Southwest. The next one will be in 2017 (swwordfiesta.org). It's free and held almost entirely in the historic downtown area. Featured writers have included Kirstin Valdez Quade, Denise Chávez, and V. B. Price. The festival also supports a number of literary goings-on throughout the year. Most recently, it launched Use Your Words, a half-hour, twice-monthly radio exploration of writers in southwestern New Mexico (streaming on gmcr.org).
—Peter BG Shoemaker is a frequent contributor to the magazine.
OUT & ABOUT
Other bookshops shouldn't be missed as you pass through various New Mexico towns. In Las Vegas, Tome on the Range (247 Plaza St.; 505-454-9944) is simply super, and even more so in its new digs on the town plaza. In Truth or Consequences, curiosity is almost always well rewarded at XOCHIS Bookstore and Gallery, where a warren of rooms has everything from Southwestern ephemera to cultural artifacts and contemporary ceramics (430 N. Broadway; 575-894-7685). And the D.H. Lawrence Ranch in San Cristobal, north of Taos, is open to visitors seeking to channel his literary spirit and revel in the beautiful surroundings (575-737-9300; dhlawrencetaos.org).