BORN IN UTAH to Diné parents, Freddie J. Bitsoie grew up on the move with his family—all along I-40 from Albuquerque's Sandía Mountains to the California state line, as he likes to say. After French culinary training in Scottsdale, Arizona, he pursued a career as a chef, consultant, and teacher, specializing in Native foods prepared with modern tools and techniques.
He was executive chef at the Navajo Nation's Fire Rock Casino, near Gallup, in 2016 when he scored the top role at Mitsitam Café, at the National Museum of the American Indian, in Washington, D.C. There he expanded his knowledge of tribal cuisine as it's found throughout the Americas.
When the museum closed for the pandemic, Bitsoie returned to Gallup, where he put the polish on a stellar cookbook, New Native Kitchen: Celebrating Modern Recipes of the American Indian (Abrams), and tested its recipes on his family. With co-author James O. Fraioli, he packs the book with tempting dishes, essays about various tribes, and clear-cut instructions that bring new luster to traditional ingredients—along with tips on where to find them.
"It's new Native American food," he stresses. "The world has changed; our palates evolve. But this is what Native Americans contributed to the world. I want that to resonate. I love every single dish in this book. My mom loves them, too." —Kate Nelson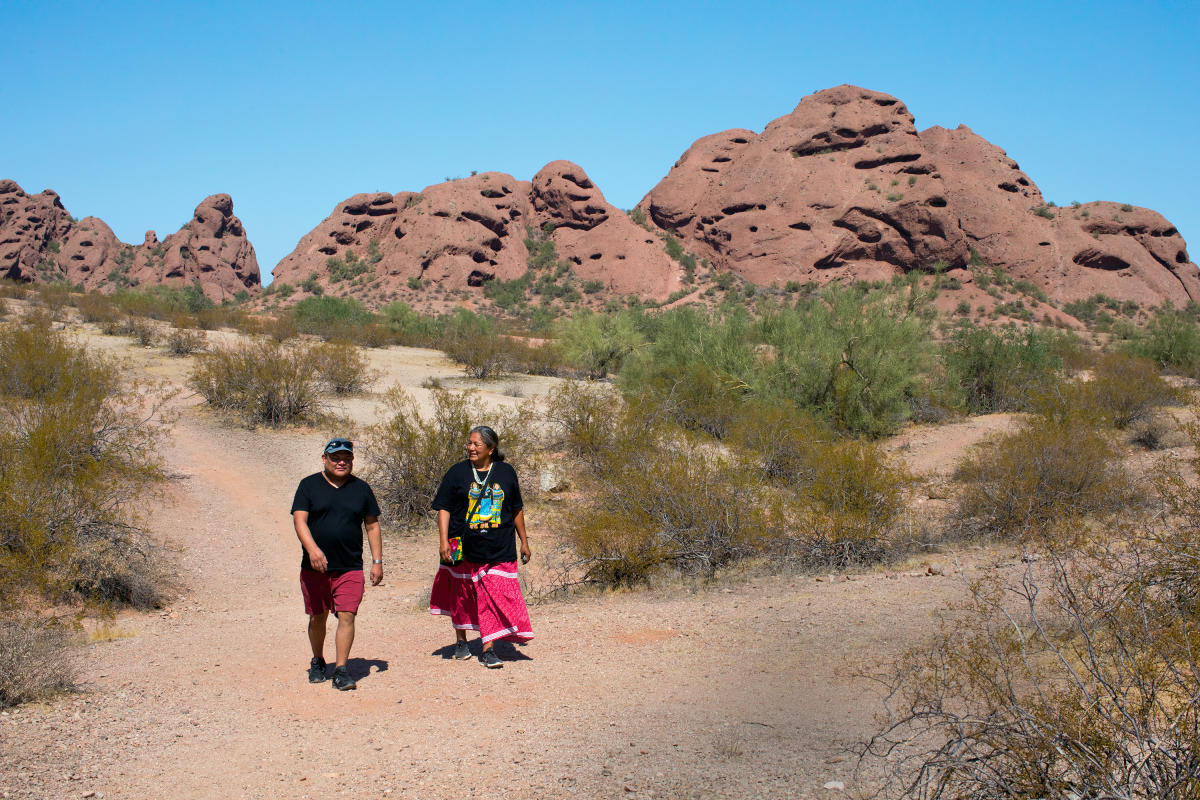 Freddie J. Bitsoie walks with food historian Twila Cassadore at Papago Park, in Phoenix. 
I BEGAN EXPERIMENTING IN THE KITCHEN when I was a kid. Maybe it was the PBS cooking shows that I loved, or maybe it was boredom that drew me, but I began to cook in secret when my family wasn't looking. I started out with hamburger patties, working through trial and error—like a culinary detective—to figure out what tasted best. When my mom couldn't find the chicken that she'd placed in the refrigerator one morning, I didn't want to tell her that I had accidentally set it on fire.
Eventually I got better at not burning chicken and learned traditional Navajo (Diné) cooking techniques from my grandmother, through my travels, and from people I met on the way. Whenever my family moved to a new town in Utah, Texas, Arizona, or New Mexico, I learned to adapt. From my grandmother, I learned that listening to people and places is just as much a part of storytelling as speaking is. So I began to listen to the landscape, studying the plants, animals, and people.
As a Navajo of the Tábąąhá Edgewater Clan, born for the Nát'oh dine'é Táchii'nii, I loved growing up in the Southwest, where just like my ancestors I breathed in the spicy scent of creosote and petrichor with a sigh of relief each time it rained. To some, the desert might appear barren, dry, and dun-colored. But a closer look reveals that it's bursting with ecologies that dramatically change with every few feet of elevation reaching closer to the clouds.
In a region where water is scarce, I saw the resiliency—and delicacy—of plant species like the saguaro cactus. Their shallow root systems stretch through parched soil to catch whatever moisture they can; they've evolved to thrive in extreme conditions. Blooming brightly, their succulent fruit swells each year despite the summer heat.
I'm grateful to the desert, and to my grandmother, for teaching me how to listen and how to tell the histories of places and people through my cooking. Fortunately, I've always enjoyed meeting new people, and that skill helped me fit in whenever I needed to enroll at a new school, make new friends, and learn the culture of a new neighborhood. Later, it helped me build long-lasting friendships with members of Native American communities all across the continent, many of whom have graciously mentored me and shared their ancestors' culinary wisdom.
European countries are praised for their food traditions, which are taught in elite culinary schools; Indigenous cuisines, with similarly sourced ingredients and finessed preparations, don't get the same attention. My aim is to change that. The land that's now the United States is a land of many nations and communities, with a multitude of cuisines, architectural styles, spiritual beliefs, and languages that make each region uniquely beautiful.
I celebrate regional distinctions with thoughtful dishes that showcase the rich lakes of the Great Plains, succulent produce of the arid Southwest, lush woodlands of the Northeast, unique botany of the humid South, and teeming bounty of the Pacific Northwest.
Indigenous foodways have been "farm to table" for millennia. Consider the three sisters: the North American Indigenous planting method of sustainably growing squash, corn, and beans. Since the 1970s, people have termed the technique "permaculture," but to traditional Indigenous farmers, it's simply a way of respecting the delicate balance of plants, earth, air, and water.
I approach cooking as an opportunity to honor our past and our diversity. But I'm also not constrained by tradition. Today's Native cooking is enriched by vibrant ancestral connections—and always evolving. 
The Navajo Nation, an area spanning portions of Arizona, New Mexico, and Utah, is larger than West Virginia. Some of its members raise Navajo-Churro sheep—just as they have since the 1500s, when lambs first began showing up in Native recipes. Check with local butchers on what breeds are available, but the recipe works with what you can find. The fragrant, tangy sumac rub perfectly complements the lamb's bold flavor, and the juniper-spiced, herbaceous onion sauce will make this dish a fall and winter favorite.
LAMB
1 cup sumac powder
1 teaspoon salt
1 teaspoon freshly cracked black pepper
1 three-pound leg of lamb (or lamb roast), tied or untied; either will work
3 tablespoons canola oil
ONION SAUCE
2 tablespoons canola oil
1 large yellow onion, peeled and julienned
2 sprigs fresh thyme
1 stem fresh rosemary
4 juniper berries
1 teaspoon salt
1 teaspoon freshly cracked black pepper
2 cups chicken stock 
Serves 6 to 8
INSTRUCTIONS
For the onion sauce, in a medium sauté pan, mix oil, onion, thyme, rosemary, juniper berries, salt, and pepper. Turn the heat to medium and sauté until the onion is soft and brown, about 20 minutes, stirring often to make sure the onion and herbs don't burn. Add water if needed to deglaze the pan.

Add the stock and allow to simmer until the liquid has reduced by half and the sauce has thickened, about 10 minutes. Remove from heat and discard the thyme sprigs, rosemary, and juniper berries. Set aside until ready to use.

Preheat the oven to 350°. In a small bowl, combine the sumac, salt, and pepper and stir thoroughly to make a rub. Coat the lamb liberally on all sides with the rub.

In a large sauté pan over high heat, place the oil. When hot, add the lamb and sear on all sides until brown.

Transfer the lamb to a baking sheet. Place in the oven and roast for about 35 minutes, or until the internal temperature of the lamb reaches 145° for medium-rare. Remove the lamb from the oven and allow to rest for about 10 minutes before carving.

Serve with the onion sauce.
I learned to forage from my grandmother, who'd take me into the forests and show me where to find piñon nuts, wild onions, and root vegetables like sunchokes. After filling our baskets, we'd return home and braise the vegetables to perfection—a technique nearly as easy as roasting, but even more delicious. Any root vegetable will work, just cut them the same size so they cook evenly. But try not to skip the fennel; the slight hint of anise really adds to the glaze—as does the splash of white wine. No need to peel them; you'll lose nutritional value, and the earthy flavor is intended to complement the caramelization of the vegetables. Sear them well so they'll release their natural sugars; that's the secret to this simple, delectable autumnal dish.
2 tablespoons canola oil
2 fennel bulbs, cleaned, leafy tops removed, and the bulb cut into wedges
3 carrots, unpeeled and cut to the length of the fennel bulbs, then halved
1 medium turnip, cleaned and diced
1 medium onion, peeled and cut into wedges
½ cup dry white wine
2 cups vegetable or chicken stock
2 teaspoons salt
2 teaspoons freshly cracked black pepper
2 tablespoons chopped fresh flat-leaf parsley, for garnish
Serves 4 to 6
INSTRUCTIONS
Preheat the oven to 350°. In a large, heavy-bottom sauté pan over high heat, drizzle the oil and heat, but don't let the oil smoke. When the oil is hot, add some of the fennel, carrots, turnip, and onion.

Sear the vegetables until they have a caramelized crust. Remove from the pan and continue with the next batch.

When finished searing, return all the seared vegetables to the pan. Add the wine to deglaze, scraping up any browned bits stuck to the bottom of the pan, and allow all the wine to be completely cooked out.

Add the stock and bring to a boil. Cover the pan, transfer to the oven, and braise for 30 minutes, or until the vegetables are fork-tender. Remove from the oven, stir in the salt and pepper, and serve warm with a sprinkling of chopped parsley on top.
I've adapted this dish from a recipe first made popular by English settlers in the colonial era. It's a traditional American dessert with Native American roots. The English, craving the sweetened porridge they called hasty pudding, began using Native American cornmeal to create a version sweetened with milk and molasses. Mine is a silky-smooth, creamy baked custard. I keep the traditional flavors of molasses and corn but remove any hint of grittiness and add dashes of fragrant cinnamon and nutmeg plus a bright taste of cranberry. I serve it with a scoop of ice cream, but it's also a comforting treat on a lazy morning with a fresh cup of coffee.
6 cups whole milk
½ cup unsalted butter
3 eggs, beaten
½ cup molasses
⅓ cup sugar
1 teaspoon cinnamon
1 teaspoon grated fresh nutmeg
½ cup yellow cornmeal
¼ cup all-purpose flour
1 teaspoon salt
1 cup dried cranberries
Vanilla ice cream, for serving, optional
Fresh cranberries, for garnish, optional
Serves 6 to 8
INSTRUCTIONS
Preheat the oven to 300°. Into a heavy-bottom pot over medium heat, pour the milk and butter and bring to a rapid simmer.

In a large bowl, whisk together the eggs, molasses, sugar, cinnamon, and nutmeg. In another bowl, whisk together the cornmeal, flour, and salt.

Once the milk and butter come to a rapid simmer, remove from the heat and slowly whisk into the bowl with the eggs. (If you add the hot milk all at once, the eggs will curdle.)

After the milk and butter are incorporated into the egg mixture, whisk in the flour-cornmeal mixture. Stir in the dried cranberries.

Pour the mixture into a 12-inch round baking dish or pan. (If you prefer using a water bath during the baking process, set the baking dish into a larger ovenproof pan and pour hot water into the pan to come halfway up the sides of the baking dish.) Bake until cooked through, about 90 minutes.

Remove from the oven and serve warm with ice cream and/or fresh cranberries, if desired.