Earthfired Pottery's wood-fired bowl with flower ($62), and wood-fired bottle ($85) can be purchased on Cynthia McDowell's Etsy page.
ALL OF NORTHWEST NEW MEXICO'S landscape feeds Cynthia McDowell's creations at her Earthfired Pottery workshop. Hiking and fishing among the mesas and rivers near her La Plata home inspires designs of horses, pine trees, hummingbirds, and largemouth bass.
"Your eye catches the things around you all the time that are such little miracles," she says.
Even the state's stories of aliens—plus her father's passion for astronomy—have sparked a collection of mugs in which bulbous-headed, hollow-eyed aliens wave. McDowell draws supplies from the region, too. The wood-fired kiln in the airy barn by her house burns through more than two cords of wood, salvaged from southern Colorado and northern New Mexico, with each 48-hour firing.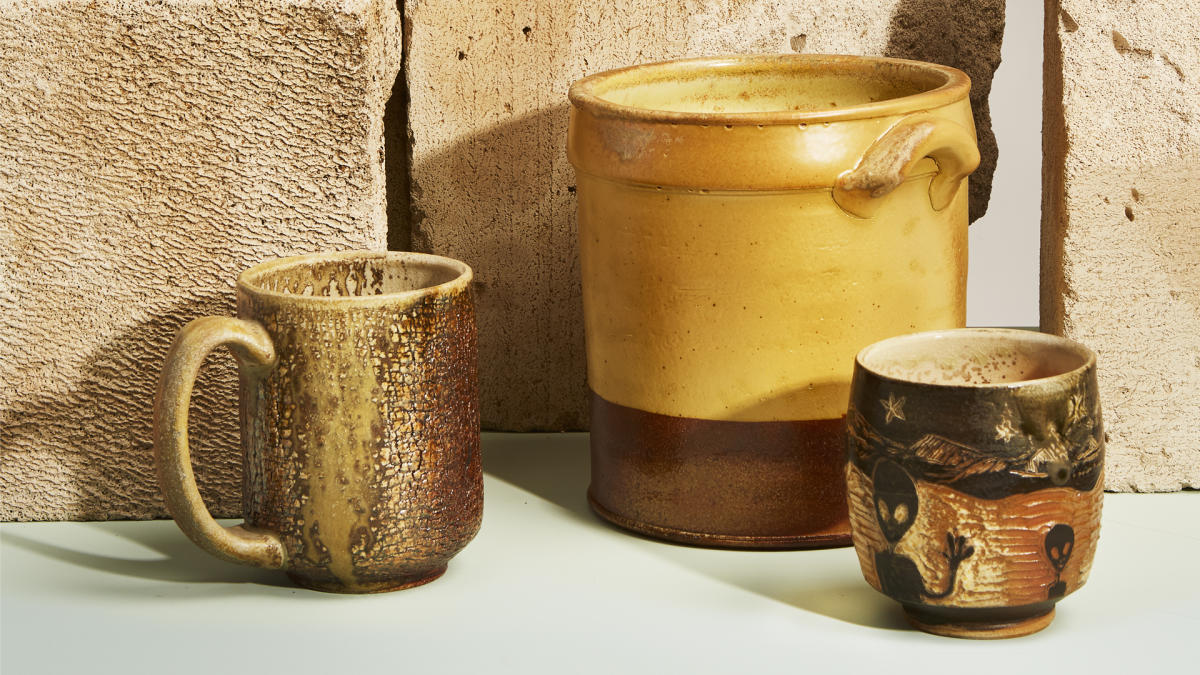 Earthfired Pottery's textural mug ($70), utensil crock ($125), and alien yunomi ($58).
McDowell discovered wood-firing pottery at San Juan College, in Farmington. Seduced by the medium's whims and the close-knit community of fellow potters, she built a kiln of her own and welcomes others to share kiln space, and the task of stoking the fire throughout the night. 
Read More: The Art of Ancient Clay
She positions pottery based on how melted wood ash and "flashing"—the footprints of flames—will mark the glaze. Every kiln is different, shaped by the weather and the wood used, she says, so while experience has ingrained some sense of what to expect, the process remains unpredictable.
"I wouldn't really love it as much if it came out the same every time," she says. "You get these incredible pieces of work out of it that you could never imagine in your dreams."

Cynthia McDowell's work can be purchased on Etsy or discover her new designs on Instagram.